Labour seen as more likely to offer a 'fresh start' and improve public services if they win the next election than the Conservatives
Expectations for a future Rishi Sunak government are much weaker than they were when he first took office according to the October 2023 Political Pulse polling by Ipsos.
The latest Ipsos Political Pulse, conducted online between October 27th and October 30th asked favourability towards the parties and various senior politicians, whether things are heading in the right or wrong direction and how likely hypothetical future governments led by either Rishi Sunak or Keir Starmer would be to achieve various things if they win the next General Election
How likely would Sunak and Starmer governments achieve the following?
Should they win a General Election, expectations for a hypothetical Labour government led by Keir Starmer are more positive  than a hypothetical future Conservative government led by Rishi Sunak. In particular, a Starmer led Labour government is seen as more likely to improve public services (45% to 18%), offer Britain a fresh start (41% to 17%), act with integrity (45% to 25%) and reduce regional inequalities – otherwise known as 'levelling-up' (38% to 18%).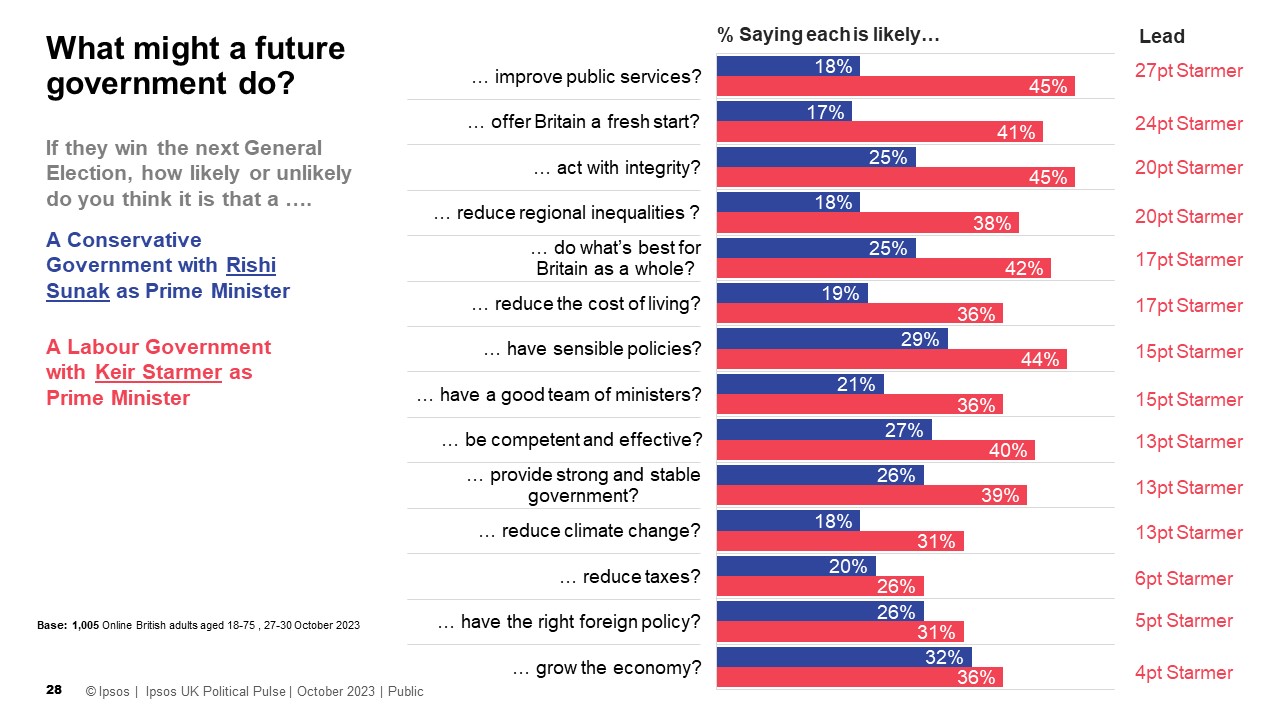 The smallest Labour leads are on growing the economy (+4 pts), having the right foreign policy (+5pts) and reducing taxes (+6pts). On each of these outcomes, minorities expect a government led by either leader to achieve them.
When we compare to similar, but not identical, polling conducted last October (here respondents were just asked about the future and not about winning the next election): Scores for a Starmer-led Labour government are largely unchanged aside from small decreases in whether it would act with integrity (-6 points) and have the right foreign policy (-5 points). All other changes are less than 5 points in either direction.
Scores for a Sunak-led Conservative government have worsened significantly more. With double-digit decreases on whether they would act with integrity (-16 points), have a good team of ministers (-14), offer Britain a fresh start (-13), be competent and effective (-13), grow the economy (-11), provide strong and stable government (-11) and have the right foreign policy (-10).
When asked which party has the best policies for the issues that are most important to them, the public nearly twice as likely to choose Labour (27%) over the Conservative Party (15%). With the rest choosing other parties or being unable to make a choice.
Favourability ratings for leaders and parties
Favourability scores for the leaders and parties are largely unchanged from September:
•    22% are favourable towards Rishi Sunak (-2pts) and 51% are unfavourable (-1pt).
•    28% are favourable towards Keir Starmer and 42% unfavourable (both unchanged).
•    19% are favourable towards the Conservatives (-3), 54% unfavourable (no change).
•    34% are favourable towards the Labour Party (-1pt), 38% unfavourable (-2pts).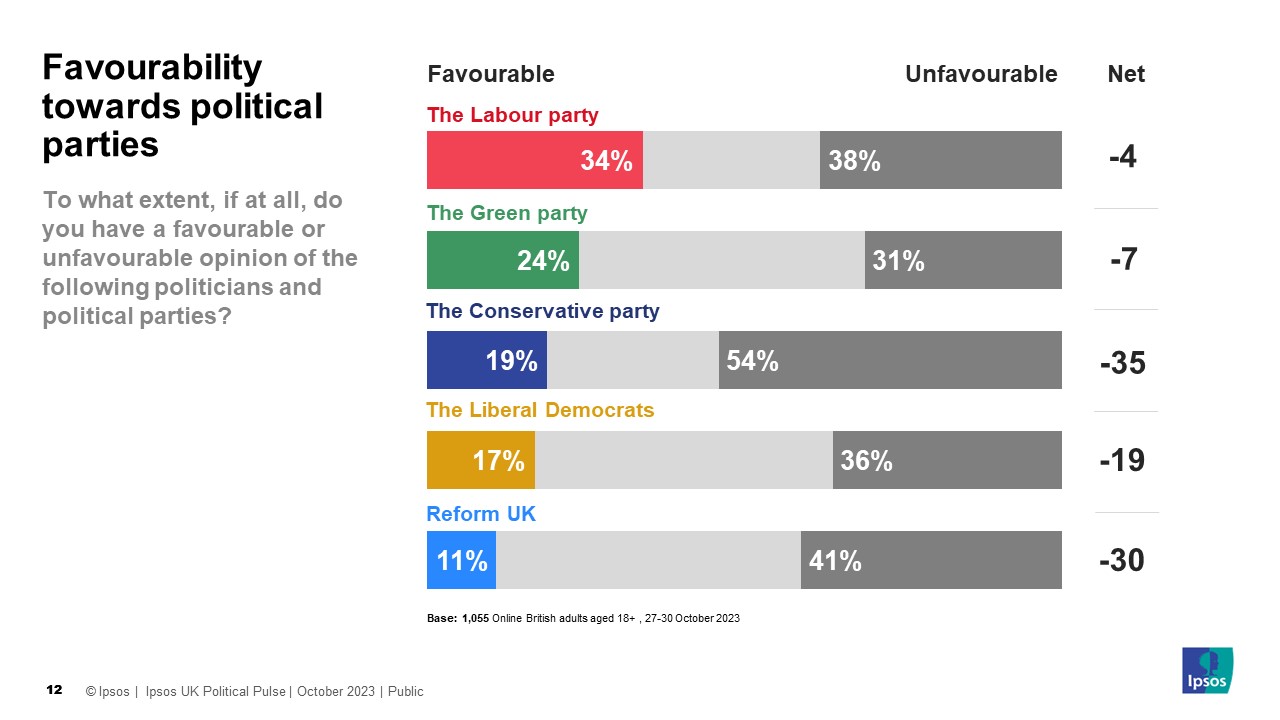 •    This means the Conservatives' net favourability score is -35 vs. -4 for Labour. 
Direction of the country/ impact of Brexit 
63% think things in Britain are heading in the wrong direction  (+1 from September) and 13% think things are heading in the right direction (-3). This gives a net right direction of -50.
56% think Brexit has had a negative impact on the country and 19% say positive. These figures are similar, albeit slightly worse, than the start of the year when they  were 54% and 23% respectively.
Who will win the next General Election?
Compared to October last year, the public are slightly less likely to expect a Labour majority at the next election (37%, -7) and slightly more likely to expect a hung parliament with Labour as the largest party (22%, +6). However, just 16% expect either a Conservative majority or for them to be the largest party (similar to the 19% that said the same last year).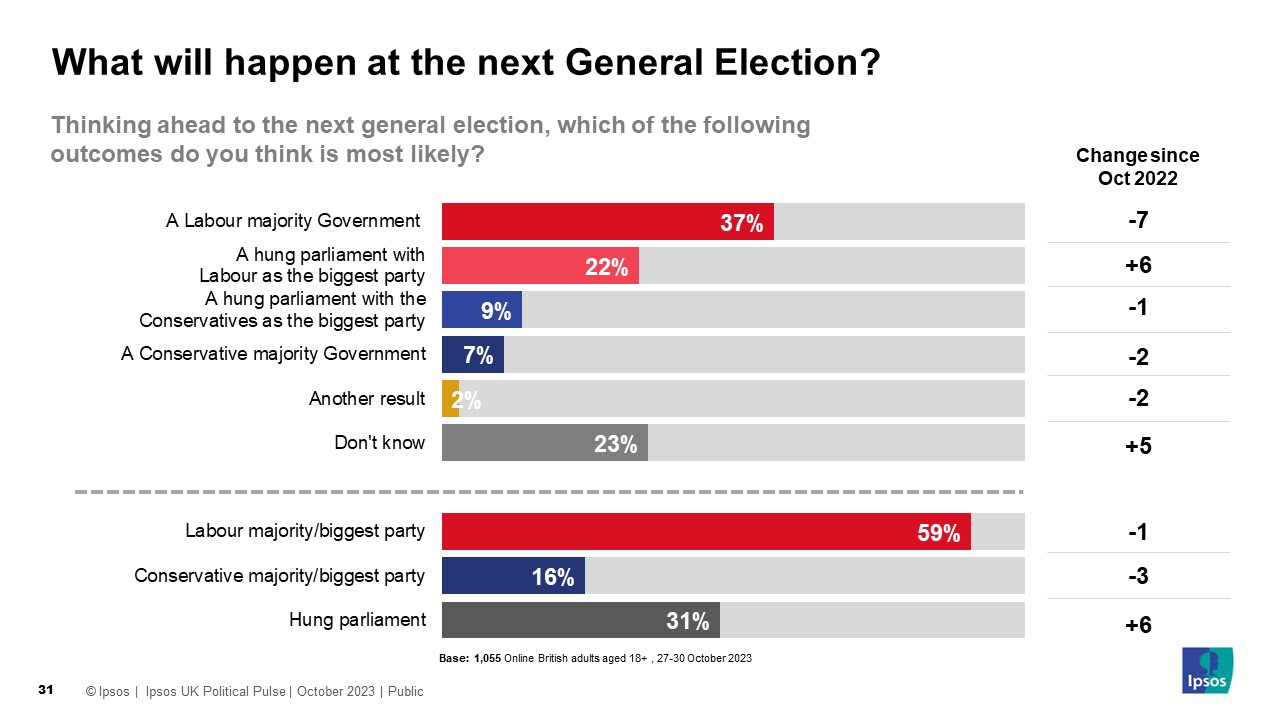 Ipsos Director of Politics Keiran Pedley said of the findings:
These findings show there is less public confidence in what a Sunak government might achieve in the future today than there was when he took office. In some ways this should not be surprising given the realities of government. However, with the public more likely to see a fresh start and improved public services under Keir Starmer's Labour,  the Prime Minister faces a battle to convince voters the Conservatives deserve another term in office.
Technical note
Ipsos interviewed a representative sample of 1,055 GB adults aged 18+. Interviews were conducted online from 27-30th October 2023.  Data are weighted to match the profile of the population. All polls are subject to a wide range of potential sources of error.