Maternal mental health support in a Pandemic
Laura Thomas looks at results from the NHS Maternity Survey 2021, run by Ipsos and the Care Quality Commission, to see what the data tells us about maternal mental health support during the pandemic.
What does the NHS Maternity Survey 2021 tell us about mental health support for expectant and new mothers during the Pandemic?
The NHS Maternity Survey started in 2007 and the 2021 survey is the eighth carried out to date. This is the first year the Maternity Survey has been offered in both paper and online methodologies and this has contributed to the survey achieving a response rate of 52% (up from 37% in 2019). The survey was sent to all mothers who gave birth in February 20211.  This means that respondents experienced the full maternity pathway, from antenatal care to postnatal care, under pandemic conditions.
The table below shows the sequence of national restrictions and how this corresponded with the care pathway that mothers received during their pregnancy, labour, and postnatal care. As we can see, mothers began their maternity pathway in the first national lockdown and gave birth in the third national lockdown.
 
Antenatal care
Labour and birth
Postnatal care
Mar '20
Apr '20
May '20
Jun '20
Jul '20
Aug '20
Sep '20
Oct '20
Nov '20
Dec '20
Jan '21
Feb '21
Mar '21
Apr '21
First national lockdown
Minimal lockdown restrictions
Restrictions reimposed
(e.g. "rule of six" and local restrictions
Second national lockdown
Tiered system re-introduced
Third national lockdown
Leaving lockdown
The Maternity Survey 2021 results show that there has been a clear impact from the pandemic on maternity services and these are explored in detail in our blog Pregnant in a Pandemic.
As we head into mental health awareness week, it feels like an appropriate time to take a closer look at whether mothers are offered the mental health support they need during pregnancy and immediately after birth.  The Maternity Survey 2021 results show that while support has generally been high, there are some indications that the pandemic has had an effect in some settings and that there is still room for improvement overall.
Mental health support during pregnancy
The level of support offered to expectant mothers was high despite the pandemic.  For example, significantly more mothers reported they were definitely asked by their midwives about their mental health during antenatal check-ups compared with 2019 (69% vs 67%). Furthermore, the large majority of mothers (83%) reported they were given enough support for their mental health during their pregnancy2.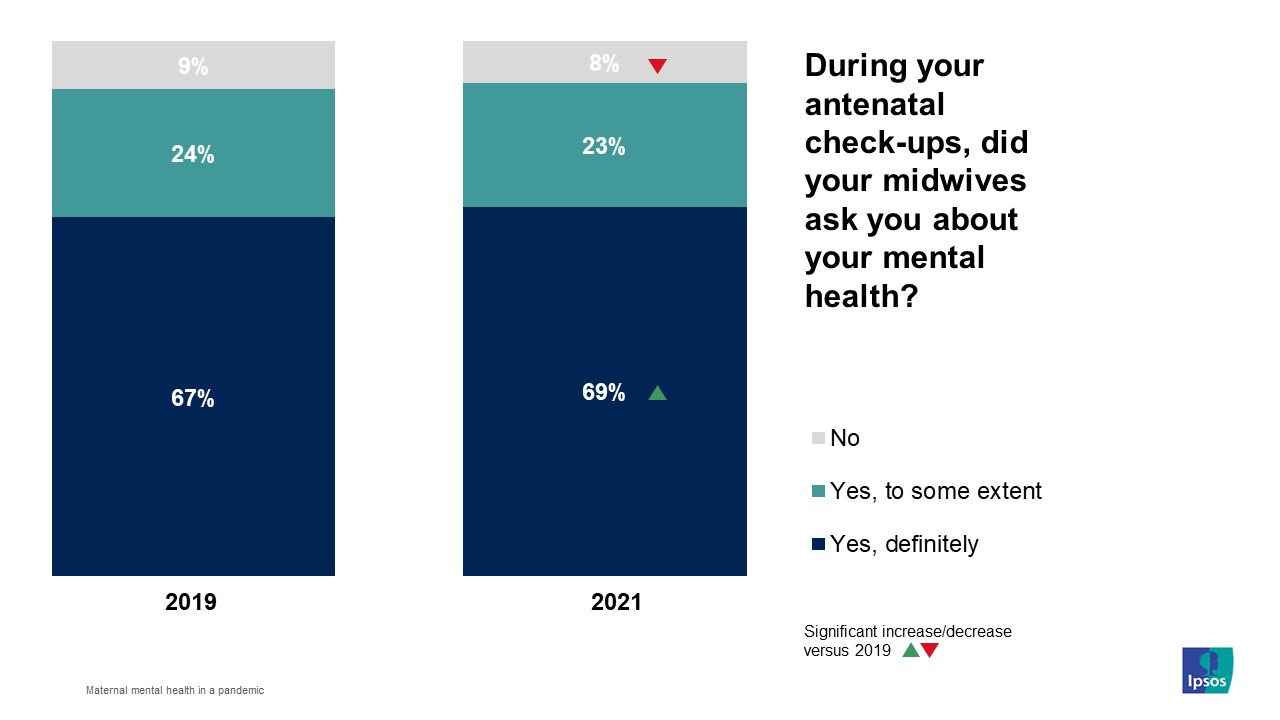 Mental health support after the birth
There appear to be larger gaps in mental health support provided after the birth.
Just over half (55%) of mothers reported they were definitely given information about any changes they might experience to their mental after having their baby. This was  significantly lower than seen in 2019 (63%).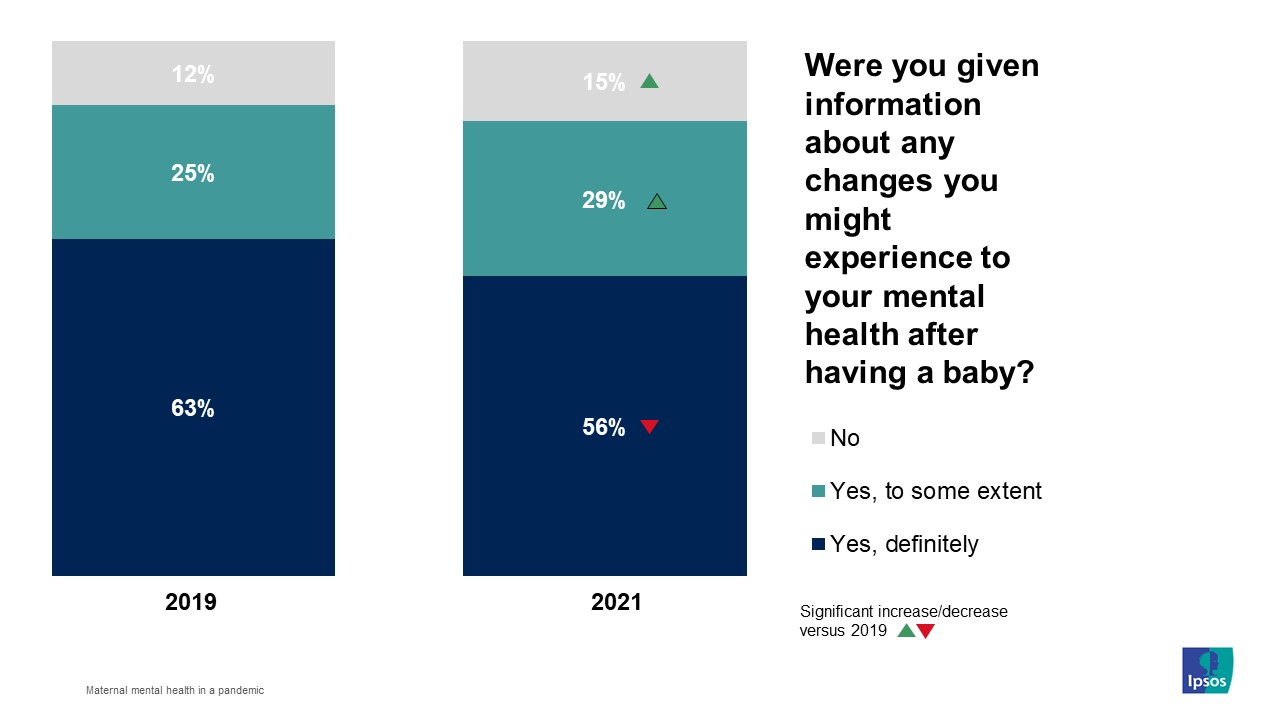 While only just over half (55%) were definitely given specific information on what they might expect, a far higher proportion (79%) were told who they could contact if they needed advice about any changes they might experience to their mental health.  However, this was a slight but significant dip compared with the 2019 findings (80%).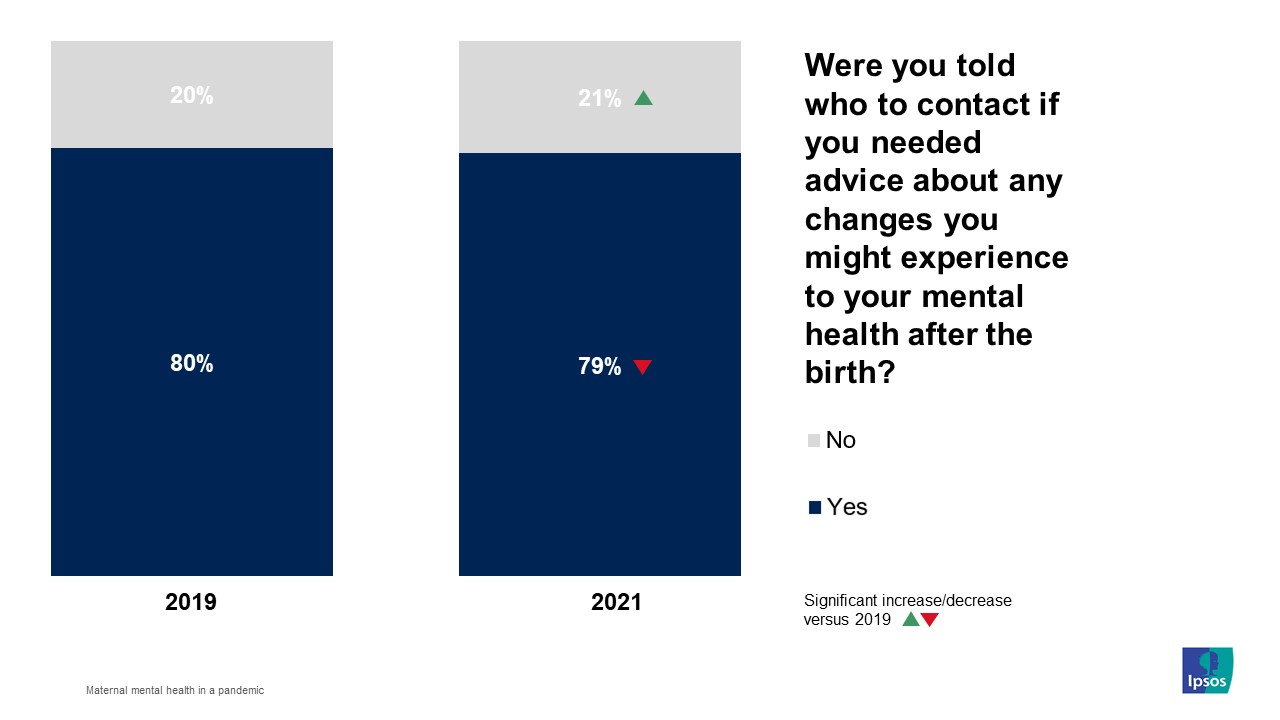 Longer term support for mothers was shown to be an area for further improvement.  Just over one in three (37%) reported that at their postnatal check-up (around 6-8 weeks after birth), that their GP definitely spent enough time talking to them about their mental health.  This is a significant drop from an already low baseline of 40% in 2019.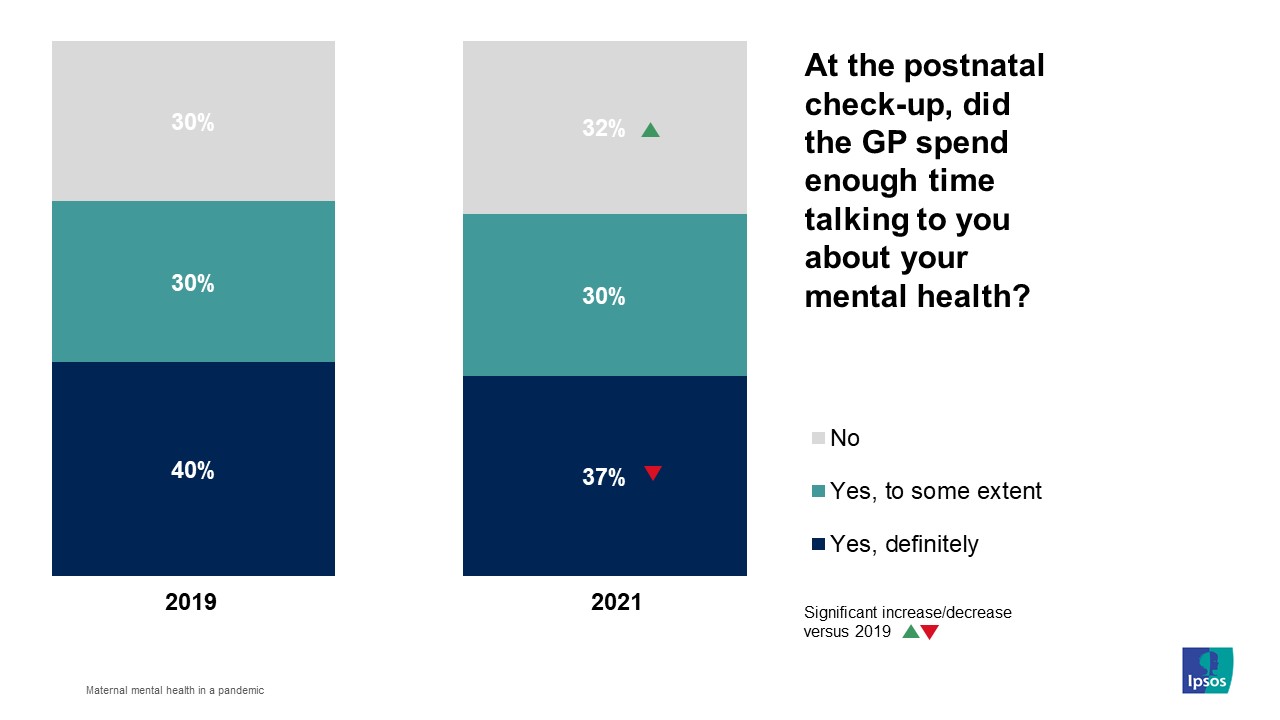 Conclusion
The Royal College of Psychiatrists state that one in five mothers experience mental health challenges during pregnancy or after the birth and the Better Births review recommends better postnatal and perinatal mental health care.
The Maternity Survey 2021 shows services have performed well in supporting mothers' mental wellbeing during the difficult circumstances brought about by the pandemic, but there is still room for improvement – particularly around postnatal care where as many as one in ten mothers may experience post-natal depression in the year after birth.
The NICE guidelines on antenatal and postnatal mental health state that mothers should be asked about their emotional wellbeing at each routine antenatal and postnatal contact.  While the data from the Maternity Survey 2021 shows that many healthcare professionals are doing this, it does raise a question as to whether these conversations are to the depth, or for the duration, that mothers would like. This is something for providers to consider and to be monitored in future waves of the Maternity Survey.
Technical note
Ipsos coordinates the Maternity Survey on behalf of the CQC. NHS trusts drew a sample of mothers, aged 16 or over at the time of delivery, and had a live birth between 1 February and 28 February 2-21. If there were fewer than 300 mothers within an NHS trust who gave birth in February 2021, then births from January were included. 
45,445 mothers were invited to take part in the survey and 23,479 mothers responded (an adjusted response rate of 52%).
Fieldwork took place between April 2021 and August 2021.
Prior to 2021, the Maternity Survey was conducted using a solely paper-based methodology. Following a successful pilot of a mixed method approach, the 2021 survey transitioned to offer both paper and online completion methods. You can view this work on the cross survey programme website.
Further technical information and the full survey results can be found on the CQC website
Notes:
1: Individuals were eligible for the survey if they had a live birth during February 2021, were aged 16 years or over at the time of delivery and gave birth under the care of an NHS trust (including home births). Trusts with fewer than 300 eligible deliveries in February were required to also include individuals who gave birth in January 2019, beginning with deliveries on 31st January and working backwards until either a sample size of 300 was achieved or January 1st was reached.
2: New question for 2021 so no comparator data available