Public favourability towards Boris Johnson continues to fall
While Boris Johnson and his party lose favourability, Keir Starmer gains recognition but still has a long way to go.
The latest Ipsos political pulse shows 39% are now favourable to the Prime Minister while 43% are unfavourable. Last month 45% had a positive opinion of Johnson and 38% saw viewed him negatively. This is the first time more Britons have been unfavourable towards the PM than favourable since the beginning of March.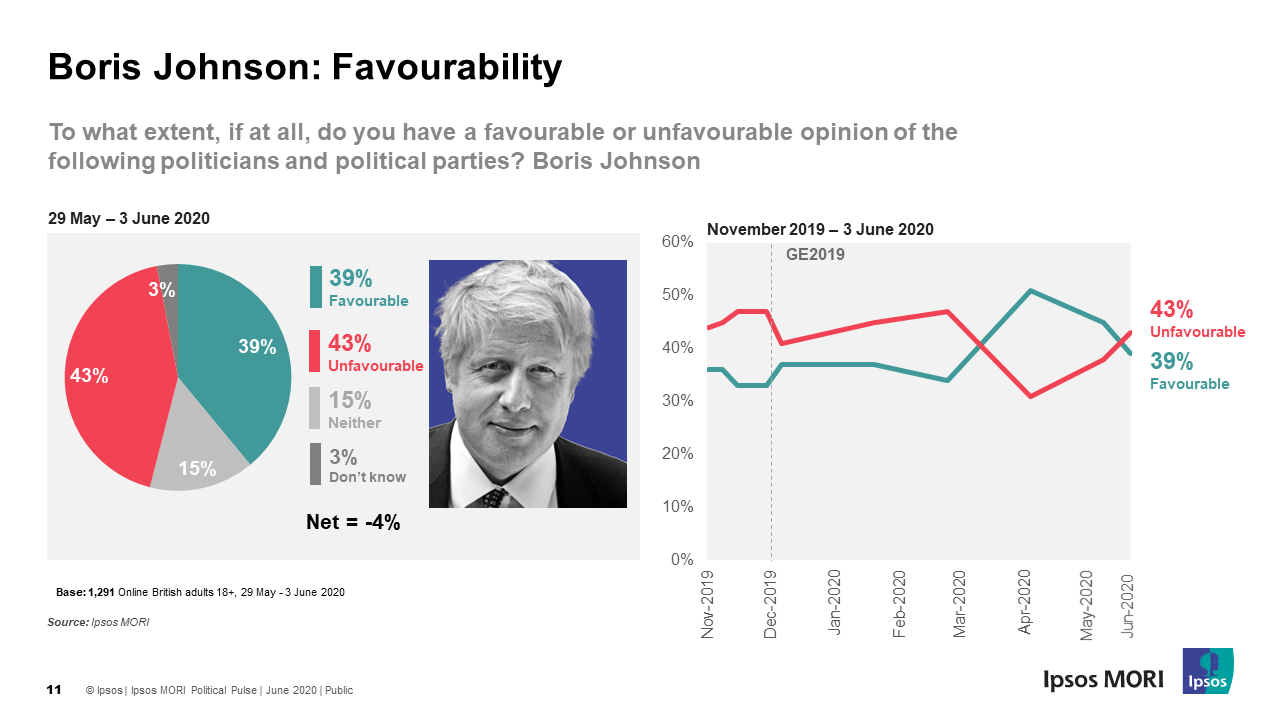 Meanwhile, more Britons are forming an opinion on Keir Starmer over time; 62% now hold a positive or negative opinion of him compared to only 41% when we first asked in January. More than one third of Britons (36%) have a favourable opinion of Starmer, up 10 percentage points from April, while only 26% see him negatively. Findings are largely unchanged since May. However, 38% still do not hold a positive or negative opinion of him compared to only 18% for Boris Johnson.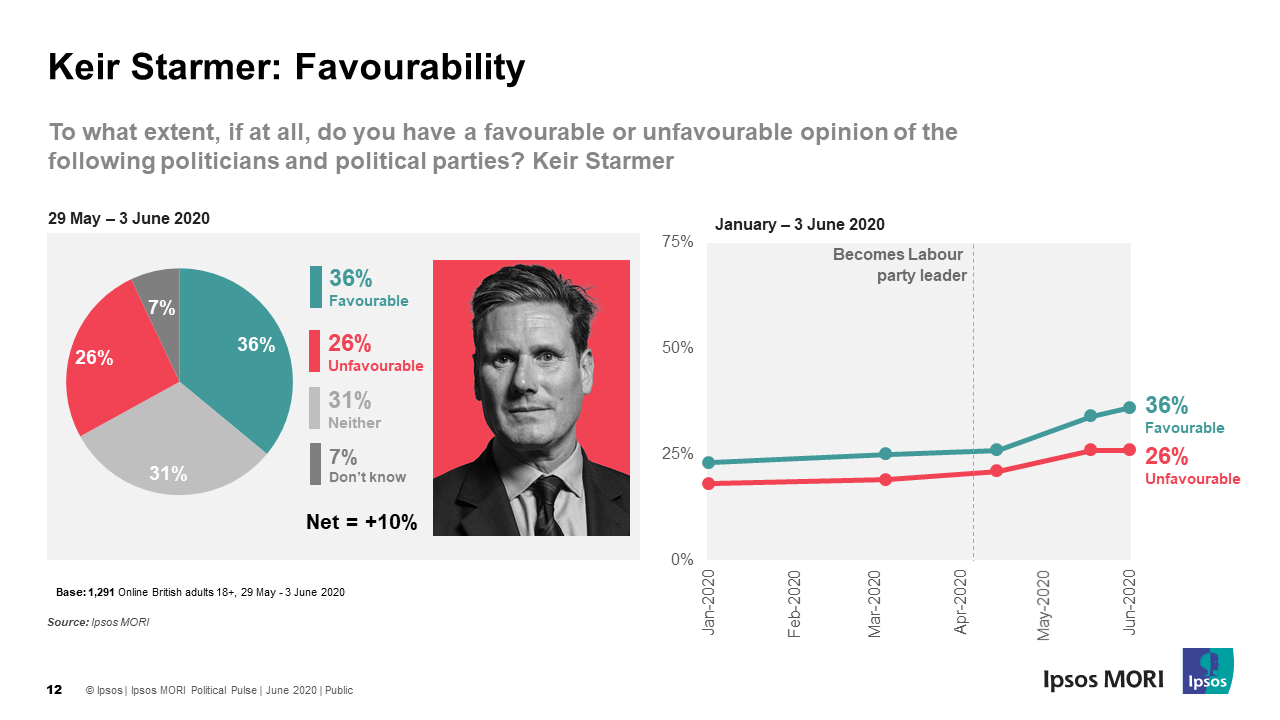 When asked about various personality traits of the two party leaders, Boris Johnson is more likely to be seen as having 'a lot of personality' when compared to Starmer (64% v 30%) whereas Starmer is more likely than Johnson to be seen as someone that 'pays attention to detail' (Starmer 41%, Johnson 29%). Across a range of other metrics, Johnson is more polarising than Starmer. For example, Britons are more likely to say Johnson is a 'strong leader' or 'good in a crisis' than Starmer but they are also more likely to say Johnson is not. More Britons say they 'don't know' whether these attributes apply to Starmer ('strong leader' 46%, 'good in a crisis' 57%) than either they do or do not.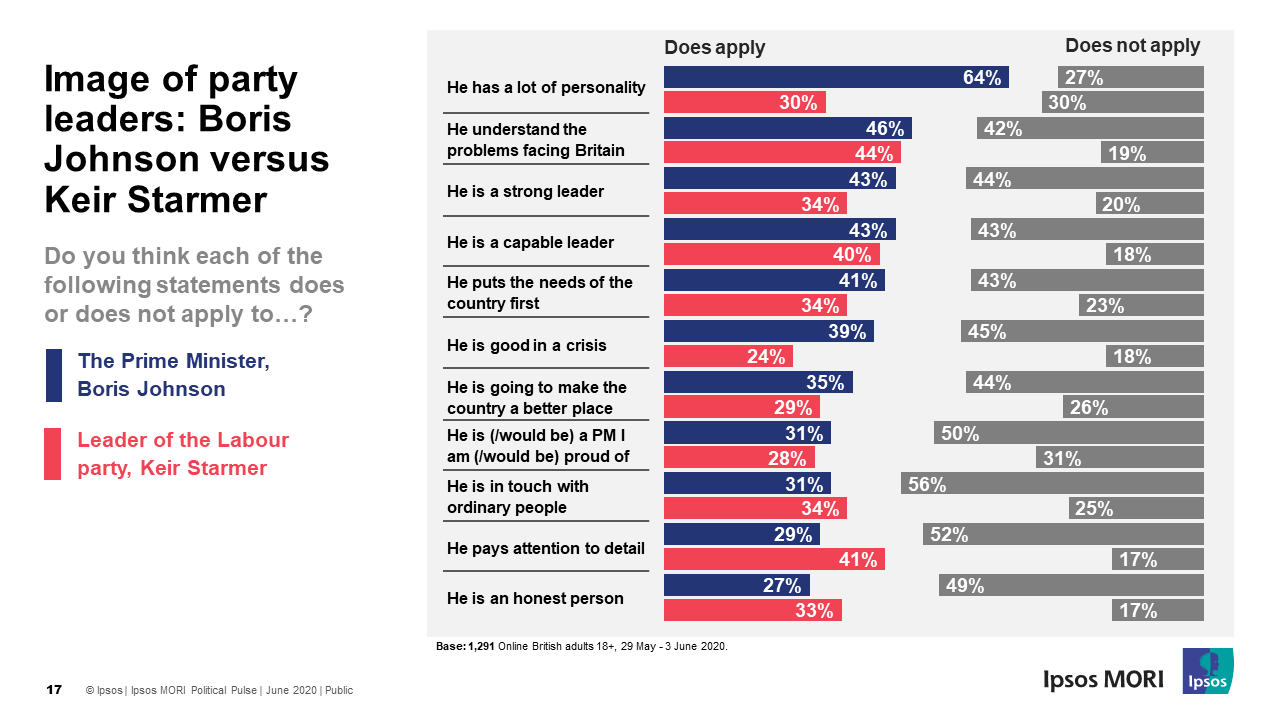 Meanwhile, 46% of Britons are favourable towards Chancellor Rishi Sunak, 19% are unfavourable. 32% are favourable towards Health Secretary Matt Hancock and 38% are unfavourable. 
In terms of the parties themselves, 44% of Britons now have an unfavourable opinion of the Conservative Party, compared to 39% in May. Now, only a third (33%) are favourable towards the party, down from 36%. Labour numbers are consistent over the past two months having improved following Jeremy Corbyn's departure as leader. 31% are favourable towards the party and 39% unfavourable. In 'net favourability' terms, the Conservative figure of -11 is identical to that seen shortly after last December's General Election but Labour's figure of -8 is significantly improved from -27.
More Britons believe the country is heading in the wrong direction rather than right, 43% now feel this way while only 30% believe we are on the right track, making this the biggest lead for wrong direction over right this year. Labour Party voters are significantly more likely to believe that the country is on the wrong track, 67% say this, however 53% of Conservative supporters believe we are on the right track. 
Ipsos Research Director Keiran Pedley said of the findings:
Boris Johnson's favourability ratings continue to fall from their April peak, and it is noteworthy that more Britons are now unfavourable towards the Prime Minister than favourable. The data shows that Johnson is a polarising figure whilst Starmer continues to be a relative unknown – although that is changing. Labour will be encouraged that Starmer's ratings continue to be net positive as he becomes better known and that Labour is no longer looked upon less favourably by the public than the Conservatives. However, with Labour yet to lead the Conservatives in voting intention polls it is still a long way back to power for the party
Technical note:
Ipsos interviewed a representative sample of 1,291 British adults aged 18+. Interviews were conducted online from 29th May – 3rd June 2020. Data are weighted to match the profile of the population. All polls are subject to a wide range of potential sources of error.