Reaching net zero – awareness and attitudes
7 in 10 Britons are aware of the term 'net zero' – but what actions do they support the UK Government taking to help the UK reach net zero?
The UK is hosting this year's UN Climate Change Conference (COP26) in Glasgow, where the focus will be on how the global economy can reach net zero emissions. The term 'net zero' refers to achieving a balance between the greenhouse gases put into the atmosphere and those taken out, which has become a key target for governments and businesses in their climate strategies. The UK Government has a legally-binding target of reaching net zero by 2050, and earlier this year announced they will accelerate progress by aiming for a 78% reduction of carbon emissions on 1990 levels by 2035. The Scottish Government is aiming to achieve net zero even more rapidly, with a target of 2045. In our latest Ipsos KnowledgePanel survey, 69% of the UK public said they had a good/fair understanding of the term 'net zero carbon emissions'. We have also seen these levels of awareness in other research we have conducted for Ofgem, where 72% of those surveyed had an understanding of this term.
Yet net zero commitments and the government's plan to get there are not well-known amongst the public. Only one in five (20%) said they were aware of the UK and Scottish Governments' net zero commitments. Our polling for Earth Day 2021 also found that only 28% of Britons interviewed agreed that the UK Government has a clear plan in place for how people, businesses and government will work together to tackle climate change. This was just below the global market average (31%), highlighting the role the UK Government will need to play in communicating its plans to raise awareness of them and demonstrate leadership in this area.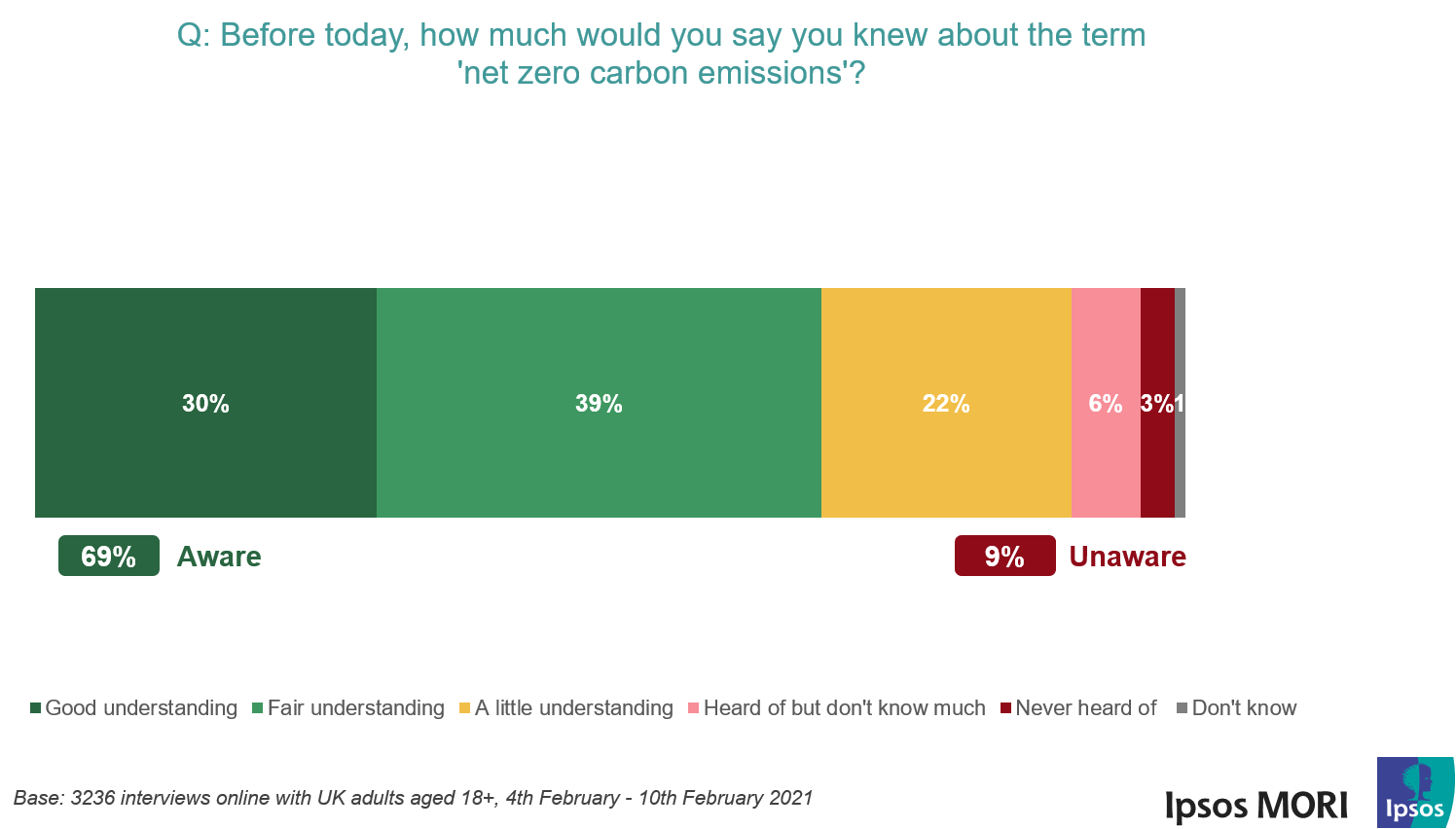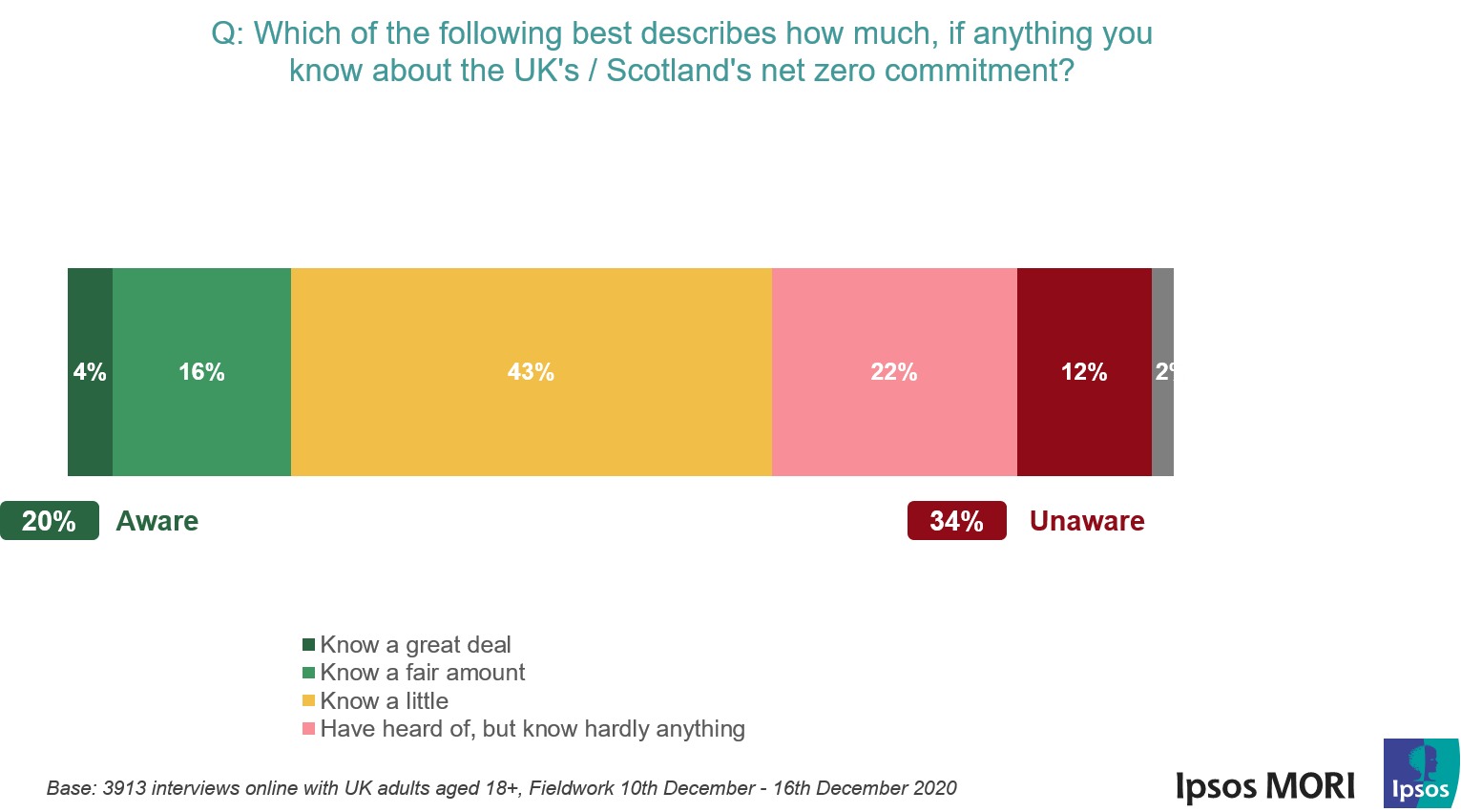 What actions do the UK public support to catalyse change?
The UK public support government action to encourage changes in several areas, to reduce the UK's carbon emissions and help meet its net zero target. People are more likely to be in favour of policies that incentivise or encourage action financially – providing financial co-benefits – or support actions that are already embedded in their lifestyle. For example, the vast majority (90%) said they would support households being encouraged to recycle more where recycling is already an established part of people's lifestyles. Moreover, support for encouraging households to improve the energy efficiency of their homes (88%) and install low carbon heating (85%) by providing financial help and incentives was high. The UK Government introduced and reiterated support for some such policies in last year's Energy White Paper. They restated their commitment to the proposed Clean Heat Grant and to supporting decarbonisation of homes through schemes like the Green Homes Grant Local Authority Delivery Scheme, which helps local authorities install energy efficiency measures in lower income households.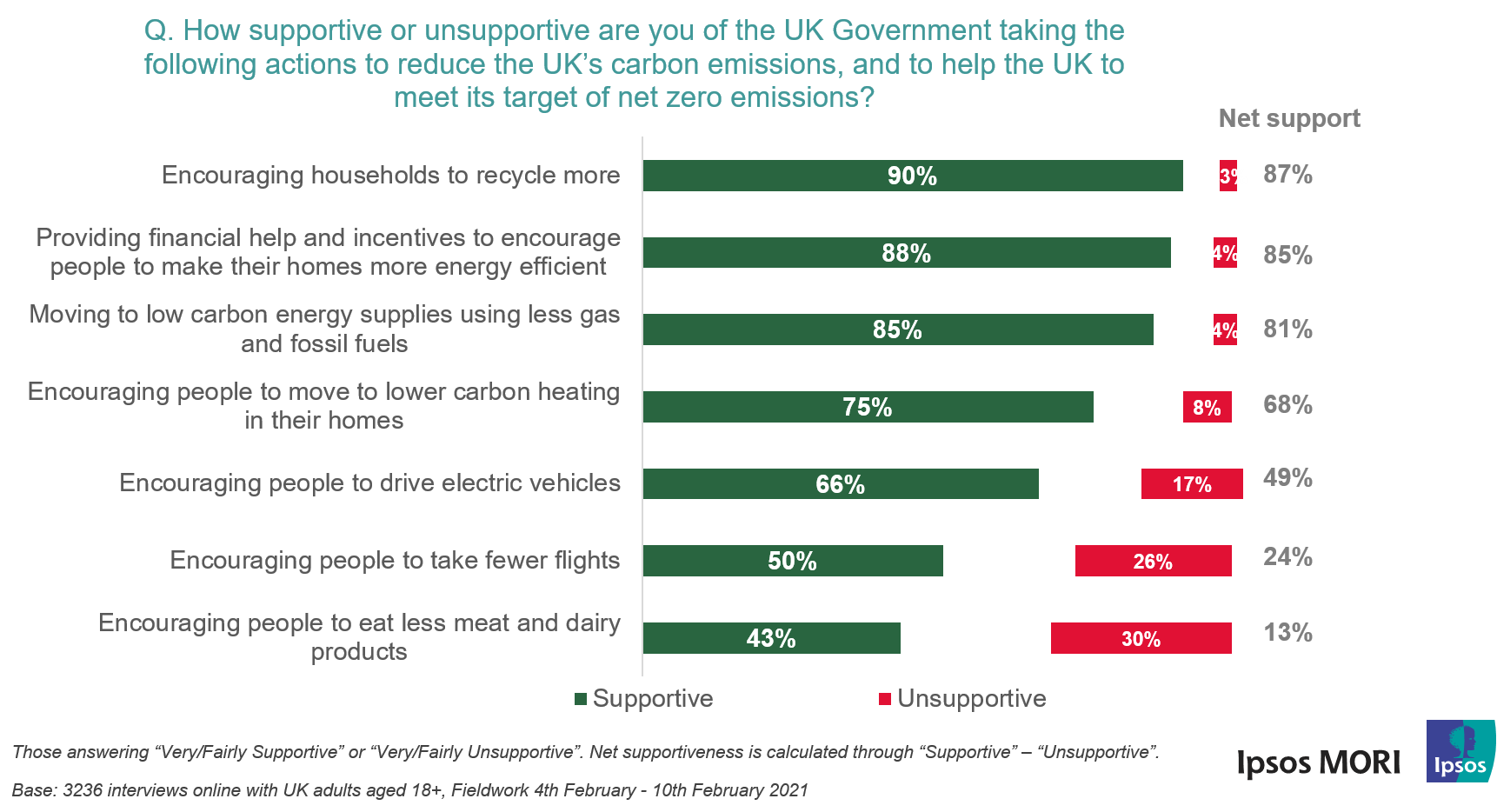 In comparison, the UK public are less likely to support policies that regulate their lifestyle or have costs or downsides associated with them. For example, half (50%) of respondents were supportive of encouraging people to take fewer flights (e.g. by increasing the price of flights). Two fifths (43%) supported the UK Government encouraging reductions in meat/dairy consumption (e.g. by making plant-based diets more affordable or increasing the price of meat and dairy products). However, more people support these measures than oppose them. Moreover, while actions entailing larger lifestyle changes have lower support, people understand the need to change as elsewhere in the survey 84% agreed that 'The way we live our lives will have to change substantially to address climate change'.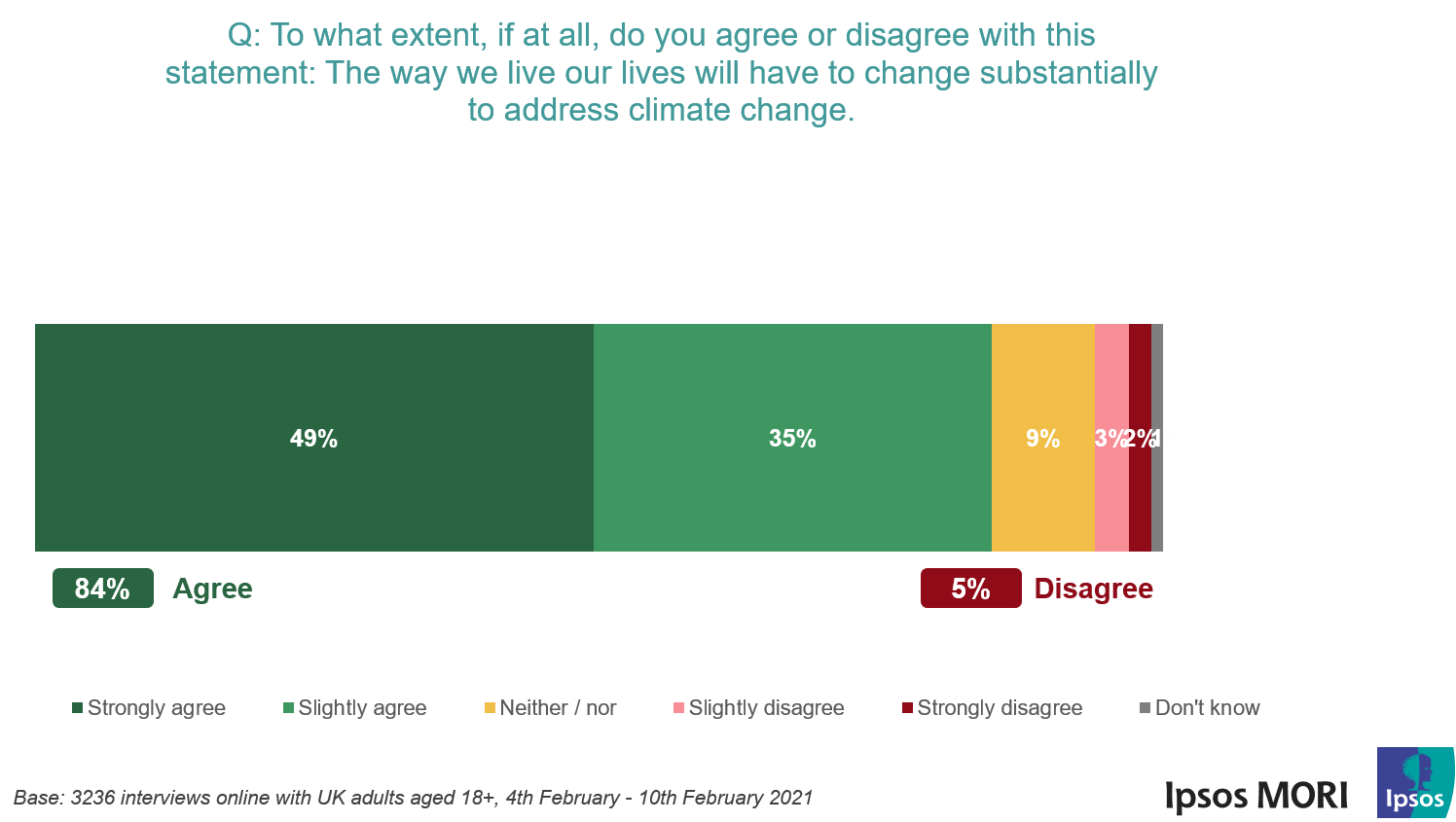 Why do the UK public support some actions more than others?
Despite most people surveyed recognising the need to act against climate change, why are they less supportive of actions that will add extra costs, effort or downsides to their daily lives? In part this may be because citizens already feel that they are doing their fair share in tackling climate change. Ipsos research for EDF shows that while 59% of people surveyed in Great Britain think citizens and consumers are fighting climate change, only 49% feel that the government is currently. Even less (36%) feel that companies are doing so. Yet three quarters (75%) think the government should be taking action and half (49%) expect the same of companies, demonstrating a clear mandate for government and industry to take action and show leadership in this space.
We can also look to polling conducted by Ipsos for Earth Day 2021 to understand the reasoning behind varying support for different actions. 71% of Britons surveyed in our Earth Day polling agreed that 'I understand what action I need to take to play my part in tackling climate change'. However, our Perils of Perception research shows that people are confused about which actions are the most effective to combat climate change. Britons tend to overestimate the impact of some behaviours such as recycling, which may also explain why this is the most broadly supported and common pro-environmental behaviour. At the same time, people underestimate the impact of more effective measures such as flying less. This suggests more could be done to encourage people to take up other behaviours by increasing their understanding of their climate impacts. Ipsos calls this discrepancy between what people believe vs what is actually true about climate change, the 'believe-true gap.'
People's behaviour is not only driven by attitudes and perceptions of (in)convenience – they also require knowledge, information and leadership to act. This includes information about the opportunities created by different policies (e.g. for jobs and economic growth) and dependencies (e.g. skills) for such actions to be effective, not just around the costs to consumers and benefits they will bring for the world through reaching net zero. The Government and industry play a key role in disseminating this information and demonstrating action clearly and effectively to address the believe-true gap. This is particularly important in the run-up to COP26 and should continue afterwards to keep building momentum to reach net zero.  
Ipsos's UK KnowledgePanel is the UK's largest online random probability panel, providing total understanding of the UK public for businesses and organisations looking for cutting edge insight at the gold standard of online research methods. Find out more here.
Technical Notes:
Data source is the Ipsos KnowledgePanel. This is a random probability online panel in the UK. The sample for this survey was 3,236 adults aged 16+ across the UK. Interviews were conducted online 4th – 10th February 2021. Data are weighted to be representative of the profile of the population. All polls are subject to a wide range of potential sources of error. Data from a previous Ipsos KnowledgePanel survey was also used. The sample for this survey was 3,013 adults aged 16+ across the UK.
Data from a Global Advisor survey for Earth Day is also referenced. This data was collected via the Ipsos Online Survey panel. The sample for this survey was 21,011 adults aged 16-74 across 30 markets; this article references a sample of 1,000 adults aged 16-74 in Great Britain (excluding Northern Ireland). Interviews were conducted 19th February – 5th March 2021. Data are weighted to be representative of the profile of the population. An Ipsos Online Panel poll of 1,000 is accurate to +/- 3.5 percentage points.
Additionally, data from the Ofgem 2020 Consumer Survey is referenced. This was collected via from the Ipsos iSay panel alongside a blend of other panels via Computer Assisted Web Interviewing (CAWI). The sample for this survey was 4608 adults gas and/or electricity consumers who were solely or jointly responsible for paying household energy bills in Great Britain aged 16 and over. Interviews were conducted 14th September – 16th November 2020. Data are weighted to be representative of the profile of the population.
Finally, data from the 2020 Climate Change and public Opinions International Observatory for EDF is referenced. This data was collected via the Ipsos Online Survey panel. The sample for this survey was 1000 adults aged 16+ in Great Britain. Interviews were conducted online 22nd – 29th September 2020. Data are weighted to be representative of the profile of the population.