7 in 10 Britons say they understand what they must do to fight against climate change, but few can identify the best ways to make an impact
Britons say they understand what actions they need to take to combat climate change, but do they really? The latest Perils of Perception study by Ipsos looks at how the general public in 30 markets around the world perceive environmental action. We ask them what they might do in their own lives to tackle climate change, and compare the answers to the (sometimes confusing) scientific truth.
In the latest Perils of Perception survey by Ipsos, we look at how people perceive climate change and the ways they can help fight it. While 7 in 10 Britons (71%) say they understand what they need to do to help the fight, we examine how accurate their perceptions are.
Take the Perils of Perception Quiz
According to the Institute of Physics, the top 3 ways to reduce greenhouse gas emissions are having one fewer child, not having a car and avoiding one long-distance flight1. However, it would seem Britons are unlikely to recognise these, instead they are most likely to identify recycling as much as possible (55%), buying energy from renewable sources (45%) and replacing a typical car with an electric or hybrid vehicle (39%).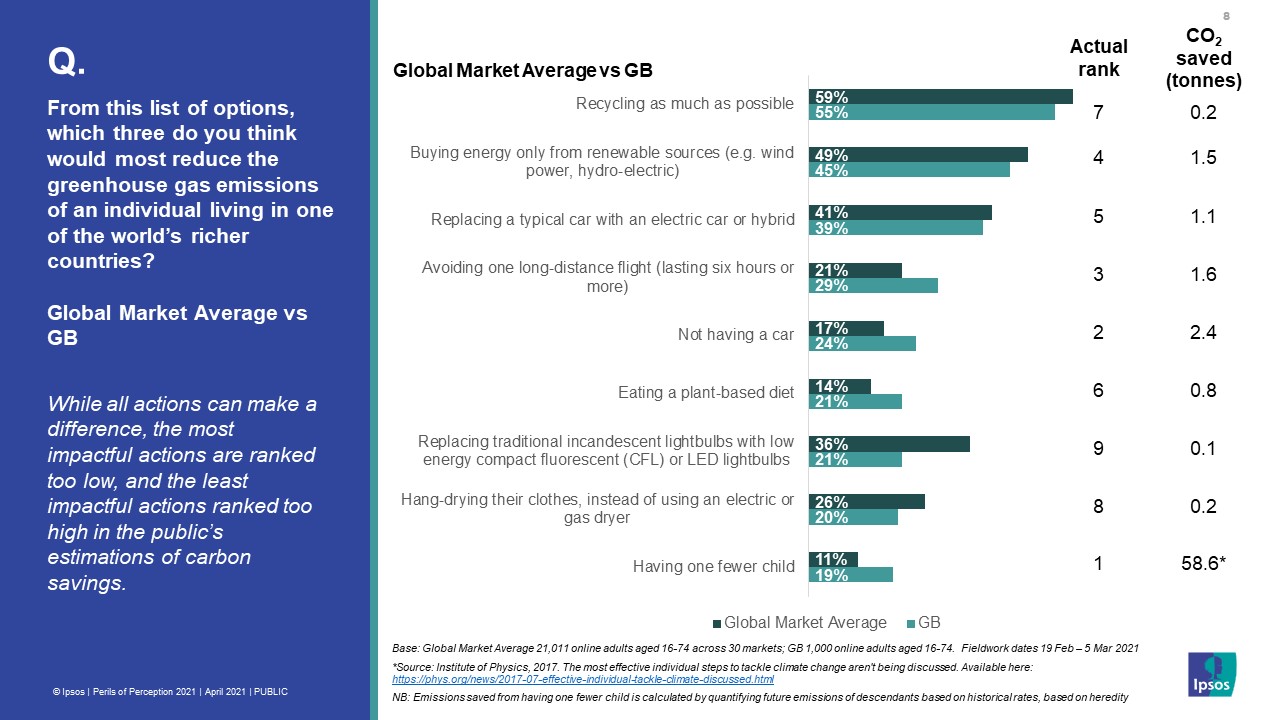 When looking at the top 30 ways to reduce our personal climate change impact, Britons are most likely to identify less packaging (61%) and buying fewer or more durable items (50%), placing 38th and 46th respectively2.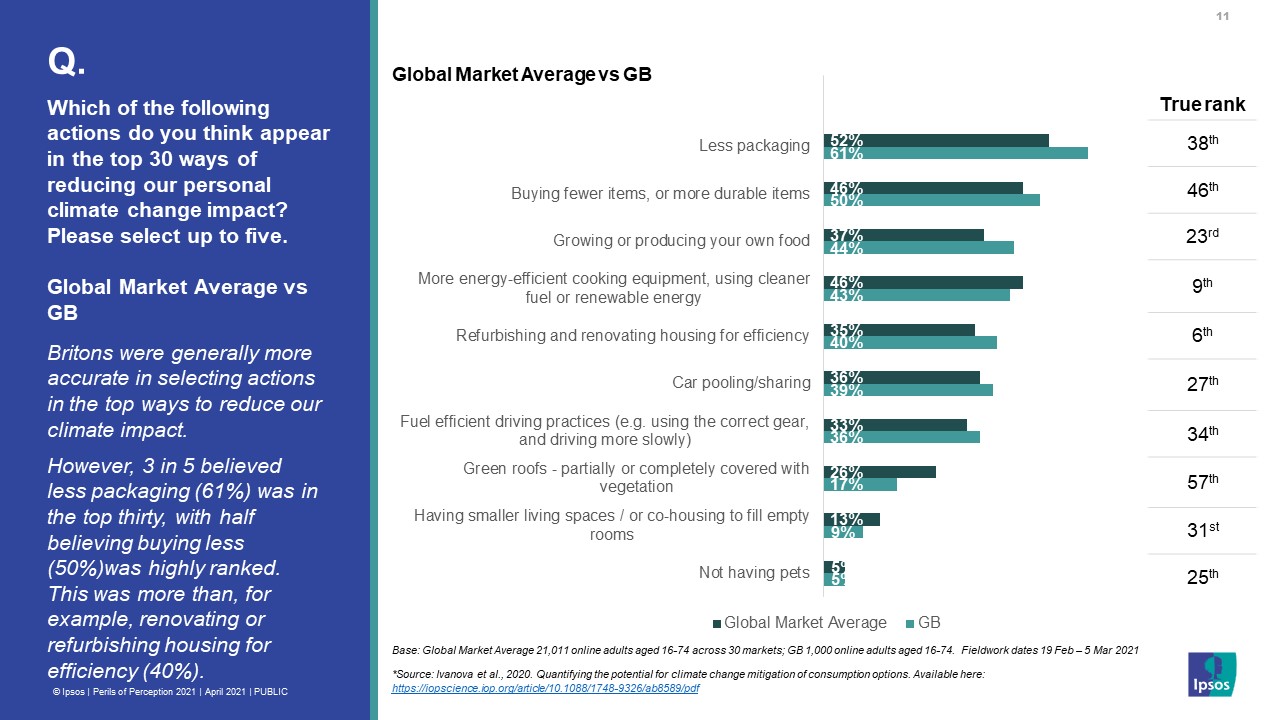 The measures identified that are included in the real top 30, as identified in "Quantifying the potential for climate change mitigation of consumption options", include:
Refurbishing and renovating housing for efficiency, identified by 40% of Britons it is in fact the 6th best way to reduce your personal climate change impact
More energy-efficient cooking equipment, 43% chose this option which places 9th in reality
Growing your own food, 44% of Britons chose this however according to our source this measure is the 23rd best measure to reduce your personal impact
Not having pets was chosen by only 5% of Britons, in fact this is the 25th most effective way to reduce your impact
39% correctly identified car-pooling/ sharing as one of the top 30 ways to cut your effect on climate change with it placing 27th.
While there has been much conversation about internal displacement over recent years, few Britons recognise the impact climate change has on the movement of people. Four in ten (39%) believe conflict causes the majority of internal displacements while only a third (32%) are correct in saying climate change/ weather is the bigger cause. According to the GRID 2020 Mid-Year Update, in the first 6 months of 2020 9.8m of the 14.6m cases of new internal displacements had been caused by change in climate or weather3.
Britons' perceptions of global warming are also imprecise, only 4% correctly say that all 6 years since 2015 have been the hottest year on record, 61% simply don't know.
When looking at the effects of diets on the environment, the majority of Britons (62%) believe eating a locally sourced diet, including meat and dairy products, is better than a vegetarian one with some imported products. Only 1 in 5 (18%) correctly believe it is the other way around4.
Kelly Beaver, Managing Director of Public Affairs at Ipsos, said:
The public seem to have got the message when it comes to the importance of recycling, the reality is that the actions that need to be taken require significantly bigger sacrifices. The issue of the environmental crisis is familiar to people around the world, but people remain confused about what actions are most likely to have a significant effect on their carbon footprint.
Sources
Technical note
Data source is the Ipsos Online Panel system, which surveyed 21,011 online adults aged 16-74 across 30 markets.
The survey was conducted in Great Britain among 1,000 adults aged 16-74 between Friday, February 19 to Friday, March 5, 2021.
Data is weighted by key demographics to be representative of the profile of the British public.
The precision of Ipsos online polls are calculated using a credibility interval with a poll of 1,000 accurate to +/- 3.5 percentage points. Please note, the sample for Great Britain does not include Northern Ireland.