Record public support for Scottish independence
Ipsos's Scottish Political Monitor, run in partnership with STV News, finds the highest level of support for independence yet recorded among the Scottish public.
Scottish independence
Among those who would be likely to vote in an independence referendum, 58% say they would vote Yes while 42% would vote No.
Almost two thirds (64%) of Scots say that the UK Government should allow another independence referendum to be held within the next five years if the SNP wins a majority of seats in the 2021 Scottish Parliament elections – while a third (34%) say that the UK Government should not allow this.
Scottish Parliament voting intention
The SNP currently has a very strong lead in voting intention for both constituency and list votes in next May's Scottish Parliament elections, with the Conservatives in second place and Labour faring worse in third.
Headline Scottish Parliament voting intention figures for the constituency vote are:
SNP: 58%
Scottish Conservatives: 19%
Scottish Labour: 13%
Scottish Liberal Democrats: 8%
Other: 2%
Headline Scottish Parliament voting intention figures for the regional vote are:
SNP: 47%
Scottish Conservatives: 19%
Scottish Labour: 13%
Scottish Green Party: 9%
Scottish Liberal Democrats: 8%
Other: 3%
Satisfaction ratings
Nicola Sturgeon's personal ratings are extremely positive. 72% of the Scottish public say they are satisfied with the job she's doing as First Minister, while 24% are dissatisfied – giving a 'net' satisfaction rating of 49%.  
This compares with negative 'net' satisfaction ratings for the Conservatives' Douglas Ross (-17%), Labour's Richard Leonard (-25%), and the Liberal Democrats' Willie Rennie (-1%). All three leaders appear to be struggling to cut through to the Scottish public at present – 40% say they do not know whether they are satisfied or dissatisfied with Douglas Ross, 38% say the same of Richard Leonard, and 41% do not know how to rate Willie Rennie.
Three quarters (76%) of Scots are dissatisfied with the way Boris Johnson is doing his job as Prime Minister, the lowest ratings Ipsos has ever recorded for him in Scotland. 19% are satisfied with him while 5% don't know.
Keir Starmer is the only party leader other than Nicola Sturgeon to receive a positive net satisfaction rating from the Scottish public (16%). 44% are satisfied with the way he is doing his job as UK Labour Party leader and 27% are dissatisfied, while 29% don't know.
Arguments for independence and for staying part of the UK
We tested a number of arguments for Scottish independence and for Scotland remaining in the UK, to explore which arguments the public find most powerful. The two most convincing arguments tested in favour of independence relate to Scotland and England wanting different political futures and a lack of trust in Westminster to act in Scotland's interests: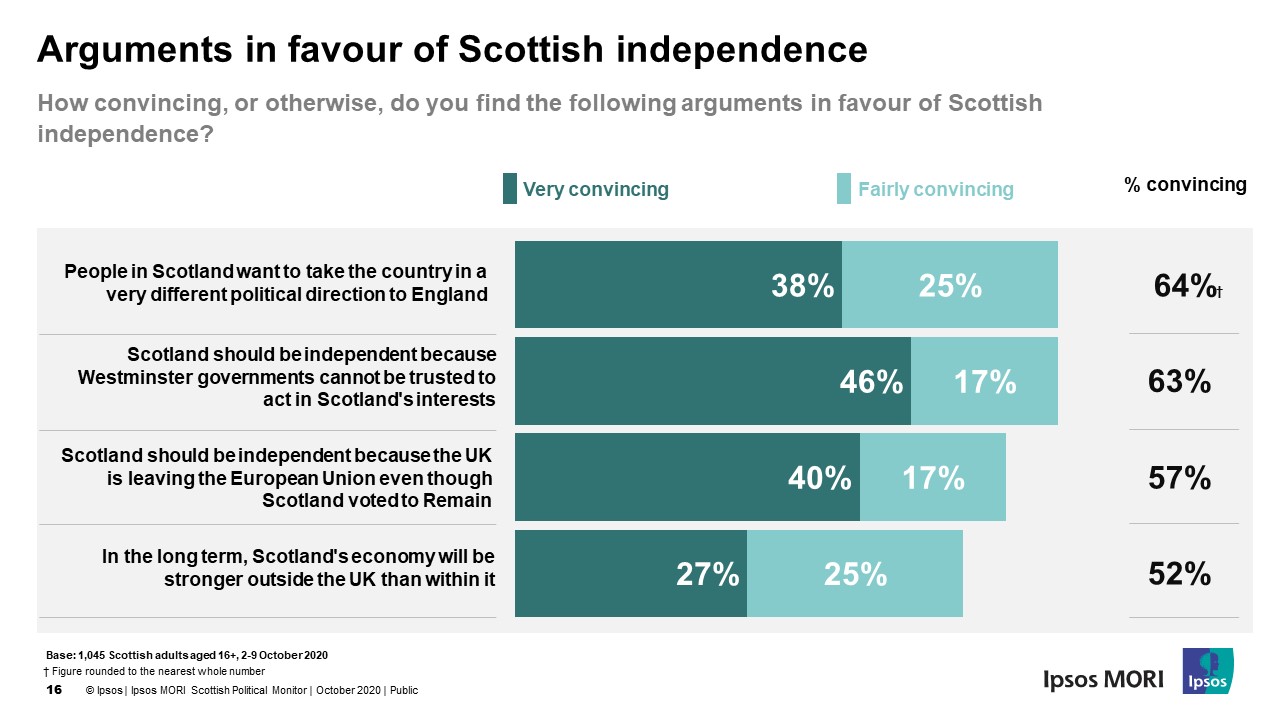 The two most convincing arguments tested in favour of Scotland staying in the UK are an emotional appeal to what the different countries of the UK have in common and the risks of independence for Scotland's economy and jobs.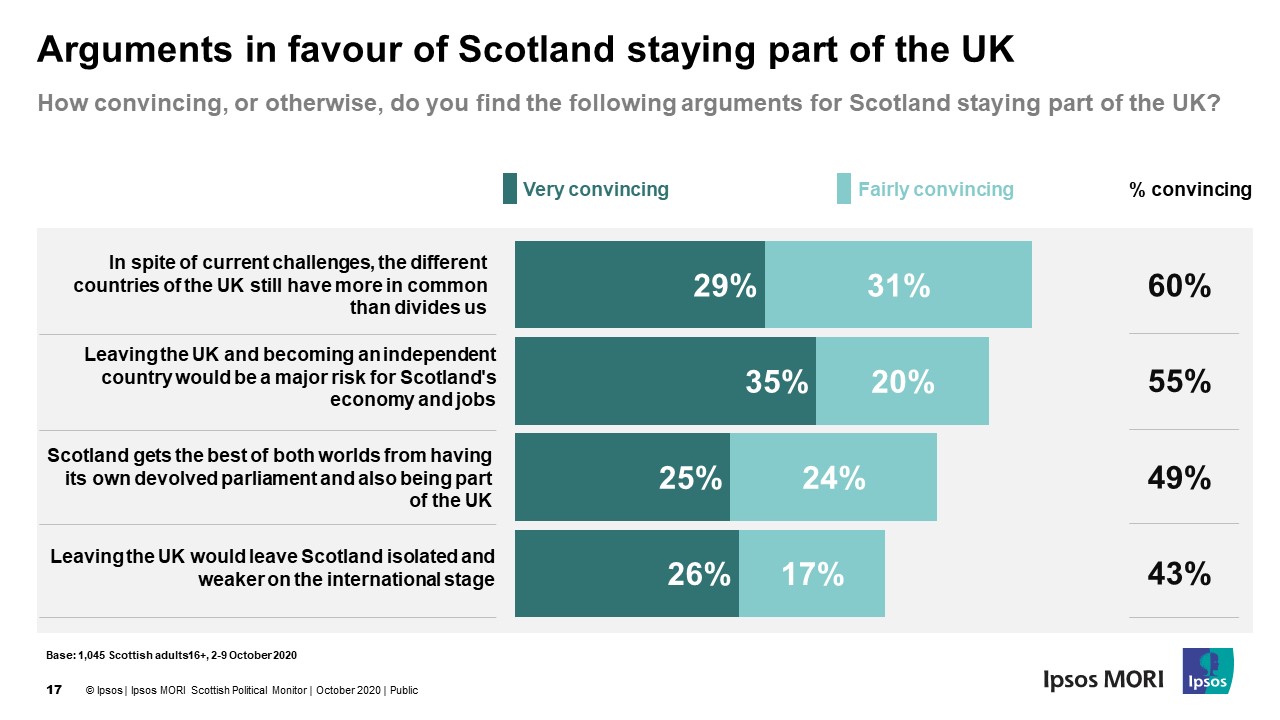 Emily Gray, Managing Director of Ipsos Scotland, said:
Our latest poll will put a spring in the step of nationalists but makes grim reading for unionists. The Scottish public have shifted even further towards supporting an independent Scotland, with record numbers now saying they would vote Yes.
Of course we are still a long way out from next May's Holyrood elections, but SNP support currently looks very strong, buoyed by Nicola Sturgeon's high satisfaction ratings among Scottish voters. Our poll suggests that there will be significant public pressure for the UK Government to transfer powers to the Scottish Parliament to hold a second independence referendum if the SNP win a majority at next year's Holyrood elections.
Technical Note
Ipsos interviewed a representative sample of 1,045 adults aged 16+ across Scotland.
Interviews were conducted by telephone 2nd – 9th October 2020.  
Data are weighted to the profile of the population.
Where results do not sum to 100%, this may be due to computer rounding, multiple responses, or the exclusion of "don't know" categories.
All polls are subject to a wide range of potential sources of error. On the basis of the historical record of the polls at recent general elections, there is a 9 in 10 chance that the true value of a party's support lies within 4 points of the estimates provided by this poll, and a 2 in 3 chance that they lie within 2 points.