Small Island or Global Britain?
Britons are optimistic about the future - but not everyone is convinced according to a new Ipsos poll for Nick Robinson's new BBC Radio 4 programme.
Ipsos has conducted a poll for Nick Robinson's new programme on Radio 4 considering Britain's place in the world. The research reveals that two in five (40%) Britons are optimistic about the future, believing in twenty years' time that Britain will be "Global Britain" and a country that plays an important role in the world. However, not everyone is convinced with a sizeable one in four (26%) saying the opposite – "Britain will be a small island that very few other countries pay attention to".
Voters who backed Boris Johnson's Conservatives at the last election are more optimistic about Britain's future. Three in five (59%) 2019 Conservative voters think "Global Britain" is possible, which is near twice the proportion of 2019 Labour voters who say the same (31%).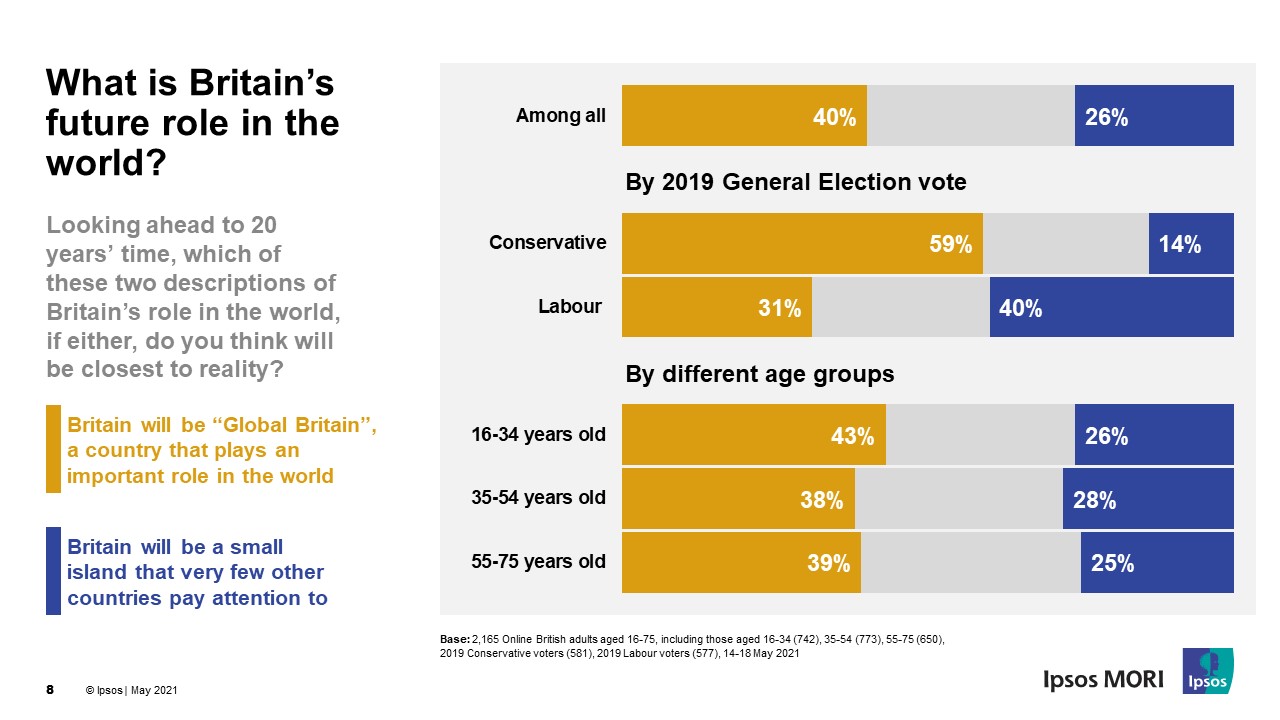 Elsewhere, the majority of Britons think there are circumstances when the army should intervene abroad. Around a third (33%) say it is justified but "only when Britain's interests are directly threatened". Whilst a similar proportion (27%) say "only when other people's right and freedom are threatened". Just 16% say the armed forces "should not intervene abroad and only be used to defend British territory".
Looking at regular trackers running since 2016:
Near half of Britons (49%) think that Britain is "a force for good in the world", which is unchanged since last year but down ten percent from April 2019 (when it was 59%).
Around two in five (43%) agree with the statement "Even though Britain is not as powerfully economically or militarily as some other countries, it should still try to punch above its weight in world affairs", which is down from over half (53%) in 2016 but similar to findings since 2019.
Compared to last year the public are more divided on whether they agree or disagree that "Britain should stop pretending to be an important power in the world". One third (33%) agree it should (down 5% from 2020), and another third (30%) disagree (up 2%). The rest are neutral on the question or say they don't know.
Listen to the programme on the BBC iPlayer or the BBC Sounds app.
Ben Page, CEO of Ipsos, said:
Overall, the British still want to matter globally. By two to one we want to punch above our weight in world affairs.  The young are more willing to accept a smaller role for Britain, but overall only 26% think we will be a small island no one listens to. Matching our ambition to our resources remains a central challenge.
Technical note
Ipsos interviewed a representative sample of 2,165 British adults aged 16-75. Interviews were conducted online from 14-18 May 2021. Data are weighted to match the profile of the population. All polls are subject to a wide range of potential sources of error.
Download