A third of Britons worry about paying their rent or mortgage now while 4 in 10 worry about whether they'll be able to in 12 months' time
As the cost of living crisis continues, we look at how people feel about their own housing now and what they think will happen in the future
New research by Ipsos in the UK shows a significant proportion of Britons are worried about their ability to pay their rent or mortgage at the moment while more than half are concerned about whether they'll be able to pay in a year.
Just over a third (36%) of Britons say they are very or fairly concerned about their ability to pay the rent or their mortgage repayments at the moment compared to 60% who are not. However, looking forward 12 months people are more likely to be worried than not as to whether they'll be able to afford their rent or mortgage. In our FRS survey, we see that 1 in 10 Britons say they would struggle to pay an increase in their rent or mortgage repayments with the same proportion already regularly missing credit payments. The same survey shows almost half of Britons are potentially vulnerable  (47%).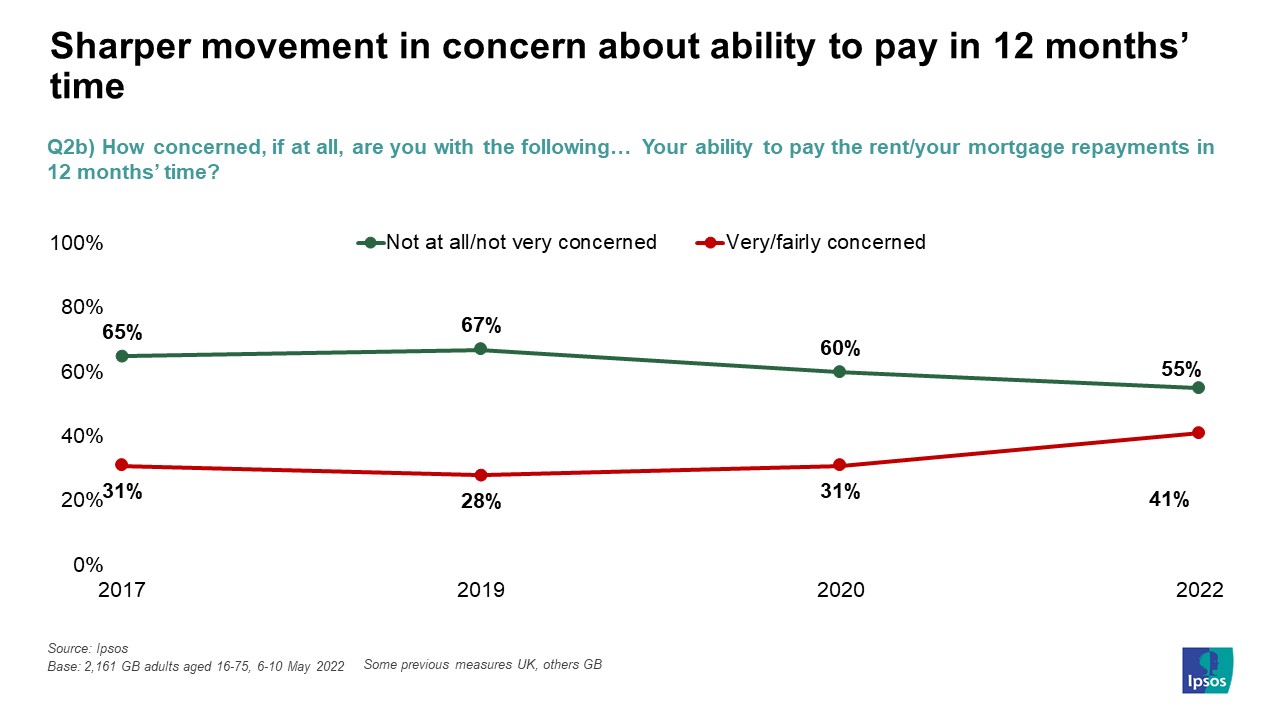 Those who rent are most likely to be worried now, 54% say they are concerned about their ability to pay their rent compared to 44% who are not. In comparison, only 14% of those who own their property are worried and 39% of those with a mortgage are concerned. 2019 Labour voters (43%) are almost twice as likely to be worried about their current ability to pay their rent or mortgage than 2019 Conservative voters (23%).
Similarly, renters (59%) and Labour voters (48%) are most likely to be worried about whether they will be able to pay for their homes in 12 months' time. 
Ben Marshall, Research Director, said:
So far, the cost-of-living crisis has focused on increases in food and energy prices, but increases in rents and mortgage repayments could see an additional squeeze on households. That private renters are more worried about affordability than mortgage-holders is neither new nor surprising – they pay a considerably larger share of their income on housing than other tenures – but the level of concern among the wider public is. Before the pandemic, 31% of people said they were very or fairly worried about paying for housing in 12 months' time, but the proportion has grown to 41%.
Technical Note
© Ipsos 2022, Financial Research Survey (FRS), for the 12 months ending 30 April 2022. The survey contacts around 53,000 adults (aged 16+) a year in total across Great Britain. Interviews were undertaken over the phone and online, taking into account (and weighted to) the overall profile of the adult population. 
The definition of vulnerability is based on the FCA's Financial Lives survey and the 4 pillars that define potential vulnerability, including but not limited to the following examples: health related issues; such as long term illness, addictions, mental health concerns, negative live events  such as bereavement, loss of income or divorce, financial resilience; regularly missing of payments, finding finances a burden, ability to handle payment shocks and financial capacity; confidence with managing money, level of financial knowledge and access to digital options/solutions.
Download