Infant feeding in a Pandemic: what does the NHS Maternity Survey 2021 tell us about infant feeding during the pandemic?
Laura Thomas looks at results from the NHS Maternity Survey 2021, run by Ipsos and the Care Quality Commission, to see what the data tells us about infant feeding during the pandemic.
The NHS Maternity Survey started in 2007 and the 2021 survey will be the eighth carried out to date. This is the first year the Maternity Survey has been offered in both paper and online methodologies and this has contributed to the survey achieving a response rate of 52% (up from 37% in 2019). The survey was sent to all mothers who gave birth in February 20211.  This means that respondents experienced the full maternity pathway from antenatal care to postnatal care, under pandemic conditions.
The graphic below shows the sequence of national restrictions and how this corresponded with the care pathway that mothers received during their pregnancy, labour, and postnatal care. As we can see, mothers began their maternity pathway in the first national lockdown and gave birth in the third national lockdown2.

The Maternity Survey 2021 results show that there has been a clear impact from the pandemic on maternity services and these are explored in detail in our blog Pregnant in a Pandemic.
Looking at the same data, there is an indication that the Pandemic has also had an impact on infant feeding in the early weeks after birth and the support mothers are offered from health professionals.
This has important implications as evidence shows a clear, positive relationship between breast feeding and the reduction of illness and infection, and long term health implications for both infants and mothers345.
Information on infant feeding during pregnancy
The findings from the 2021 CQC Maternity Survey 2021 show that significantly fewer mothers report they were definitely provided with relevant information about feeding their baby whilst they were pregnant (52% down from 59%).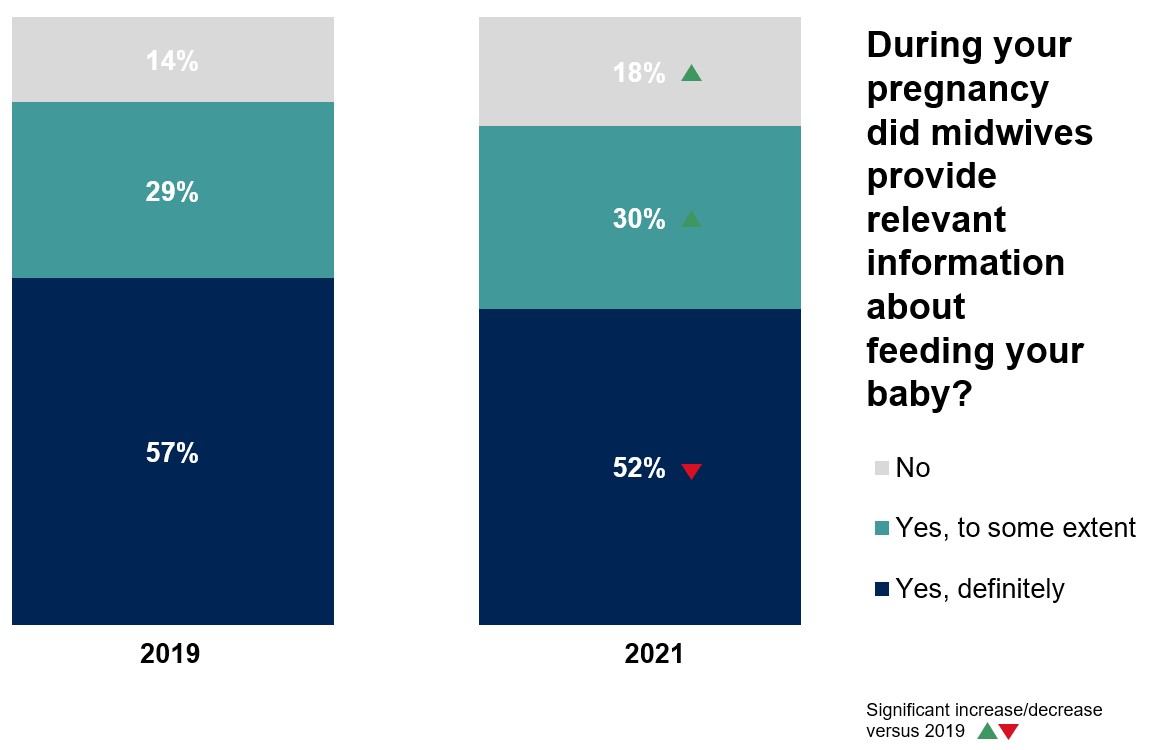 Infant feeding during the first few days after birth
Just over half of mothers reported they had exclusively breast fed their babies (or expressed) in the first few days after birth, which is significantly lower than 2019 (54%, down from 58%).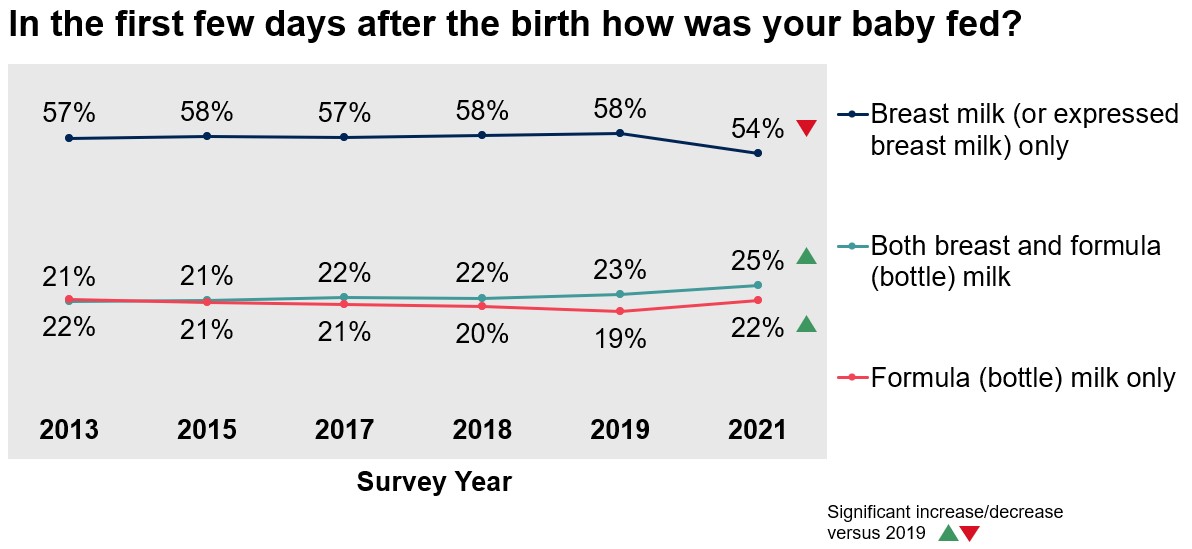 The support mothers receive from health professionals in those critical early days has also decreased. Significantly fewer mothers reported they were given active support and encouragement by midwives and other health professionals about feeding their babies (63%, down from 69%), and while the majority feel their decisions around how they wanted to feed their babies were respected, this is lower than in previous years (82%, down from 85%).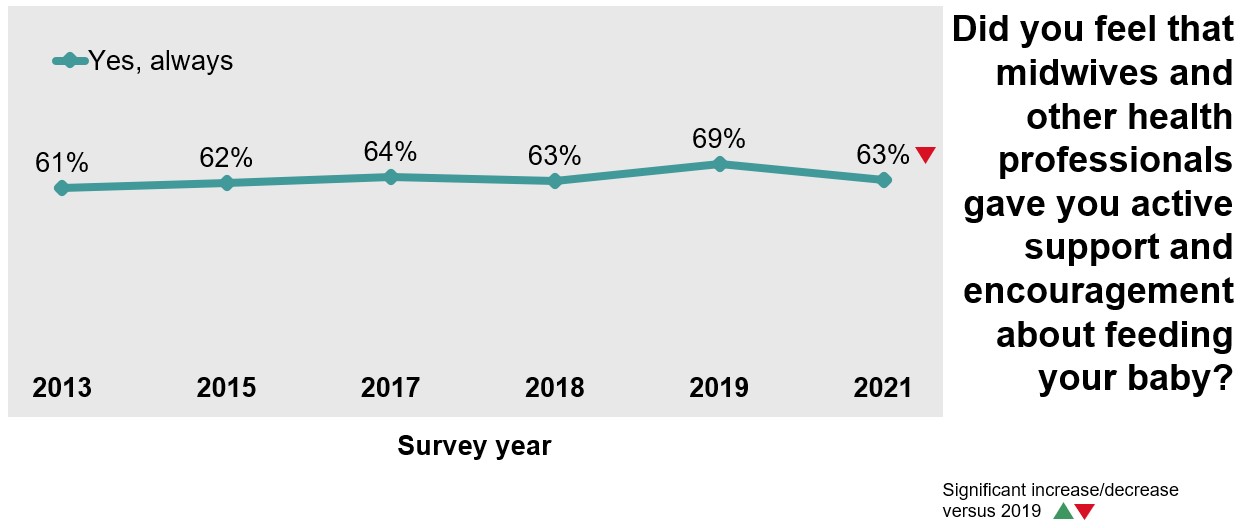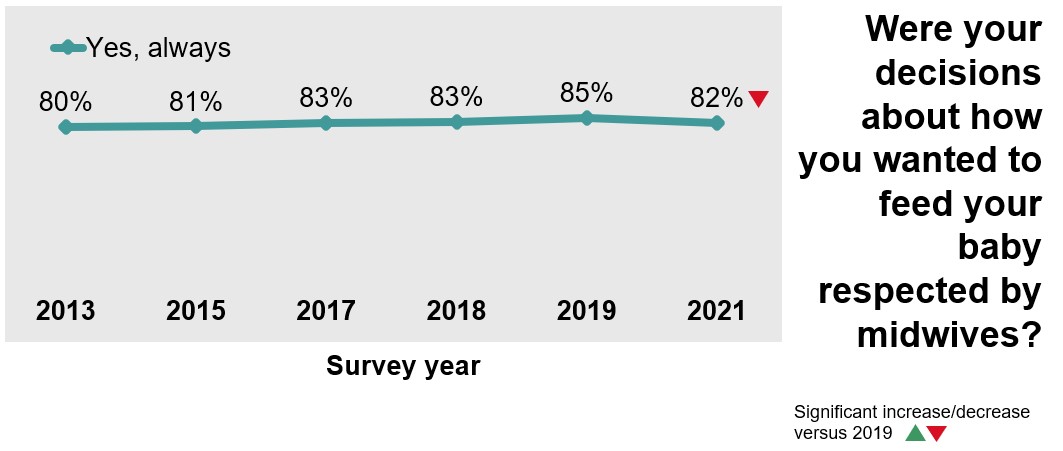 Longer term support for infant feeding
Longer term support from health professionals has also decreased, with a lower proportion of mothers reporting they received help and advice in the six weeks after birth (55%, down from 62% in 2019) and fewer than half (48%) report being able to get support and advice about feeding their baby if they needed it during evenings, nights or weekends (down from 53% in 2019).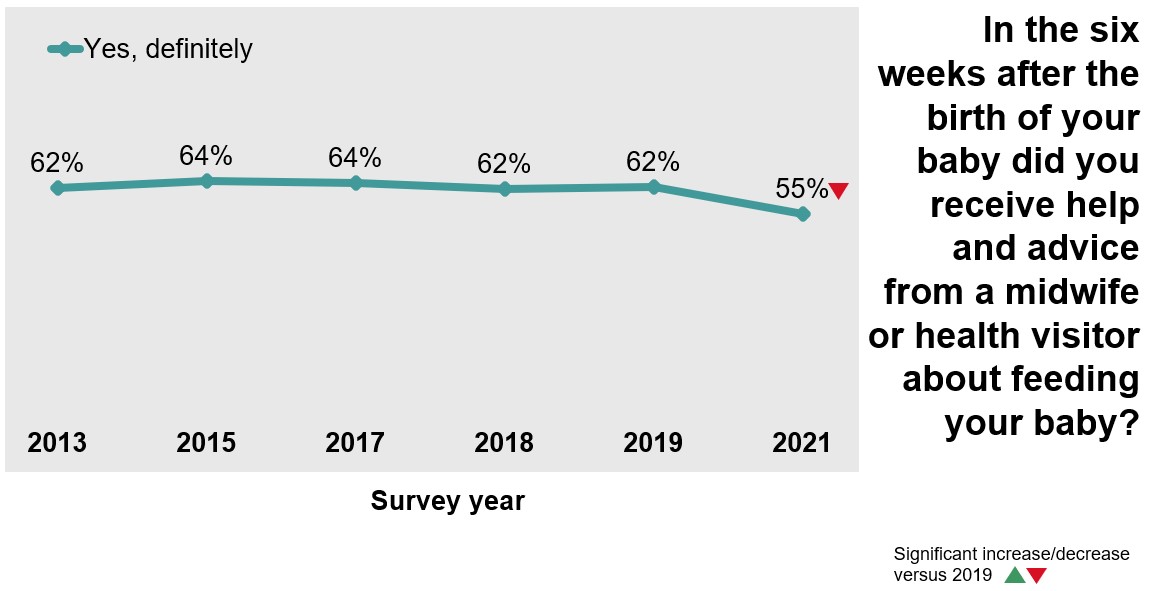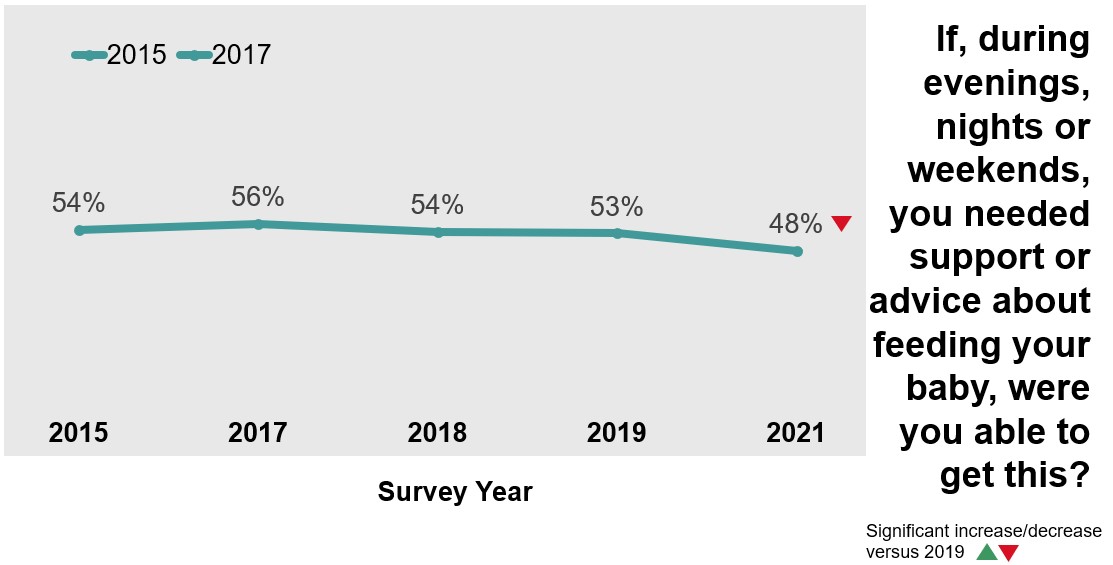 Conclusion
Currently, the UK policy on infant feeding recommends exclusive breastfeeding for around the first 6 months with continued breastfeeding for at least a year6. The findings from the Maternity Survey show that England is falling a long way short of this recommendation with just over half of mothers exclusively breastfeeding in the initial days after birth. 
While there may be many reasons why mothers choose/are not able to breastfeed (e.g. societal, cultural and practical barriers78) and decisions on feeding should be respected, all mothers are entitled to have the relevant information to make informed choices and have support from health professionals in their feeding journey. 
While midwives and health professionals have worked hard to maintain standards and services throughout the pandemic, the latest maternity data shows a consistent, significant decrease in feeding experiences across all measures. It will be important to review the findings from the next wave of the Maternity Survey, due to be published in late 2022, to see if this trend continues. It's possible the findings around infant feeding will return to pre-pandemic levels which were relatively stable. However, even with this potential increase, the data shows there is some way to go to ensuring mothers have the support they need around infant feeding in the longer term.
Technical note
Ipsos coordinates the Maternity Survey on behalf of the CQC. NHS trusts drew a sample of mothers, aged 16 or over at the time of delivery, and had a live birth between 1 February and 28 February 2-21. If there were fewer than 300 mothers within an NHS trust who gave birth in February 2021, then births from January were included.  
45,445 mothers were invited to take part in the survey and 23,479 mothers responded (an adjusted response rate of 52%).
Fieldwork took place between April 2021 and August 2021.
Data was weighted to ensure it was representative of all mothers who gave birth during the sample period
Prior to 2021, the Maternity Survey was conducted using a solely paper-based methodology. Following a successful pilot of a mixed method approach, the 2021 survey transitioned to offer both paper and online completion methods. You can view this work on the cross survey programme website.
Further technical information and the full survey results can be found on the CQC website.
Notes
1: Individuals were eligible for the survey if they had a live birth during February 2021, were aged 16 years or over at the time of delivery and gave birth under the care of an NHS trust (including home births). Trusts with fewer than 300 eligible deliveries in February were required to also include individuals who gave birth in January 2019, beginning with deliveries on 31st January and working backwards until either a sample size of 300 was achieved or January 1st was reached.
3: Horta, Bernardo L, Victora, Cesar G & World Health Organization. (2013). Short-term effects of breastfeeding: a systematic review on the benefits of breastfeeding on diarrhoea and pneumonia mortality. World Health Organization. https://apps.who.int/iris/handle/10665/95585 
4: Bernardo, Horta, Cesar, Victora & World Health Organization. (2013). Long-term effects of breastfeeding: a systematic review. World Health Organization. https://apps.who.int/iris/handle/10665/79198 
5: Victora CG, Bahl R, Barros A, et al. Breastfeeding in the 21st century: epidemiology, mechanisms, and lifelong effect. Lancet, 2016, 387: 475-90. [Online] Available from: https://www.thelancet.com/journals/lancet/article/PIIS0140-6736(15)01024-7/fulltext 
Download