What Does America Look Like Under COVID-19?
COVID-19 is touching the lives of all Americans, but race, age, and income play a big role in the exact ways the virus—and the stalled economy—are impacting people.
What You Need to Know:
Older Americans are heeding social distance precautions, but they struggle to adapt their social lives to the digital world.
Black and Hispanic Americans, along with those who don't have a college degree, are hit hardest by furloughs and work suspensions and are more concerned about their job security.
Most Americans making over $50K can work from home and afford household goods, though many of them report deteriorating mental health.
---
Coronavirus is upending every part of life for people around the world. Here in the U.S., with weekly jobless claims reaching into the millions, the pandemic is as much a public health crisis as it is an economic, a technological, and a personal one.
Looking across several trackers Ipsos is running with our media partners, we find that race, age, and income play a big part in how Americans are weathering the COVID-19 storm and adjusting to their new lives.
How Are Different People Responding to Healthcare Recommendations?
Reports were filled with images of young people hitting the beach for spring break or crowding into bars for St. Patrick's Day just a few short weeks ago. But now, majorities across all age groups are staying in and cancelling plans, forgoing dinner out—if restaurants are even open—and taking healthcare guidelines more seriously, according to our polling with ABC.
Still, age is playing a role in how people are responding to health guidelines. Americans over 65, who are at a heightened risk of more severe COVID-19 infections, report self-quarantining at higher rates than all other age groups, according to the Axios-Ipsos Coronavirus Index.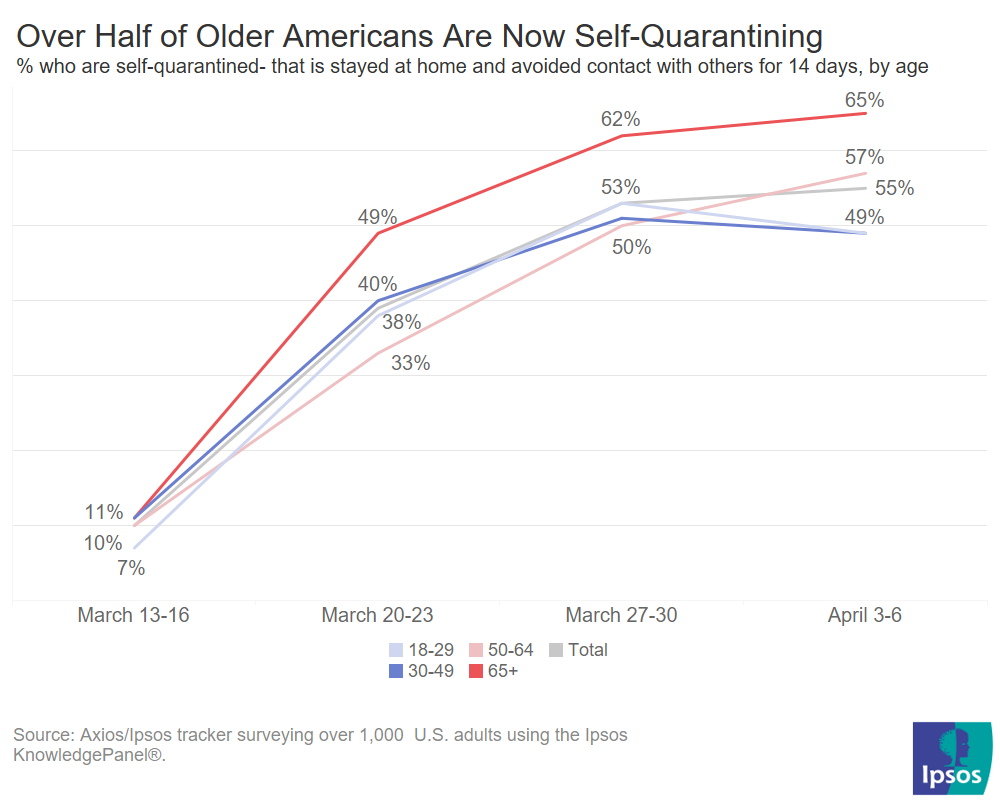 This mentality also seems to extend to other behaviors, like hand shaking. Americans over 50 are avoiding shaking hands with other people at higher rates than those under 50.
Yet, older Americans who are most at risk and therefore self-quarantining are also struggling to connect with their communities and loved ones online.
Older Americans aren't interacting on face-to-face video calls as much as younger ones are. Over half (56%) of those under 50 report video calling family and friends. Last week, only about a third (35%) of people over 65 called their loved ones in this way, though that number has grown five points in a week. Similarly, there was an 11-point uptick in people video calling with friends and family for those between 50 and 64.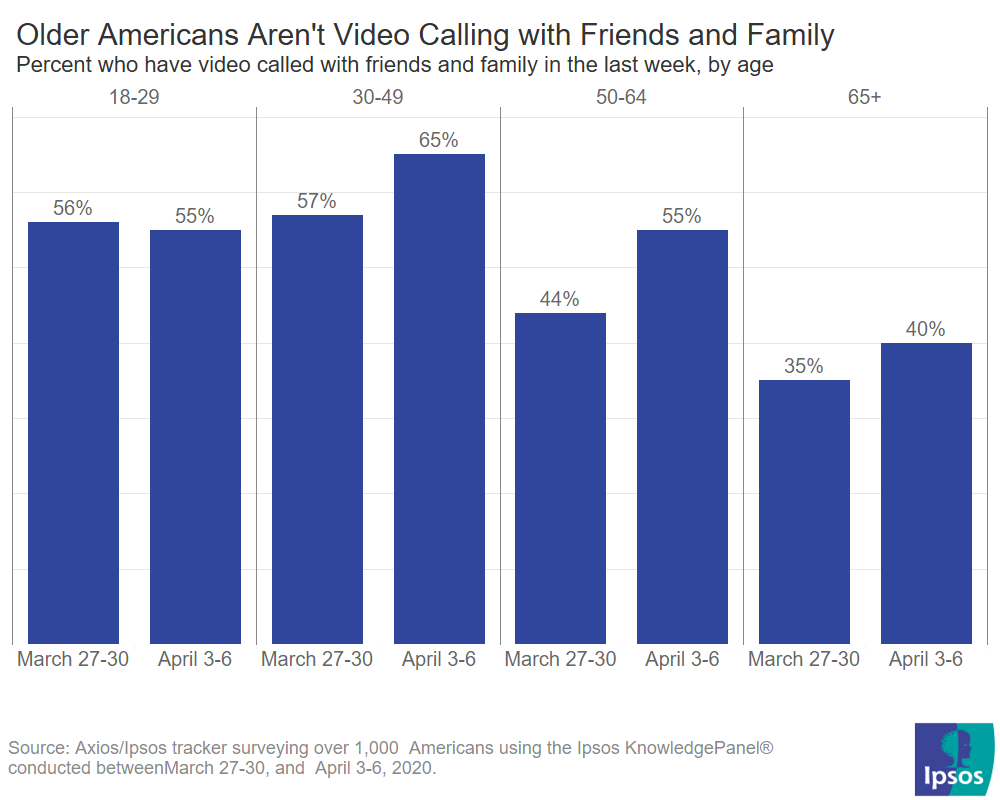 Outside of connecting with people in their inner circle, technology is providing ways to access communities and social gatherings that would have otherwise been completely shut down. About a third (34%) of people with a bachelor's degree are making use of the #AloneTogether trend, while only about a fifth (21%) of people with some college are logging on for these events. Just 14% of those with a high school or less attended a large gathering via streaming, like a birthday party, book club, religious service, or happy hour.
Economic Pains, Not Evenly Distributed
Social distancing is grinding the economy to a slowdown, with many Americans waking up to very different realities week-to-week. The difference between being able to work from home or not can be the difference of having a paycheck or not.
Black and Hispanic Americans have, so far, been more vulnerable to this economic standstill. Axios/Ipsos coronavirus tracking finds Black and Hispanic Americans are much more likely than white Americans to report being suspended and furloughed from work, something that has held steady in the most recent waves of our study.
Those without a bachelor's degree are also some of the hardest hit by furlough or work suspension. Among people who are still working, a quarter of people who completed high school or less have been told to work from home in the past few weeks compared to 69% of people with a bachelor's degree or more.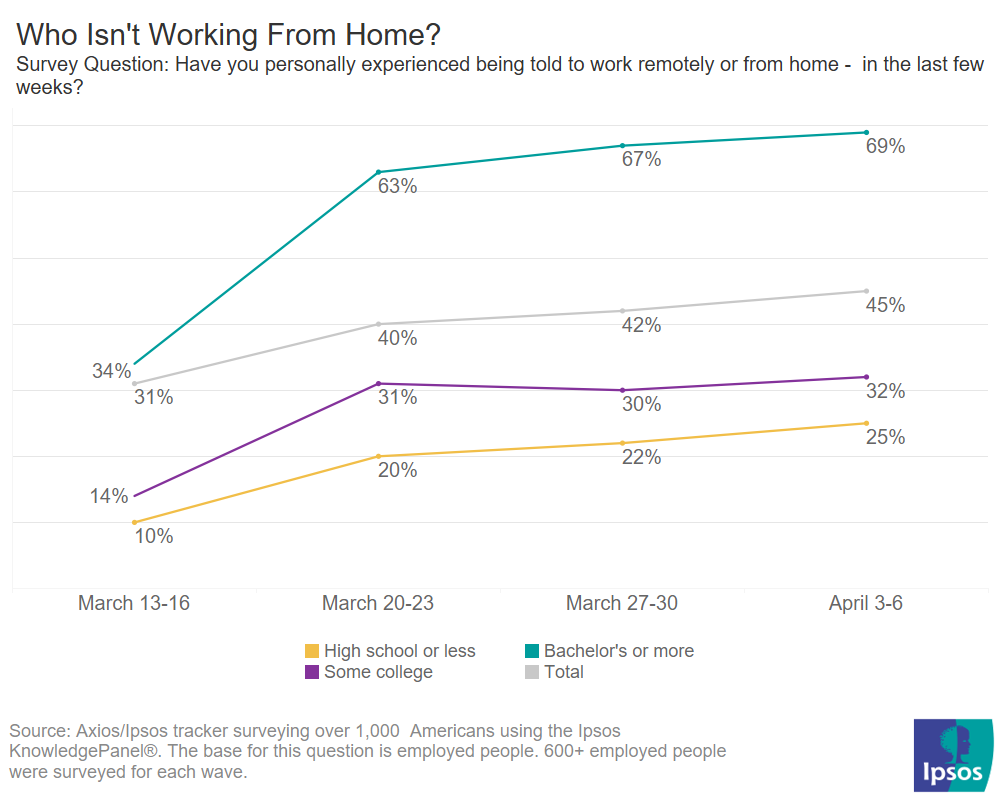 Anxiety about what's to come is not spread evenly either. Black and Hispanic Americans who are currently employed report being extremely or very concerned about their job security at much higher rates than white Americans. 35% of Hispanic Americans in our Axios/Ipsos tracker were extremely or very concerned with their job security, while only 19% of white Americans felt the same, posing a 16-point gap between the two groups.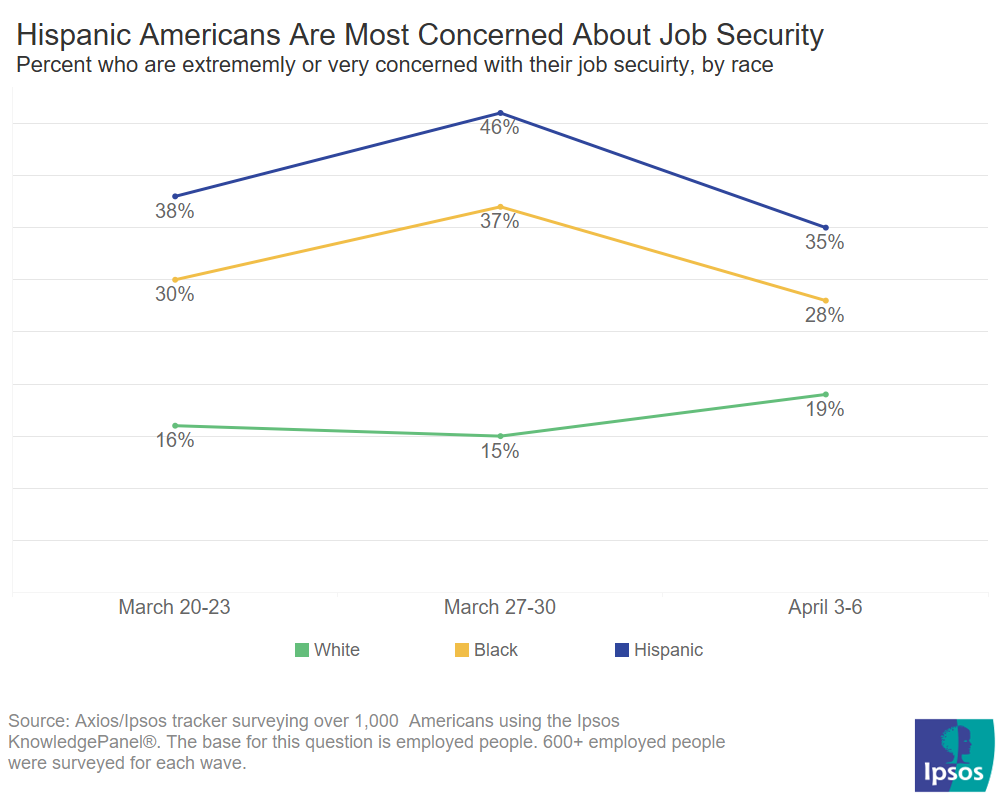 The economic differential does not just play out in employment and job security. In the past week it has also gotten harder for about a third (35%) of those who make under $50,000 to afford household goods, while 21% of people who make above $50,000 report the same thing, numbers that have stabilized in recent weeks.
Everyone Is Worried
The mental health gap between rich and poor closed this week. At the end of March, one in three people making over $50,000 reported deteriorating mental health in the last week, while only about a quarter (26%) of those making under $50,000 per year reported the same.
Since then, about a third (32%) of people making under $50,000 annually reported a deterioration in their mental health, a six-point jump in the past week. For people making over $50,000 per year, mental health has stabilized with 35% of people reporting that their mental health has worsened over that same time.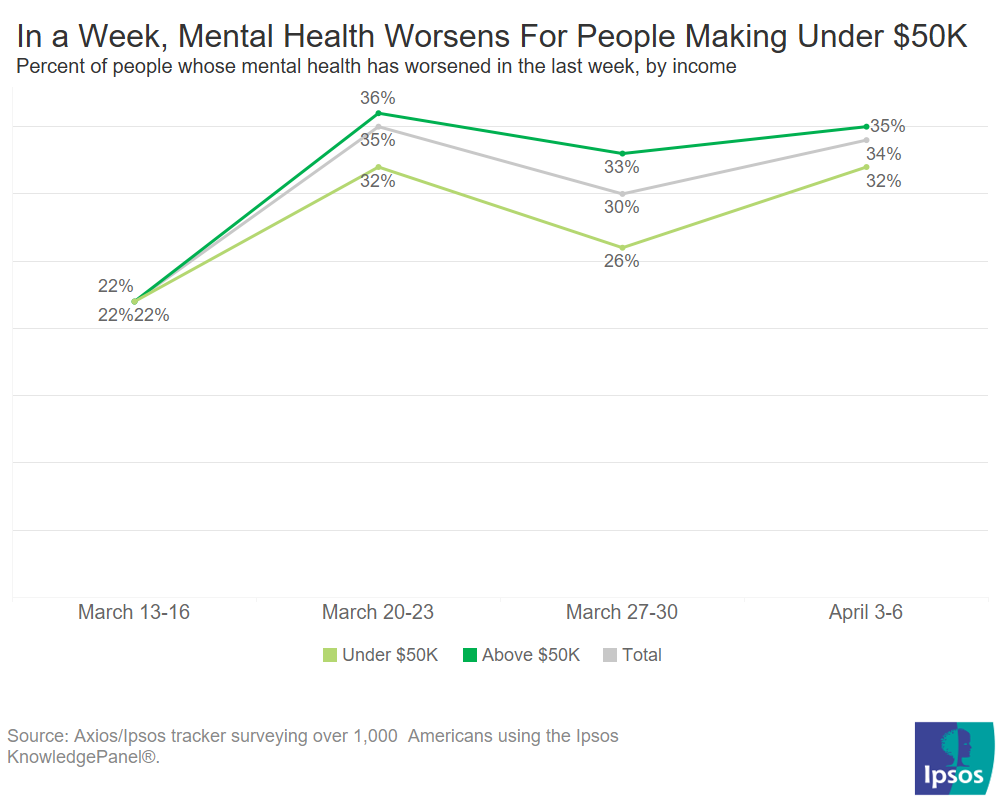 We see similar trends when our Axios/Ipsos survey asked about the emotional health and wellbeing of respondents. Between the first and second week of our tracker, the emotional wellbeing of people, regardless of income, worsened by double-digits. In the last week of March the gap between rich and poor formed, only to close a week later. After that, emotional health held steady: worse than before the pandemic took center stage but not getting significantly worse week-to-week.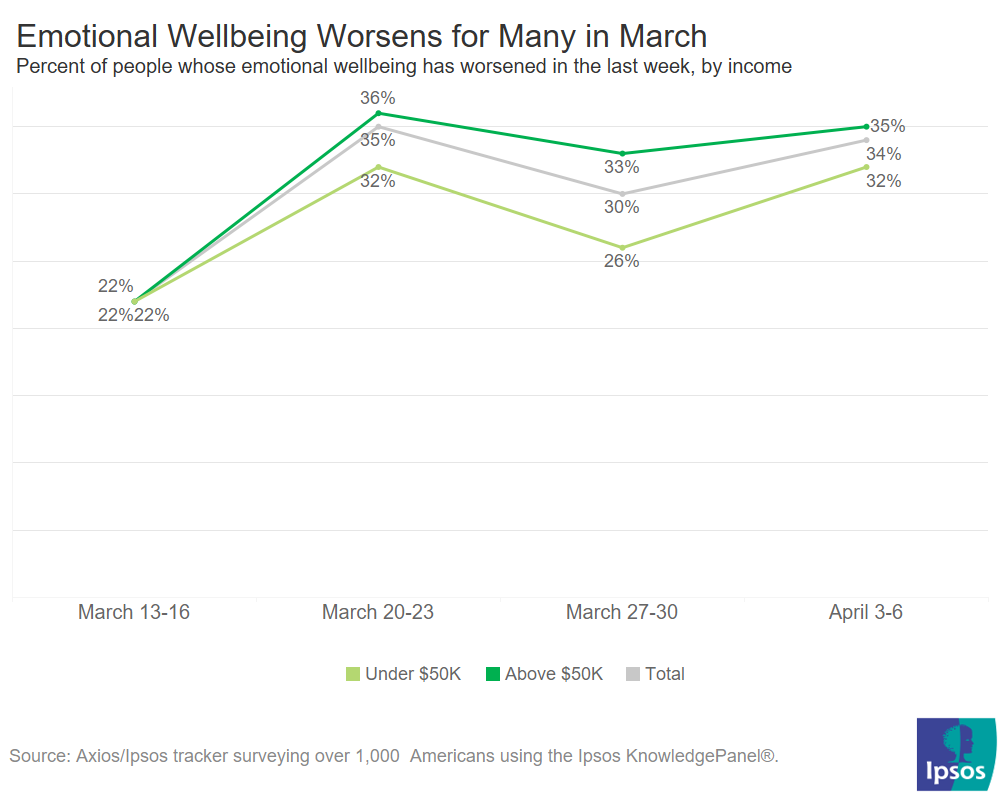 Despite stabilizing on the mental health front, there's a lot for Americans to be concerned about.
Right now, those worries are centered around COVID-19's effects at a structural level, not a personal one. While the social distancing measures put in place have led to worsening mental health, our USAToday/Ipsos tracker finds that only about 29% of people see COVID-19 as a personal threat, though that has doubled in the past month.
For most Americans, COVID-19 is a threat to the United States (71%), and a threat to the global economy (76%), numbers that grew by double digits in four weeks.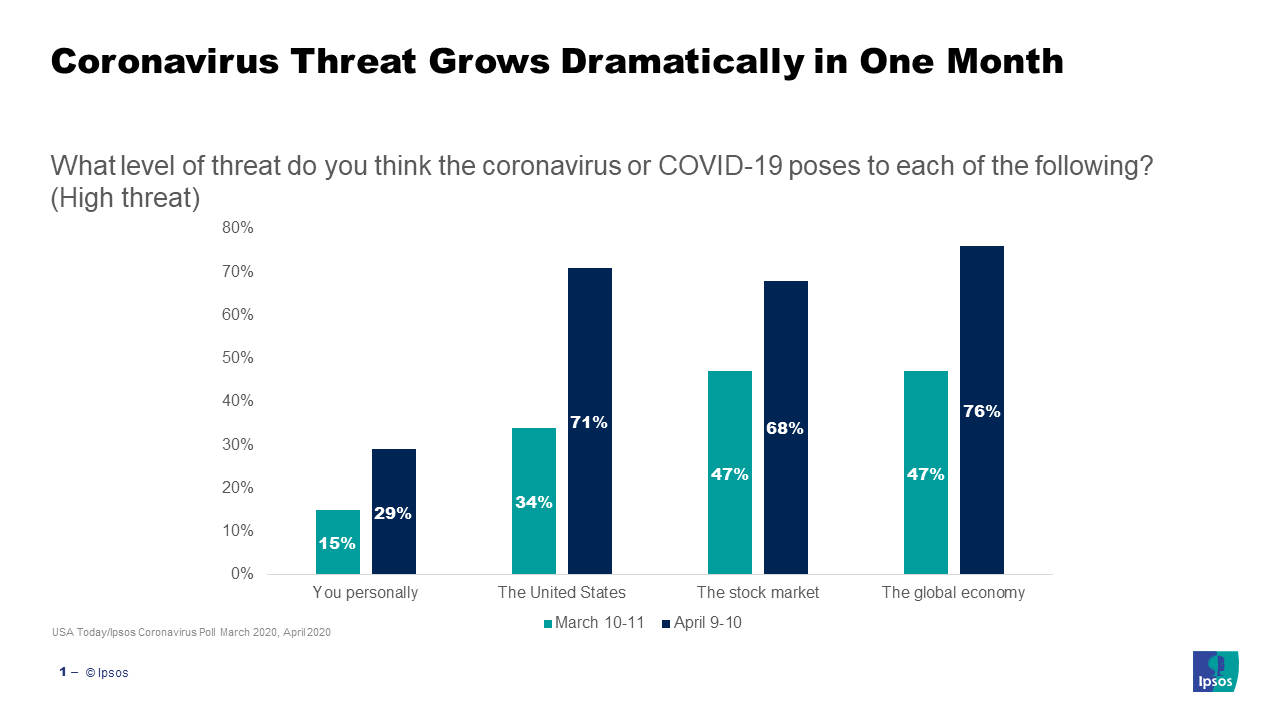 In that same vein, people are worried about their local infrastructure's ability to handle the padnemic. Our USAToday/Ipsos tracker finds that about six in ten people (61%) are concerned about how the novel coronavirus will overwhelm local hospitals. At the beginning of the month, just under half (44%) of people reported that same fear.
When Will This End?
It's the question on everyone's mind right now. Public health officials caution not to expect normal to return anytime soon, with some warning that we could still be working our way to some version of normal for the next year to year and a half.
Just under half (44%) of the people Ipsos surveyed on behalf of ABC believed that they would be able to resume their regular daily routine by June 1st. An additional 36% of people see a return to their regular routine happening in the second half of the year, with most estimating an end of summer timeline.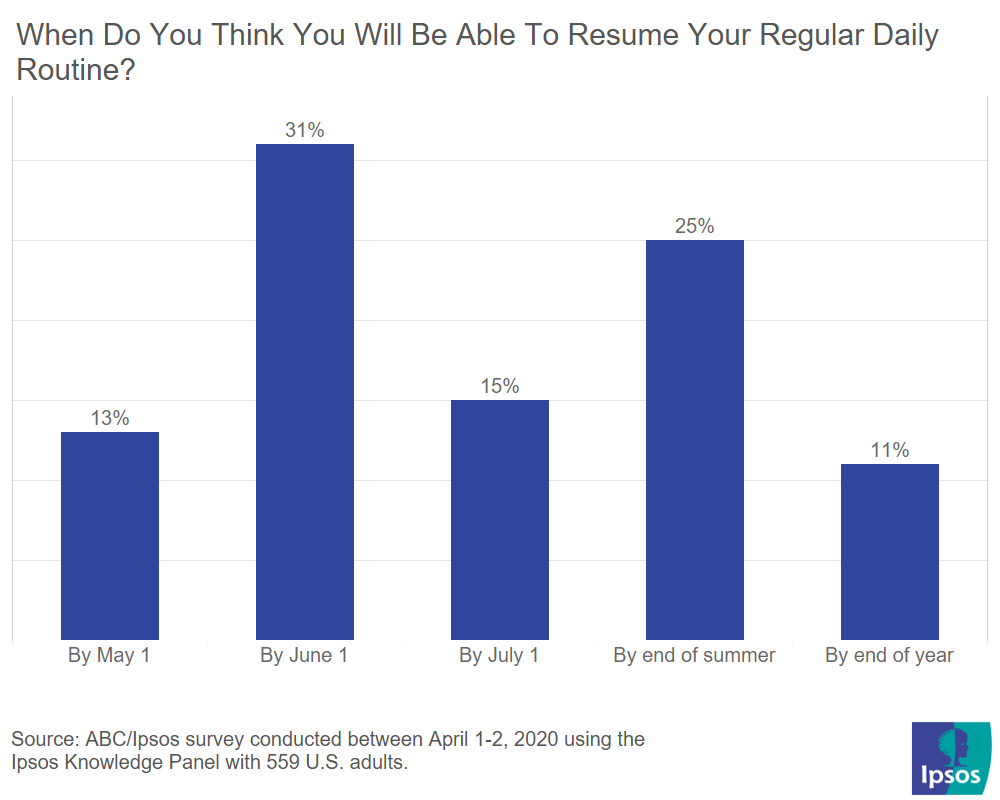 The end is not clear and normal likely won't be the same given the massive upheaval in the economy, the healthcare system, and our personal lives.
Americans are being impacted by this pandemic in different ways. Understanding where those differences lie can help us better grasp what gaps need to be filled as we try to find a sense of normal in the coming months.