Americans Voice More Support for Shelter in Place Mandates While Celebrating Brands that are Contributing to the Greater Good
Ipsos U.S. Social Intelligence Weekly Tracker registers 14% decrease in conversation volume for week of March 23-29.
Conversations about COVID-19 overall accumulated over 5.8M original mentions from 3/23 – 3/29, reflecting a 14% decrease vs. the prior week.
As the US surpassed Italy and China as the country with the most confirmed cases, more conversation took place about the importance of adhering to shelter in place mandates. Top Twitter trends became more focused on the increasing need for more medical supplies and the immense burden placed on our healthcare system and essential workers. 
Americans also started to adjust to life at home, embracing old and new ways to stay busy and active while social distancing, and continued to highlight brands that are adapting their offerings and donating supplies to the effort.
Top Tweets
I am supporting @elijahdaniel's #CULTforGOOD Project to bring hundreds of thousands of necessities and FREE coronavirus testing to the homeless population during this COVID-19 outbreak, but they still need support. Please donate if you can: https://cultforgood.com/
-    1.3K Retweets
We stand by Italy during these trying times. Share your Support for our Italian friends, They are our colleagues, friends and family. Cari amici, siamo con voi. #COVID19 #WeStandWithItaly
-    775 Retweets
Nurses are not getting the protections they desperately need to fight #COVID19. @NationalNurses is demanding Congress act now. Add your name: https://act.medicare4all.org/signup/covid-19-protect/
-    729 Retweets
Conversation Trends
Total conversation for all topics declined this week, as more people practiced sheltering in place, and the government continued to consider the best strategies for fighting the virus.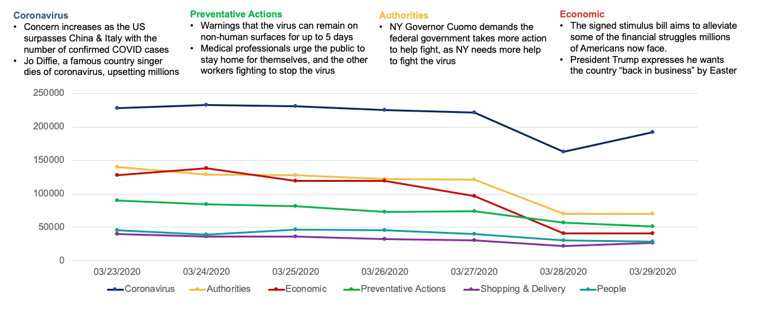 Consumers Adjust to Life at Home While Highlighting Brand Efforts
Americans are still spending most of their days inside due to locally mandated stay at home orders, so they continue to look for ways to pass the time and stay connected with friends and family. Video games have gained popularity and joined streaming services, like Disney+ and Netflix, as primary sources of entertainment. More creative solutions emerged this week, with people hosting virtual dance parties and showing off dance routines.
As the pandemic continues to evolve, brands are adapting their offerings and policies to best serve consumers and support the national effort to curb spreading of the virus. Multiple brands are getting noticed for their efforts, with consumers taking to social media to express their support and appreciation for the brands that are updating policies or donating money and supplies to healthcare and other essential workers.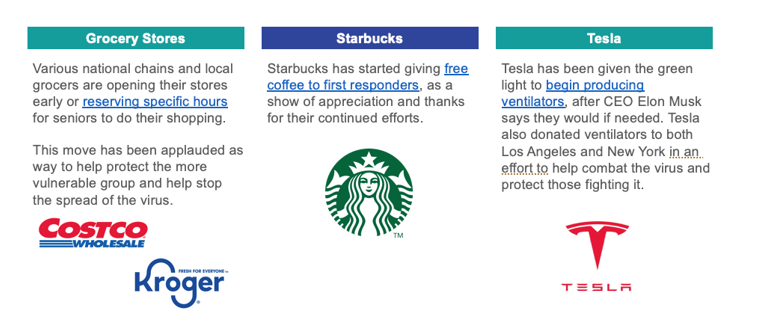 Source: Synthesio, 3/23-3/29, specific mentions relevant to COVID-19/Coronavirus in U.S., English Only
Ipsos and Synthesio are committed to tracking the real-time impact of COVID-19. Our syndicated U.S. social intelligence tracker focuses on changing consumer attitudes and behaviors during this unprecedented time, including deep dives into themes, topics, and conversations drivers, and peoples' concerns, daily life changes, situational outlook, and shifting behaviors. Bottom-up topic modeling on COVID-19 related conversations are leveraged to assess consumer emotions and emerging themes, and brand-specific insights can be incorporated to provide additional context during critical moments.