The Uncertainty of Our New Normal: A Data Dump
What Ipsos research can tell us about our new reality

I, like most of you, have had my life significantly disrupted.
Like many of you, my entire family is unexpectedly at home—two sons from college and middle school-age daughter. Our DC Ipsos office is officially closed, and downtown DC is a ghost town.
Two nights ago, the state of California called on its approximately 40 million inhabitants to shelter in place.  New York and Chicago soon did the same. The nation is mobilizing as if on a war footing.
I don't want to spend too much time here pontificating or pondering as there are too many unknowns in our new normal.  Instead, I want to data dump some of the metrics we are tracking at Ipsos:
Coronavirus has an impact on everyday behavior: We should expect significant behavioral change as the COVID-19 reality modifies our data-to-day lives. To capture this, we partnered with Axios and published our first installment of the Axios-Ipsos Coronavirus poll on Wednesday this week. This will be our baseline to gauge behavioral change (companies, people, and governments) going forward.
We found that America is just now coming to grips with the seriousness of the coronavirus outbreak. We expect next week's poll will reflect drastic changes in behavior, as the reality of the virus modifies our day-to-day life.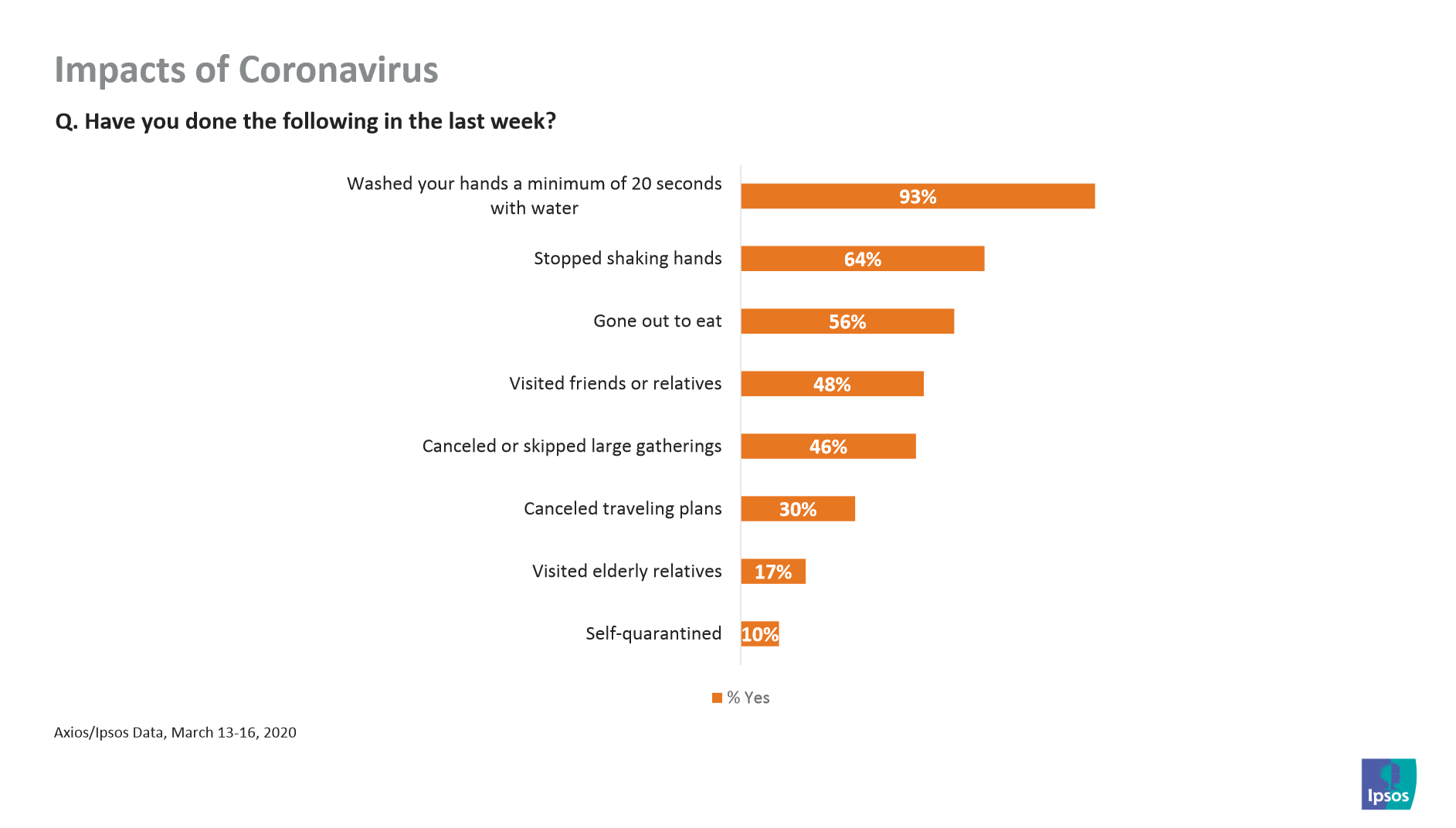 Mental health worsens: Again, in the same Axios-Ipsos poll, we find that Americans mental and emotional health has worsened as the chaos swirls around them.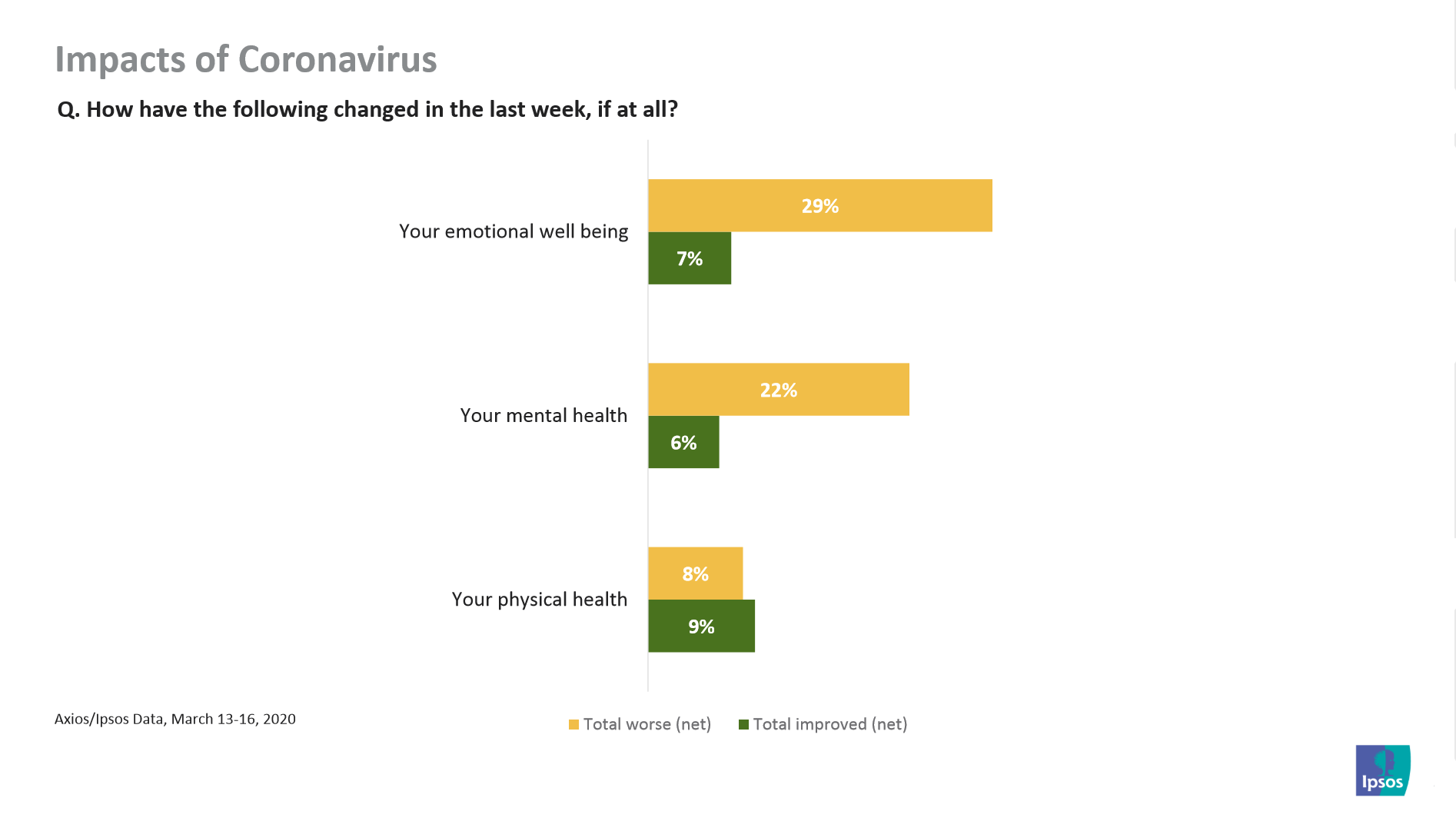 Presidential approval ratings hold steady: Trump's overall approval ratings are stable—our latest Reuters/Ipsos survey has him at 42%. The same poll found a significant positive bump in how Americans perceive his handling of the coronavirus — approval rates on that metric jumped from 39% to 48%.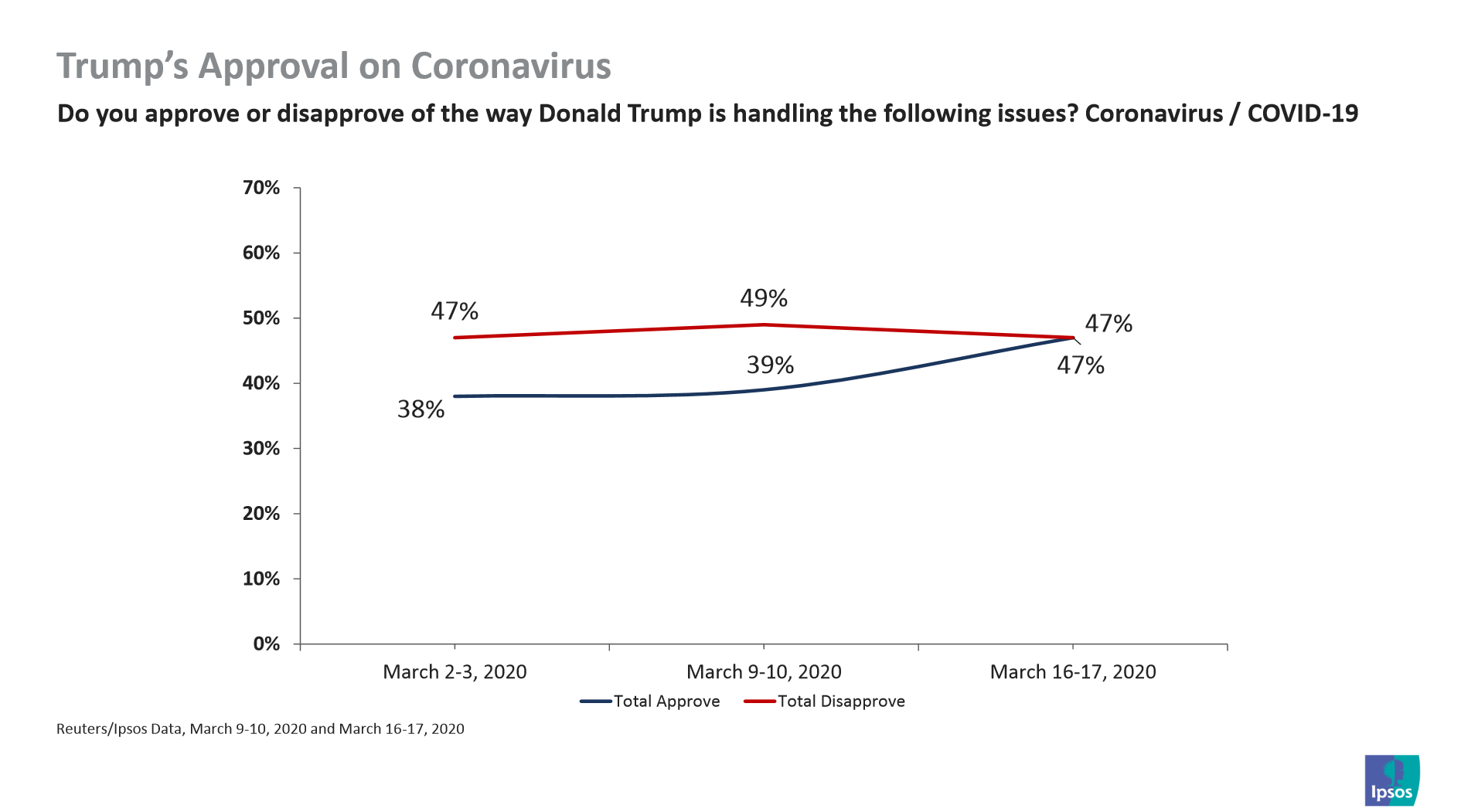 I see this as a classic case of Americans rallying around the flag in a time of crisis.  The question though is whether this will hold as Americans lose their jobs and the death toll increases.
Consumer confidence declines: We saw a 2.8-point drop in consumer confidence from February to March as economic angst spreads.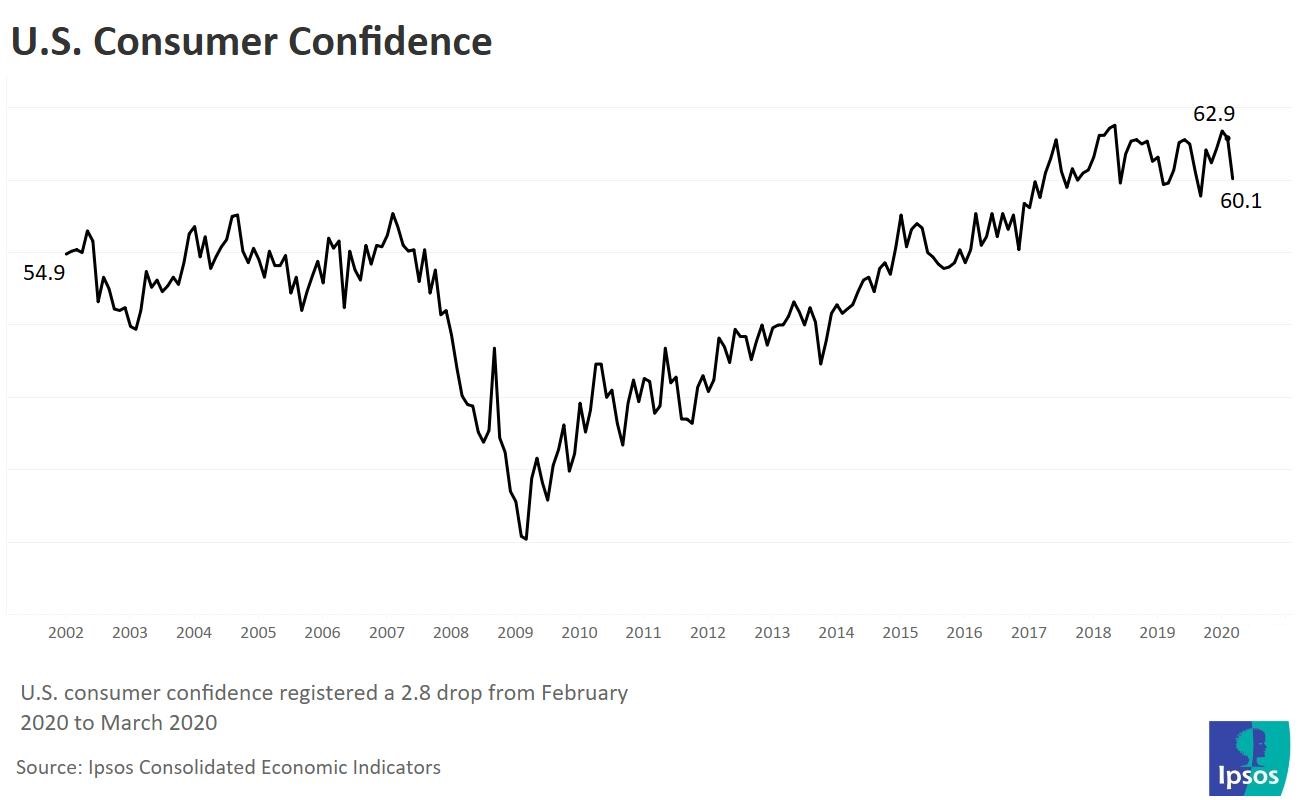 At this point, our own index is a lagging indicator as unemployment claims look to top 2.5 million this month. Social media analysis from the Ipsos Biosurveillance Atlas also shows a spike in posts about job loss related to the coronavirus on Twitter and Facebook.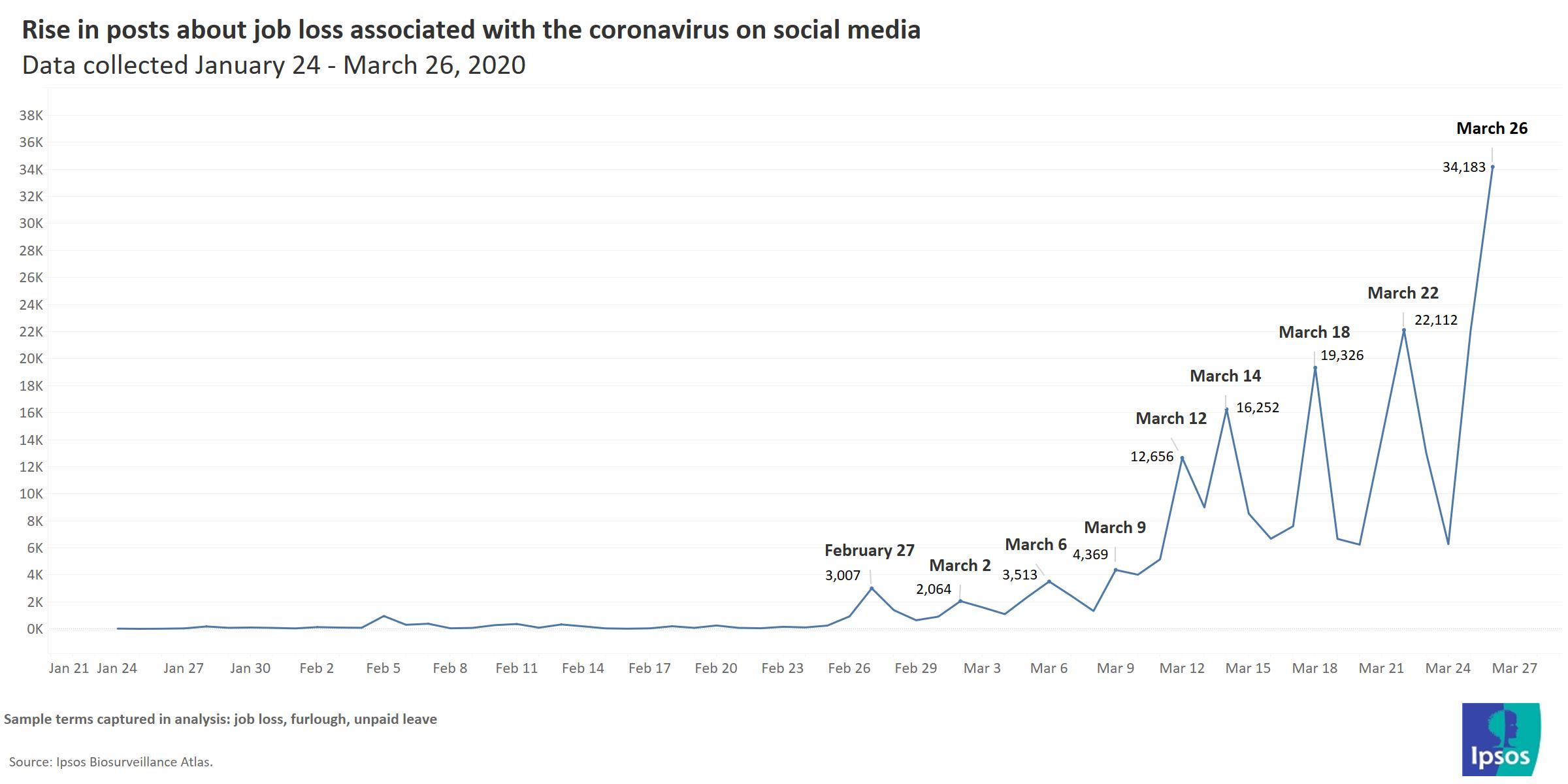 The facts on the ground are overtaking our ability to keep up.  Expect a significant decline in consumer confidence the next wave.
Wrapping up: Finally, I include here my most recent bi-weekly interview with Tim Farley for SiriusXM's Morning Briefing. We discussed changes in our ongoing polling data about the coronavirus, summing up our understanding of Americans' reaction to the coronavirus to date.
For more information, please contact:
Clifford Young
President, U.S.
Public Affairs
+1 202 420-2016
clifford.young@ipsos.com
For more information on COVID-19 please click here
About Ipsos
Ipsos is now the third largest market research company in the world, present in 90 markets and employing more than 18,000 people.
Our research professionals, analysts and scientists have built unique multi-specialist capabilities that provide powerful insights into the actions, opinions and motivations of citizens, consumers, patients, customers or employees. Our 75 business solutions are based on primary data coming from our surveys, social media monitoring, and qualitative or observational techniques.
"Game Changers" — our tagline — summarizes our ambition to help our 5,000 clients to navigate more easily our deeply changing world.
Founded in France in 1975, Ipsos is listed on the Euronext Paris since July 1st, 1999. The company is part of the SBF 120 and the Mid-60 index and is eligible for the Deferred Settlement Service (SRD).
ISIN code FR0000073298, Reuters ISOS.PA, Bloomberg IPS:FP