The Inside Track: Election 2020 June Briefing
Key highlights from June's Inside Track: Election 2020, a monthly webinar briefing from the Ipsos political polling team on data and trends shaping the 2020 election.
The Inside Track: Election 2020
The Inside Track: Election 2020 presents monthly, in-depth analysis of the latest public opinion data on current trends and recent events influencing the political landscape. Read on below for highlights and key insights from this month's webinar.
What you need to know
As newly reported coronavirus cases spike across the country, concern about the virus is on the rise again.
Americans are social distancing less, particularly in the South and Midwest, but as it becomes all the more evident that the pandemic is far from over, they are beginning to see everyday activities as more threatening again. Some states are pausing lifting restrictions in response.
Joe Biden has a double-digit lead on President Trump in the horse race polls.
Americans favor Biden at the moment though much could change between now and November. Crucially, Biden is doing well in the Midwestern swing states that gave Trump his narrow electoral college victory in 2016.
Though the nation is now facing three crises: the pandemic, economic recession, and massive protests against police brutality, President Trump's approval rating remains remarkably steady.
His overall job performance approval rating is sitting at about 39%, attesting to how loyal his base is. Looking ahead, the metric to keep an eye is how Americans view his performance on the economy, as he garners the highest marks there.
The number one issue defining voters' choices in the general election is not the coronavirus or the economy.
Instead, a plurality of voters are looking for a candidate who can restore faith in American government.
Deep Dive
Global pandemic – still real, still happening
Americans are weary of social distancing, the weekly Axios-Ipsos Coronavirus Index shows. More Americans are spending time with friends and family again, a change that began to accelerate as the weather turned warmer again.
Though Americans might be "over" the pandemic, it clearly is not done with us. The first wave of the pandemic is extending beyond the original hotspots of the coast and New York to other new states, like Arizona, Florida and Texas.
Across the United States, the number of new cases hit a new single-day record on Wednesday, surpassing the previous high-water mark established on April 25. Florida then went on to break its own record set on Wednesday today, with nearly 9,000 new cases reported in the last 24 hours. In response, some states affected are pausing their reopening plans or going back into lockdown.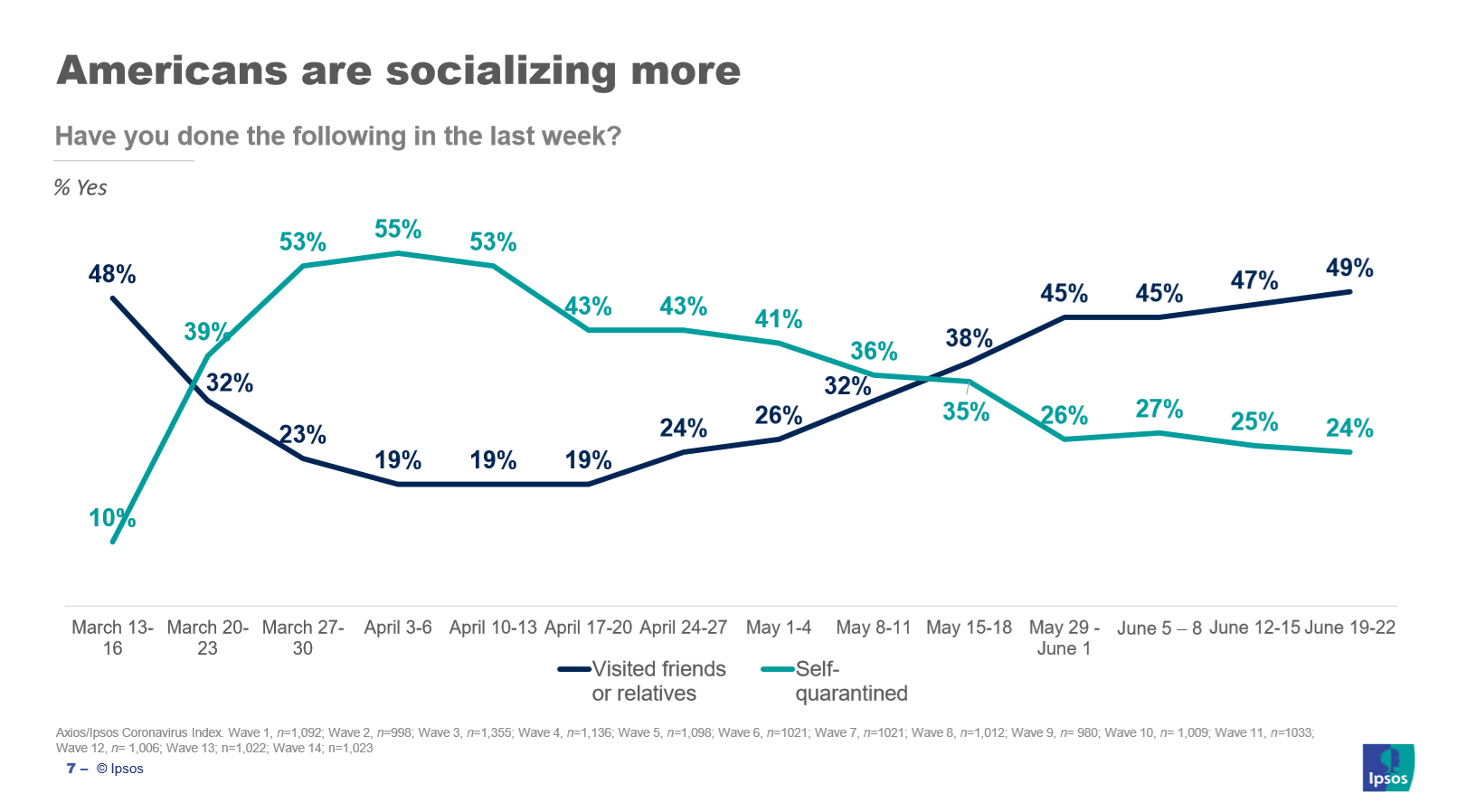 Concern with the outbreak filtered through partisan lens
Throughout the pandemic, Republicans have consistently been much less focused on or concerned about COVID-19. Part of this may be due to political rhetoric from the leaders and news sources that Republicans trust downplaying the virus, while Democrats remained more alert to the dangers due to news coverage of the crisis from channels like CNN and MSNBC.
But even in red states, concern about the virus is rebounding. Correspondingly, the amount of risk people ascribe to regular activities has been ticking upwards again as cases spike across the country. People are not waiting to take their cues from states governors alone: the rise in new cases is already enough to inspire some to change their behaviors, particularly in those states (red or blue) that are now seeing a surge in confirmed cases.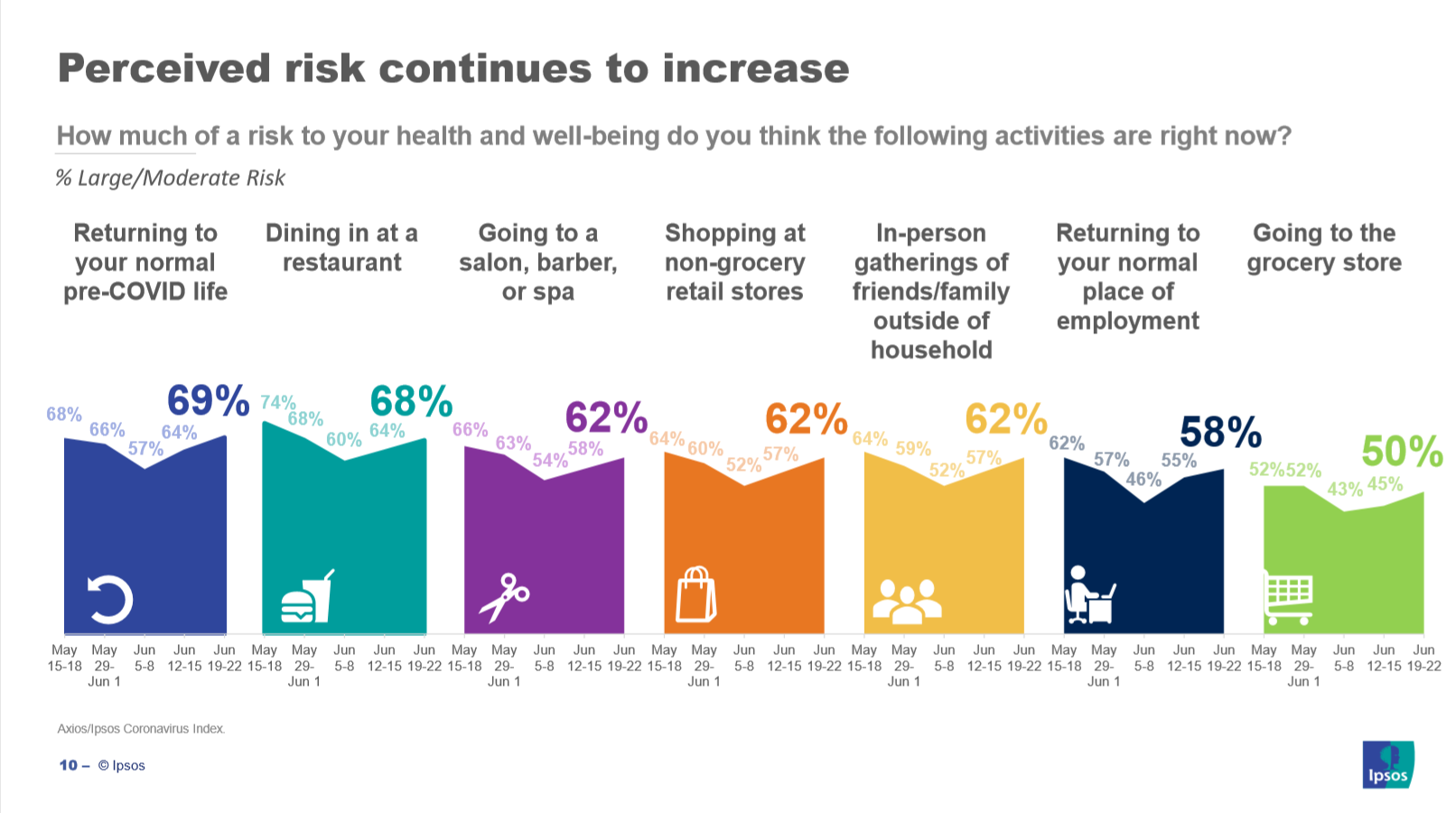 Americans generally support police reform, but not "defund the police" movement
The massive protests against police brutality are bringing the issue of the police reform to the fore. Though the defund the police movement is not widely favored (just 34% support, according to ABC News/Ipsos polling), there is strong support for police reform measures. For instance, people might favor banning police chokeholds, but be less keen on disbanding police forces altogether.
This creates a tension for anyone in politics today – while many Americans are not won over by political rhetoric that paints people pushing for police reform as violent or inherently destructive, nor are they necessarily persuaded by activists on the left pushing for extreme change. The challenge will be for someone (like Biden) to attempt to tread the middle ground without being drawn into a battle with these two extremes.
An Ipsos analysis of more than 1,400 protests nationwide shows that the majority have in fact been peaceful, and in some instances the violence was precipitated by the police themselves or bystanders. The protests have driven a level of civic engagement not seen since the 1960s, an energy derived likely in part from the months of sustained lockdown preceding them, but also very real, genuine outrage at the mistreatment of Black Americans.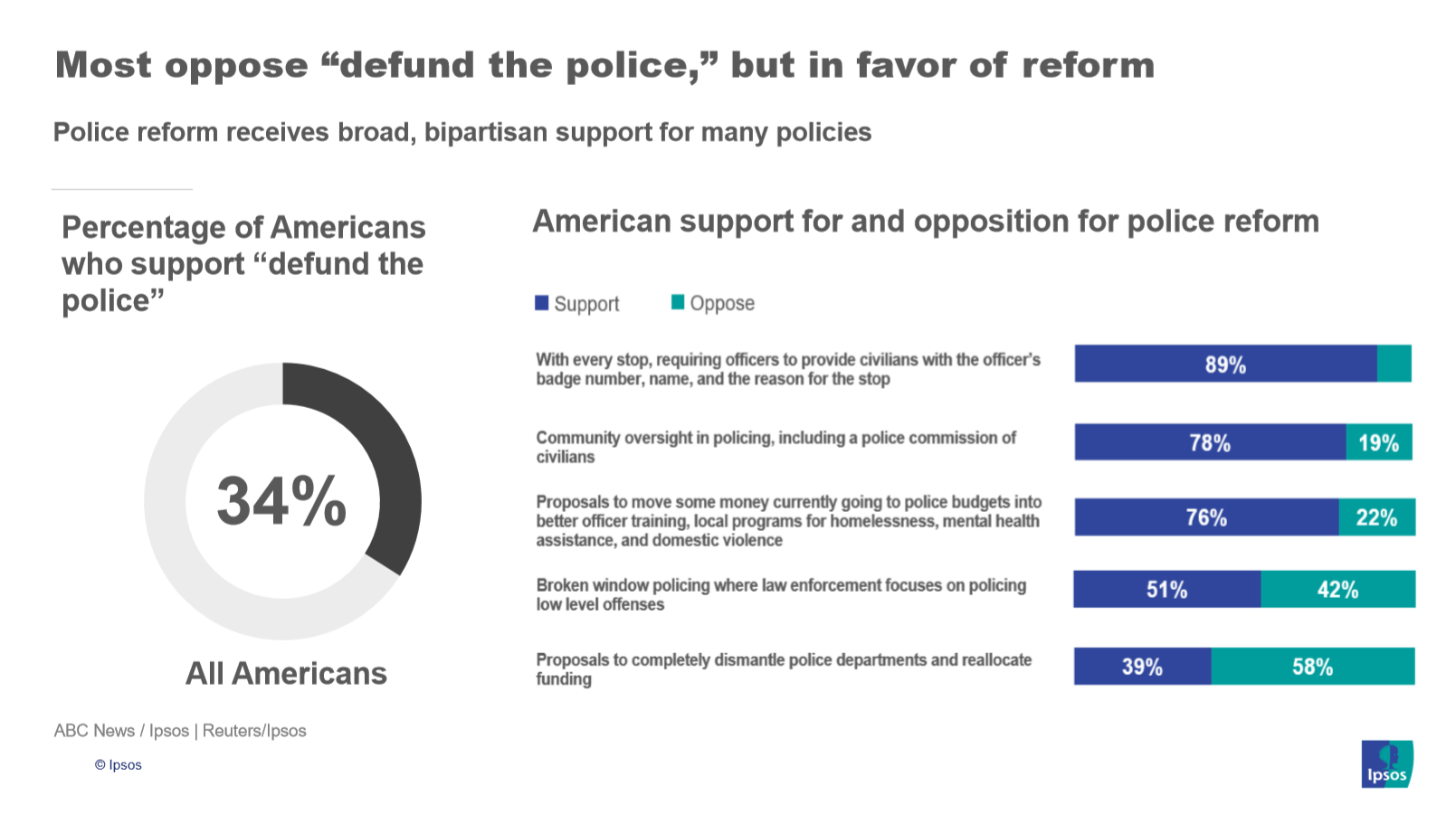 Trump's approval rating holds steady
As has been the case throughout his presidency Trump's approval rating is holding remarkably steady.  Despite vicissitudes such as his impeachment in the House of Representatives and now the triple disasters of pandemic, economic recession and the protests, Trump's overall job performance approval rating is holding on at 39%, according to Reuters/Ipsos polling. Granted, he has seen a slow decline from an initial, muted "rally around the flag" effect earlier on in the pandemic. Still, this relative stability speaks to the loyalty of his base.
There are clear signals that the American public at large is generally unimpressed with how Trump has handled the coronavirus and the protests, but he continues to get good marks on the economy, which has always been his strength. His underperformance on the protests among white Americans could be seen one of two ways – there are those who disapprove of his implicit threats of violence and overall disdain for the protesters, and those who think he hasn't responded forcefully enough.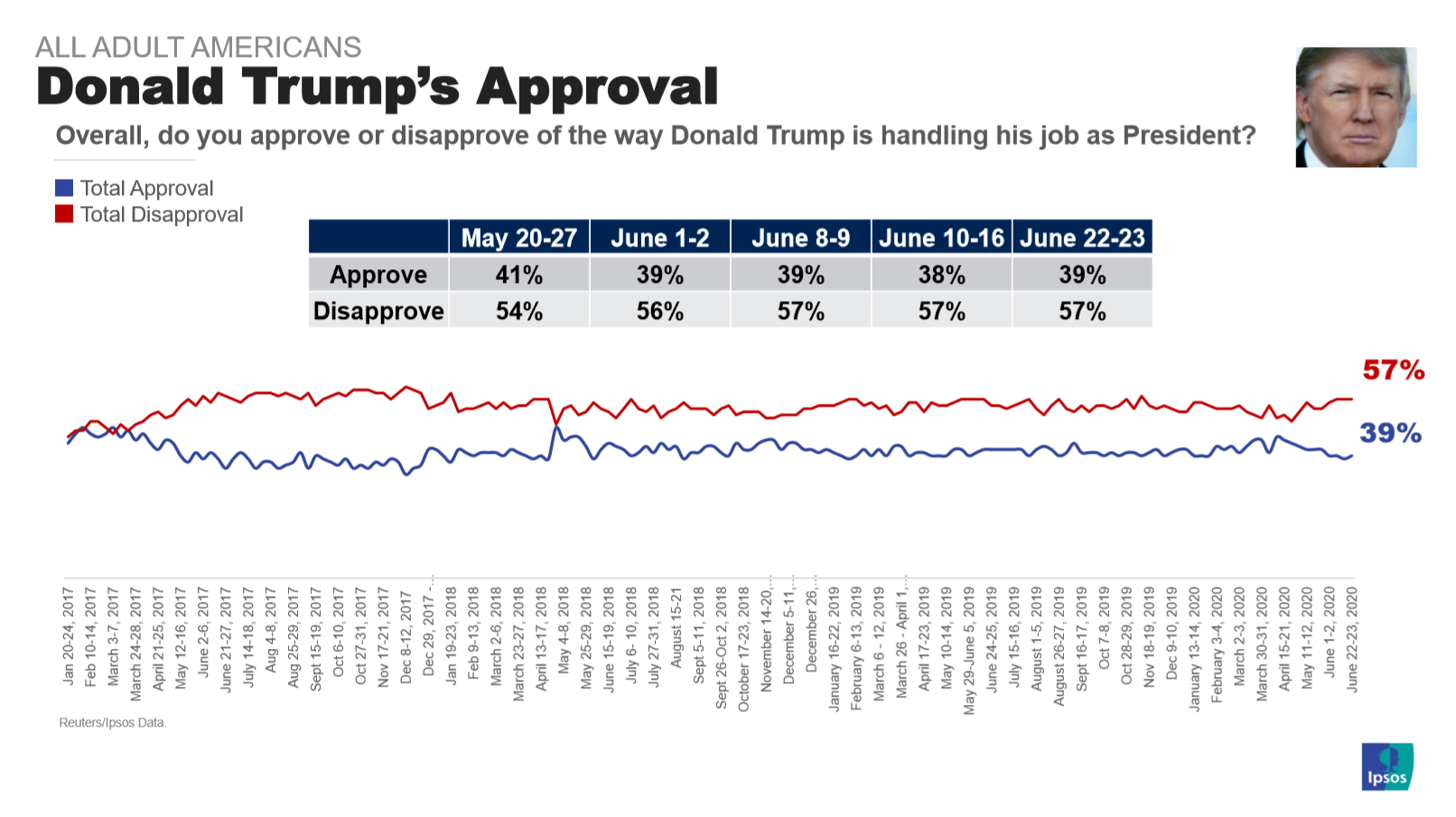 Looking ahead to November and the top issue defining the 2020 race
Joe Biden is leading Trump by double digits in the polls, though we're still five months away from the general election. According to Reuters/Ipsos polling, the top issue that a plurality of registered voters want to see in a candidate is an ability to restore faith in American government, more so than someone who is strong on the economy or has a robust plan to help the nation recover from the coronavirus.
This was not the case several months ago, but current events are causing people to crave a government that works. Biden is strongest on the issue of being able to restore trust in American government and reestablishing functional government. If this trend continues on into November, it will create hospitable terrain for him – less so for Trump.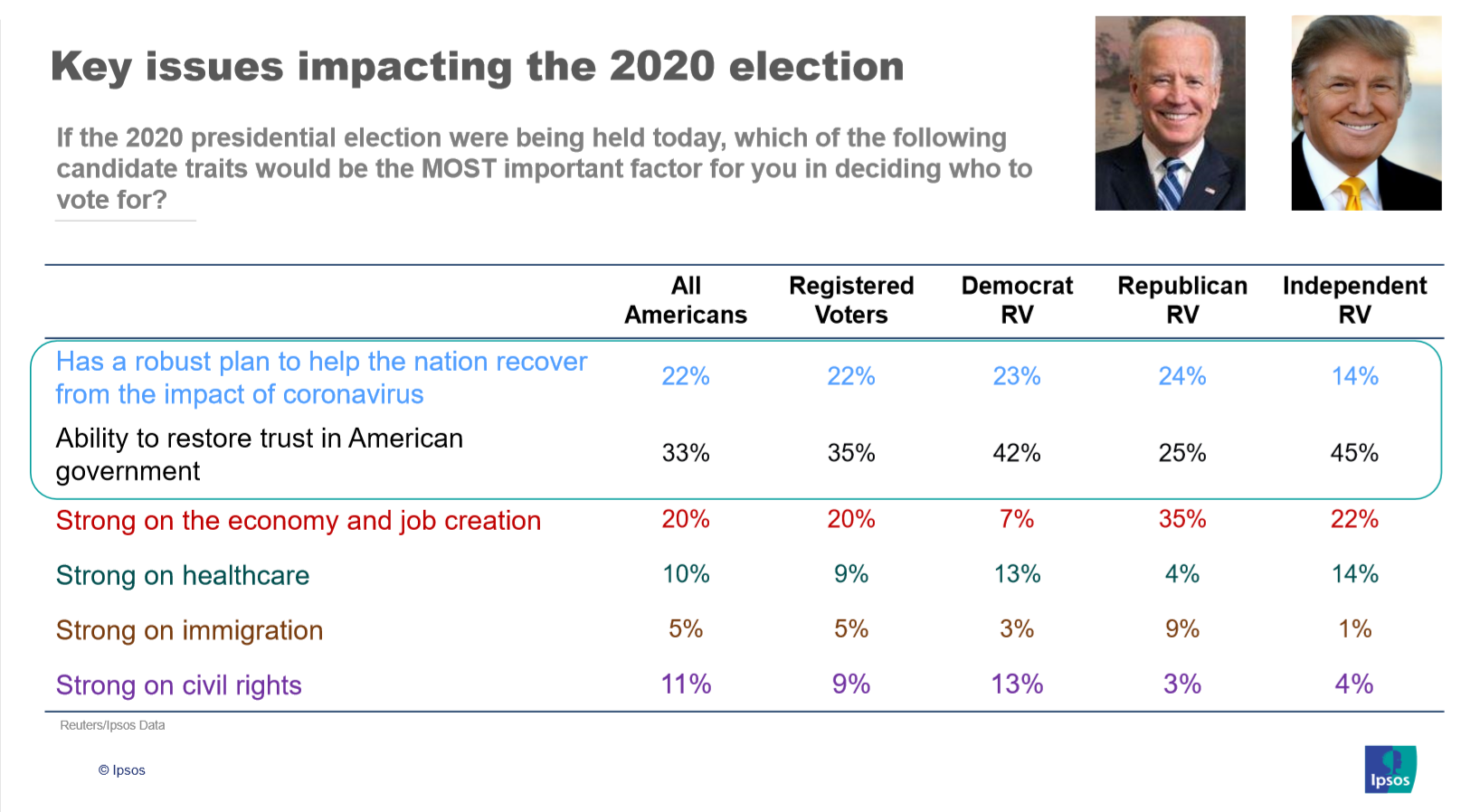 Compared with the 2016 race, Biden is outperforming Clinton, and Trump outperforming where he was as the then "outsider" candidate, with key demographics. The 2016 race hinged on non-college educated whites in the upper Midwest who broke for Trump. Crucially, Biden is doing much better with this group than Clinton was. If Trump is unable to make inroads on Biden's lead, it will be much more difficult for him to repeat his narrow electoral college victory in 2020.
While Biden isn't winning with white voters overall, he is outperforming Clinton, signaling that if he is able to maintain his advantage with non-college educated whites for the next several months, he will be in a good position to win. It would be virtually impossible for Trump to break Biden's lead among other demographics, such as Black Americans (92% of whom would vote for Biden, 5% for Trump, according to recent Washington Post/Ipsos polling).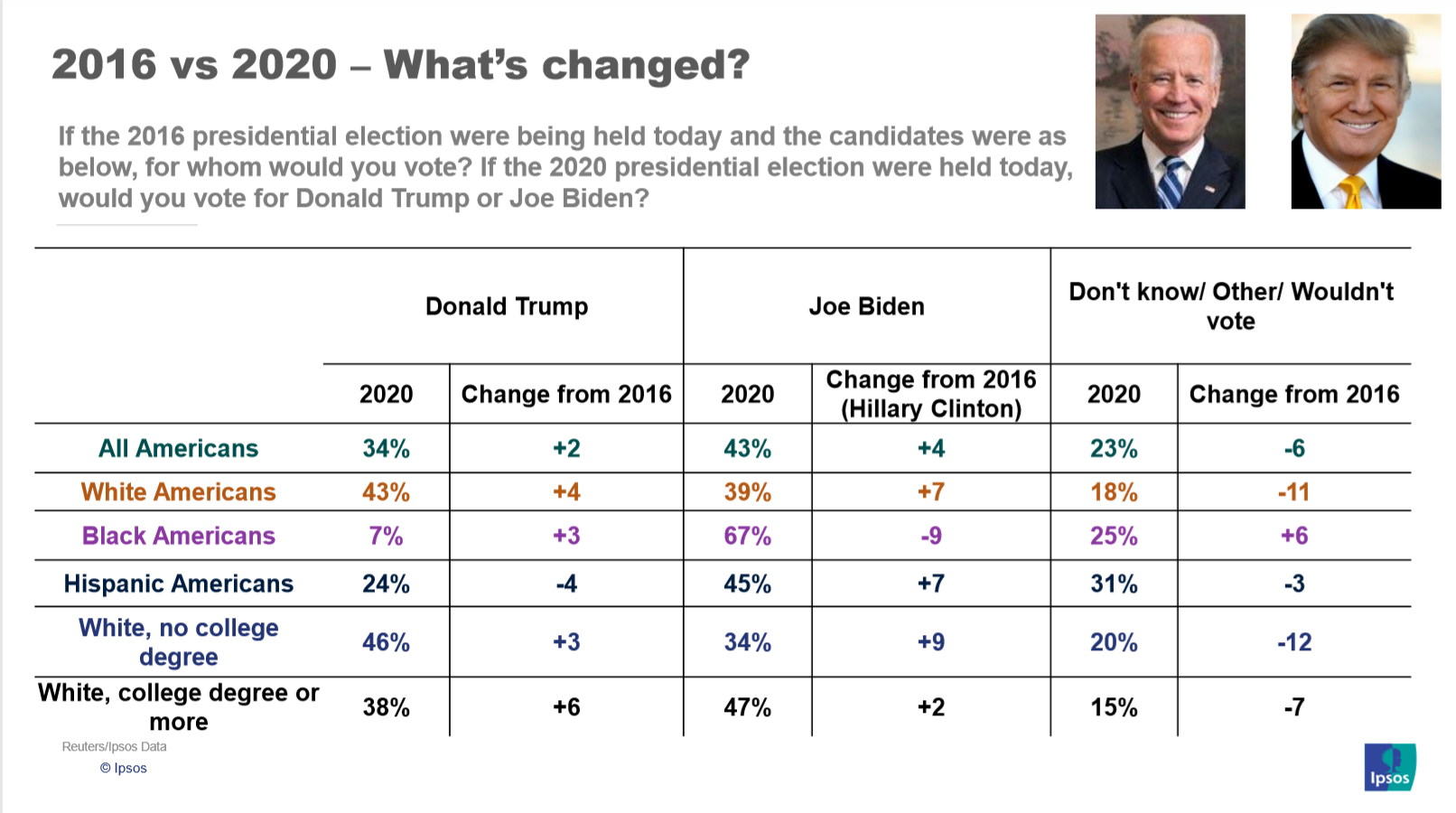 For more information on these issues and our public polling work:
Listen to a 15-minute run-down of the highlights from our COVID-19 polling every week. Click here to register or hear a recording.
Check out Cliff's Take, the latest and greatest updates in public opinion from Clifford Young, President of Ipsos U.S. Public Affairs.
Sign-up for our News Alerts, coming into your inbox every Monday, Wednesday, and Friday with the freshest polling data and analysis. Reach out to [email protected] for more information.