Biosimilar Launch Strategy Development
A very effective approach to dealing with inherent uncertainty is scenario-based competitive gaming, especially when it is powered by dedicated supporting research. Here's why.
Commercialization of biosimilars has become a topic of great interest, especially because of its growing impact throughout the U.S. healthcare system. Although initially lagging behind the EU in biosimilar development, the US has now leaped ahead in the number of biosimilar approvals and breadth of their covered indications. Still in their relatively early days, biosimilars have already made a meaningful impact on U.S. healthcare economics. Not only are the biosimilar manufacturers offering lower prices of their own, but they are causing significant decreases in the prices of the originator brands as those seek to defend their market share. With the recent addition of the "Interchangeable Biosimilar" designation by the FDA, manufacturers now face additional strategic choices as they formulate and validate strategies to support the successful launch and sustained performance of their assets in a highly complex and uncertain competitive landscape.
In this white paper, we explore in detail how to develop effective and durable strategies in a highly uncertain market.
---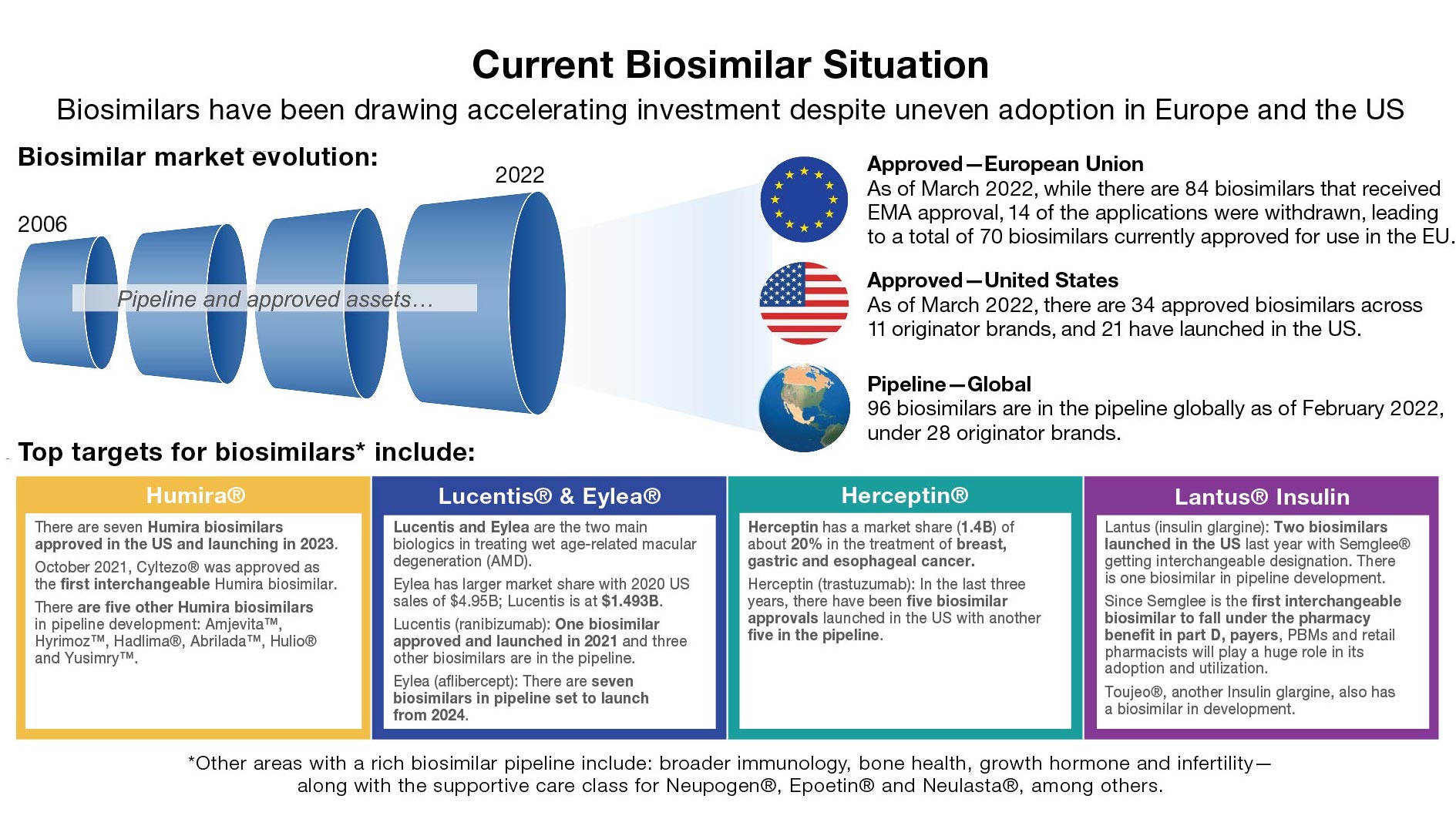 Thus far, only Semglee (insulin glargine) and Cyltezo (adalimumab) have been approved as "Interchangeable." Achieving the "Interchangeable" designation requires biosimilar manufacturers to produce additional clinical data and, in some cases, to provide post-marketing studies. Once achieved, interchangeability allows for the auto-substitution of the biosimilar for the originator brand at the pharmacy. A switching study is expected to demonstrate interchangeability. The exact details of the study design, including the trial population structure where the originator brand is approved for multiple indications, are to be negotiated with the FDA on a product- and regimen-specific basis. Switching studies are only required for biosimilars that are administered to patients more than once.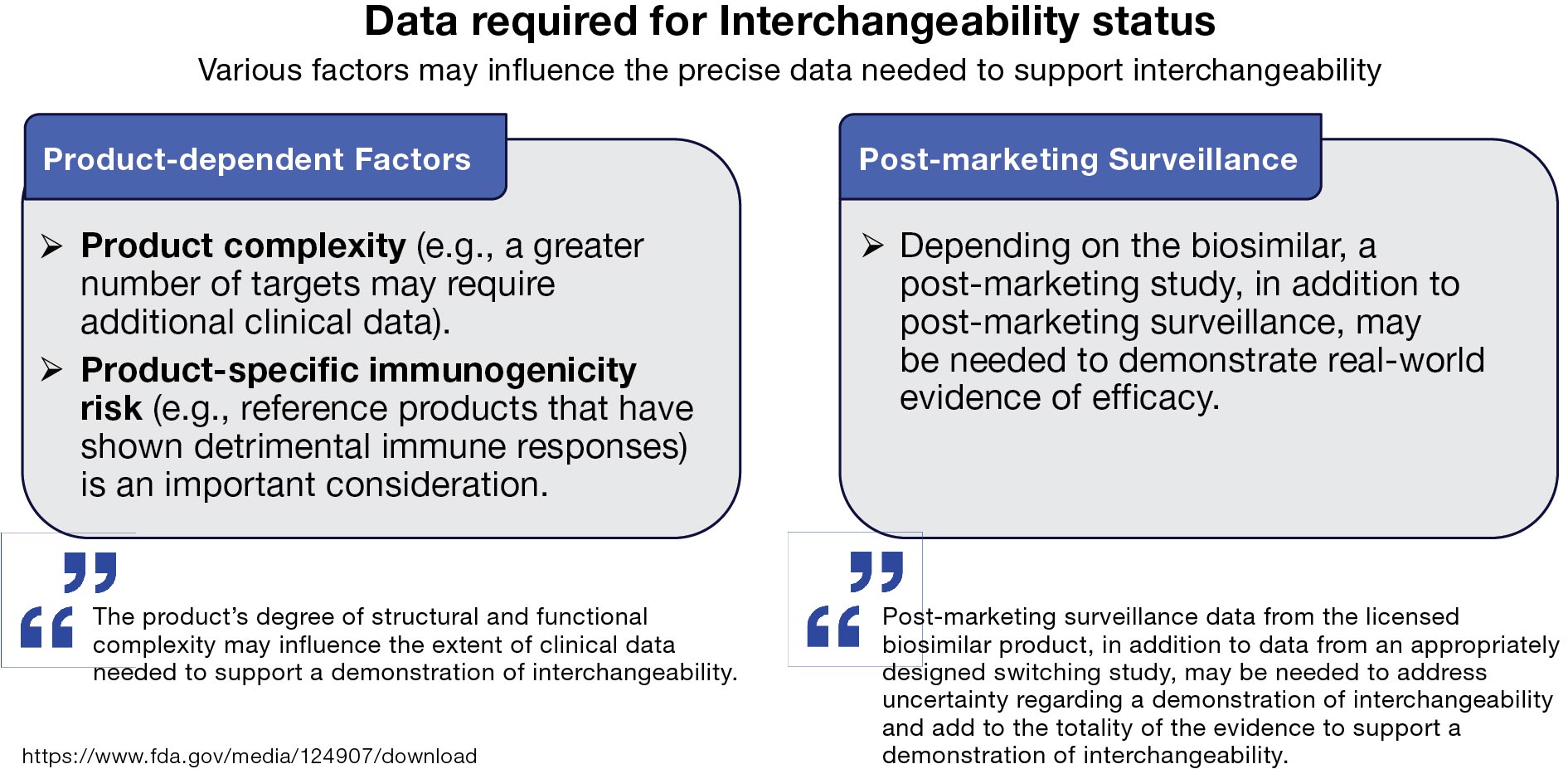 Manufacturers can develop the needed data, either in sequential trials or in a single integrated design. One of their strategic choices is whether to launch as a standard biosimilar and develop data required for inter-changeability later, or to take longer in development and enter the market already with interchangeable status.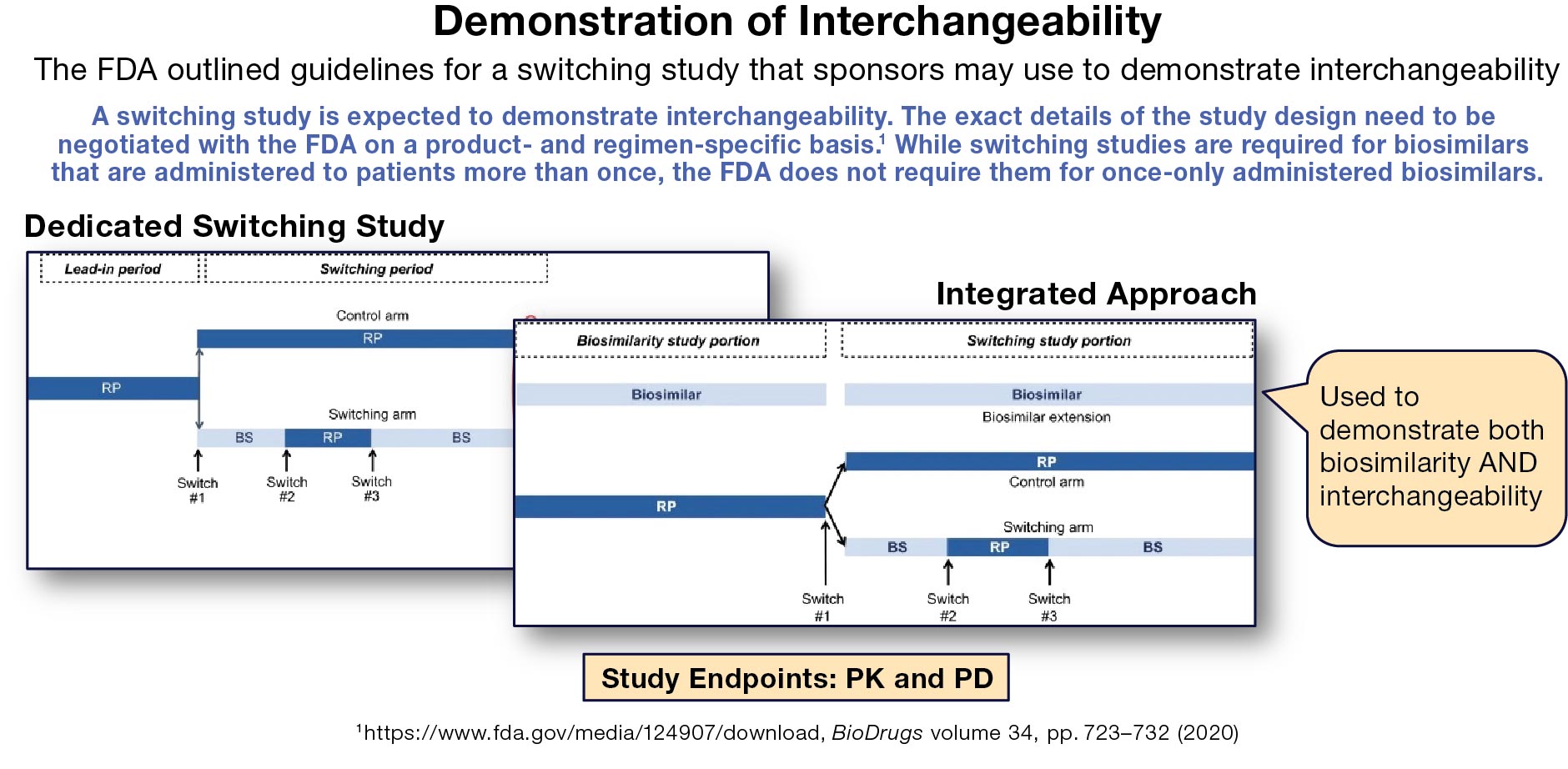 Whether to pursue interchangeability at all is in itself a fundamental strategic choice with a yet undetermined benefit. Interchangeable status, while requiring additional time and investment to achieve, may create the option of a commercial model less reliant on costly personal promotion. The manufacturer may choose to focus their efforts on payer and pharmacy contracting. That said, since all states allow the prescriber to preclude auto-substitution, some level of HCP promotion may still be needed to drive utilization growth, especially for a first biosimilar entrant. Another interesting competitive dynamic to consider is whether interchangeability might ultimately wind up being a differentiable proxy for safety and efficacy relative to standard biosimilars.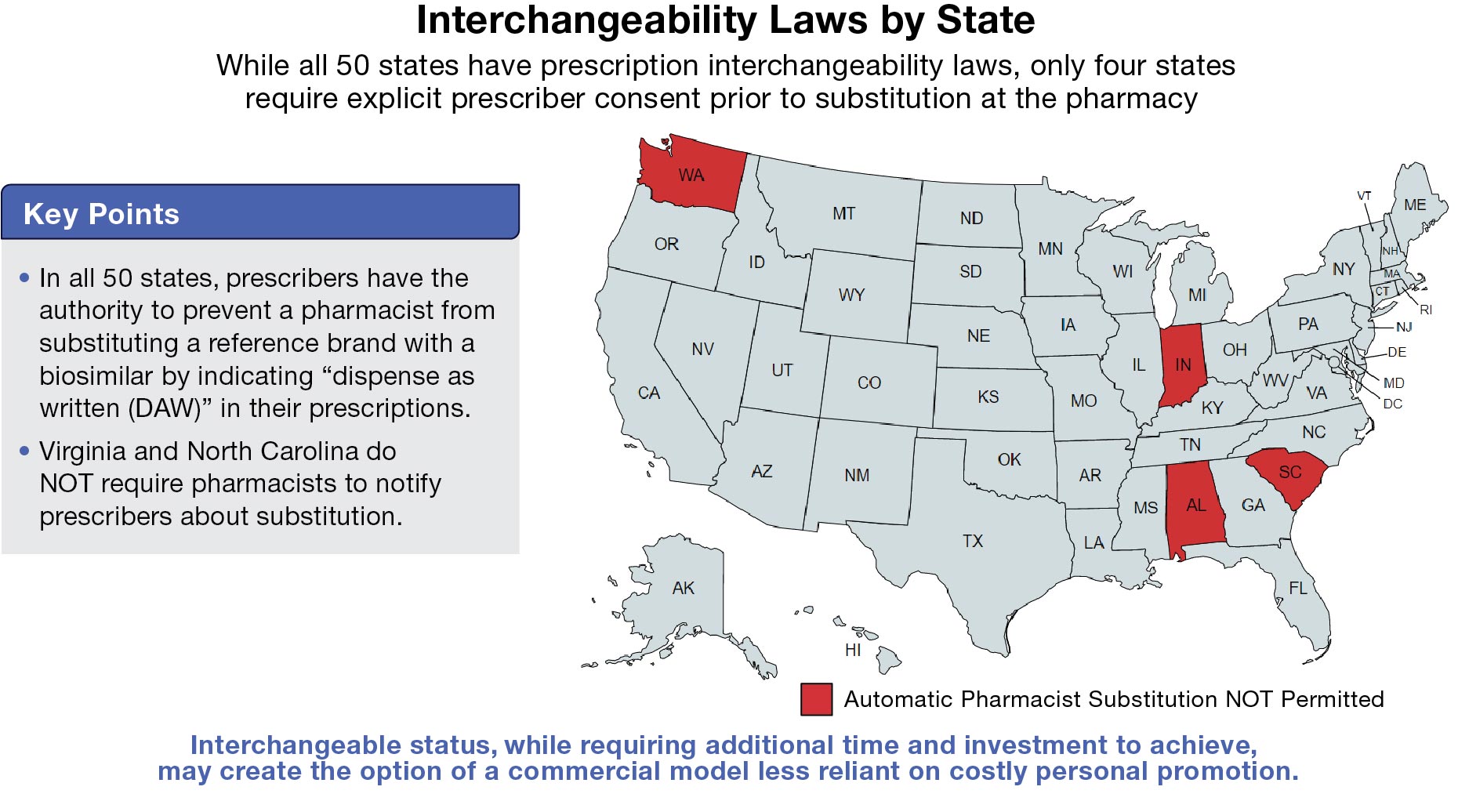 A snapshot of the current biosimilars situation in the US market follows.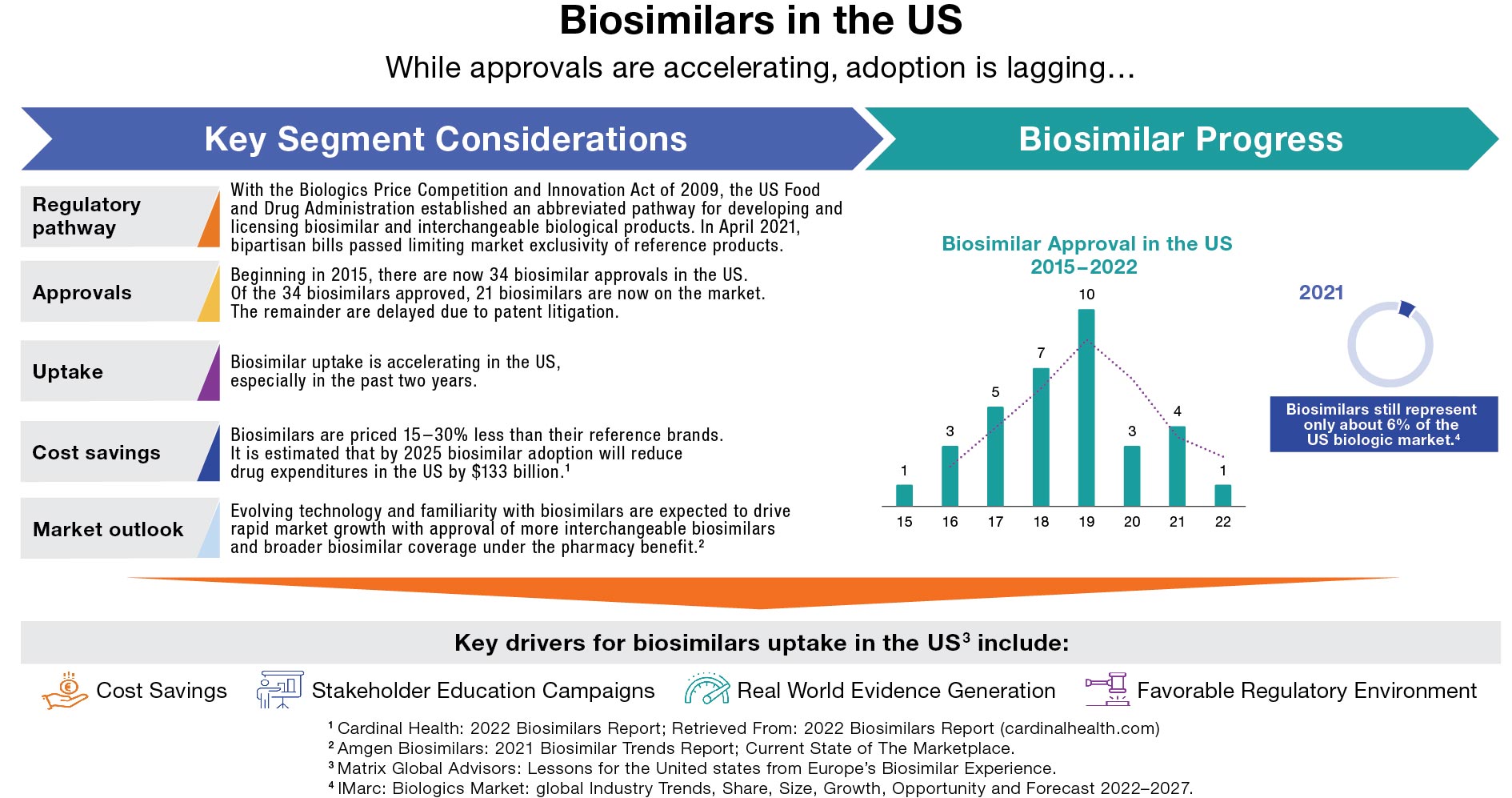 Although biosimilars make up a very small portion of the overall market currently, they are poised for tremendous growth in the near future. Multiple biosimilar developers have targeted some of the most dominant brands in the history of biologics.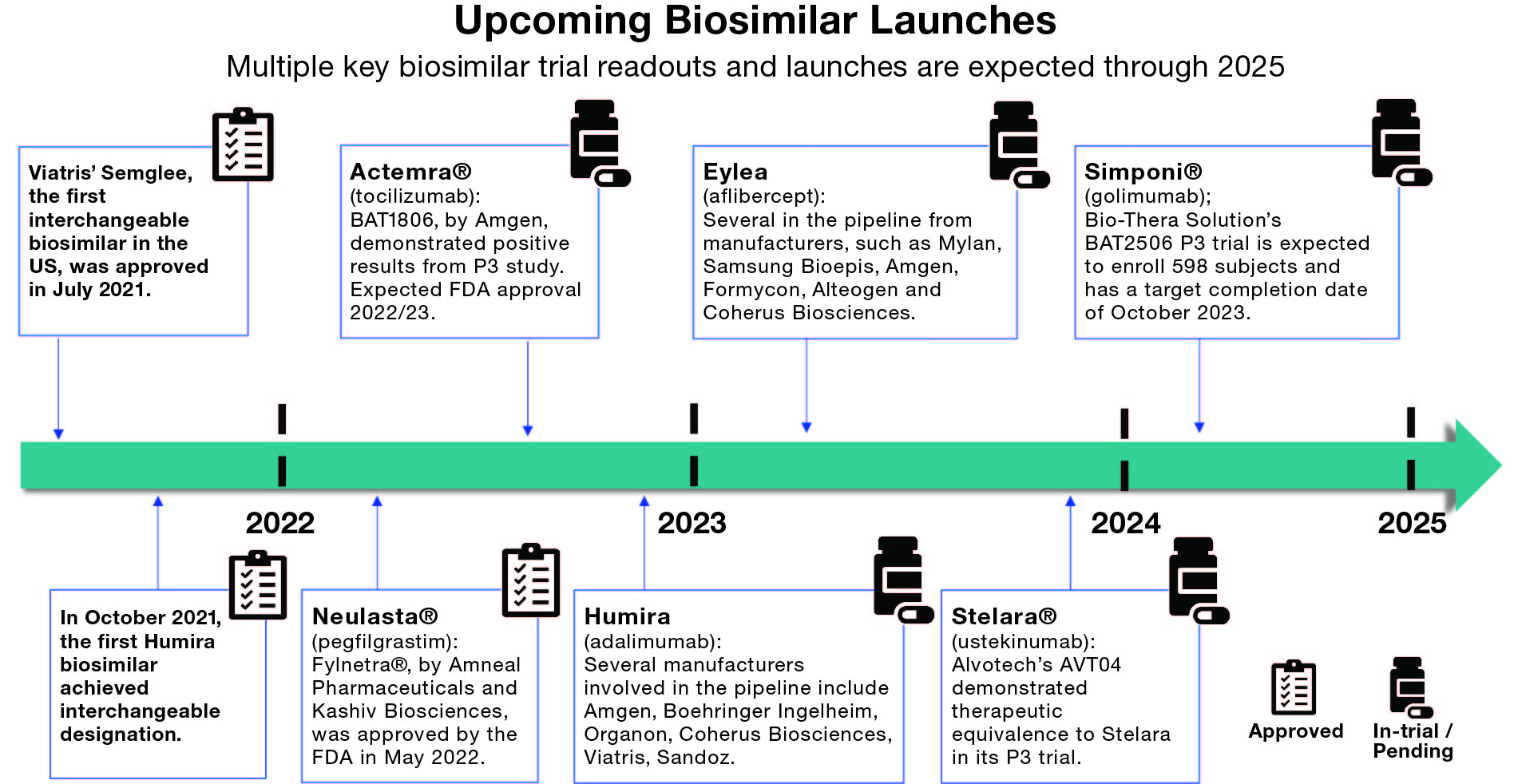 While the initial challenge for the first entrant or two is certain to be the originator brands, very quickly the competitive dynamics will shift dramatically as other entrants follow. As such, planning for successful biosimilar commercialization needs to involve both a robust launch strategy and a set of anticipated strategic adjustments for durable longer-term performance in a rapidly evolving competitive landscape. In the case of Humira biosimilars alone, there are 10 (or possibly more) anticipated launches over the next two years.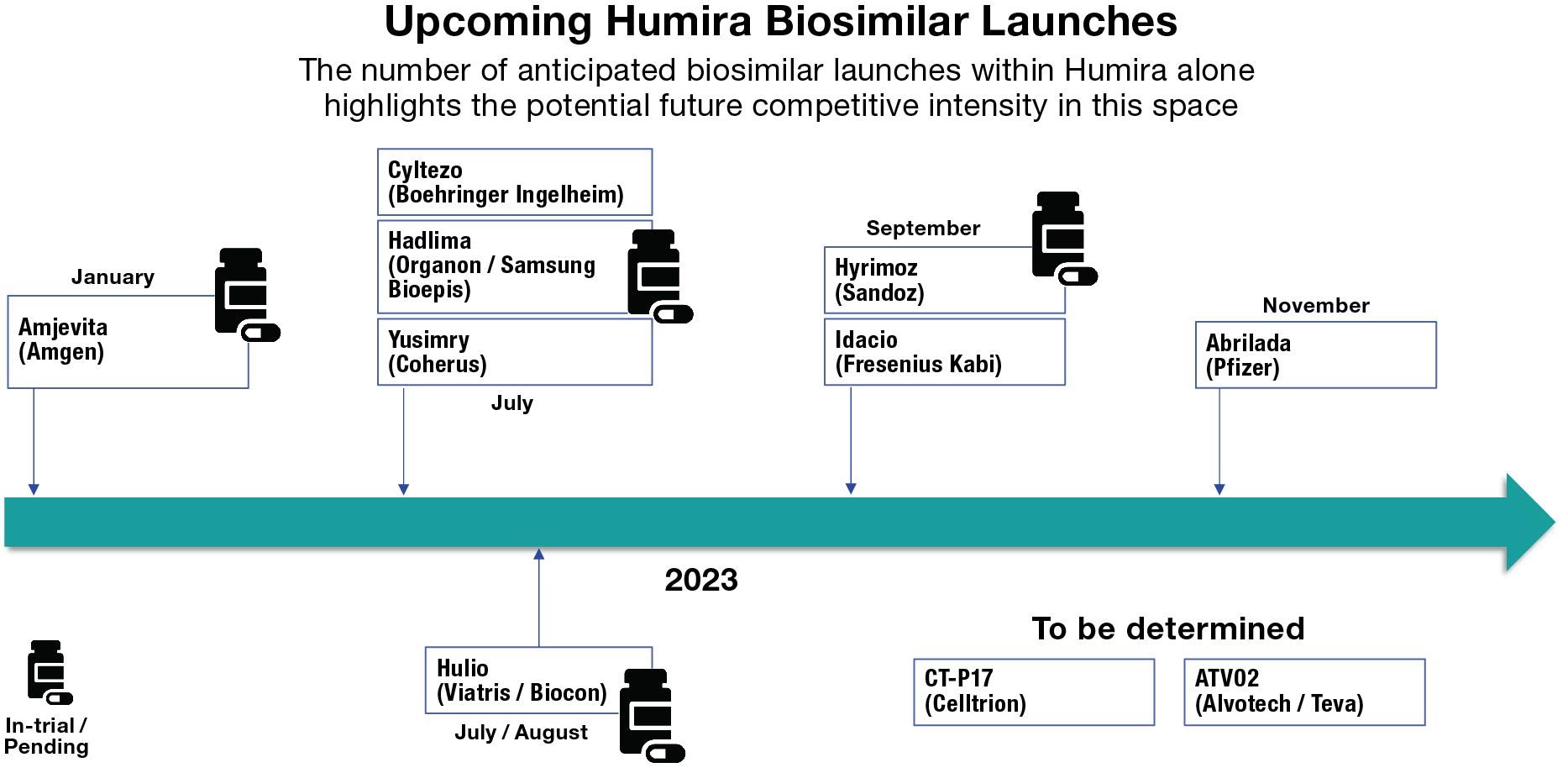 With this kind of competitive intensity and a heterogeneous set of manufacturers in terms of real and perceived manufacturing capabilities and corporate competitive cultures, the actual opportunity apparently posed by each originator brand will be shaped by multiple factors beyond just the originator's current sales and defense strategy. It is also interesting to note that the ultimate adoption and utilization behavior may very well vary significantly by indication and further impact the realized opportunity size for biosimilars targeting originator brands with multiple diverse indications.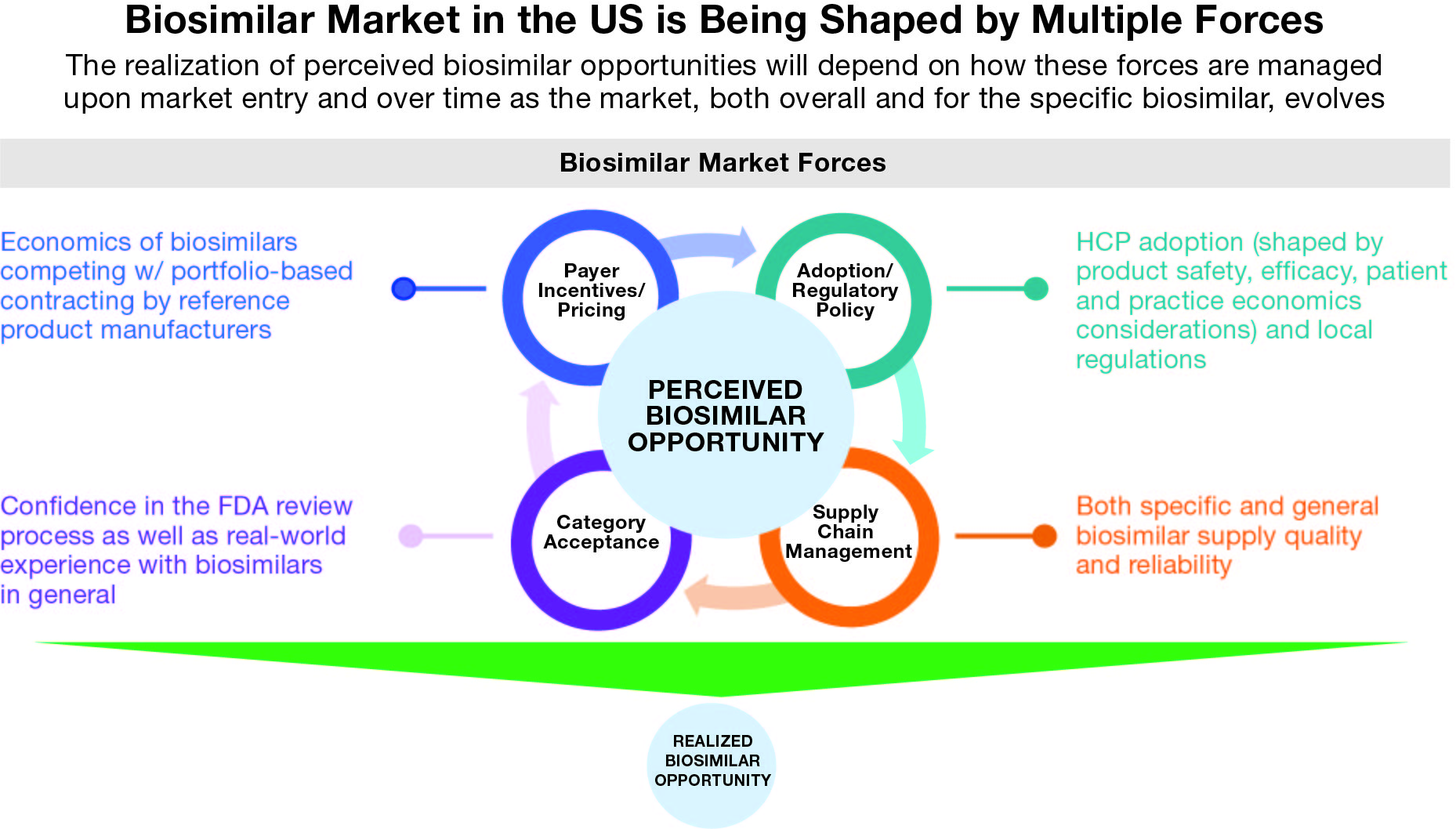 Each biosimilar manufacturer is then faced with a set of strategic questions and some fundamental choices in developing their launch strategy. A few of these are provided below, but they are by no means a complete set. The answers to these questions (and others!) help formulate the Strategic Imperatives and their enabling Critical Success Factors to position the asset for successful launch and sustained performance over time.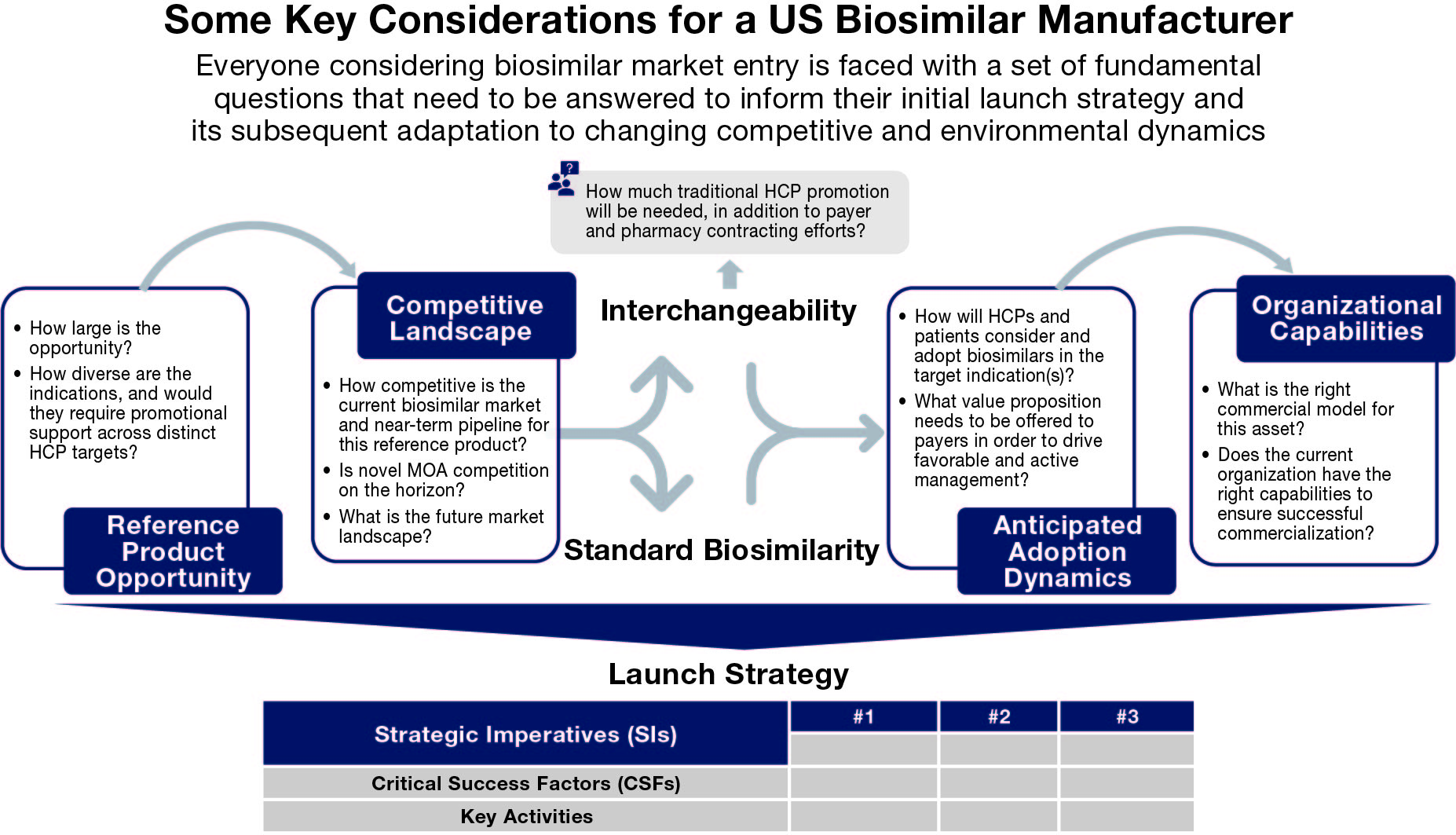 How is an aspiring biosimilar manufacturer to develop an effective strategy in this complex and uncertain market? We believe that a very powerful lever in preparing a successful biosimilar launch strategy is competitive gaming informed by sound, research-based scenario planning.
Scenario planning is NOT about predicting a single, most 'probable' future. It is about developing strategies that have a high probability of success in all of them!
Scenarios:
Inform business strategy and make it more robust by:
Identifying the key questions to ask
Identifying the most important and unpredictable factors that might impact its successful execution or require its adaptation
Describe possible potential relationships among different components of the target market ecosystem:
Customers and other stakeholders, both individually and collectively
Competitor companies and therapies
Forces, both endogenous and exogenous, acting upon it and their expected evolution
Scenario-based competitive gaming is focused on analyzing the impact of potential futures on business strategy:
Offering an opportunity to simulate experience with and learn from a compelling set of plausible future market outcomes
Helping translate those learnings into more flexible and adaptable strategies that will work successfully in multiple potential futures
A US Biosimilar Launch Strategy Needs to Account for Multiple and Multifaceted Commercialization Scenarios
The behavior of key market stakeholders will vary situationally (perhaps even across indications for the same biosimilar!) and be highly interdependent. Some possibilities follow.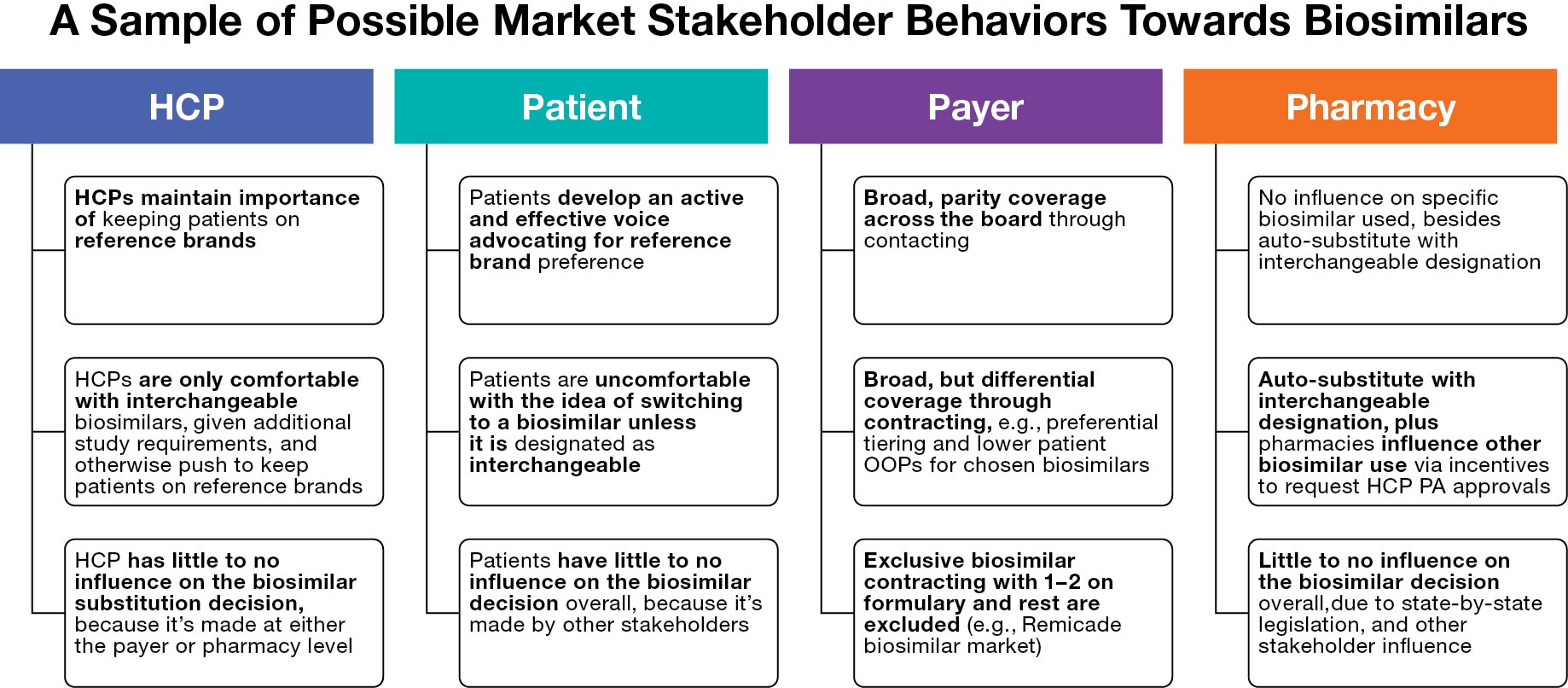 In addition to market stakeholders, other biosimilar competitors and multiple environmental factors should be addressed in the context of both the launch market landscape and its potential evolution over time.
Scenario-based competitive gaming typically follows a four-step approach. Although scenarios are always customized to the specific company situation, they are frequently developed around the draft Strategic Imperatives (SIs) and Critical Success Factors (CSFs) of the launch strategy.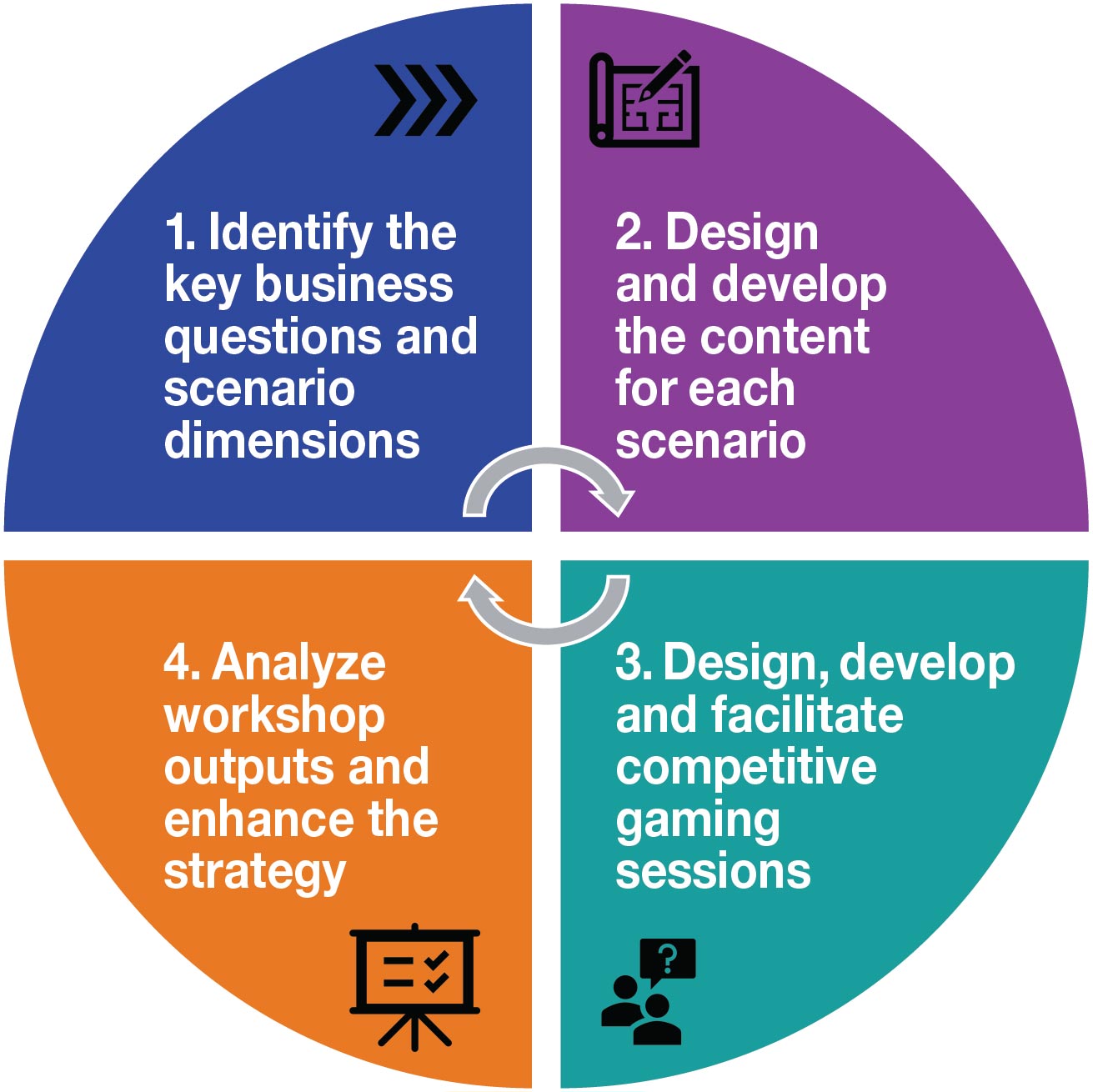 1. Identify the key business questions and scenario dimensions
Define scenario scope and time horizon to consider
Develop scenario structure around the Strategic Imperatives and Critical Success Factors of the biosimilar launch strategy
Identify and research the trends influencing key components of the launch strategy and their evolution over the defined scenario time horizon
2. Design and develop the content for each scenario
Leverage available secondary information and conduct primary research with key market participants to develop 2–4 launch and future market scenario narratives, bringing each scenario to life with personalization of the potential future outcome—assumptions, facts, imagery and commentary
3. Design, develop and facilitate competitive gaming sessions
Design and develop competitive game process, structure and composition of teams representing competitors and, if desired, market stakeholders and supporting templates focused on key data capture elements
4. Analyze workshop outputs and enhance the strategy
Analyze outputs of the competitive game process under each scenario, and identify common themes and considerations to be translated into an updated and more robust strategy
Conclusion
The US biosimilar market is still in the very early stages of its evolution. Adoption and competitive dynamics are uncertain with added strategic choices offered by the "Interchangeable" biosimilars beginning to enter the market. A very effective approach to dealing with inherent uncertainty is scenario-based competitive gaming, especially when it is powered by dedicated supporting research. As a result of this process, a manufacturer will be much better prepared to enter the biosimilar market and compete successfully in its still uncertain future.
Download