How can high-end brands redefine luxury shopping for the digital age?
Nearly a quarter of luxury shoppers prefer to shop online versus in-store, and nearly 4-in-10 prefer both online and in-store equally.
Nearly a quarter of luxury shoppers prefer to shop online versus in-store, and nearly four in ten prefer both online and in-store equally, according to a new Ipsos survey. While luxury shopping online has accelerated, the roles for digital and social commerce as preferred, everyday lux shopping sources are sure to increase. There are several steps lux brands can take today to retain customers and gain new ones in this new future.
In particular, we'll witness luxury's younger cohorts immerse themselves more into lux digital culture. The recent collaboration between Balenciaga and Fortnite is a great example. This will continue to transform people's expectations and relationships with luxury brands, including how they seek out and acquire new collections.
As digital platforms and social forums change over time, so will the cultural references across generations as new trends emerge. The heart of luxury's growing e-commerce businesses will depend on how successfully the brand:
Integrates authentically with third-party platforms. Brands need to audit their customer experiences across sites and remove any guesswork that comes in shifting from physical to virtual shopping.
Utilizes intently each digital (and physical) channel within the brand's entire ecosystem. Online lux shopping sites like Farfetch already are testing digital preorder to differentiate online, predict demand and reduce waste and cost. Luxury shoppers are already open to experimenting when it comes to exploring and "trying" new products virtually—from cars to clothes to glasses. Brands and retailers must make it easy for shoppers to do that using augmented reality tools.
Delivers on the shoppers' experience with apps and sites seamlessly throughout. If shoppers can find the product on multiple sites, what will make them click "buy" on yours? Luxury shoppers expect to navigate, browse and complete their purchase seamlessly. Post purchase, shoppers want to track when their product will arrive and receive the same or better care that they get in-store.
When it comes to luxury, details, service and, very often, the emotions and sensations experienced when shopping matter. Raising the bar higher for online will be all the more critical to integrate these elements flawlessly for brands to succeed in growing in digital and social commerce.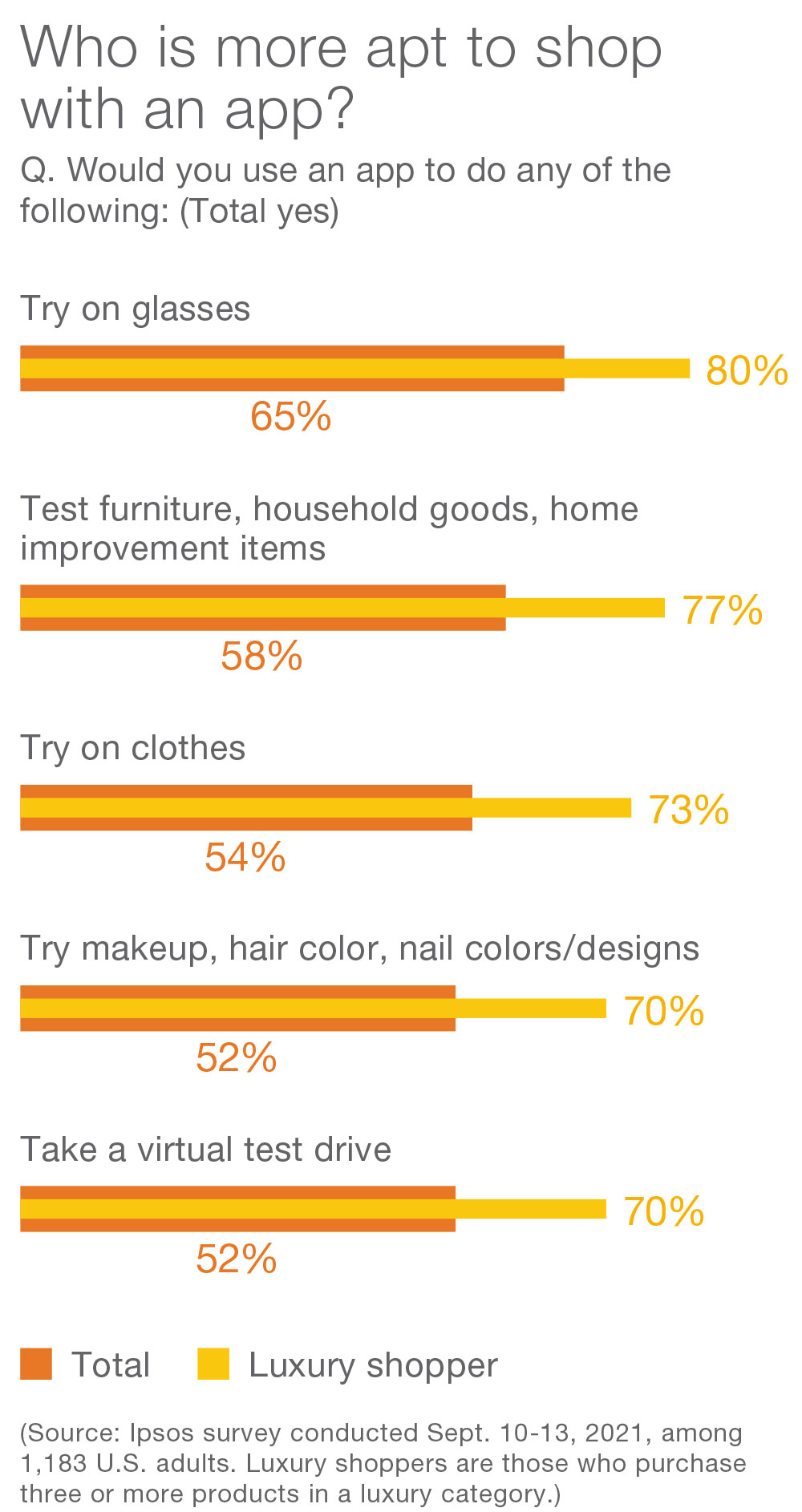 This article was originally published in What the Future Wealth, a research magazine by Ipsos highlighting Americans' unique view of wealth and the influence that digital, diversity and the Great Wealth Transfer will have on how we pass, share, spend and invest it. Download the magazine here.
Download