Affluent African American Consumers in Context
Ipsos shares data through a new lens, to illustrate how a pervasive climate of racism impacts the behavior of African Americans.
The events of the last month have exposed to all Americans the systemic racism that permeates American life. We at Ipsos see this moment as an opportunity to look at our data through a new lens and to illustrate how a pervasive climate of racism impacts the behavior of African Americans.    The analysis that follows shows other ways of looking at our data, looking for the "why" behind the "what".  For this piece we will be looking at how affluent African Americans use personal presentation to counter racial stereotyping, or asking the question, "Why does that black man wear his Ivy League t-shirt when jogging"?
One such lens, outside the traditional boundaries of market research, comes from contemporary work in sociology on race and class in America, where much social research has been done on the behavior and coping strategies of African Americans in a previously all-white world.  Karen Lacy in her book "Blue-Chip Black", focuses on the behavior of what she calls elite middle-class African Americans making over $50,000 a year. According to Lacy members of this group engage in two kinds of "boundary work": exclusionary and inclusionary.  This exclusionary work is based on the belief that
"…it is possible to minimize the probability on encountering racial discrimination if they can successfully convey their middle-class status to white strangers. To accomplish this feat, interviewees attempt to erect exclusionary boundaries against a bundle of stereotypes commonly associated with lower-class blacks." (1)
Much of the work of Elijah Anderson focuses three spaces: the black space, the white space and what he calls the "cosmopolitan canopy" where cross-racial interactions occur.  In his essay "The White Space" Anderson concludes that the navigation done by African Americans, including the affluent, is not matched by similar navigation done by whites. "While white people usually avoid black space, black people are required to navigate the white space as a condition of their existence." (2) For Anderson, black space is being defined symbolically by mainstream white society as the black ghetto. 
"Here the ghetto becomes intensely more iconic, symbolized as a distressed place to which blacks have been relegated to live apart from the larger society, thereby encouraging a low opinion of blacks as a racial category. Thus, not only does the physical ghetto persist, but it also has become a highly negative icon in American society and culture, serving increasingly as a touchstone for prejudice, a profound source of stereotypes and rationalization for discrimination against black people". (3)
 Anderson concludes that, in the absence of routine social contact between blacks and whites, stereotypes can rule perceptions and "…the most easily tolerated black person in the white space is often one who is 'in his place'…Such a person may be believed to be less likely to disturb the implicit racial order – whites as dominant and blacks as subordinate." (4) In looking at America through this new lens, few non-conforming characteristics create more anxiety than affluence.
The affluence of African Americans is overshadowed by their blackness. When operating in the white world, whether it be on the job, or as a consumer, affluent African Americans do so with limited credibility. Anderson goes on to say that
"…racism is more commonly manifested in a pervasive attitude that all black people start from the inner-city ghetto, and before experiencing decent treatment or trusting relations with others, they must demonstrate that the ghetto stereotype does not apply to them." (5)
The effort to overcome this credibility deficit leads to some distinctive consumer behaviors that stress the need for external performance or presentation when interacting with the white world.  Anderson notes, "…these blacks are very much aware of the figures they strike at work, at play, and at home in predominantly white or in racially mixed settings." (6) The data from the Ipsos Affluent Survey, which tracks the media behavior and buying habits of affluent Americans, provide a great opportunity to look at the intersection of race and affluence in the area of consumer behavior.
The Ipsos Affluent Survey highlights distinct and statistically significant differences in African American attitudes regarding presentation and outward appearance when compared to their white counterparts.  Affluent African Americans are twice as likely as whites to definitely agree with the statements: "I have an excellent sense of style", "My fashion represents who I am as a person" and "Being well-dressed is important to me". This difference is true for both men and women – and similar trends exist across age cohorts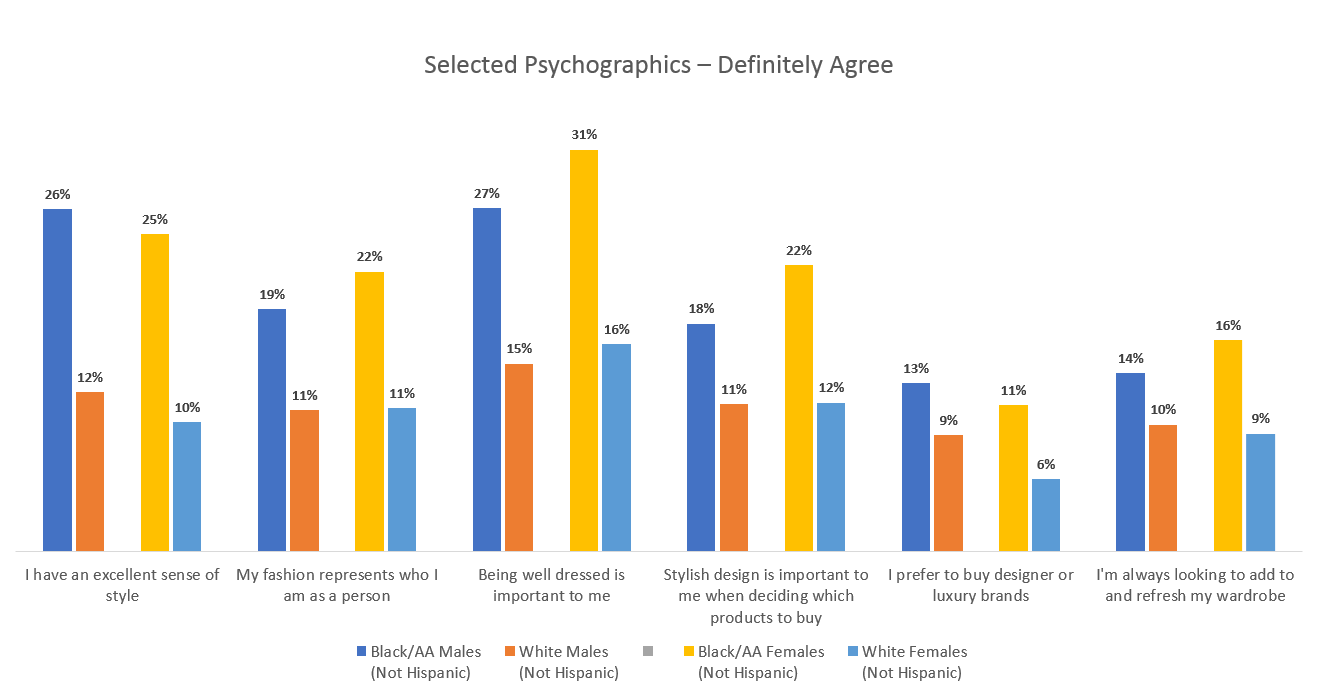 Clothes are a readily processed indicator of class outweighing race.  The point of the purchase takes on a value beyond the clothes themselves.  The clothes provide a means to get the respect that is only provisionally granted by white society.  Anderson points out that Affluent African Americans perceive dressing casually as a liability.  Doing so increases their likelihood of being challenged in restaurants, in retail stores, in their buildings, in banks and other financial institutions, or while jogging in one's own neighborhood. (7) This performance strategy is not fool proof, as there still exist multiple instances of being stopped for engaging in any activity "while black", or of backlash for "flaunting" indicators beyond one's perceived station, but it does increase the odds of acceptance.
The search for respect manifests itself in other attitudinal statements related to customer service.  Affluent African Americans, across both gender and age, place more importance on personalized and superior service at levels higher than their white counterparts. Across the entire battery of luxury and style statements in the Affluent Survey, African Americans consistently over-index against whites.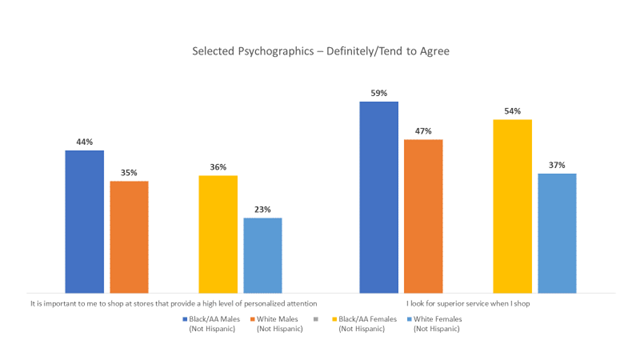 It is important for people and brands to acknowledge the emotional labor undertaken by our African American co-workers, clients, customers and neighbors every day as they navigate the white world. This is a strategic navigation filled with an infinite number of seemingly insignificant decisions like what clothes should I wear while jogging. For marketers, the word "aspirational" has often been used to describe the lower end of the luxury market.  For the affluent African American consumer those aspirations include the right to be treated fairly and with the respect that should come with financial success.
It is also important to recognize power of the affluent African American market in terms of expenditures.  Affluent African Americans represent a huge market for brands, spending almost $250 billion in the past year on household expenditures.  When it comes to those strategic outward expressions we've been discussing, it is clear to see that on average Affluent African American households outspend total Affluent households for items such as men's designer clothing (1.6 times more), men's business clothing (1.5 times more), and women's designer collection/couturier (1.4 times more).

Brands and marketers should understand that wearing and owning designer and luxury brands is one of many strategies affluent African Americans employ to build respect and status in the white world. Prioritizing and building strong customer service models will be a valuable tool for building customer loyalty and respect among black consumers, recognizing the symbolic meaning of any purchase that involves display.  That these strategies, which are essentially defensive and conservative, align with a fashion-forward sensibility make the affluent African American consumer unique.  By recognizing this dichotomy and empathizing with the strategies African Americans employ luxury brands can create a deeper relationship with a group that is more passionate, and already outspends it white counterparts in the category.
This piece is just one way to look at a small portion of our data.  Follow the link here to a snapshot of affluent African Americans from the most recent Ipsos Affluent Survey.  We will continue to look at this under-researched segment using this data and from that gathered from our quarterly barometers.
I would like to thank Elijah Anderson, the Sterling Professor of Sociology and of African American Studies for providing me with the sociological framework used in this piece and the Ipsos African American Employees Resource Group for their emotional support.
Citation 1 comes from Karyn R. Lacy's Blue-Chip Black: Race, Class and Status in the New Black Middle Class Berkeley, CA 2017 University of California Press
Citations 2-7 come from Elijah Anderson's "The White Space" Sociology of Race and Ethnicity Vol 1 (1) 10-21 2014
Download