Building Blocks of Corporate Trust During the Crisis
Read why delivering on basic needs is most likely to yield positive reputational impact and long-term goodwill from customers and other stakeholders.
However we got here, our data shows that people expect certain industries to take a lead in helping us get through the crisis. How those industries and the companies within them respond could have an outsized impact on their reputations.
Initially, the highest levels of responsibility for combatting the spread of the coronavirus, according to our research fell to airlines, pharmaceuticals, restaurants, and news media organizations.  In our latest polling, we see that food-related industries cluster together as being most responsible, including grocery stores, restaurants, and packaged food companies.  This should come as no surprise as we are beginning to see concerns over food processors shutting down, impacts to the food supply chain, and limited availability of certain products on grocer's shelves. Grocers in particular are on the front lines of this battle as they must remain open while adapting operations in order to keep customers and employees safe. Pharmaceutical companies retain high responsibility as treatments and vaccines continue to be sought.  Airline responsibility is down significantly from our March polling as massive reductions in flight capacity have been implemented and passenger volume declines.  Finally, news media and social media companies, while seen as less responsible than many other industries, still bear significant responsibility when it comes to combatting the spread of COVID-19.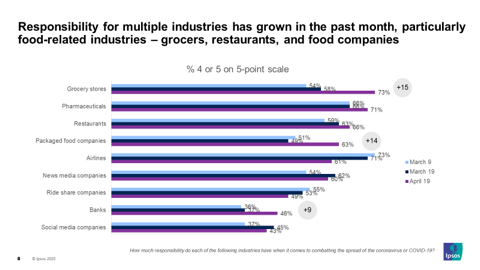 While healthcare (hospital and clinics) and grocers are seeing a strong improvement in trust given their frontline status; in the minds of Americans, news media and social media organizations are experiencing an erosion of trust during this crisis.  Airlines are in a similar trust position as media organizations, and the only organization losing trust to a greater extent is the government.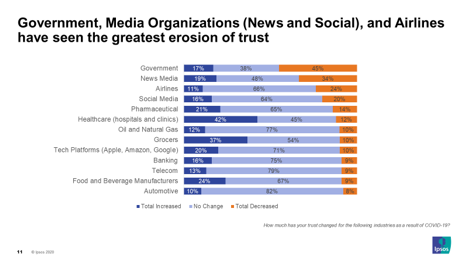 What Can Media Organizations In Particular Do To Restore Trust?
Our latest Reuters polling shows that the majority of Americans are following the news at least somewhat closely.  However, most indicate that the news is making them stressed, fearful, and worried.   These stresses and worries can color perceptions of the media that is delivering this news.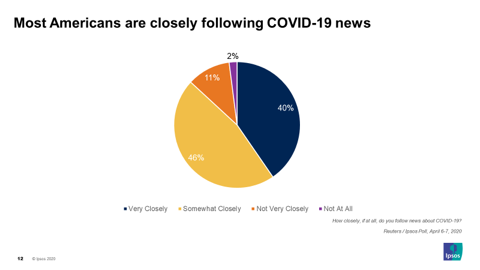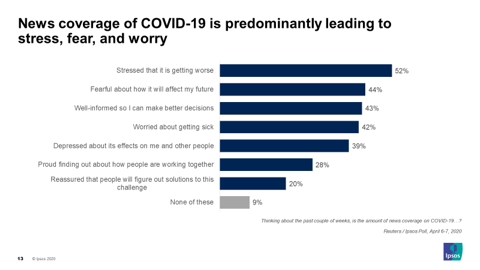 When asked to rank a list of items that social media and news media companies should be focused on right now, the primary responses are accuracy of information and censorship or removal of inaccurate or misleading information.  The focus on censorship or removal of inaccurate or misleading information is more pronounced for social media companies, indicating that there is an appetite for these companies to police their platforms and fact-check content.  As the importance of social media grows during the crisis, Americans turn to these sources for news and information.  Accuracy is expected more so than speed of developing stories or access to 24/7 content.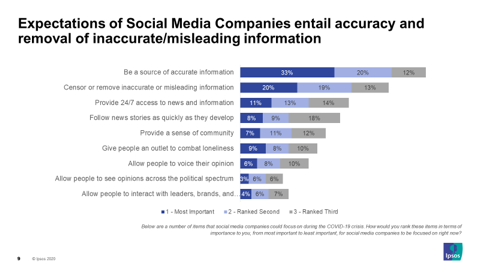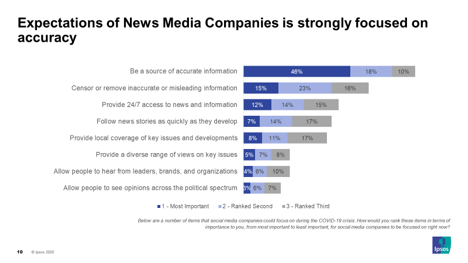 Expectations of Other Industries
More broadly, the expectation during the crisis is for companies to be focused on the safety of employees and customers, to protect employee jobs, and provide adequate healthcare.  Delivering on these basic needs during this time is most likely to yield positive reputational impact and long-term goodwill from customers and other stakeholders.  We see this in action with companies guaranteeing job security, donating supplies to healthcare workers, and companies voluntarily shifting production to needed supplies. 
Simply said, companies putting people over profit are likely to see the greatest long-term benefit.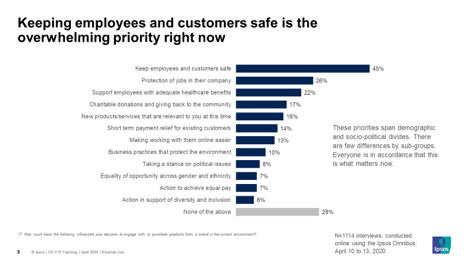 Implications
As Americans continue to be distanced from daily life activities, they seek accurate and timely information, while their expectations of different industries evolve with the crisis.  For news media and social media companies, there is an appetite for accurate, unbiased information, as well as a desire for censorship or removal of misleading information.  While greater proportions of the American population are turning to social media platforms to stay connected and to provide a sense of community, the need for accurate information is far more important to Americans.
Social media platforms, such as Twitter and Facebook, have taken steps to limit the spread of misinformation. The public continues to expect traditional and social media to do its part to limit the spread of the virus. These companies in particular must be vigilant about their actions and sensitive to missteps.
For other companies at the frontlines in handling the crisis that are experiencing rising expectations to combat the spread of coronavirus, the principles of crisis management communications will always apply:
Understand your company's risk profile and how your organization contributes to the broader public health and information sharing platforms.
Open and consistent communication is crucial. Not only is the spread of misinformation potentially injurious to public health, but it can also be damaging to consumer trust. Smart companies will proactively communicate with all stakeholders, both internally and externally. A few areas to consider going forward:

Continue to adhere to a communications plan with the long-term objectives in sight
Communicate frequently, proactively, and transparently from a variety of sources (company leaders, employees, partners, etc.)
Tailor communications to relevant stakeholder audiences, including consumers, customers, investors, policymakers/regulators, and perhaps most importantly, employees

Know what expectations are to stay informed as the situation continues to evolve on the ground as well as in public perceptions.
Download