Peaceful Protests Signal Hope and Positive Momentum for Change
The country continues to see protests in every state against racial injustice, and as seen in our latest research published in USA Today, our interactive map of protests in 400 separate cities across the country, are overwhelmingly peaceful (80%). This empirical data reiterates what we are hearing from consumers in the broader social conversation and in Ipsos' US syndicated online community. Despite some claims of massive violence, outside agitators and potential terrorist factions being at the root of the protests, the movement we are seeing take place in the United States signals hope, positivity and a path for meaningful change.
Looking at social conversation linked to the protests reiterates the massive impact it is having.  Social justice and protest conversation amassed five million mentions in the past two weeks, with a peak on June 1st overtaking conversation volume about COVID, and largely linked to support of the Black Lives Matter movement, sparked by the death of George Floyd.

When we look at the conversation over the past two weeks as the protests took place, we also see that while anger and sadness are present in the discussion, the dominant emotion coming up in social verbatim is gratitude – particularly in the context of support and generosity.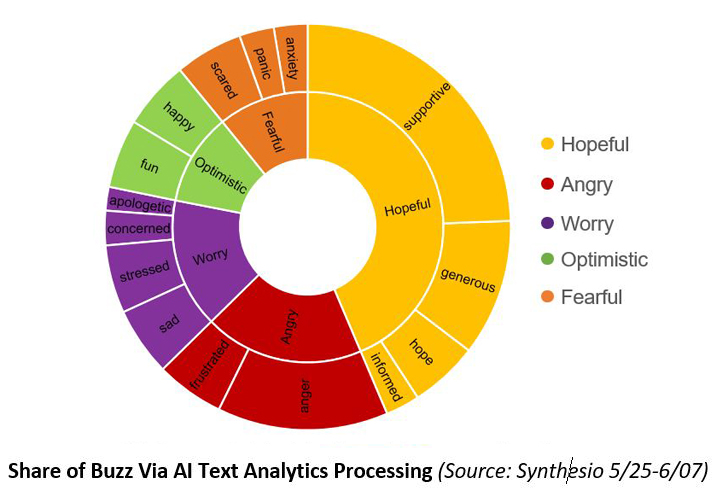 The support is further reiterated when looking at the top Emojis posted in the past week, with the use of different skin tone solidarity fists at the top of the list, followed by heart emojis, signaling more conversation around support for the movement versus against. In addition, the top tweet over the past two weeks was from President Barack Obama and his statement about George Floyd.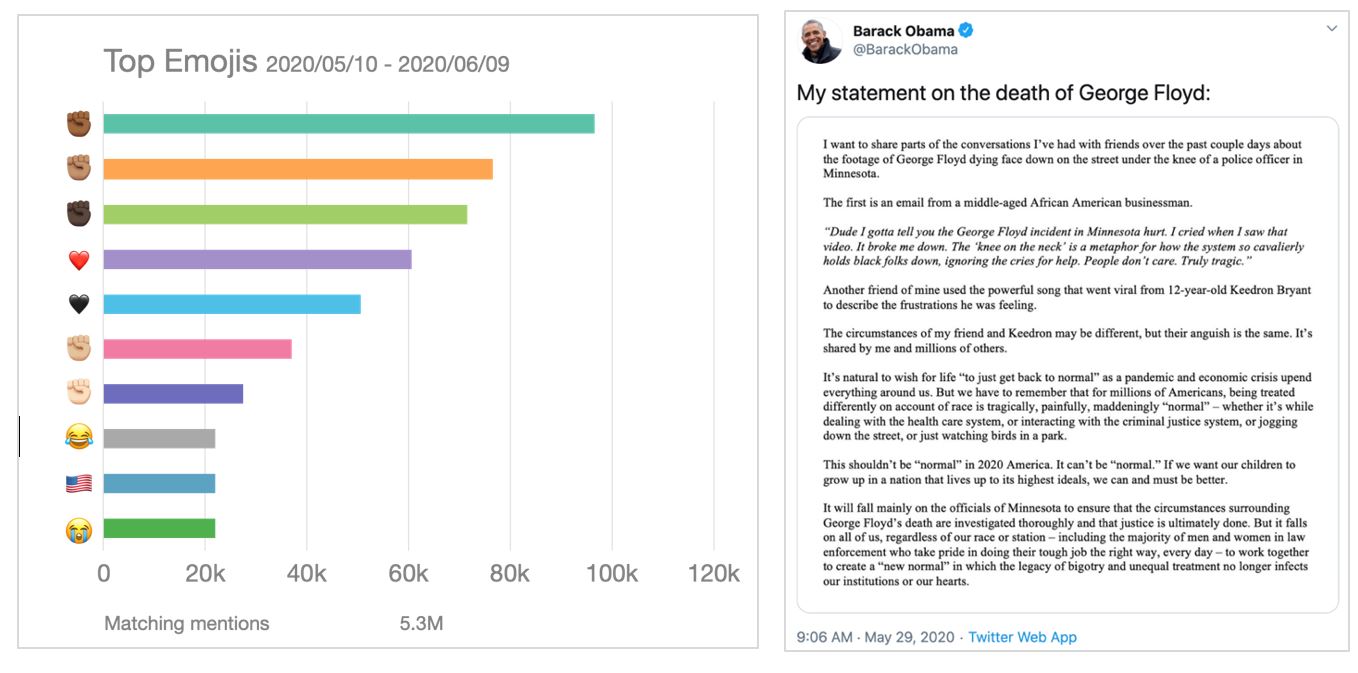 We see this sentiment reiterated when we engage with our community members about the topic providing texture to Reuters/Ipsos polling that found 73% of Americans — including 59% of Republicans — approve of the peaceful protests that have taken place across the country since George Floyd was killed.
"Despite the negativity, uncertainty, and unfairness there is around with COVID-19 and George Floyd's death, somehow I feel we all have to get through these painful circumstances and injustice with a new mind set. I feel optimistic because we have to grow from this pain we are all seeing and experiencing after this incident, and hopeful because we can't just lose our grip, we must stand together as a nation, treating one another with respect, love, and unity."
Data included in this article was compiled by our Ipsos Social Intelligence Analytics and Online Communities team. The map referenced is our Ipsos Protest Map, which is updated on a daily basis.