COVID-19: Ask Us Anything Q+A
America is in a crisis. The Covid-19 pandemic is already reshaping daily American life in ways unprecedented and unanticipated. As this is happening, the team at Ipsos is using every tool at their disposal to keep track of what the American public knows, fears, experiences, and is doing in response. As we move from the "age of uncertainty" to the "time of coronavirus", how will Americans adapt as consumers, citizens, and humans?
View our on demand "Ask us anything" webinar examining how public mood is changing as a result of Covid-19, where concerns are most focused now, and how the crisis is affecting American's behavior now and in the future.
Click here to join us for our upcoming Ask Us Anything webinar on April 21.
Highlighted features from Q&A
Ask Me Anything: 2020 COVID-19 Pandemic
COVID-19 is the start of the great adaptation, where Americans are being forced to change their behavior in profound ways during a moment of heightened uncertainty. Below are the highlights of what our research tells us so far, along with your top questions, answered.
What you need to know
Three in four Americans have cancelled or skipped attending a large social gathering. This number increased about 30 points in a week.
While our habits are moving with the crisis, most still see it as a national or economic threat rather than a personal one.
Consumer confidence has plummeted, losing about 20 points in a week.
The federal government is also registering historic jobless claims.
President Trump is enjoying an uptick in his approval rating, nearing a high for a commander-in-chief with historically unmoving numbers.
President Trump seems to be benefitting from a "rally around the flag" effect. It remains to be seen if Trump will be remembered as a wartime president or a depression president.
Deep Dive
Vital Statistics: The Great Adaptation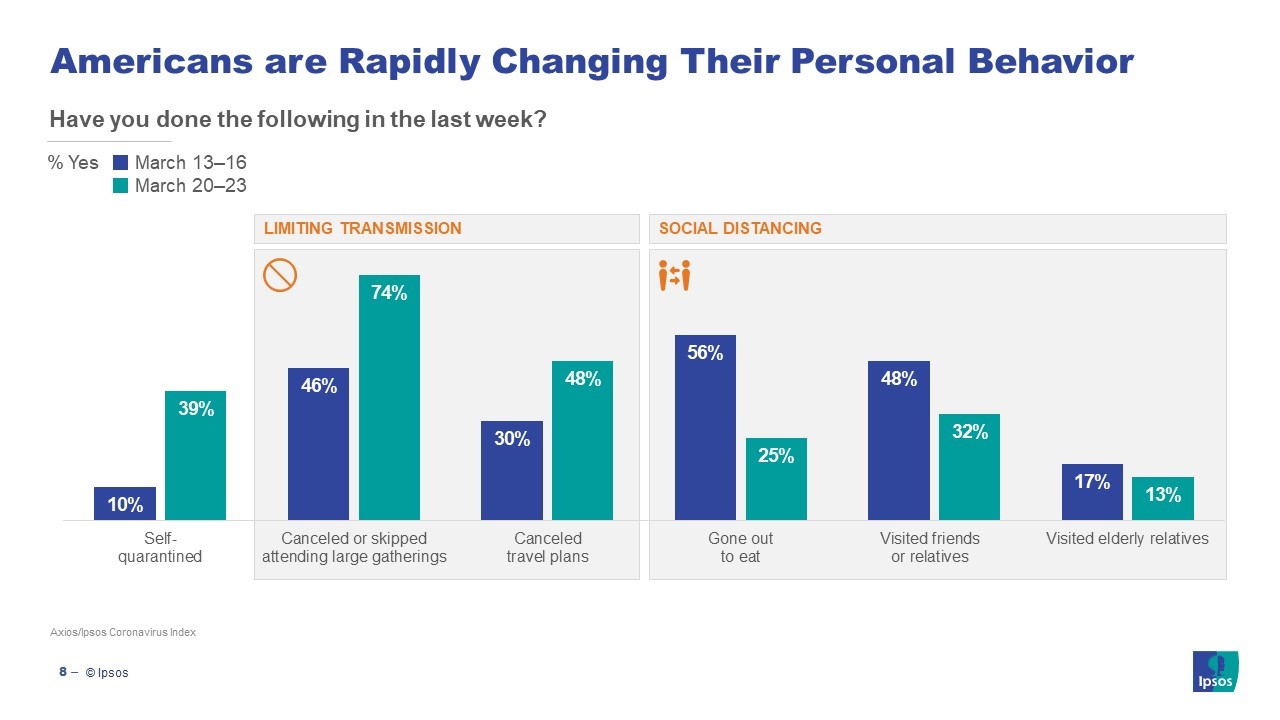 Cancelling or skipping out on large social gatherings is becoming the new normal for many people, with 74% of Americans doing so in the past week. Based on the tracking we are doing with Axios, this has moved by about 30points in a single week as people adapt to more stringent government restrictions.
Consumer Confidence: The Single Biggest Drop Yet
In the 18 years that Ipsos has tracked US consumer sentiment, the March 24-25 drop is the single biggest we have recorded, coinciding with the largest uptick in jobless claims as well. Coronavirus is hitting the economy hard, as huge sectors shut down, and consumers are feeling uncertain about their position in the economy now and in the near future. Many people are adjusting their spending habits as they brace for the worst.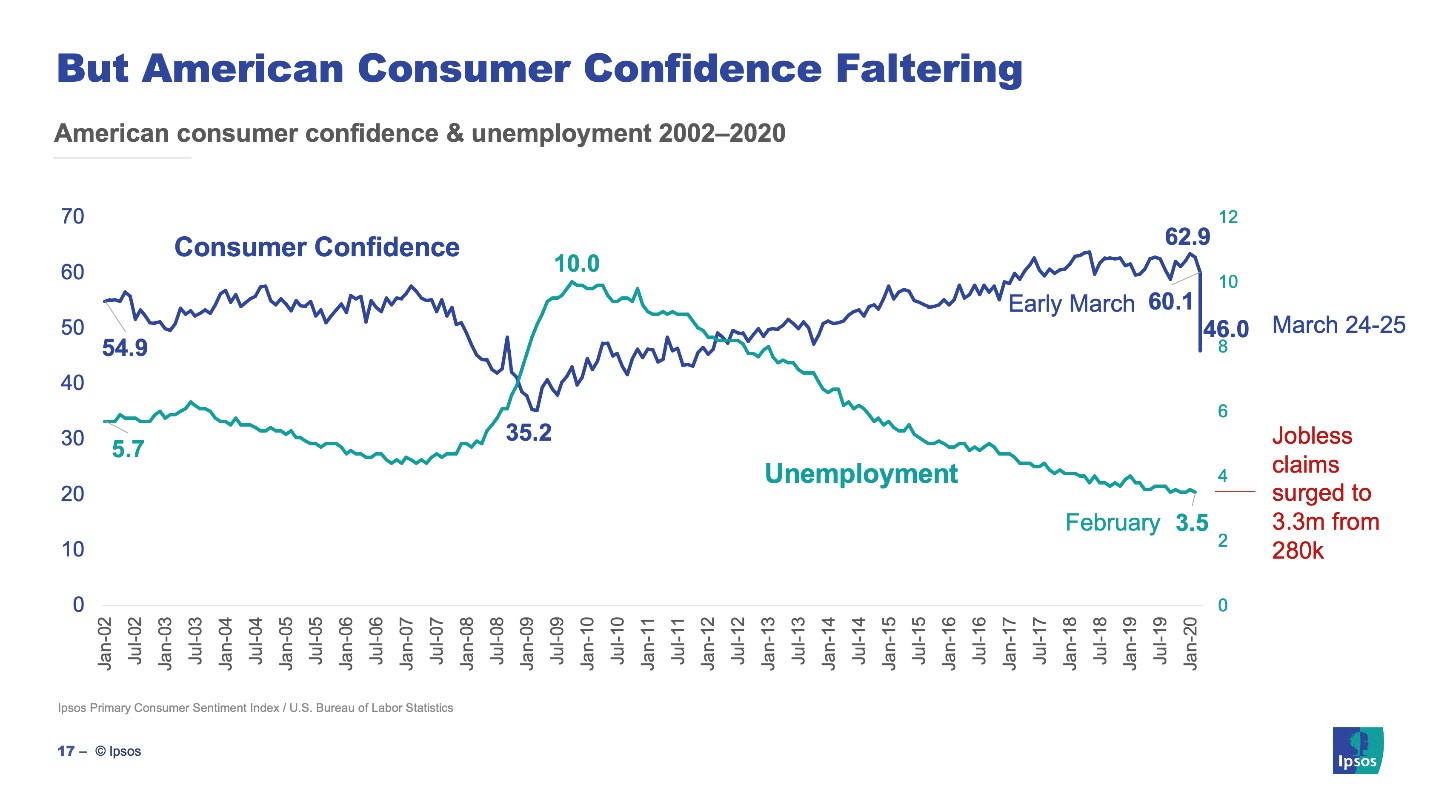 Supply Chains Are Running Dry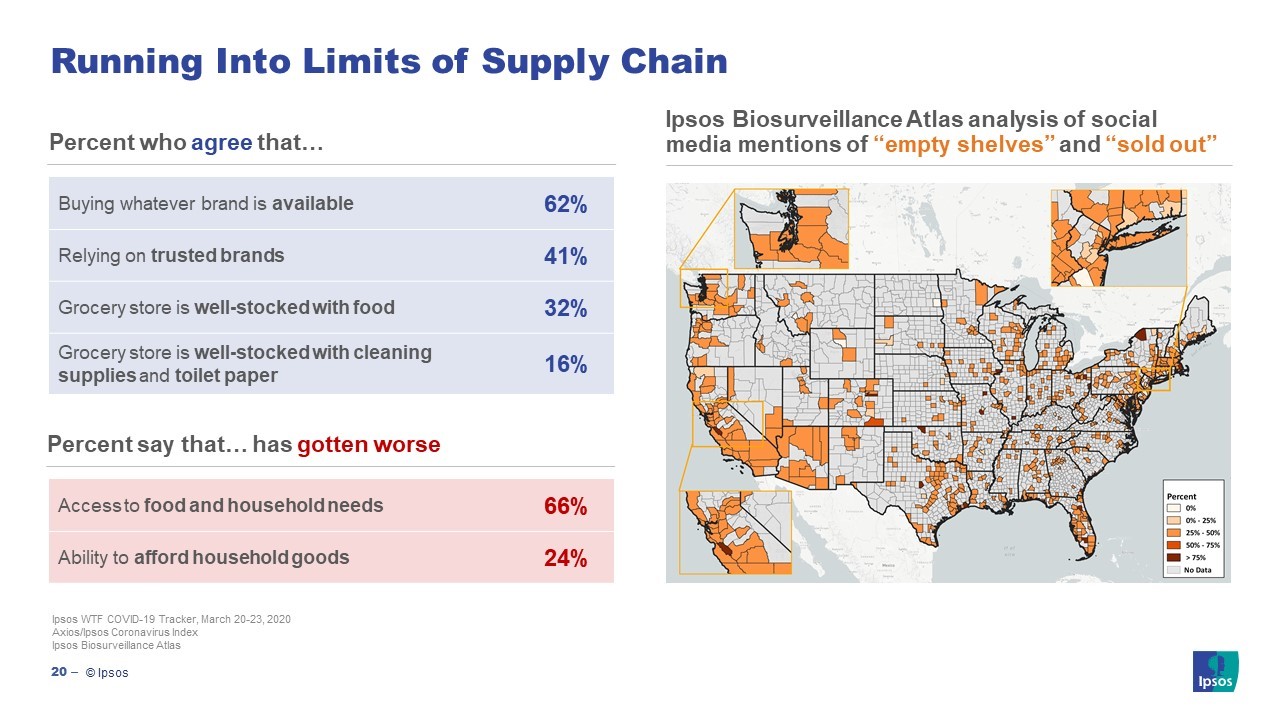 Coronavirus hot spots, largely urban, coastal areas as of now, are seeing surges in online discussions of "empty shelves" and items that are "sold out," based on data collected and analyzed by the Ipsos Biosurveillance Atlas. Buying habits here are indicative of patterns during other natural disasters, where people run to stores to stock up on items. As the pandemic progresses and the economic downturn ripples through other parts of the country, we can expect these consumer behaviors to shift again.
President Trump's Gets a Boost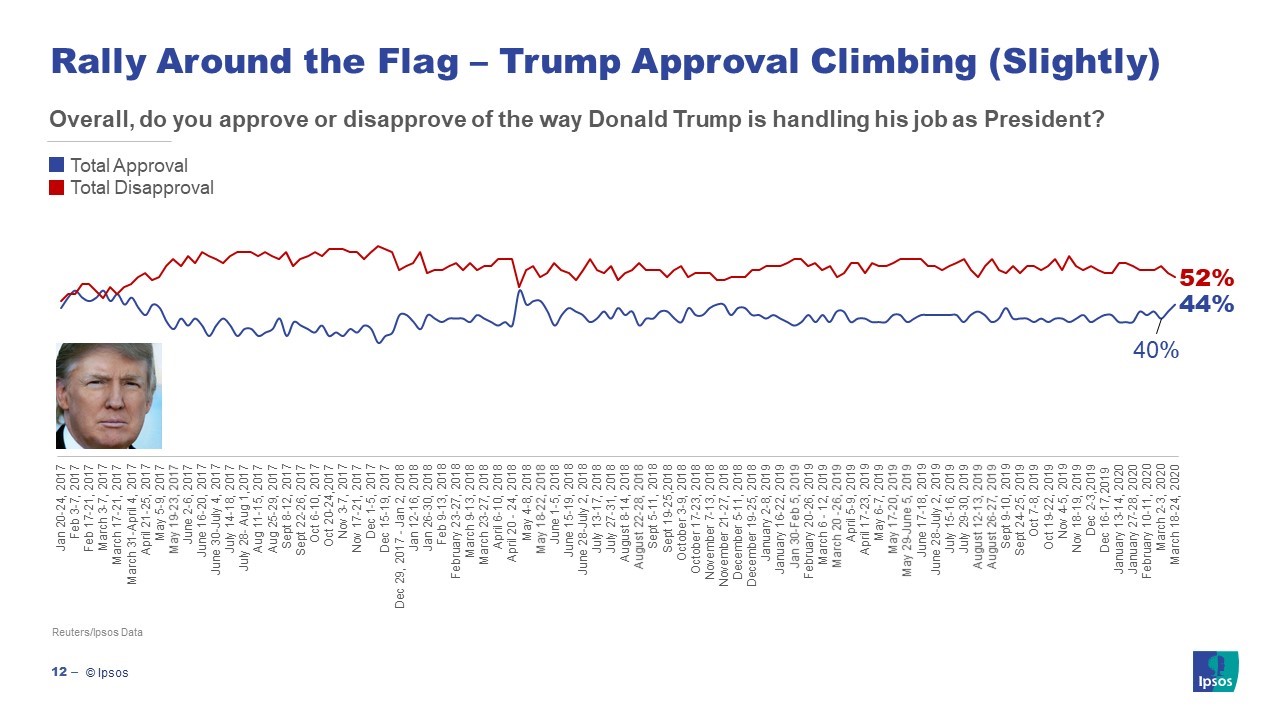 President Trump's approval has been steadily increasing over the past couple of weeks, moving up four points in the past month. For a president with historically unwavering numbers, the surge is notable during the growing crisis. So far, his description as a "wartime president" seems to be sticking, given the climb we are seeing. This is consistent from trends in Italy during the spiraling outbreak as well.
Questions
Is research feasible or reliable during times of change like this?
Yes, but we need to adjust our methods.
For the protection of our workers and respondents, we are going digital. When it comes to quality, the work we've done during the height of the outbreak in China and the ongoing crisis in Italy shows us that people are eager to share their opinion and let their voice be heard throughout moments of change and uncertainty. In those countries, our response rates were no different and the volume of work we were able to conduct was unchanged. 
We can't necessarily project far out into the future given all the unknowns, but we can and will capture the present to make that future a little more tangible by understanding what's happening now.
Should brands be advertising?
Yes, they should.
The new normal isn't changing any time soon, and the longer brands sit out of the conversation, the more the discussion will continue without them. Based on the research we saw during the Great Recession, brands who laid low while consumers' lives were vastly changing didn't see those same consumers come back to them. They moved on and developed new buying patterns and brand affiliations, even when the economy stabilized.
Brands need to be talking to consumers and helping them navigate this new moment by emphasizing and understanding the patterns of behavior people are adjusting to.
Will the digital shift be permanent?
It's hard to say.
We can expect some digital behaviors to stick, but given the distance between here and the moment when buying in a store is an option again for most people, we can't make a grounded guess.
What are consumers expecting from brands?
Do no harm, normality, and expertise.
People's lives are being upended. It's important to strike a genuine tone and be as comforting as possible. Consumers are actively listening and looking for guidance from brands right now.
What impact will it have on the election?
Right now, we don't know.
We do know that a president's approval ratings are closely linked with their reelection chances. A 40-percent approval gives him a 50-50 shot at winning reelection, and as his numbers drop, so do his chances at winning again. We will be monitoring this metric closely, along with other trackers to gauge how the public is responding to President Trump's response to the pandemic.