Americans agree inflation is here – but they don't agree why
Most people blame issues with the supply chain, but Republicans are most likely to blame government regulations
As the economy has reopened, many Americans are feeling confident in their finances – but they're also noticing that prices have increased for everything from gas to groceries, according to new data from the Ipsos Coronavirus Consumer Tracker. So what – or who – gets the most blame? Like many other questions in America, your opinion comes down to your politics.
Most Americans believe that prices have gone up for their total grocery bill, food at restaurants, fresh fruit and vegetables, meat, or gasoline since the beginning of this year. Just under half say they're paying more for electricity. Almost no one – less than 5% of Americans – believes prices for anything have gone down.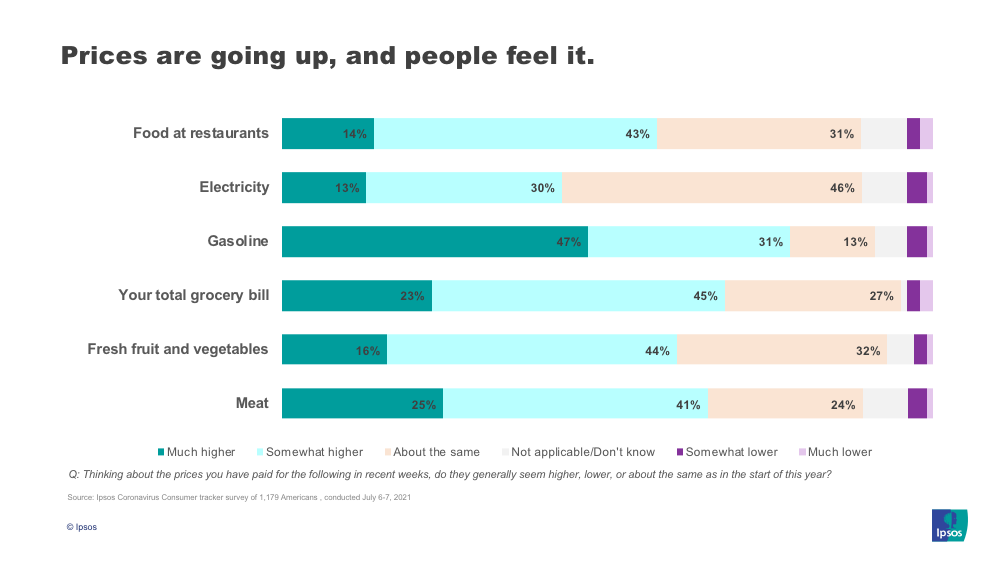 This is not a new issue – prices have been rising since almost the beginning of the pandemic, as our world was turned upside down. But their lingering presence is causing frustration among many people as the reopened economy surges, yet their dollars don't go as far as they used to.
"Brands need to be aware that people are feeling an economic pinch, and have a wide variety of sources they are blaming – including the brand itself," said Emmanuel Probst, a senior vice president at Ipsos. "It's always important to be close to your customer, but the fast-moving state of the recovery makes it more critical than ever."
When Ipsos asked Americans what they believe to be the single biggest contributing factor to the problem, the largest number of people (27%) pointed to issues with the global supply chain, followed by individual businesses raising prices to make up for last year's losses.
Republicans, however, were most likely to blame government policies for the rising prices – which falls in line with conservatives' recent strategy of blaming President Biden for rising gas prices.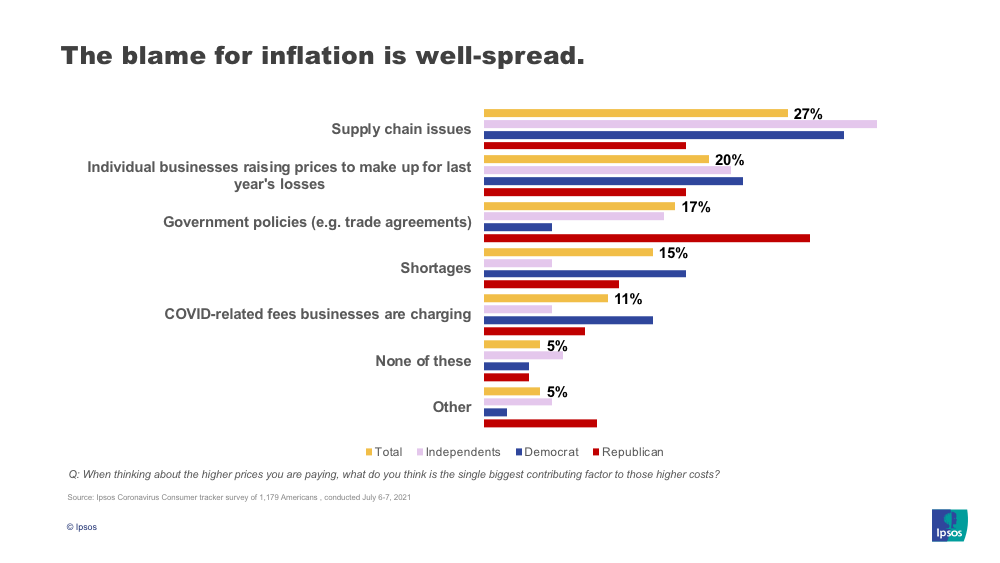 In fact, each factor is working together to raise prices. Trade wars raised the price of imported whisky. Supply chains are still recovering from massive shifts in demand across categories during the pandemic. Labor shortages are impacting many sectors, such as restaurants, which are increasing prices to compete and to make up for rising food costs. Still, it's worthwhile to examine where consumers place the majority of the blame – and for brands to pay close attention in order to protect their reputations.
These aren't the only troubling signals in the hot economy – it's also causing a near majority of people to delay major purchases – and the signals are getting stronger. In only two weeks since Ipsos first asked Americans in mid-June, the percentage of people has gone up who say they are delaying purchasing air travel (from 13% to 18%), hotels (10% to 12%), or a personal vehicle (10% to 12%).
We'll keep watching in the Ipsos Coronavirus Consumer Tracker and other research to see how this progresses, and if the fallout affects the broader economy.
Download