A strong majority of Americans want mask requirements back as delta surges
Many people are pulling back from public activities as the variant spreads widely across the U.S., but consumers don't expect businesses to require employee vaccination.
As the coronavirus delta variant continues its surge, a sizable majority of Americans say they want mask requirements back in shops, restaurants and other businesses across the country – and many want vaccine requirements, too.
Three in five Americans (61%) say they would be more comfortable if masks required for all staff and customers in grocery stores, malls and other retail locations, according to new data from the Ipsos Coronavirus Consumer Tracker. That's a sizable jump from June, when only 46% of Americans said the same.
More than half of Americans (55%) also say they'd be more comfortable if all staff had their vaccination status checked, and just under half (44%) said they want all customers' vaccination status checked.
"Public opinion on health and safety has moved swiftly throughout the pandemic, but this summer's whiplash rivals any that we've seen throughout this saga," said Carlos Aragon, vice president with Ipsos Mystery Shopping. "One thing is clear: A big chunk of your customers don't feel as safe as they used to, and there's a clear playbook here for retailers to help smooth things over."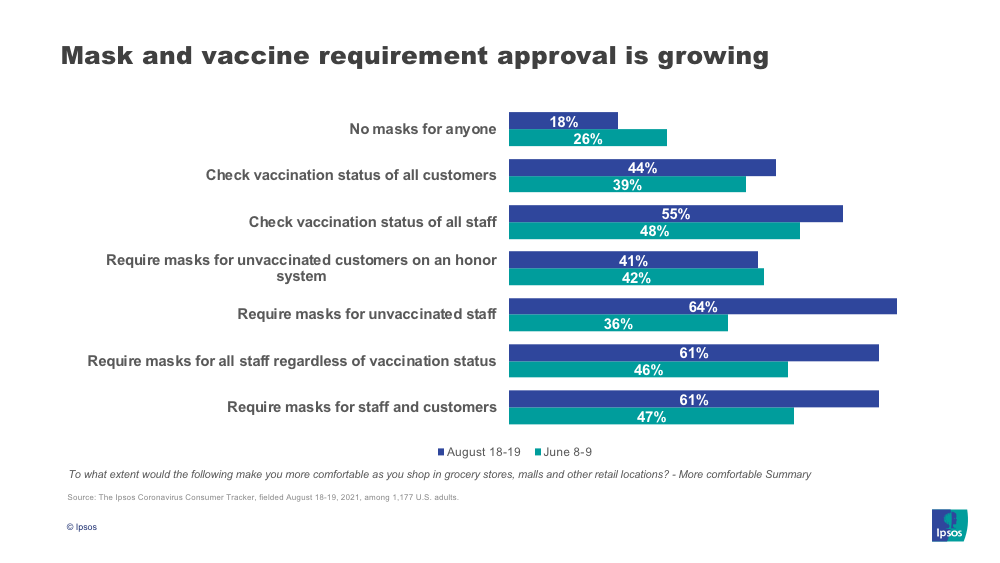 Indeed, many Americans say they're avoiding activities where the virus could spread as the delta variant gains ground. Roughly half of Americans who are vaccinated – or planning to get vaccinated – now say they are likely to stop dining out at restaurants, going to sporting events, visiting large cities for vacations, going to crowded places, going to concerts or shows, and more. This is specifically because of concerns about the delta variant.
Even those who say they won't get vaccinated are pulling back in sizable numbers. Roughly one in three say they're likely to avoid going to crowded places, dining out in restaurants or going to their place of work; roughly one in four say they're likely to stop going to concerts, sporting events, visiting large cities for vacation or visiting city centers.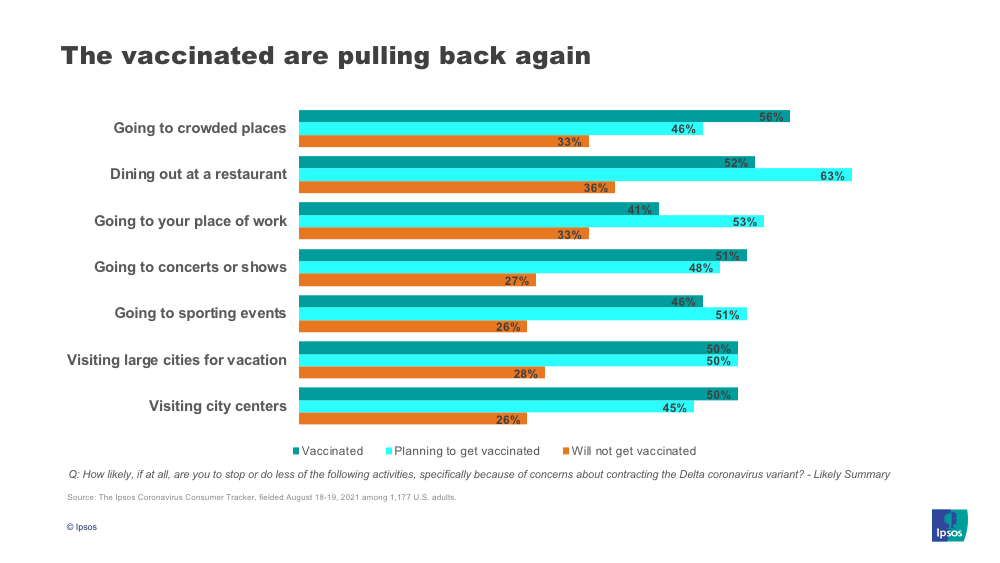 So who should be putting vaccine requirements in place? Despite widespread desires for businesses to have vaccinated staff, few Americans (only 4%) say the businesses themselves should be responsible for putting vaccine requirements in place.
The largest number say requirements should be put in place by a national public health agency like the CDC (22%) or the federal government (21%).
Another 15% say it should be the responsibility of state governments; 11% say it should be set by local governments.
A substantial number (27%) say individuals should make their own decisions – including two in three (65%) people who say they will not get vaccinated.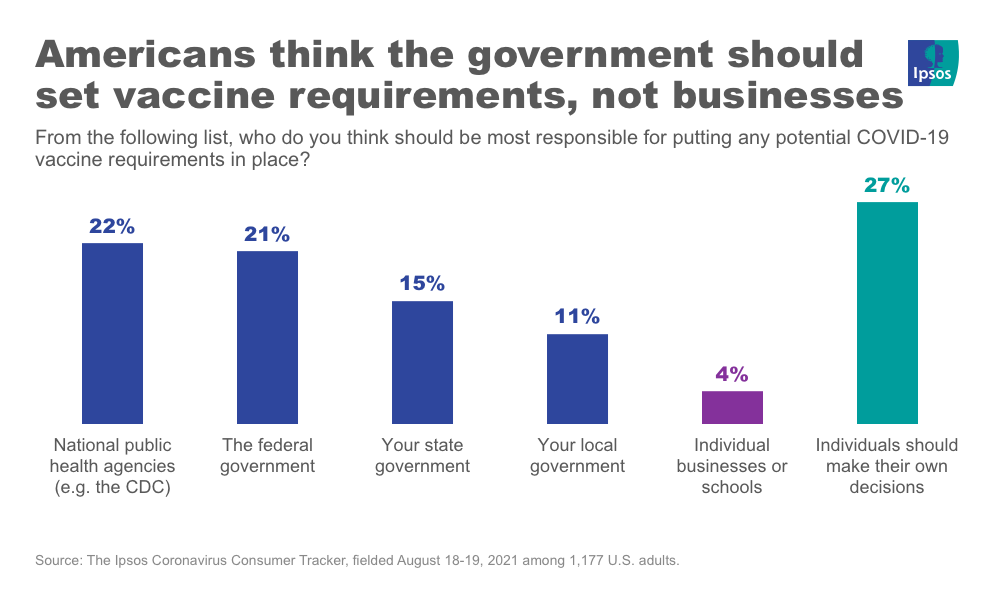 The path forward for businesses is likely to be a difficult one as the virus continues to spread, regardless of whether governments reinstate the mandatory shutdowns we saw earlier in the pandemic. The most successful businesses will be those that clearly state their policies for employees and customers, and follow through as much as possible.
Download