Cliff's Take: Is Trump Distracted?

President Trump's re-election chances could be in dire straits (WaPo, Politico, CNN). But people shouldn't get ahead of themselves by reading too much into the tea leaves.
The truth is that structural factors are the most important determinants of presidential electoral outcomes: the economy, approval ratings, incumbency, among other factors. There is vast literature demonstrating this. Trump is in a strong if not dominant position given his metrics (Cliff's Take: Keep Your Eyes on Approval Numbers). 
However, one overlooked factor in Trump's ultimate electability or demise is his savant-like ability to drive the agenda.
I made this point a few months back with respect to immigration as a national priority (Cliff's Take: No Trees, Just Forest). Put simply, Trump took an issue that had never commanded much focus (immigration) and brought it to America's attention.
He achieved this by tapping into underlying grievances and connecting them to a running series of events illustrating the "danger" posed by immigrants. Sprinkle in a series of exaggerated (hence newsy) comments and a supportive media ecosystem and we then have Trump's almost superhuman ability to shape the national agenda.
But Trump's superpower appears to have gone somewhat dormant. Since late this summer, and particularly since the impeachment inquiry formally launched, the percentage of Americans registering immigration as the main issue facing the country has dropped precipitously.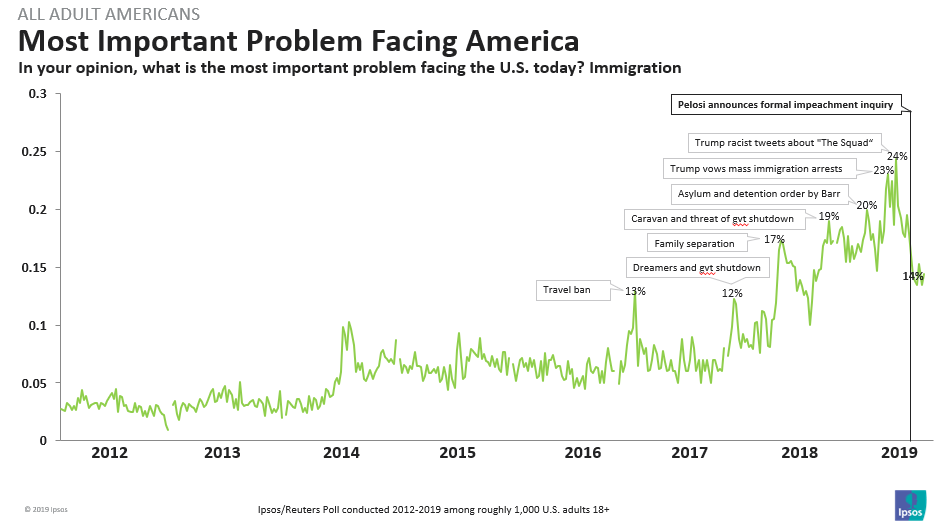 Has Trump lost his superpowers? The underlying fundamentals have not changed: migrant detention camps still operate along the southern border, bans on refugees are still in effect, and the Squad is still in Washington. Yet President Trump has been distracted from this once prominent issue.
Why? The possibility of impeachment has drowned out other signature issues for Trump, including immigration. Fox News, a reliable mirror of Trumpian priorities, also pivoted away from a focus on immigration as the impeachment inquiry gains steam.  A dramatic spike in mentions of the word "impeachment" on FoxNews.com occurred around the same time that we see a decline in mentions of the word "immigration."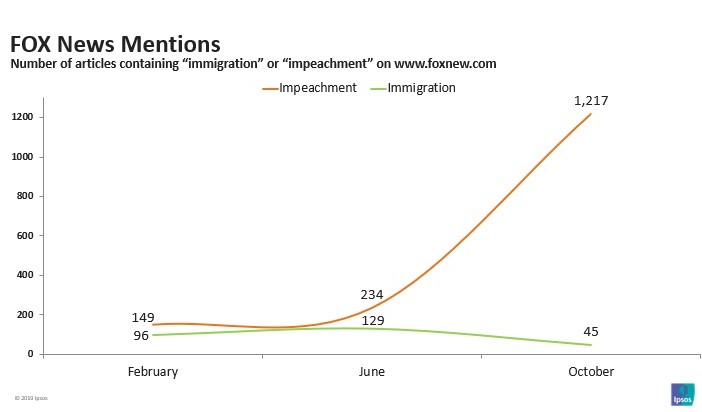 From these numbers, we can see how easily Trump influences our national dialogue. His ability to keep his base focused on issues like immigration is the key to energizing the Republican base.
Looking forward, what should we expect?
First, structural factors put Trump in a solid position where his odds of winning reelection should be about 50/50.
Second, people should not underestimate Trump's ability to shift the agenda to be more favorable to him. Ultimately, the key for Trump will be his ability to refocus his attention on those issues, like immigration, that energize his base. In contrast, the Democrats should prolong the impeachment process for as long as possible. This might be the only way to staunch Trump's superpower.
For more information, please contact:
Clifford Young
President, U.S.
Public Affairs
+1 202 420-2016
[email protected]
About Ipsos
Ipsos is now the third largest market research company in the world, present in 90 markets and employing more than 18,000 people.
Our research professionals, analysts and scientists have built unique multi-specialist capabilities that provide powerful insights into the actions, opinions and motivations of citizens, consumers, patients, customers or employees. Our 75 business solutions are based on primary data coming from our surveys, social media monitoring, and qualitative or observational techniques.
"Game Changers" — our tagline — summarizes our ambition to help our 5,000 clients to navigate more easily our deeply changing world.
Founded in France in 1975, Ipsos is listed on the Euronext Paris since July 1st, 1999. The company is part of the SBF 120 and the Mid-60 index and is eligible for the Deferred Settlement Service (SRD).
ISIN code FR0000073298, Reuters ISOS.PA, Bloomberg IPS:FP