Here's how inflation is changing our spending habits
In less than five minutes of reading time we'll give you all the data and context you need to get you up to speed on Ipsos' latest wave of the Coronavirus Consumer Tracker.
In this issue we prioritize the economy, looking at work from home, inflation and what it means for people's household expenses, ability to save and product choices. The good news: We're really ready to be over this. But, um, then there's Europe – both the war and an uptick in cases and hospitalizations after they dropped most restrictions. U.S. officials cite that as a cause for caution, not yet alarm. And then… there's basketball.
Here's what we know today from the Ipsos Coronavirus Consumer Tracker:
86% of people expect inflation to change their shopping habits. We break down how, below.
The "how much are restrictions impacting you" mean has dropped back to where it was before the omicron surge started in December.
People are more comfortable doing a wide range of activities now than they were a month ago, and much more so than two months ago.
After being more or less steady when we've asked it periodically since May 2021, the number of people saying their anticipated spending will increase popped 10 points to 37%
Our attitudes about work from home haven't shifted. Although most workers are working from workplaces exclusively, people (all, not just employed) are evenly split whether they want to work from home or the office as the pandemic eases.
Read on for data about: Work from home, the March Madness NCAA Tournament and more.

We really want to be done with this
Why we asked: All of the metrics in the U.S. are headed in the right direction. Are we ready to get back in the water? 
What we found: Yes, yes we are. This question about "do you feel safer doing … than last month" is a question we've been asking periodically since all the way back to June 2020, and these are the highest numbers we've seen across the board. Couple these growing "comfortable" percentages with the folks who never stopped doing these things and that paints a pretty rosy picture – for now.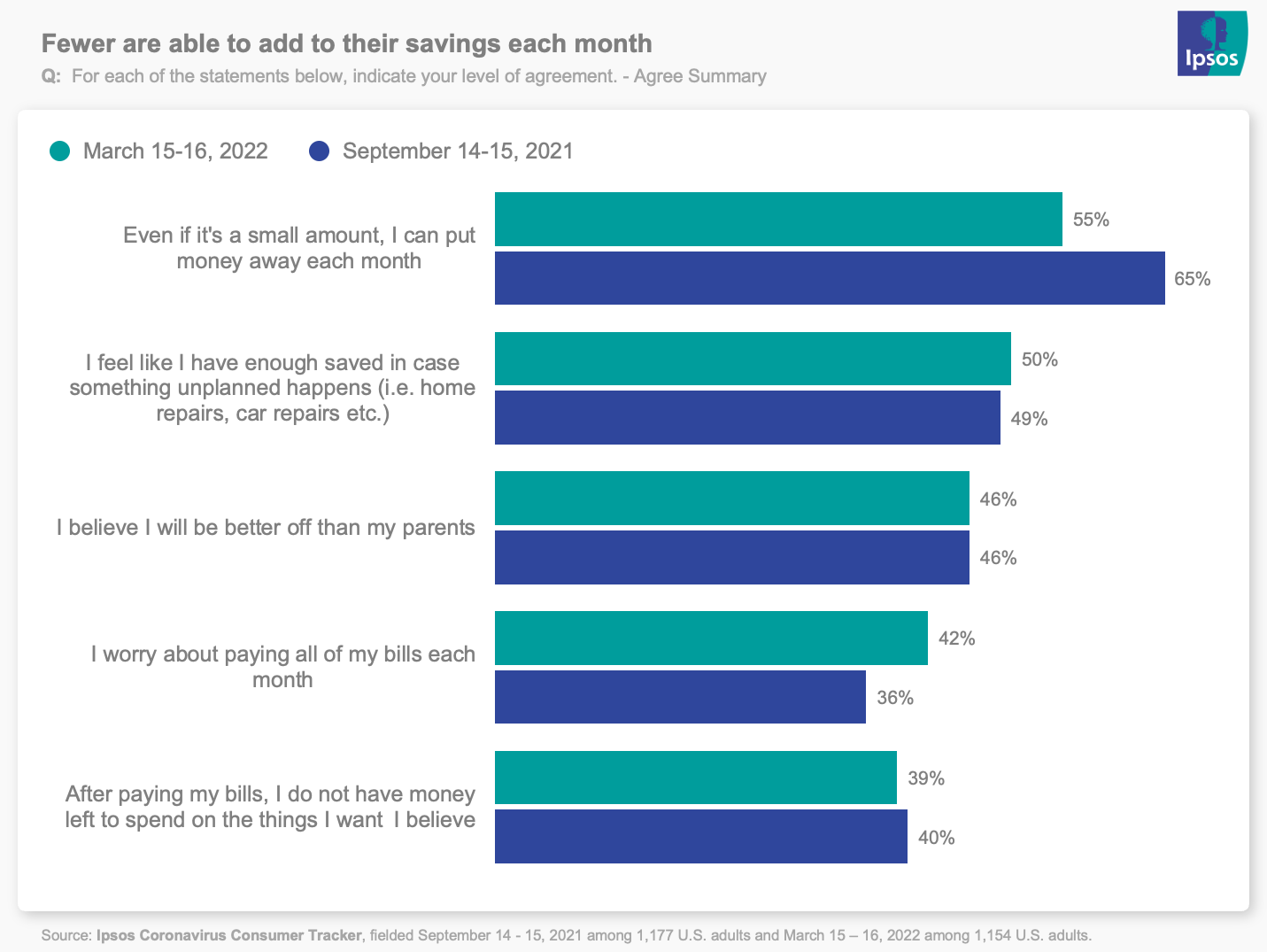 How is inflation impacting our wallets
Why we asked: Now that we're more comfortable doing stuff, we're getting hit with inflation. So can we afford to do that stuff?
What we found: Since the earliest days of the pandemic/this tracker, we've checked in on people's economic comfort. One question asks if people have some money left after paying bills to tuck some away. That number is the lowest it's been, with just over half (55%) saying yes, down from percentages in the mid-60s every other time we've asked. Similarly, the number who say they are worried about paying bills each month has ticked up the last two times we've asked to north of four in ten (42%).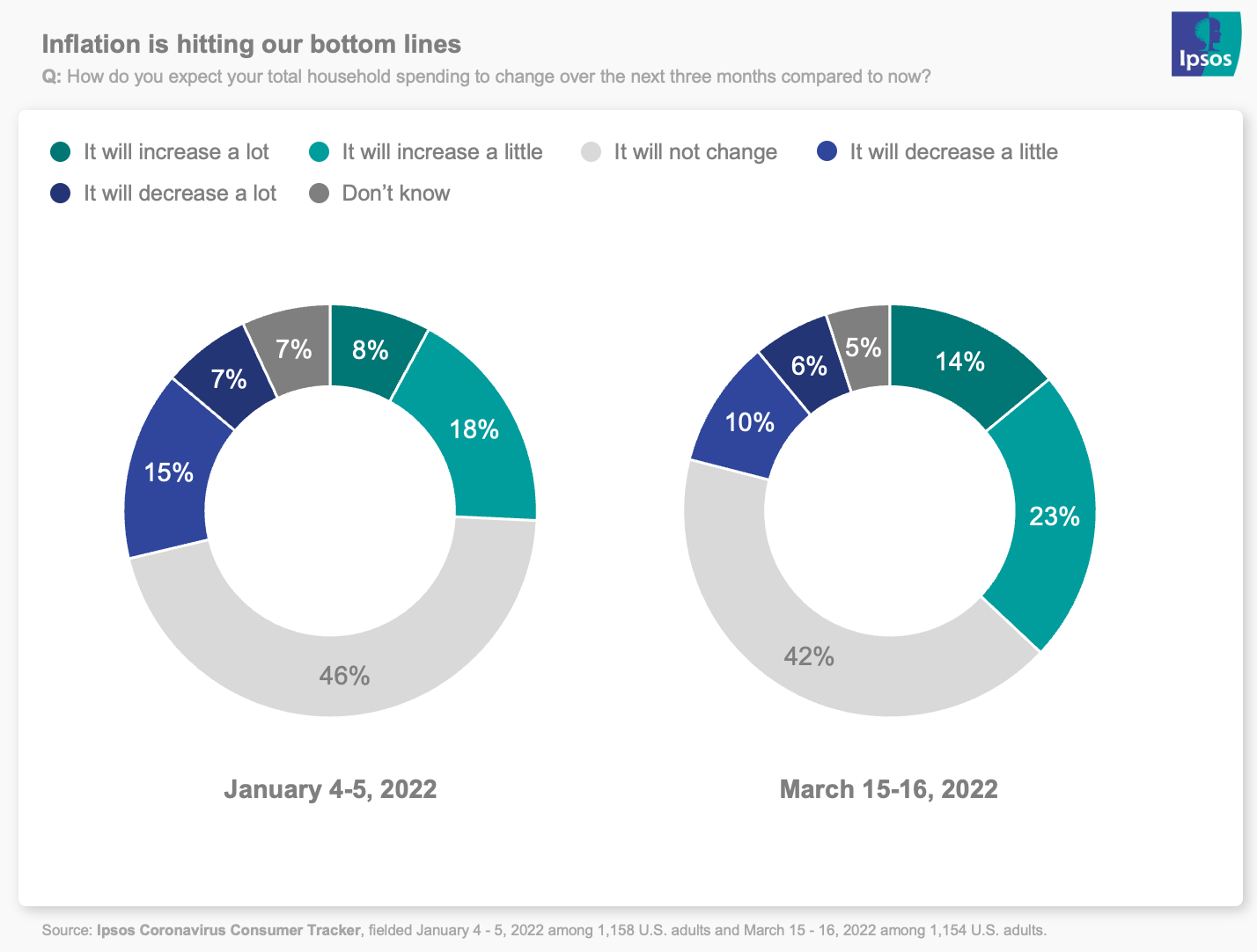 Our overall spending is going up
Why we asked: What does inflation bode for spending?
What we found: Anticipated spending is another question we've checked in on from time to time. The number who say their spending will "increase a lot" jumped to 14% after being in the single digits every other time we've asked. Add in the "increase a little" and you have 37% saying their spending is going up, compared to just 15% who think it will go down. The "increase" is about 10 points higher than it's ever been.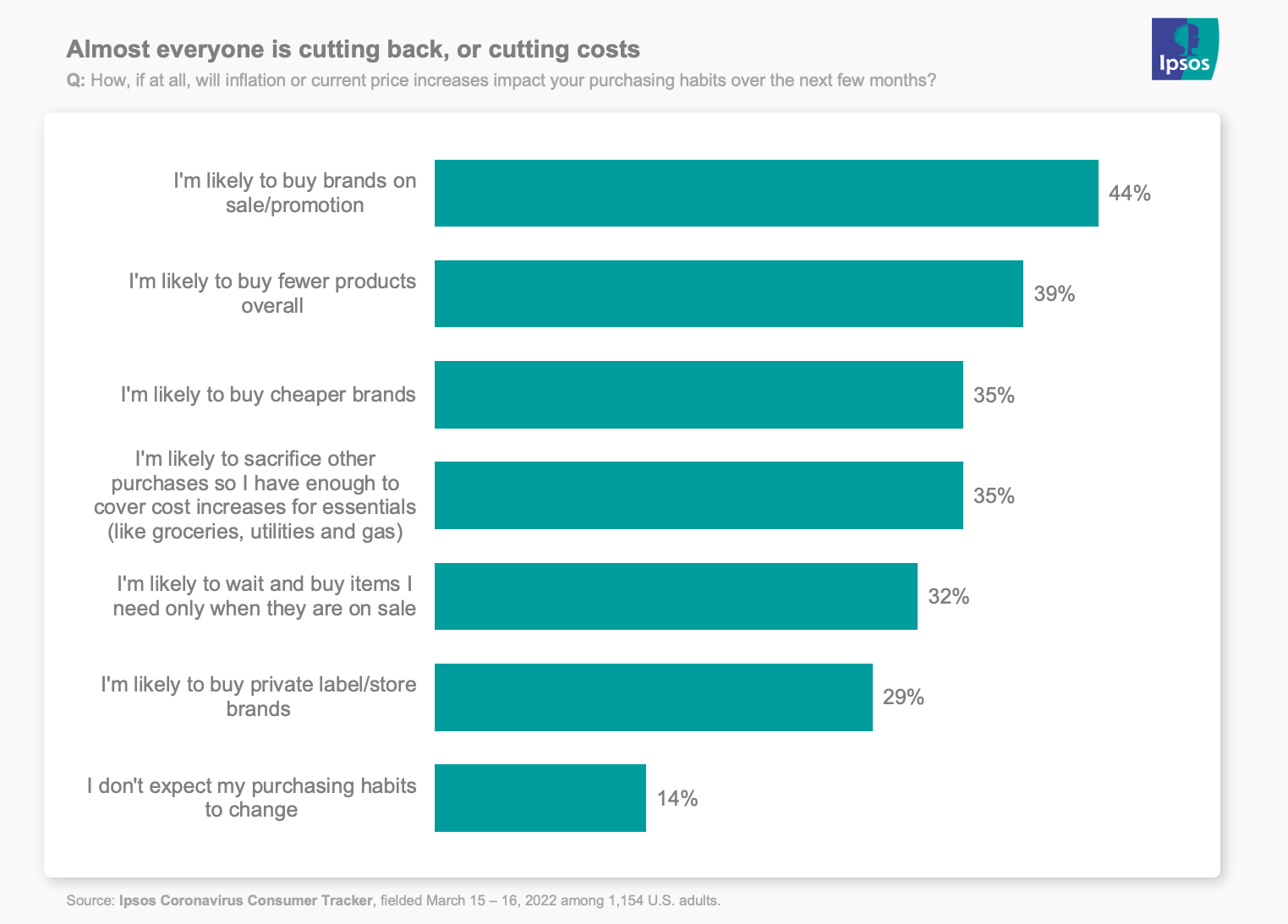 Are we getting more for our money?
Why we asked: If people are spending more, are they getting more?
What we found: Nope. This isn't pent up demand and the splurge of going out, at least not for most people. It's just inflation causing everyday items to eat more of our paychecks. We're responding by changing our shopping habits. Only 14% don't expect their habits to change. That's… a small number. Not a small number is the 39% who expect to buy less overall. 35% expect to sacrifice some purchases to save money for essentials.
Hybrid Work Part I
Why we asked: Back-to-office plans are back in the news as restrictions lift.
What we found: Of those working from home at least part of the time currently, 43% say that their opinion of how much they want to work from home has changed since the pandemic and now they want to work from home more vs. 18% who say they now want to work in the office more.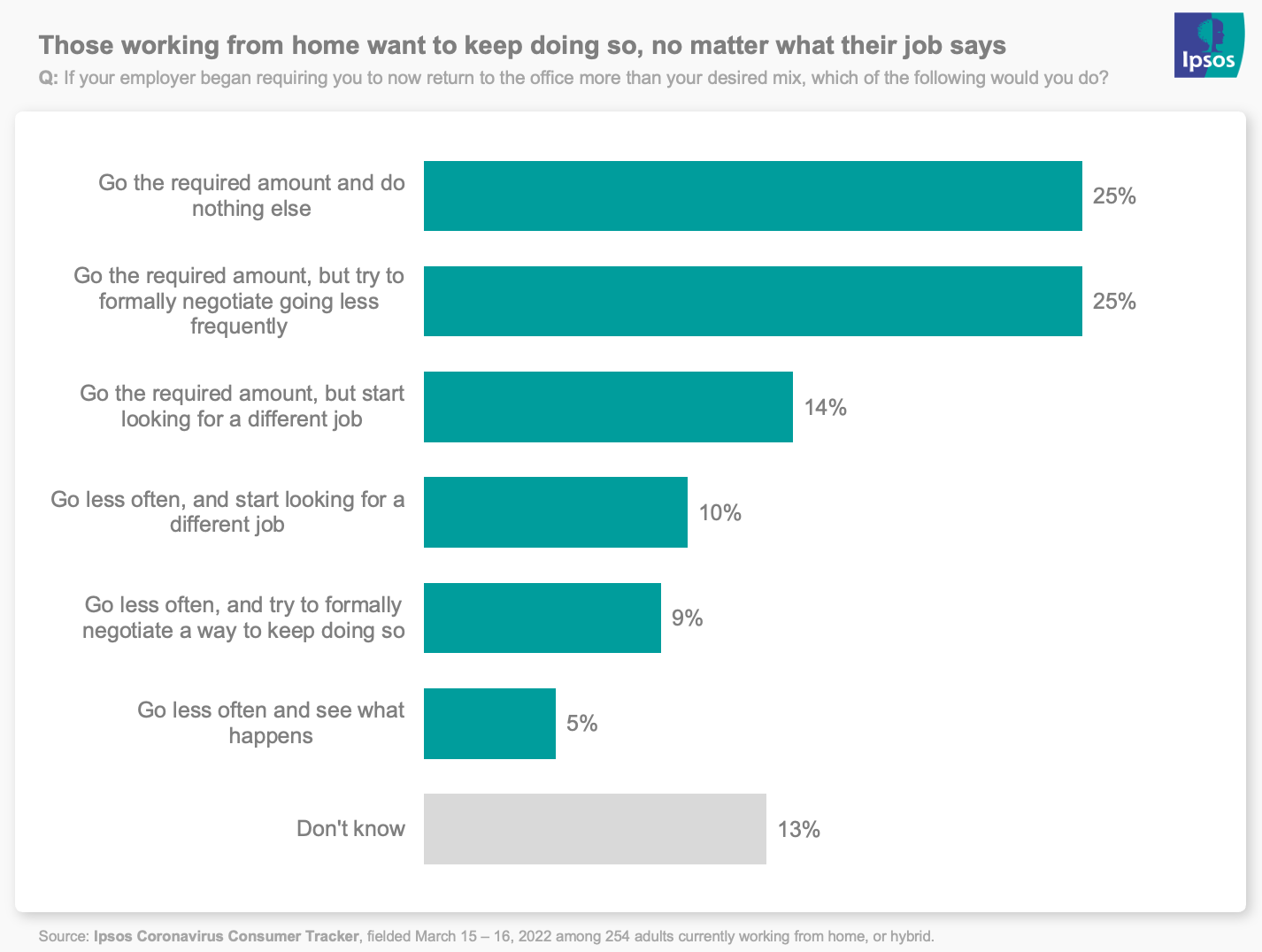 Hybrid Work Part II
Why we asked: So what if people are asked to go back to the office more than they want to?
What we found: This was a new question. Say you only want to go in one day a week or every other week and your company wants you back 2-3 days a week. What would you do? Only 25% would suck it up and do what was expected. More than a third (34%) would try to negotiate going less frequently (9% while actually going less frequently anyway). Another 24% would start looking for another job. And 5% would just go less often and see what happens.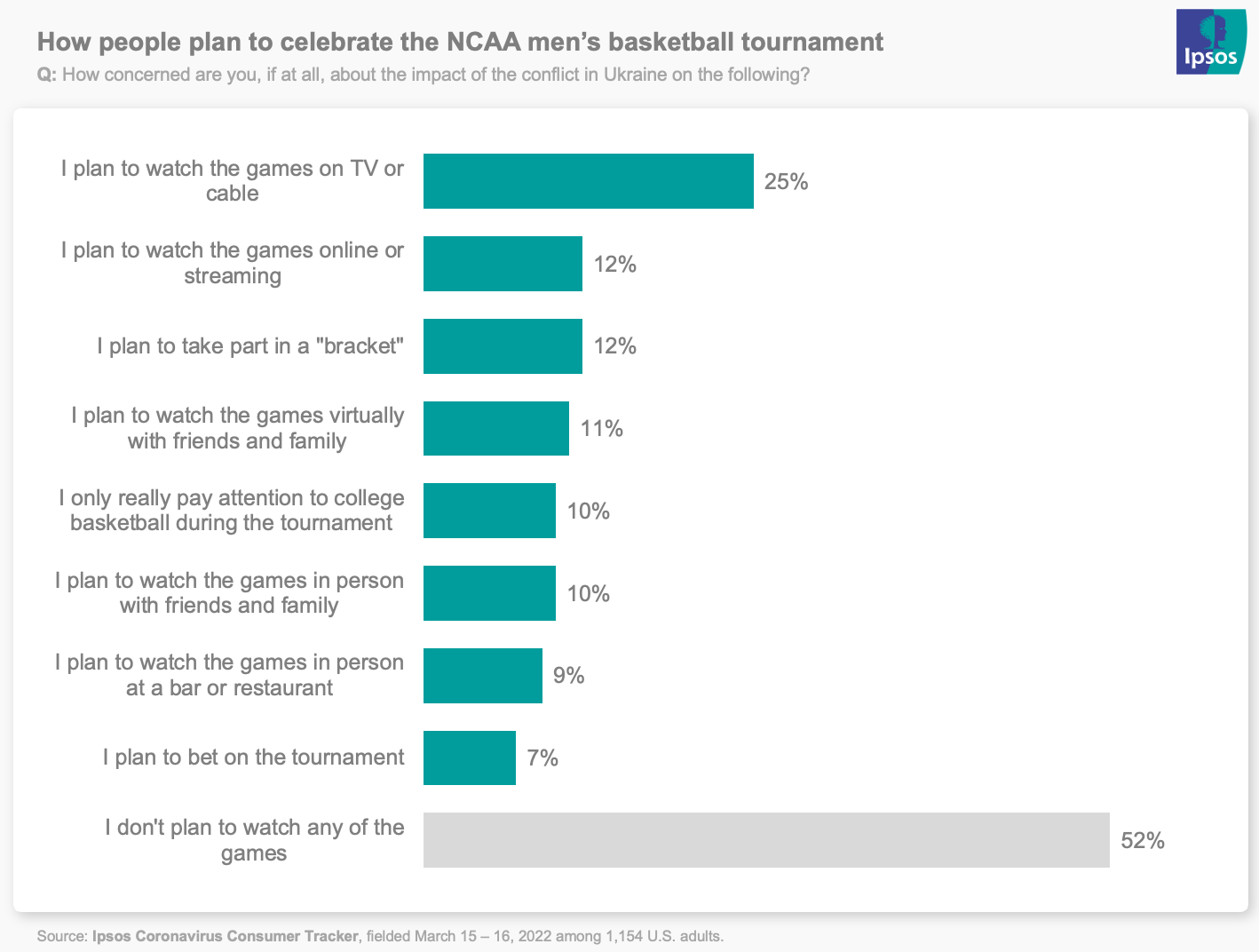 The NCAA March Madness basketball tournament
Why we asked: It's March. Do we need more of a reason?
What we found: Our question about excitement levels is pretty steady vs. when we asked last year. Roughly 20% say they are more excited, 24% say less excited. In terms of how fans plan to watch and experience it, there's a slight uptick in those who say they will watch virtually with friends (11%) or in person at bars (9%). The highest number plan to watch on TV (25%). Just 7% plan to bet on the games, but 7% is a market. And about half of Americans have no plans to watch whatsoever.
Signals
Here's what we're reading this week that has us thinking about the future.
For complete toplines for all waves, please see the full data and methodology.