The pandemic is over. Welcome to the endemic.
In less than five minutes of reading time we'll give you all the data and context you need to get you up to speed on Ipsos' latest wave of the Coronavirus Consumer Tracker.
If you're looking for milestones that the pandemic phase has ended, you got two this week. First, Dr. Fauci said so (this actually isn't good news, it means we're now "transitioning" into the endemic phase of just coping with this forever). Second, the New York Times removed the coronavirus shortcut from the bottom of its iPhone app. Now you have to scroll to see that cases must be way down are up 59%, including nearly 10% of the student body of one sizeable Chicago-area middle school. In our data, we see the public's attitude continue to improve as measured by the IPAC, Ipsos' measure of Americans' feelings on the pandemic.
But while we're feeling less concerned about the pandemic endemic, there are strong signals in our data this wave that the economy is still very much on people's minds in all sorts of ways, that it's continuing to impact the way we spend (or don't), and that those impacts are being felt very unevenly.
Here's what we know today from the Ipsos Coronavirus Consumer Tracker:
The IPAC continues its positive upswing but is still quite a bit less positive than the early days of the vaccine, perhaps reflecting the ongoing weariness and wariness of the endemic
Mask-wearing continues to be less of a thing, but most Americans report wearing masks at least sometimes indoors
Support for restrictions is either consistent or has dropped a few points from W50 for all measures. We added two items about transportation as the federal restrictions lift. About half would support masks on public transit and rideshares if there's another wave.
22% want to leave their jobs in the next month – 35% of the 18-34 set. We don't have a pre-pandemic baseline for that, but it feels like that's high.
And our data about income changes is kind of depressing. More on that below.
Read on for data about: The housing market, masking, income, jobs and more.
Just as many had their income drop as rise in the last year
Why we asked: As inflation drags on and the markets continue to slide, we wondered if wages and salaries are keeping up. 
What we found: They are, for some. But not for others and as you can imagine, there are some racial and income-level splits on that. Overall, about as many said their incomes dropped in the last year as rose (26% vs. 28%). And while the bases are small, it looks like younger workers were more likely to have had their incomes rise as were upper income workers. Lower income, Black and Hispanic workers were more likely to say their incomes decreased.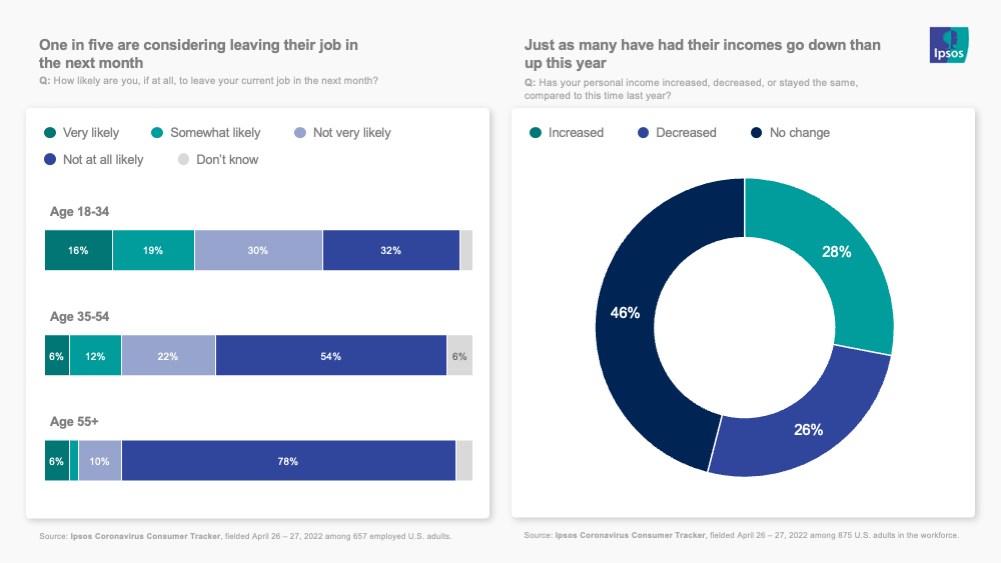 What led to higher incomes?
Why we asked: There are many paths to higher incomes. We wanted to dig in a little more as to the "why" of it.
What we found: Overall, those who said their incomes rose were most likely (40%) to say it was due to a promotion or raise at their existing job, followed by a new full-time job (27%) and taking an additional job (19%). But again, in the small-base splits there are certainly hints of disparity. Younger workers were more likely than others to say that their income boosted due to an additional job, as were Black, Hispanic and lower-income workers.
So do we want new jobs?
Why we asked: We continue probing the theory of a "great resignation" which seems mostly myth, but has some staying power.
What we found: More than one in five (22%) say they want to leave their job in the next month, including a whopping 35% of 18- to 34-year olds. Will they all? Of course not. But that still seems like a high level of dissatisfaction. Age seems to be the only demo with notable differences, as the numbers are mostly consistent across income, education, full- vs. part-time, race and ethnicity.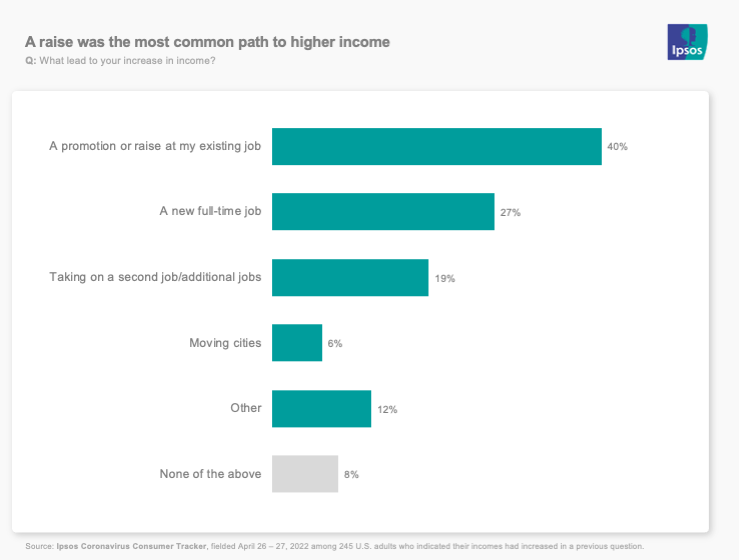 The housing market
Why we asked: Housing prices (and rent) have been kind of bonkers in a lot of markets, but mortgage rates are spiking, up two points since December. Are people feeling it?
What we found: Yes, yes they are. About three in four say they think houses are selling or renting for more in their market. About three in five think that they're moving more quickly when they hit the market. Only 35% think there is more housing stock available where they live than there used to be. That's all consistent across regions.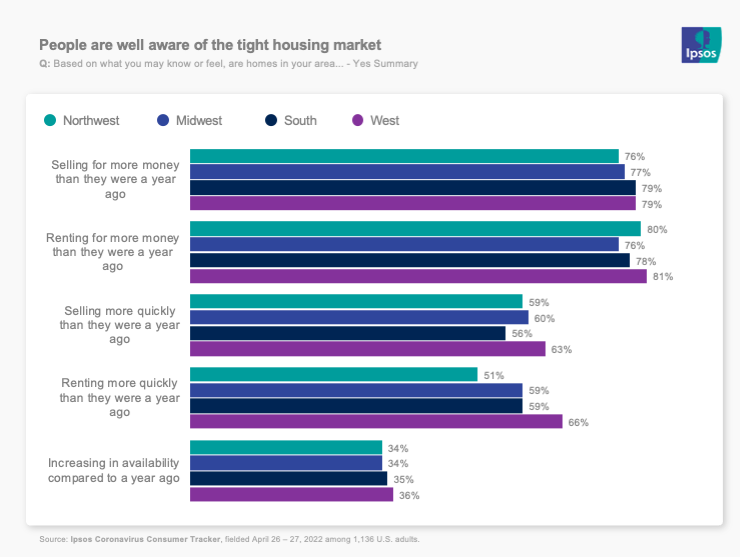 Brands taking a stand
Why we asked: There have been some high-profile cases in the news about conflict between brands, corporations and governments over social and political issues, so we thought it would be a good moment to revisit some questions on the topic.
What we found: First, we asked if people think the brands taking a stand are generally liberal or conservative. Overall, people were more likely to say liberal (35%) than conservative (25%) than when we last asked in June 2021. But there is a change in some attitudes surrounding that. A slim majority of people now think brands should remain neutral on social (55%) issues. That number increased across the political spectrum, but Republicans are much more likely to agree than Democrats and independents. Opinion on brands staying neutral on political issues is flat at 52%. However, people are less likely to say that they would stop buying products from a corporation that took a stand they don't agree with.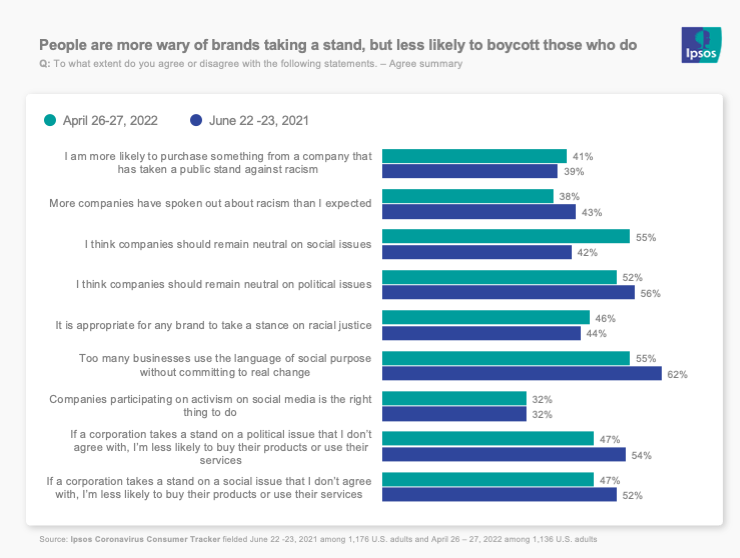 Who's wearing a mask?
Why we asked: Because more and more mandates are being removed or expiring.
What we found: This is the third wave in a row we've asked people how often they are wearing a mask indoors and the numbers continue to drop, with only 37% saying they wear one frequently, down from 44% last wave, and 49% a month ago. But that said, a majority continue to wear a mask at least sometimes. Only 19% say they never wear one, which has only increased a couple points in the last month.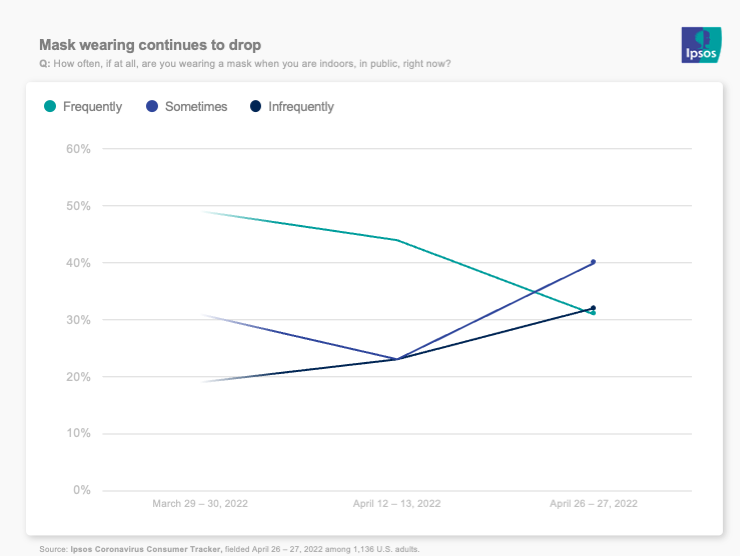 ICYMI: Here is our coverage from the previous wave's data
Signals
Here's what we're reading this week that has us thinking about the future.
For complete toplines for all waves, please see the full data and methodology.