Europeans and Intellectual Property
Ipsos is pleased to announce the results of the third wave of European Citizens and Intellectual Property.
The results of the 2020 wave of European Citizens and Intellectual Property have been published by the European Union Intellectual Property Office (EUIPO).
Now in its third edition since 2013, it shows a gradual but encouraging change in attitudes and behaviours of Europeans resident in the EU27 towards intellectual property (IP).
Understanding of the concept of intellectual property remains high at 80% (+2 percentage points in comparison to 2017). A greater understanding is important given that the evidence shows that those have a very/rather good understanding of the concept of IP are less likely infringe IP.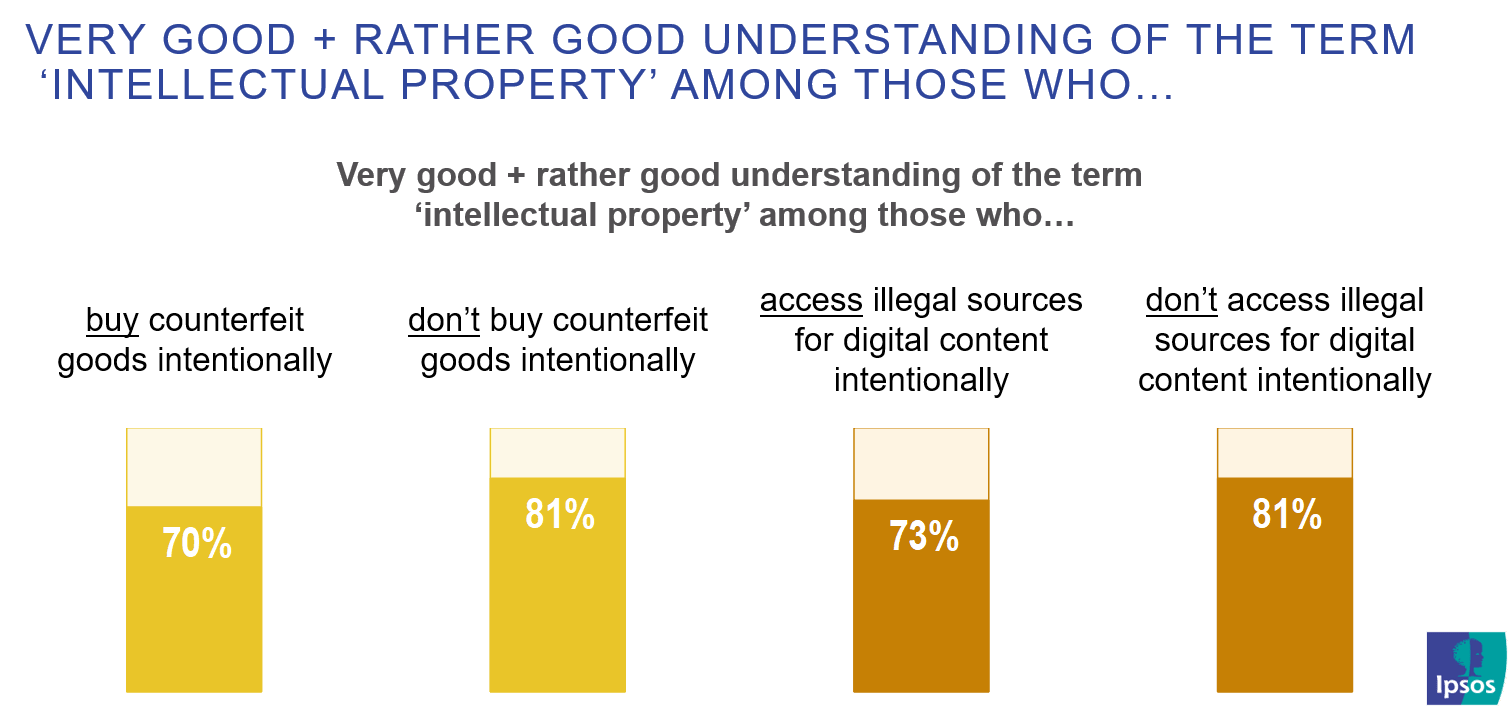 It is almost universal that those in Europe recognise the value of protecting IP (98%), as was the case in 2017 (97%), though few Europeans (4%) see the benefit being for people like themselves. Whilst protecting IP may be seen as something mostly beneficial to famous performing artists and big companies, there has been a doubling of those who believe that protecting IP is most beneficial for the creators of artistic content.
Who benefits the most from IP protection?

| | |
| --- | --- |
| Famous performing artists | 21% (0) |
| Creators of artistic content | 20% (+10) |
| Big companies | 15% (-9) |
| Consumers like yourself | 4% (-1) |
Source: Q2: In your opinion, who benefits the most from the protection of intellectual property? (Total base; n= 25 636). TREND QUESTION.
 
Few admit to intentionally purchasing counterfeit goods, back in line with the 2013 findings. Those who have purchased counterfeits, are far more likely to agree with statements that justify it as acceptable.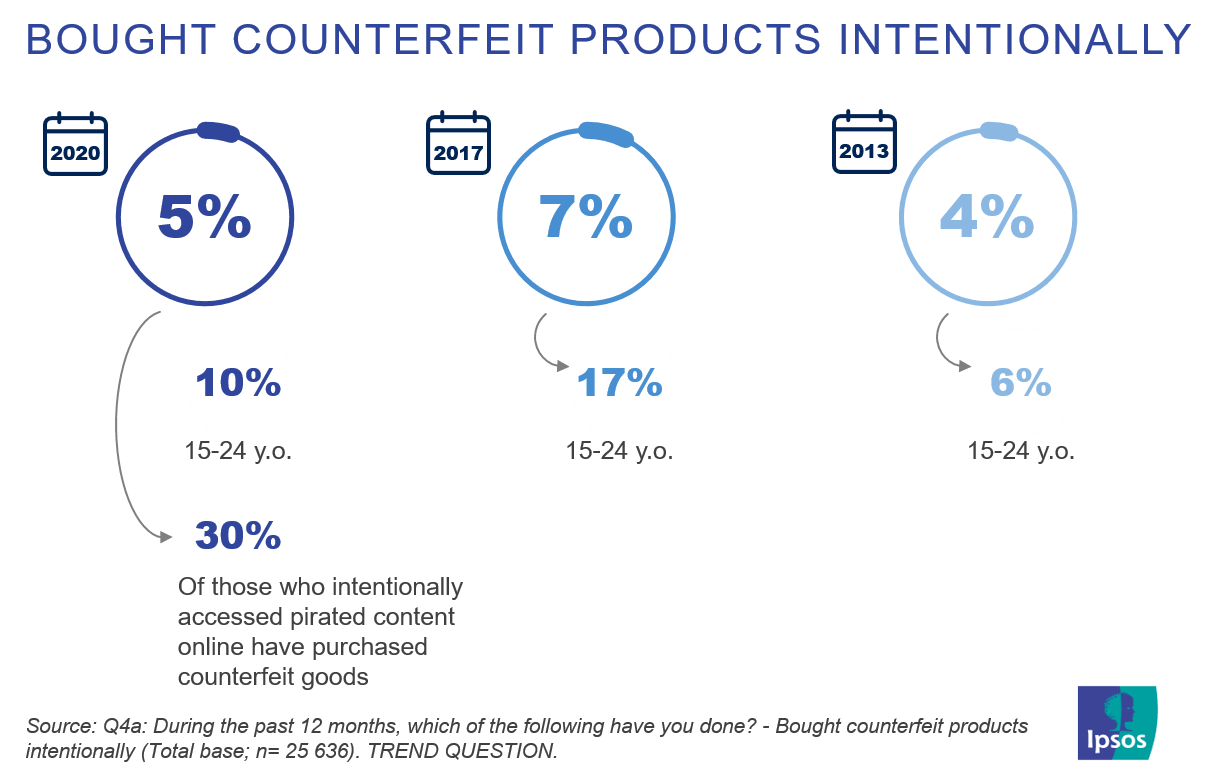 Acceptance of using illegal sources to access digital content for personal use is falling dramatically (-15 percentage points since 2013), whilst the percentage that believe it is acceptable if there is no legal alternative remains steady.
No matter the type of online digital content, awareness of legal offers is significantly higher in 2020 compared to 3 years ago. The preference to choose legal sources continues to grow when those legal options are affordable. Furthermore, both the quality and diversity of content offered on legal services is increasingly viewed as being superior to that found on illegal sources. These changes may be linked to the increased availability of legal sources for digital content in the intervening years with people willing to pay as the quality and offer improves.
Therefore, paying for online digital content from legal sources has become far more widespread, to 4 in every 10 Europeans (compared to less than 2 in ten in 2013).

The increase in use of legal sources for digital content has not translated into a significant reduction in the use of illegal ones, but there has been a small decline in the percentage of people in Europe who admit to using illegal online sources for digital content (from 10% in 2013 to 8% in 2020).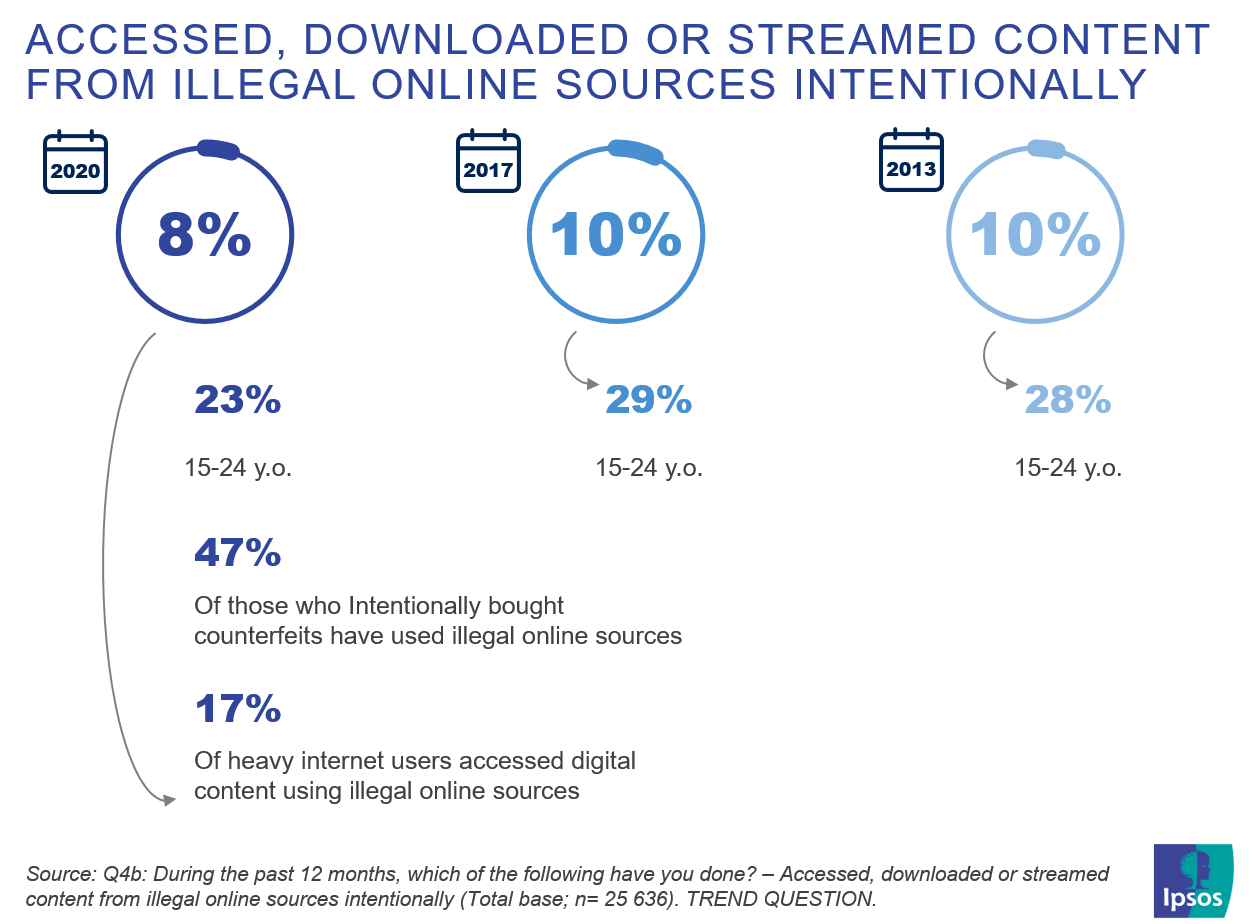 Young people continue to be the biggest group that buy counterfeits and download illegally, showing there is more work to be done here, especially since this group comprise the heaviest users of the internet.