Global Infrastructure Index - Public satisfaction and priorities 2019
Global key findings
After a dip last year, globally, ratings of infrastructure overall have improved so that now, 37% are positive (up 5 points), 30% negative (down 4) and the remainder, 33%, are neutral or don't know.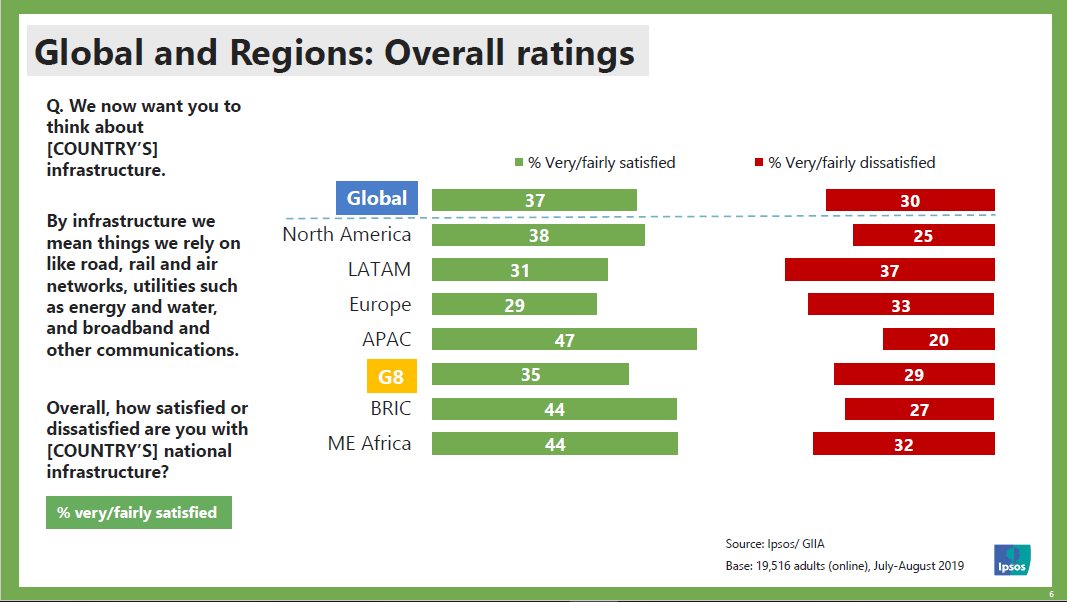 This varies by region; e.g. there is a net negative margin of 4 percentage points in Europe but a positive one of 27 in the APAC region.
Among sectors, and as last year, airports are the most positively rated (67%), followed by digital infrastructure, water supply/sewerage and motorways/major roads (54%-55%). Flood defences have been joined by electric vehicle charging as the most negatively rated sector globally (55% rate these poorly), followed by cycling infrastructure (51%).
Several sectors are prioritised fairly equally by publics across 28 countries but solar infrastructure (included for the first time this year) has displaced the local road network as the top-ranked priority, closely followed by water supply/sewerage and flood defences.
There is a strongly held conviction that infrastructure is vital to future economic growth but publics are cool on increasing taxes or borrowing to fund improvements.
The majority would prioritise maintaining and repairing existing infrastructure before spending on new infrastructure, and say they would prefer decisions about new infrastructure by technical experts rather than politicians.
Among eight factors, environment and quality are considered to be relatively more important in planning for the future.
Most are comfortable with both foreign and private sector investment in infrastructure.
By a margin of 9:1 (66% to 7%), the public support rather than oppose, in principle, the building of new infrastructure in their local area. But support drops to 34% if building increases traffic and congestion, and reaches 75% if it delivers improvements to the local economy.
Key findings for G8
Compared to the global average, publics across the G8 have similar levels of satisfaction with infrastructure overall but this ranges from a high of 49% in France to just 12% in Italy.
G8 countries are relatively more negative about several infrastructure sectors including housing supply and solar energy in particular, while also more positive about water supply and sewerage.
The local road network is a relatively high priority for future investment compared to the global average.
G8 citizens hold similar attitudes to those elsewhere but are relatively less comfortable with foreign and private investment and are more 'nimby'.
These are the findings of the fourth Global Infrastructure Index conducted via Ipsos' Global @dvisor between 26 July – 9 August 2019 in 28 countries around the world via the Ipsos Online Panel system and involving 19,516 participants. 28 countries, 19,516 participants, 26 July–9 August 2019 (online): Argentina, Australia*, Belgium, Brazil, Canada*, Chile, China*, Colombia, France*, Germany*, Great Britain*, Hungary, India*, Italy*, Japan*, Malaysia, Mexico, Peru, Poland, Russia, Saudi Arabia, South Africa, South Korea, Serbia, Spain*, Sweden, Turkey and the United States of America* (* denotes 1,000+ sample size).
Participants were adults aged 18-64 in the US and Canada, and adults aged 16-64 in all other countries. Results may not sum to 100% and combinations to their constituent %s (e.g. very/fairly satisfied) due to computer rounding. The 2016-2019 surveys used the same methodology, but the profile of participating countries changed. This means that the global trend does not always involve a like-for-like comparison. In 2018, Romania and Czech Republic were included, China wasn't. This year, Romania and Czech Republic were not included, but some questions were fielded in China.