How "Word Of Mouth" Is Working In Russia
Goods manufacturers want consumers to discuss the benefits of their products widely, and are glad to have "word of mouth" helping them in promoting goods and contributing to advertising efforts.
In this context, information about the power of 'virality' of different product categories is useful, as well as the concentration of so-called opinion leaders in each category—those consumers who proactively learn a lot about the category, and actively broadcast their point of view in wide and narrow circles.
In the WoM section we ask three questions:
With whom did you discuss products and services in the last 12 months?—with lots of people, with a narrow circle of relatives/friends or did not discuss
What can you tell us about the products and services?—A lot in detail, a little, nothing
How often can you convince others in your opinion?
Based on these questions we formed four groups of people:
Connectors discuss products/services with a wide range of people
Salesmen often manage to convince others of their opinion
Experts can talk in great detail about some categories of goods
Champions, real opinion leaders, combining in one the qualities of all three previous groups
In the five years since 2011, there was asignificant increase in the percentage of opinion leaders revealed in these categories: products for personal care, household products, medicines, furniture, children's goods, products for sports and financial services.
The share of opinion leaders in financial services is one of the lowest. Even among the users of banking services it is not higher than 2%. However, among the weekly audience popular financial website Banki.ru the share of opinion leaders is very high at 13%.
It is also worth noting that in the weekly audience of social media, the share of opinion leaders is significantly higher in almost all categories by an average of one percentage point.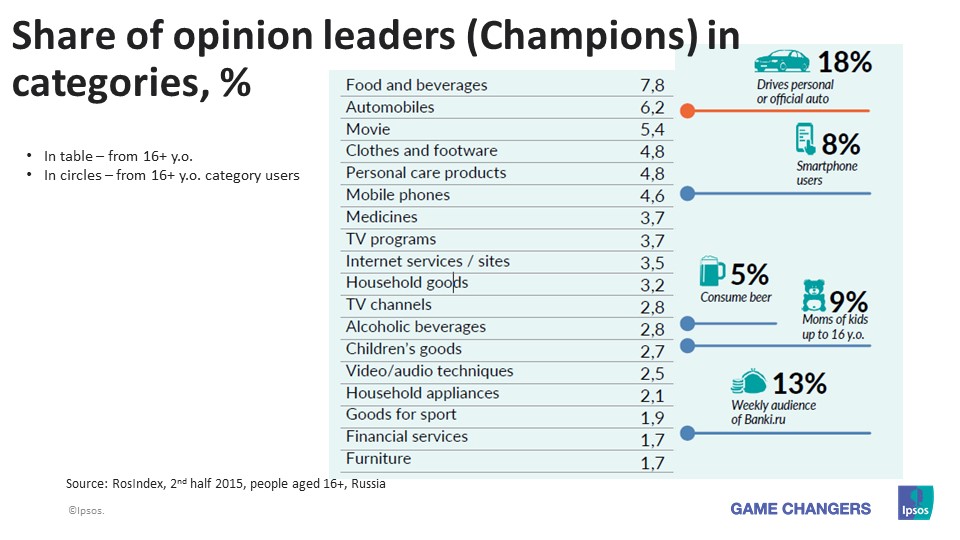 In fact, this classification shows the power of virality for different categories of goods and services. The higher the share of those wanting to discuss inside the category, the more likely that positive or negative news and personal experience about the brand will be circulated online and offline.
We can say that with increasing consumer familiarity with products and categories, brands not only increase the loyalty of their audiences, but also stimulate a desire to share this knowledge and to recommend a product or a service.
The "Champions" groupis a rare but valuable communicative resource for brands. The easiest way to use this resource is for retailers to record contacts and behaviour statistics of their clients, and can pick out these important opinion leaders from all of their clients; and then organise work with them in order to form "embassy" — a group of truly loyal customers, who act as brand advocates and promoters-by-heart—online and offline. It is interesting that among online shoppers, the share of opinion leaders, for example, in the category of clothing/ shoes is 1.5 times higher than the share of opinion leaders in the same category among the population in general. Loyalty programmes, that take into account the communicative activity of their customers, are rare in Russia.
This is a pity, as it can be not only an excellent 'natural' help in promoting the brand, but also a good safety cushion in case of reputation trouble, from which no a brand is immune. In this case, communicatively active opinion leaders sincerely stand up for the brand under attack. And this, is well worth it.