Ipsos Update - September 2019
This month's edition of Ipsos Update features recent Ipsos research and thinking on happiness, beauty, social media bans, presidents of Latin America and our new edition of Indonesia Flair.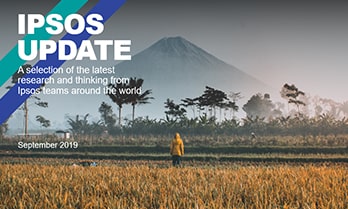 Our global happiness survey finds that levels of happiness have dropped since last year: across 28 countries, two-thirds of people (64%) say they consider themselves to be happy – down from 70% in 2018. While Australia and Canada rank as the "happiest" countries, those in Argentina, Turkey and Japan report being least satisfied with their lives. While there are differences between countries in what people say makes them happy, there is broad agreement that 'health and physical well-being' is one of the most important sources of happiness.
Being happy also makes us beautiful, according to our research on beauty around the world: such intrinsic characteristics (including dignity and kindness) are considered more integral to a person's perceived beauty than their physical attributes. More diverse and inclusive definitions of beauty are emerging, but our new report shows that ideals still exist across countries and genders. This latest What the Future publication provides further analysis on the complicated picture of beauty and the trends changing the industry.
Indonesia Flair 2019, "Now or Never" presents a thriving nation at a pivotal point in its history. Despite the size of its territory, population and economy, Indonesia remains surprisingly low-profile in conversations abroad. But the second edition of Ipsos Flair in this country shows how Indonesia is growing in regional and international importance. Read a summary in our "10 things to know" document.
Based on the "Cocoa Life" sustainable development programme conducted with Mondelēz International, this month sees us reviewing how women's empowerment can be achieved through cocoa farming communities in Ghana, Cote d'Ivoire, Indonesia and Dominican Republic.
Turning now to Latin America, our latest Presidential Approval survey shows that the region's key "opinion leaders" rate Chile's president, Sebastián Piñera, most highly of all Latin American heads of state. Venezuela's Nicolás Maduro has the lowest approval rating, with just 3%. The report shows trends over time and differences in opinion across the 14 countries.
Is it right for governments to shut down social media in times of crisis, to stop misinformation spreading? Our survey in 27 countries finds that citizens are divided on this question, but more than seven in ten globally think it is an ineffective policy option. There is also widespread distrust – towards both governments and social media companies – in how they manage freedom of speech and accuracy of information.
Finally, as World Tourism Day falls on 27 September, we take the occasion to recap on some of our recent research on travel and tourism, including a profile of affluent travellers, an analysis of summer holiday destinations and vacation habits more generally.
Our Aviation Index Survey also looks at attitudes towards air travel in the UK. It finds that the public anticipate adverse Brexit-related impacts and think that sustainable flying solutions should be a priority.
Download