An overview of the 2022' Super Bowl
A majority of Americans (57%) said they were as excited as they were for last year's game.
And many said they'll watch even if they don't care about what's happening on the field as one in three people were more interested in the ads than the game itself.
Read the article: Americans are excited for the Super Bowl (and the ads) again.
Squarespace, Scarlett, and Social Justice were top early Super Bowl chatter
Early insights from the Synthesio dashboard showed what was trending:
Squarespace dominated online buzz about pre-released Super Bowl ads with 21% of conversation volume, followed by Amazon Alexa (14%) and Frito-Lay (6%)
Scarlett Johansson is the most talked-about celebrity cameo (Amazon Alexa), followed by Arnold Schwarzenegger (BMW)
What was new this year is that our experts have been using machine learning to spot related conversations, emerging topics, and brand moments (even those not running commercials!).
Synthesio Topic Modeling spotted a number of social issues that seem to be top of mind as consumers think about the big game including lack of NFL diversity and possible COVID protests.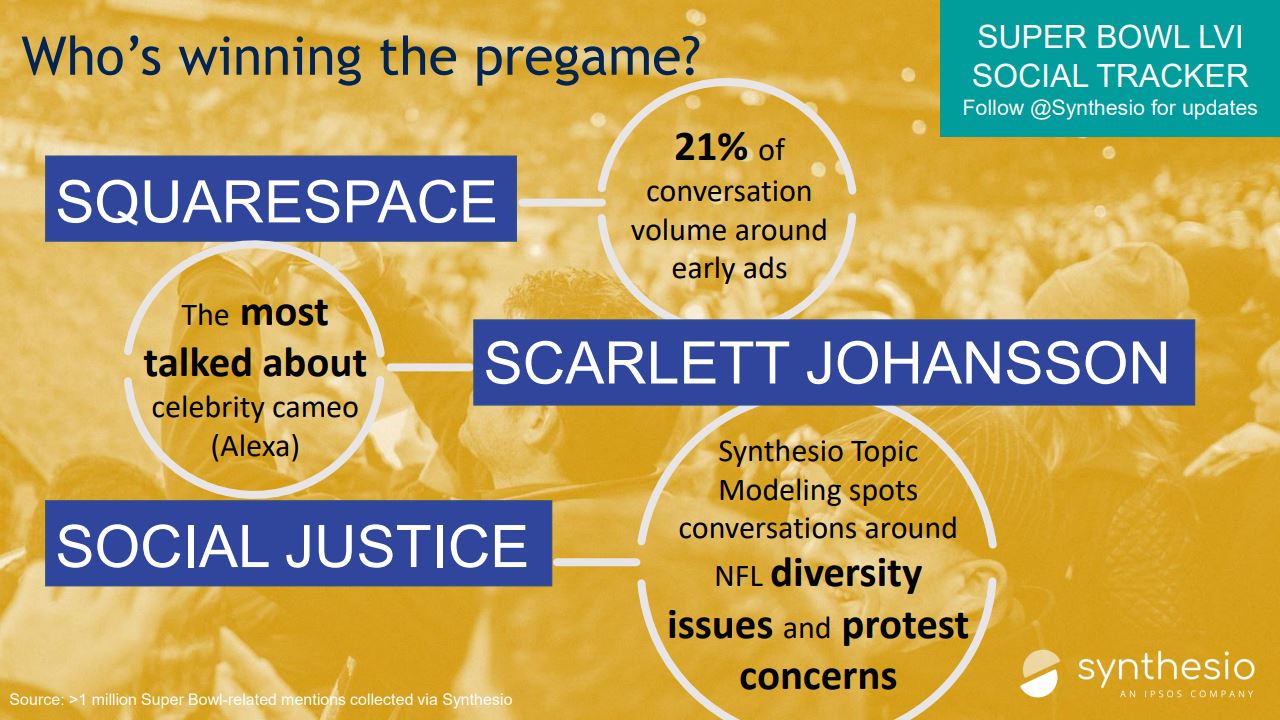 Right after the event here's what's trending online: 3 crypto brands appear in top 3 by volume or interactions; our Topic Modeling spotted a number of crypto-related conversations including speculation about McDonald's accepting Dogecoin and Coinbase's QR code.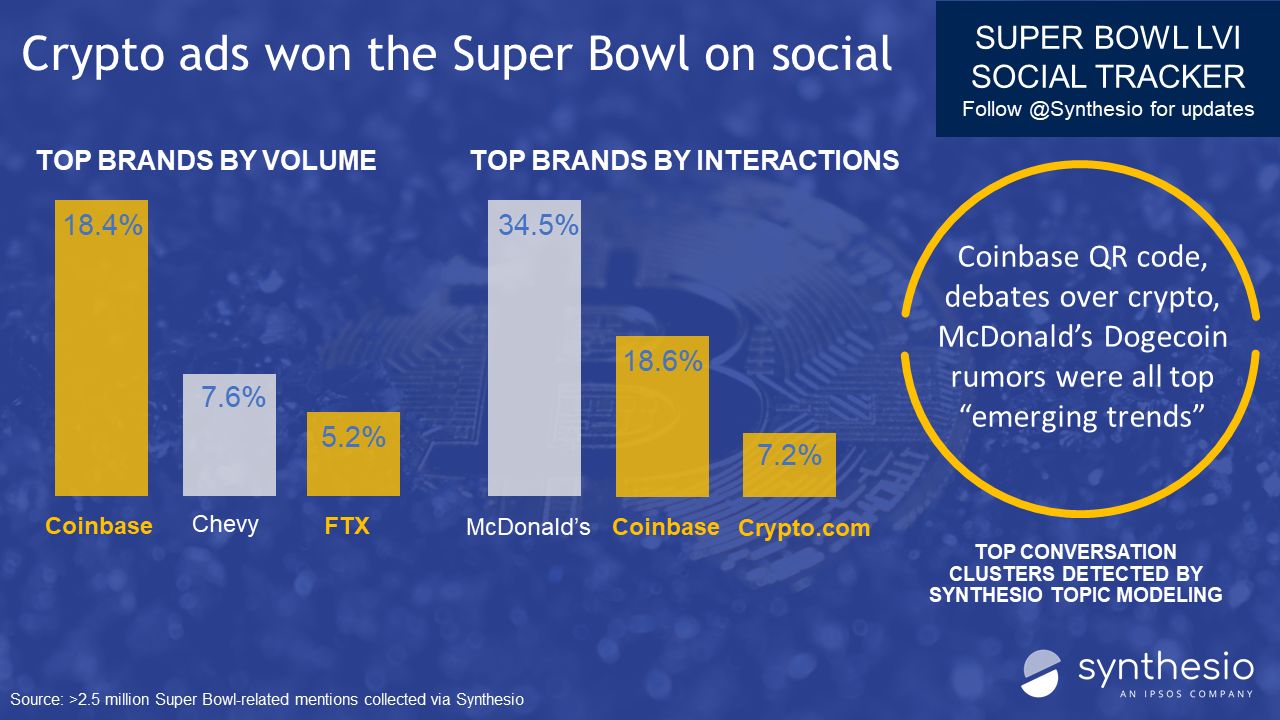 Find out more about Synthesio's Social trackers.
Advertising: and the winners are…
For many Americans, the commercials are the highlight of the Super Bowl as brands bring their A game – and their A++ budgets. Appealing though it may be to single out a "winner," more sophisticated and rigorous research shows how little sense that makes. Ipsos combined four different data sources to provide a fast, agile and accurate look at the holistic performance of Super Bowl commercials using:
Live biometrics to measure fans' emotional responses.
Creative|Spark: 17 Super Bowl ads & trailers selected for robust quantitative evaluation.
Fast Facts: After the game, Ipsos surveyed 1,000 adults on its Ipsos Digital platform.
Synthesio+SIA: The Ipsos Social Intelligence Analytics team used the Synthesio platform to track and analyze 2.8 million Super Bowl-related social mentions.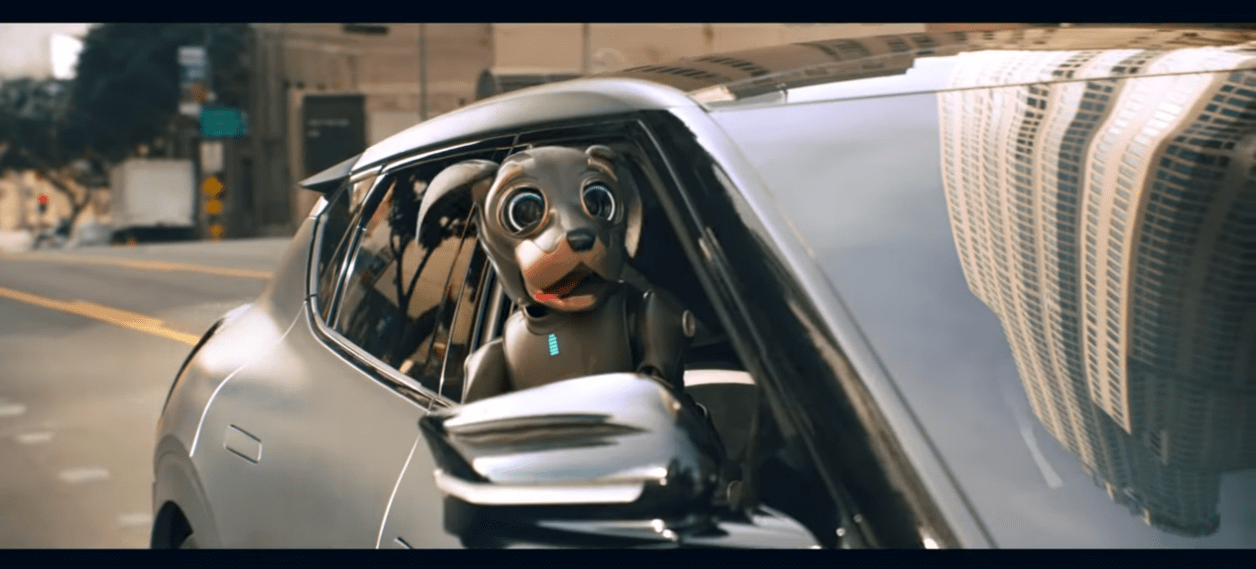 Discover which were this year's 14 winners: These 14 ads were all winners at the Super Bowl. Here's why.