Conservative leadership candidates head-to-head versus Jeremy Corbyn
A new poll by Ipsos MORI for ITV / Peston shows several candidates for the Tory leadership with small leads over Jeremy Corbyn in terms of who the public would prefer to be Prime Minister
• Boris Johnson is more well-known than other Conservative leadership candidates – followed by Jeremy Hunt and Michael Gove
• Johnson, Leadsom, Hunt and Javid all hold small leads over Jeremy Corbyn in terms of who the public prefer as PM
• Large numbers give no preference or say that they don't know who they prefer
• Johnson appears best placed to win over Leave voters
A new poll by Ipsos MORI for ITV / Peston, taken online among GB adults aged 18-75, shows that the public are much more likely to be familiar with Boris Johnson (and Jeremy Corbyn) compared with other Conservative leadership candidates. Almost 9 in 10 say that they are very or somewhat familiar with Johnson (89%) and Corbyn (87%). In comparison, two-thirds are familiar with Michael Gove and Jeremy Hunt (67%) and more than half are familiar with Sajid Javid (55%). Andrea Leadsom (43%), Dominic Raab (37%) and Matt Hancock (21%) are relatively less well-known.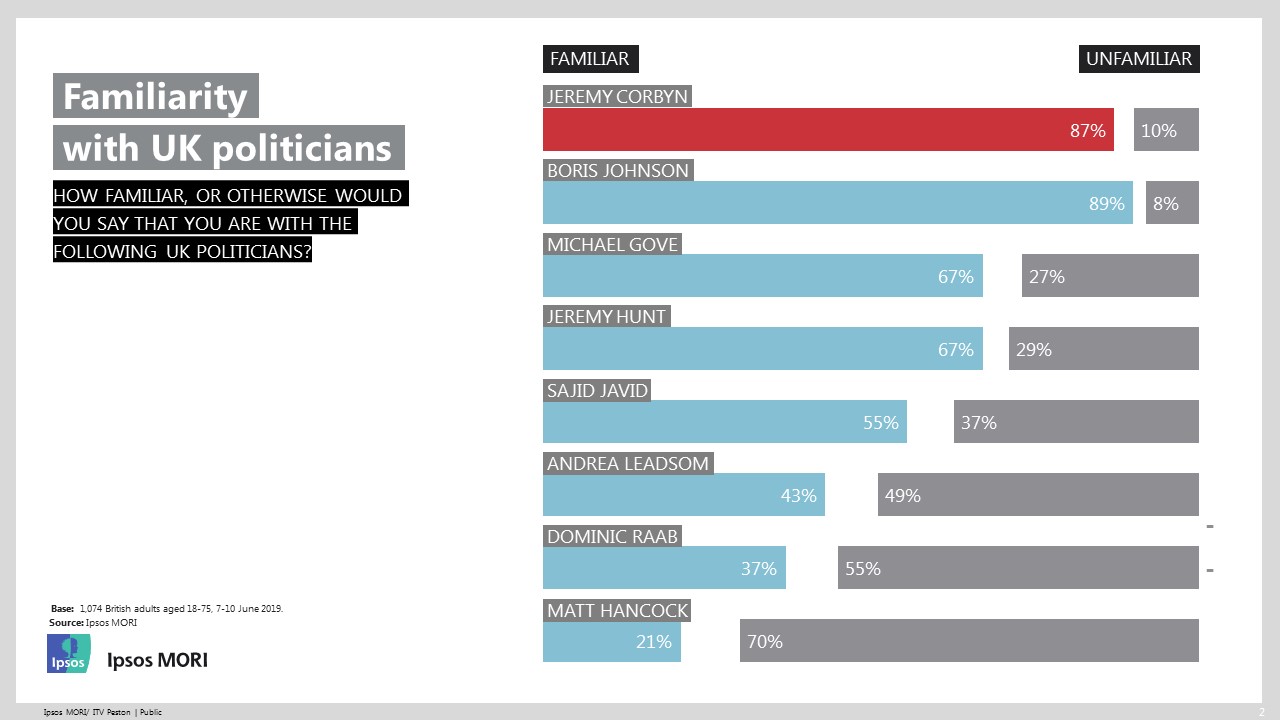 Leave voters are also more familiar with Johnson than other leading Brexiters. 93% of Leave voters say that they are familiar with Johnson compared with 73% for Gove, 49% for Leadsom and 39% for Raab.
When asked who they would prefer as Prime Minister, 39% choose Johnson, 33% choose Corbyn, 15% indicate no preference and 14% don't know. Johnson performs better than any other Conservative candidate among Leave voters, perhaps partly as they are most familiar with him. 67% of Leave voters choose Johnson over Corbyn (14% choose Corbyn) which is a lead of 53 points. The next biggest lead over Corbyn among Leave voters is held by Andrea Leadsom at 39 points. Corbyn leads every Conservative candidate among Remain voters but his biggest lead comes over Johnson (+32 points), suggesting that although a Johnson premiership could be welcomed by Leave voters, it may inspire some Remain voters to support Corbyn's Labour Party.
When considering the other candidates, Leadsom (+7pts), Hunt and Javid (both +4pts) also hold leads over Corbyn in terms of who the public would prefer as PM. However, in these head to heads respondents are more likely to say 'don't know' or 'no preference' when compared to Corbyn vs Johnson. For instance, 29% indicate no preference or say 'don't know' when comparing Corbyn to Johnson. The equivalent figures for Leadsom (39%), Hunt (36%) and Javid (40%) are greater.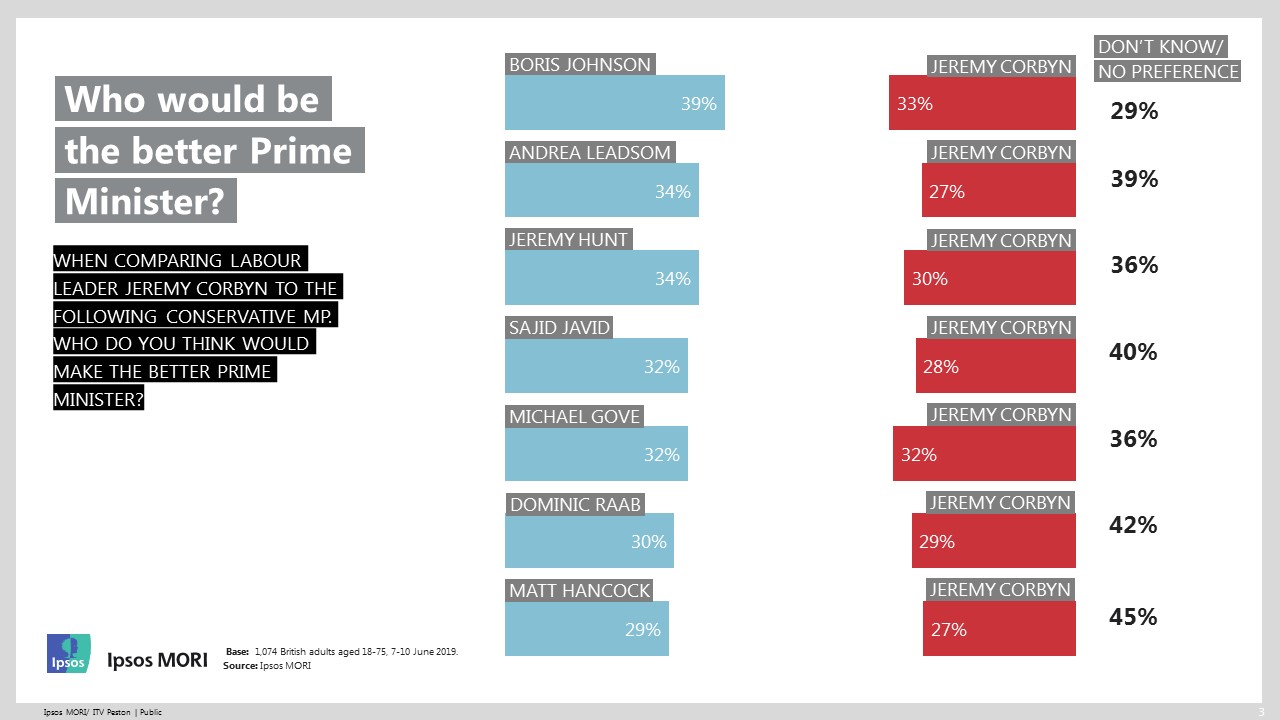 Commenting on the findings, Keiran Pedley, Research Director at Ipsos MORI, said:
When considering the Conservative leadership candidates, the challenge for Johnson's rivals is that they are much less well-known than him and he can argue, with some justification, that as things stand now he is best placed to win back disaffected Leave voters who may have deserted the party in recent times. When we consider a potential General Election, the picture is much less clear. Johnson does lead Corbyn among the general public in terms of who they would prefer as PM by 6 points. However, with almost three in ten not committed to either Johnson or Corbyn, this is hardly an insurmountable lead. It is also worth remembering that Theresa May consistently led Corbyn on similar measures but still lost her majority in 2017. Furthermore, Johnson's lead is not much different to that of other candidates, such as Leadsom, Hunt and Javid. In any case, there will be stormy political weather ahead. Whoever wins the contest, turning around the Conservative Party's fortunes at the ballot box will be no easy task.
Technical note
Ipsos MORI interviewed a representative sample of 1,074 adults aged 18 to 75 across Great Britain. Interviews were conducted online from 7th to 10th June 2019.  Data are weighted to the profile of the population by age, gender, region, social grade, working status and education. Ipsos MORI is a member of the British Polling Council and abides by its rules.