Conservatives buoyed by positive public ratings on handling the pandemic
The Conservative lead is now up to nine points as economic optimism is the highest level since 2015
Economic Optimism Index at highest level since April 2015
Government and Johnson's net ratings for handling of pandemic best since last summer
8 in 10 continue to think vaccine roll-out going well
Majority of Britons want COVID inquiry to begin this year
Hancock more trusted than Cummings to tell the truth on government's record – but Hancock's personal ratings on the pandemic have fallen
Voting intention
Conservative lead over Labour increases to 9 points. If an election was held tomorrow voting intentions among likely voters would be: Conservative 44 (+4); Labour 35% (-2); Greens 7% (+2), Liberal Democrats 6% (-2).
Economic Optimism Index
Just over half (53%) think the economy will get better over the next 12 months (+2 from April), 31% worse (-5), giving a net Economic Optimism Index score of +22. This is the highest net Index score since April 2015.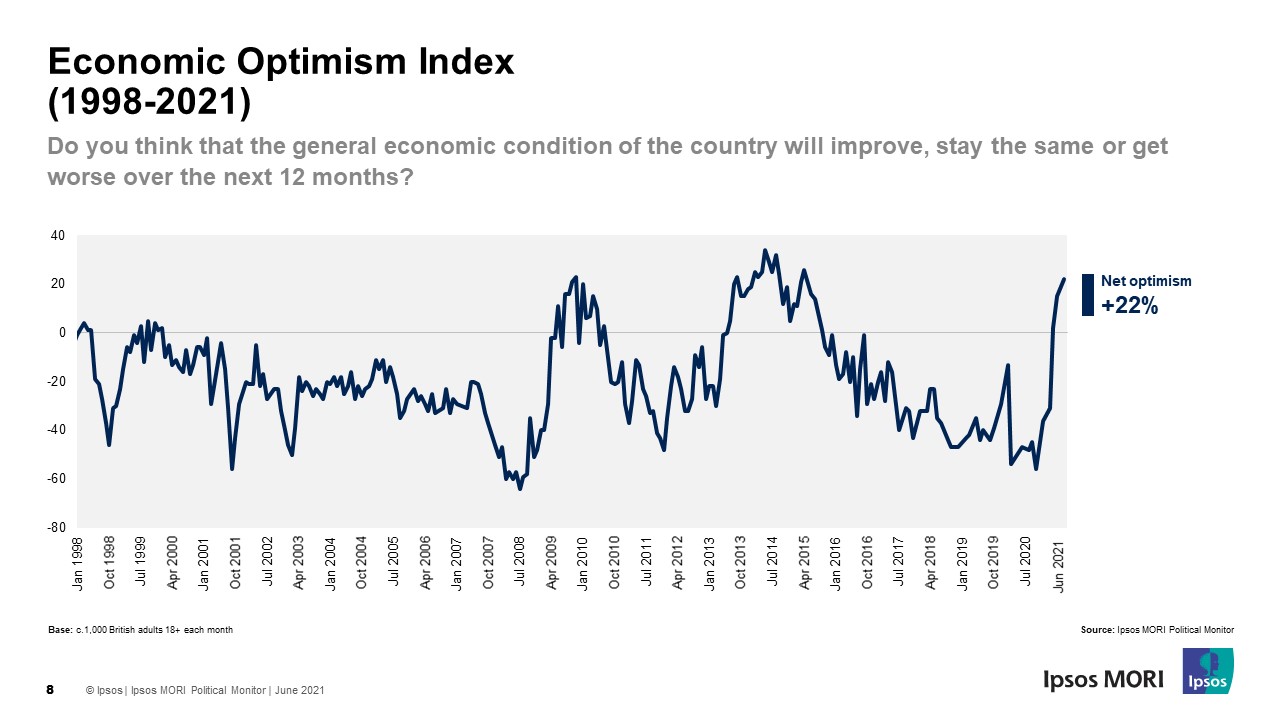 Handling the COVID-19 pandemic
43% of Britons think Boris Johnson has handled well (+1) and 39% badly (-7). His 'net score' now stands at +4. His first net positive score since June 2020.
Similarly, 44% think the government have handled the coronavirus outbreak well so far (-1) and 38% badly (-7). The government's 'net score' of +6 is the first positive rating achieved since August 2020.
Rishi Sunak continues to enjoy strong ratings for his perceived handling of the pandemic, although they have fallen from their peak. 51% think the Chancellor has done well (-8) and 16% say badly (-1). His net rating (+35) has fallen back after a record high in April to similar numbers seen earlier this year. For example, his net rating was also +35 in February and March.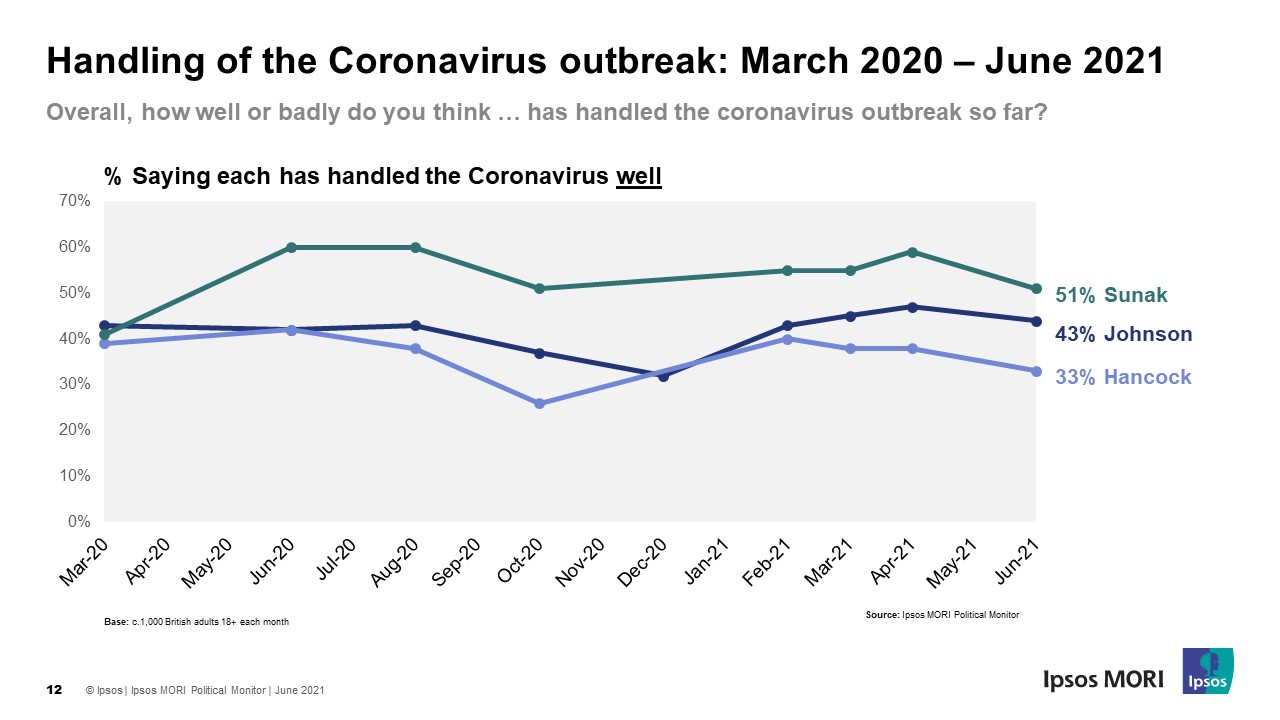 82% think the government have done a good job at ensuring the public are vaccinated as soon as possible. This is down 4 points from April but 4 points above the first rating achieved in February (78%).
When asked about an independent public inquiry, a clear majority of Britons (56%) say one should start this year. 39% think the inquiry should begin this summer and 17% say it should start this autumn. 17% say it should start in spring next year. 9% say later in 2022. 8% say 2023 or later. 6% say there should not be an inquiry and 4% say don't know.
Cummings vs Hancock
When asked who of Dominic Cummings and Health Secretary Matt Hancock the public trust more to tell the truth about the government's handling of the coronavirus pandemic 35% say Hancock and 18% say Cummings. 34% say neither. The rest say both equally or don't know.
Despite being more trusted than Cummings, Hancock's ratings for his handling of the pandemic have fallen since Cumming's went on record attacking the Health Secretary. 33% now say Hancock has done well in is handling of the pandemic (-5 points) and 44% say badly (+3). His 'net rating' of -11 is now at its lowest level since October 2020.
Ipsos MORI Director of Politics, Keiran Pedley, said:
With their lead over Labour now standing at 9 points, the Conservatives are clearly benefiting politically from the public perception that things are moving in the right direction in terms of the pandemic. Britons continue to think the vaccine rollout is going well and economic optimism for the future has not been this strong since just before the 2015 General Election. However, there does appear to be appetite for an independent public inquiry into how the government handled the pandemic sooner than the Prime Minister would like. What is less clear is how strong the public demand for an inquiry will be if his government sticks to its guns and seeks to delay into 2022 or beyond.
Technical Note
Ipsos MORI interviewed a representative sample of 1,002 adults aged 18+ across Great Britain. Interviews were conducted by telephone: 28th May – 3rd June 2021. Data are weighted to match the profile of the population. All polls are subject to a wide range of potential sources of error. On the basis of the historical record of the polls at recent general elections, there is a 9 in 10 chance that the true value of a party's support lies within 4 points of the estimates provided by this poll, and a 2 in 3 chance that they lie within 2 points.