Global study finds Britons most accepting of porn
Britons find smoking tobacco and marijuana the least morally acceptable vices.
A new Ipsos MORI study on vices finds the British to be some of the most enthusiastic people on the planet for booze and pornography. The global study finds that, despite our prudish reputation, Britons are the most accepting of pornography, with 42% citing it as morally acceptable compared to three in ten (29%) globally. British men are significantly more likely to say pornography is morally acceptable (51%) compared to British women (33%).
The results also show that despite the concerns around legalising cannabis in Britain, the use of cannabis/ marijuana is now as morally acceptable (in moderation) as smoking tobacco.  Only 36% of Britons believe that smoking tobacco is morally acceptable, making it the least acceptable of the 15 vices given in the survey. Thirty seven per cent believe that the use of cannabis/ marijuana is acceptable.
Globally, the use of cannabis/ marijuana is the least acceptable vice.  Vaping is seen as more acceptable, however it still lacks approval from a majority of people with only 47% accepting use in moderation. 
Two in five (38%) view violent video games as morally acceptable. Men are much more likely to agree with 46% agreeing while only three in 10 women (30%) feel the same way. 
While there is no difference between online gambling and casino gambling (46% say morally acceptable in moderation), and again men are more likely to find betting more acceptable than women do.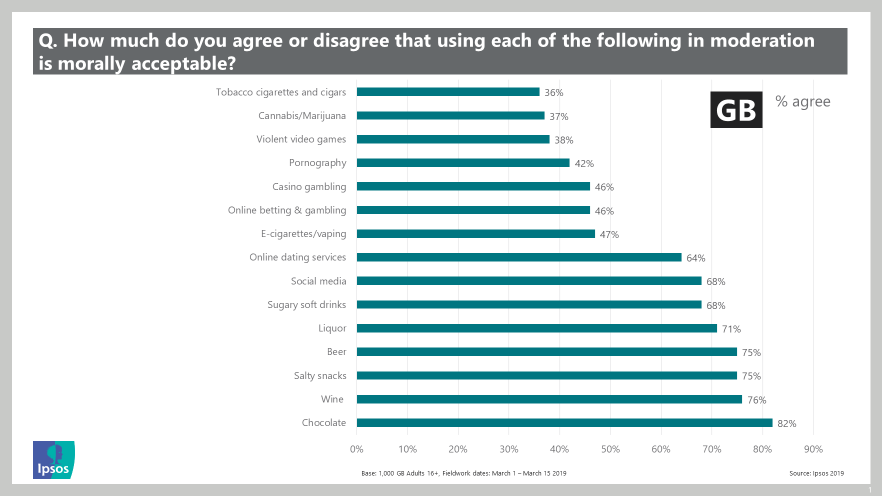 The British are most accepting of alcohol and chocolate overall – which is perhaps not surprising given that we regard our over consumption of booze as one of our greatest weaknesses (read more here).
Most of us think wine (76%), beer (75% and liquor (71%) are all morally fine. All types of alcohol in the survey are seen as more acceptable than sugary soft drinks (68%). 
Within Great Britain, the biggest factor appears to be age, with many more "vices" acceptable to the under 35s  than those between 50-64.  For example, half of those aged under 35 see violent video games as acceptable while only 19% of those aged between 50-64 agree. Sugary drinks also saw significant age differences; over three-quarters (76%) of the younger generation view them as acceptable, only 55% of 50-64-year olds felt the same. 
Ben Page, Chief Executive of Ipsos MORI, says:
The British, especially British men, are the among the most relaxed about the use of pornography globally.  We are also one of the least concerned about alcohol, whereas tobacco is becoming taboo.  The question is whether health warnings and more regulation see our alcohol consumption fall in future, in the same way our use of tobacco has.  
Notes to Editors:
This document contains findings from a series of surveys conducted between 26th November and 7th December 2018. The surveys were hosted on the Ipsos Global Advisor platform, using the Ipsos online panel system with 18,638 adults across 29 countries: Argentina, Australia, Belgium, Brazil, Canada, Chile, China, Colombia, France, Germany, Great Britain, Hungary, India, Italy, Japan, Malaysia, Mexico, Peru, Poland, Romania, Russia, Saudi Arabia, Serbia, South Africa, South Korea, Spain, Sweden, Turkey, and the U.S. 
All survey respondents are aged 18-64 in Canada and the U.S. and 16-64 in all other countries. The sample size per country in each survey is approximately n=1,000 or N=500 depending on the country. Weighting has been employed to balance demographics and ensure that the sample's composition reflects that of the adult population according to the most recent country census data.
 
Download