In a new survey by Ipsos MORI, almost half (49%) of Britons say the re-election of Donald Trump as President of the United States would have a negative impact on the UK's relationship with the US. Only 16% believe this outcome would be a positive for the UK. His rival, Joe Biden, is seen as a better option with 43% predicting a positive impact on the 'special relationship' should he become President, 17% believe it would be unfavourable.
Opinion on the two candidates is more split among Conservative voters. While a quarter of those who voted for the Conservative Party in the 2019 General Election believe a second term of Trump would have a positive impact on the UK, a third say it would be negative. Meanwhile, a third (32%) say Biden would impact the UK-US relationship positively, 25% believe the opposite. 
Opinion among Labour voters is much clearer in favour of Biden. Almost two-thirds (64%) believe he will be a positive influence on trans-Atlantic relations while three-quarters (73%) say Trump with be a negative one.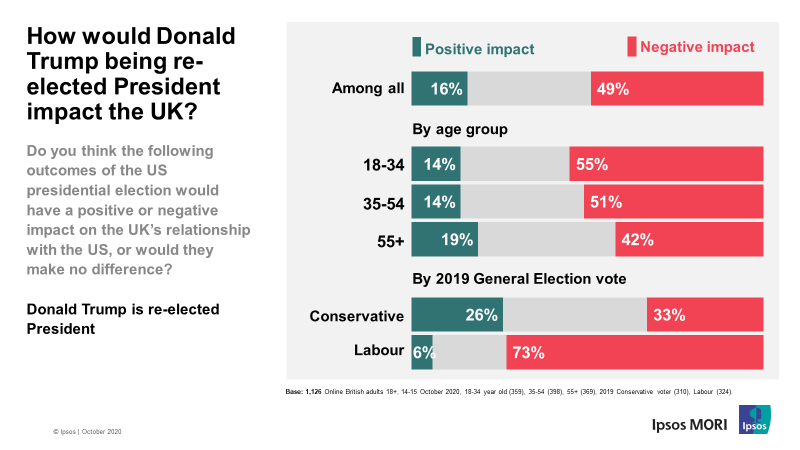 Overall, forty-six per cent say the election of Joe Biden as President would be the outcome most suited to the UK's interests, but only 1 in 5 (19%) say another term for Trump would be most favourable. 
Opinion is split concerning hopes for a post-Brexit deal with the US. One in five (20%) say the UK is more likely to get a good deal should Joe Biden be elected,  while 16% believe the deal would be better from Trump if he is voted in for a second term. A quarter (26%) of Britons believe there will not be a good deal no matter the result of the presidential election while 17% believe it will be good whether Trump or Biden is voted into the White House.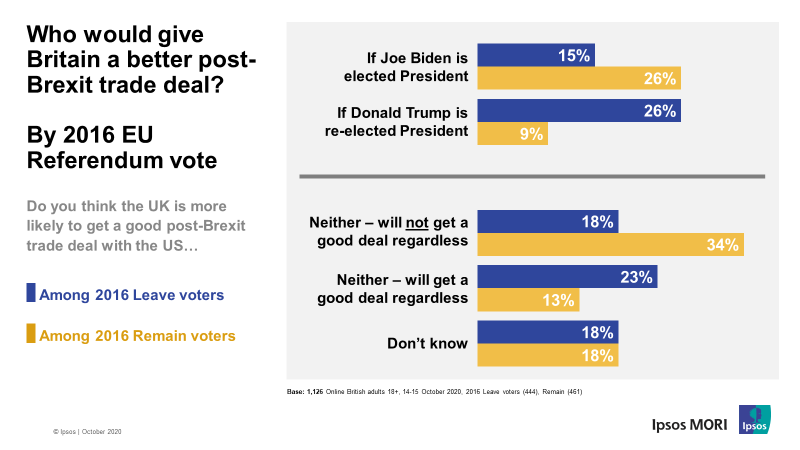 A quarter (26%) of those who say they voted to remain in the EU in 2016 believe Biden will provide a better post-Brexit deal, however the same proportion of Leave voters think Trump's deal will be more beneficial.
A quarter (27%) of Britons now believe that the US mostly uses its influence for bad around the world, an increase from 22% in May 2019. Only 13% believe it uses its influence positively while 4 in 10 (38%) believe it is used for a mixture of good and bad.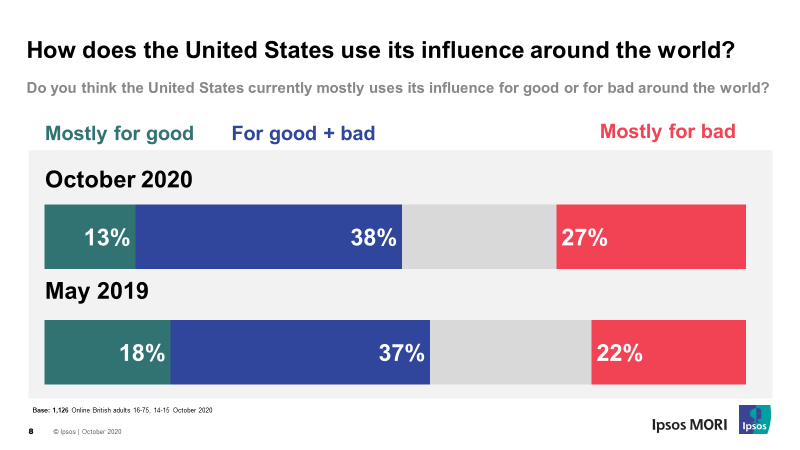 Keiran Pedley, Research Director at Ipsos MORI said:
Our research has consistently shown that Britons have an unfavourable view towards Donald Trump, and this latest data confirms that they think the so-called special relationship would be best served by Joe Biden as President (although Conservative and Leave voters are more divided).  Having said that, Britons are much less certain that their preferred option will actually win in November.  And thinking about the realities of trade negotiations, many Britons believe it won't actually make much difference who the President is when it comes to the UK's chances of signing a trade deal with the US, for good or bad.
Technical note:
Ipsos MORI interviewed a representative sample of 1,126 British adults aged 18+. Interviews were conducted online between 14th and 15th of October 2020. Data are weighted to match the profile of the population. All polls are subject to a wide range of potential sources of error.