PneuVUE®: A new view into Pneumonia among older adults
It is expected that every year across Europe alone, there are three million cases of pneumonia, for which around one million people are hospitalised[1]. Community-acquired pneumonia is also one of Europe's most frequent causes of death due to infection.[1]
The PneuVUE®: A New View into Pneumonia≠ Among Older Adults report was published in 2016, communicating the results of the largest survey ever conducted looking at awareness of pneumonia≠ in Europe (across nine European countries).
Key findings:
8 out of 10 adults at risk report they had not had a pneumonia≠ vaccination*
Only 3 out of 10 older adults are aware that pneumonia≠ vaccination* exist
Almost three times as many people report being regularly vaccinated against flu than being vaccinated* against pneumonia≠, which is a more deadly disease[2].
PneuVUE® (Adult Pneumonia≠ Vaccine∞ Understanding in Europe) survey is based on over 9,000 interviews among people aged 50 years and over. The interviews were conducted by telephone between November 2015 and February 2016. The PneuVUE® survey, sponsored by Pfizer Vaccines** and backed by independent leading experts, shows that across Europe, there is a generally poor understanding about the risks and prevention of pneumonia≠.
Quotas*** were imposed to ensure national representation based on age, gender, region and employment status. Corrective weights have been applied to bring the sample in line with the population profile per country and population size in each of the nine countries.
Following the publication of this report focusing on those aged 50 years and over, Ipsos MORI conducted a data sub-analysis focusing on respondents aged 65 years and over - a group at increased risk of pneumonia[3]. Read the report here.
Country Reports
Infographic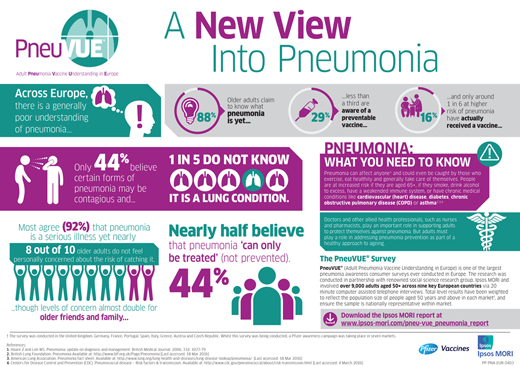 ≠All references to pneumonia within the PneuVUE® survey are to all-cause pneumonia, not pneumococcal pneumonia specifically
*The PneuVUE® survey questioned respondents regarding pneumonia as a whole. Pneumococcal vaccination can only protect against pneumonia caused by the pneumococcal serotypes contained in the vaccine
**Pfizer International Operations, RCS 491 295 671 Paris, France
***Quotas were based on 2011 Eurostat census data
References
[1] European Respiratory Society (ERS). 2016. European Lung White Book – Chapter 18.
Accessible at: http://www.erswhitebook.org/chapters/acute-lower-respiratory-infections/pneumonia/ [Last accessed: 22 August 2017]
[2] Eurostat. 2013. Causes of death - Deaths by country of residence and occurrence. Available at: http://appsso.eurostat.ec.europa.eu/ [Last accessed: 10 August 2017]
[3]Shea KM et al. Rates of Pneumococcal Disease in Adults With Chronic Medical Conditions. Open Forum Infect Dis. 2014 May 27; 1(1). Available at: https://www.ncbi.nlm.nih.gov/pubmed?term=((shea%5BAuthor%5D)%20AND%20pneumonia)%20AND%2065 [Last accessed: 10 August 2017].
Download