The Polls and the British General Election of 1997
The British Public's Veracity Vindicated!
The British Public's Veracity Vindicated!
There were 47 national polls conducted in this election by Gallup, Harris, ICM, MORI and NOP. Their average share throughout the campaign was 31% for the Tories; on the day they got 31.4%. In all, some 56,000 people were interviewed by the five main polling companies during the six week election, and another 30,000 by MORI and NOP in the Exit Polls for ITN and the BBC.
MORI conducted three 'final' polls, one face-to-face for The Times in people's homes on Tuesday with a sample of 2,304 adults. We rang back 388 'won't says', 'undecideds' and 'might change' respondents on Wednesday to measure any last-minute change; a second, panel, survey with 1,501 electors via On-Line Telephone Surveys on Wednesday for the London Evening Standard, recalling people interviewed face-to-face earlier in the election; and a final 'Exit Poll' for ITN of over 15,000 voters as they left polling booths on Thursday. The table, Election Polls (By Fieldwork Data), shows the results of these three polls, compared with the final polls conducted by the other major polling companies.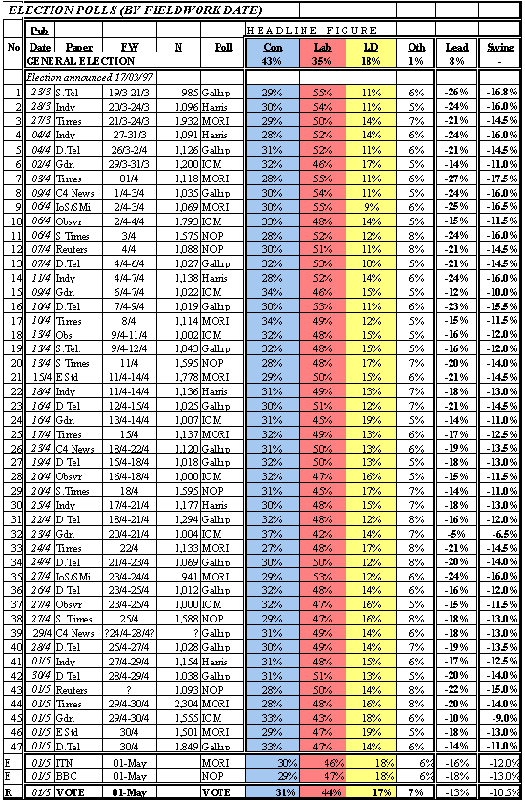 For the record, our 'Last Word' was based on our Exit Poll for ITN, from 14,888 interviews up to 9:15 pm. Our prediction, made at 9:35 pm, forecast a 12% swing and a share (actual in brackets) of Conservatives 30% (31.4%), Labour 46% (44.4%), Liberal Democrats 18% (17.2%) and Others 6% (7.0%). On this basis, I translated the result from the Exit Poll (entirely carried out in the marginals) to the national share, and then using the 'MORI Swingo Model' developed by Dr Roger Mortimore, arrived at a seats forecast: Conservative 180 (165), Labour 410 (419), Liberal Democrats 43 (46), Others 8 (10) for an overall majority of 157 (179). I'll settle for that, even though I toyed for a few seconds with weighting the data to account for postal and proxy votes from data collected through the campaign and for the legendary 'shy Tories', who by our reckoning would have accounted for just 0.85% of our estimate. This would have halved our error, and resulted in a forecast of Conservative 31% (31.4%), Labour 45% (44.4%), Liberal Democrats 18% (17.2%). Oh well, next time we'll try harder.
That is not to say that nothing happened. From panel studies we can tell how many people changed their mind as to whether to vote or not and if they do vote, which party they will vote for. The best measure that we have comes from the Eve of Poll telephone recall conducted for the Evening Standard on people interviewed initially face-to-face in the first week of the election. This shows that twelve million people gave different answers at the end of the campaign than they did at the beginning. This actually underestimates the 'churn' for there will be within this sample many people who had their doubts during the six weeks of the election but who on the eve of polling day had returned to their original choice.
When asked who they trust to tell the truth, over half, 55 percent, said they trust pollsters; only 12 per cent trust Government Ministers (somewhat fewer than the 15 per cent who say they trust journalists). Perhaps this puts into perspective the Prime Minister's remarks that the MORI poll in the Times was 'absolute rubbish' and that the Tories' private polls showed the election much closer than the polls did.
Just over six people in ten, 63%, say they were aware of any national opinion polls in this election, down sharply from 89% at the last election, when there were more polls over a shorter period, with certainly more coverage on the BBC than in this election. Nearly all, 94%, of those aware of having seen any polls recalled that the Labour Party was in the lead.
Banning polls during elections gets scant support. Only 16 per cent of the public believe that polls should be banned during elections, while over three people in four do not, down sharply from the last election. This compares with one person in five who would ban Party Election Broadcasts, 15 per cent who would ban all coverage of the election on radio and television, and one in ten who would ban coverage of the election in newspapers!
Banning Of Election Coverage
Q 'During an election campaign, do you think there should or should not be a ban on ...
|   | 1983 | 1987 | 1992 | 1997 |
| --- | --- | --- | --- | --- |
|   | % | % | % | % |
| Party political broadcasts of the election on TV and radio | 14 | 25 | 24 | 20 |
| Publication of opinion polls | 22 | 25 | 24 | 16 |
| All coverage of the election on TV and radio | 13 | 24 | 21 | 15 |
| All coverage of the election in newspapers | 9 | 16 | 13 | 10 |