How should the banking sector respond to the cost-of-living crisis?
With the British public increasingly anxious about the economy, we asked Business Journalists which sectors they felt were leading the way in supporting customers through the cost-of-living crisis and what the banking sector could do to support customers during this time.
The most recent Ipsos Issues Index revealed more than half (54%) of Britons find prices and inflation as one of the biggest issues for the country, with over one in three (37%) regarding this as the single most important national concern. Tackling the cost-of-living crisis is not only an important item for newly appointed Prime Minister Liz Truss but also for wider businesses, including the banking sector.
With the British public increasingly anxious about the economy, we asked Business Journalists which sectors they felt were leading the way in supporting customers through the cost-of-living crisis and what the banking sector could do to support customers during this time.
Based on these results this article aims to provide tangible recommendations on how the banking sector can support the public in the face of a looming recession.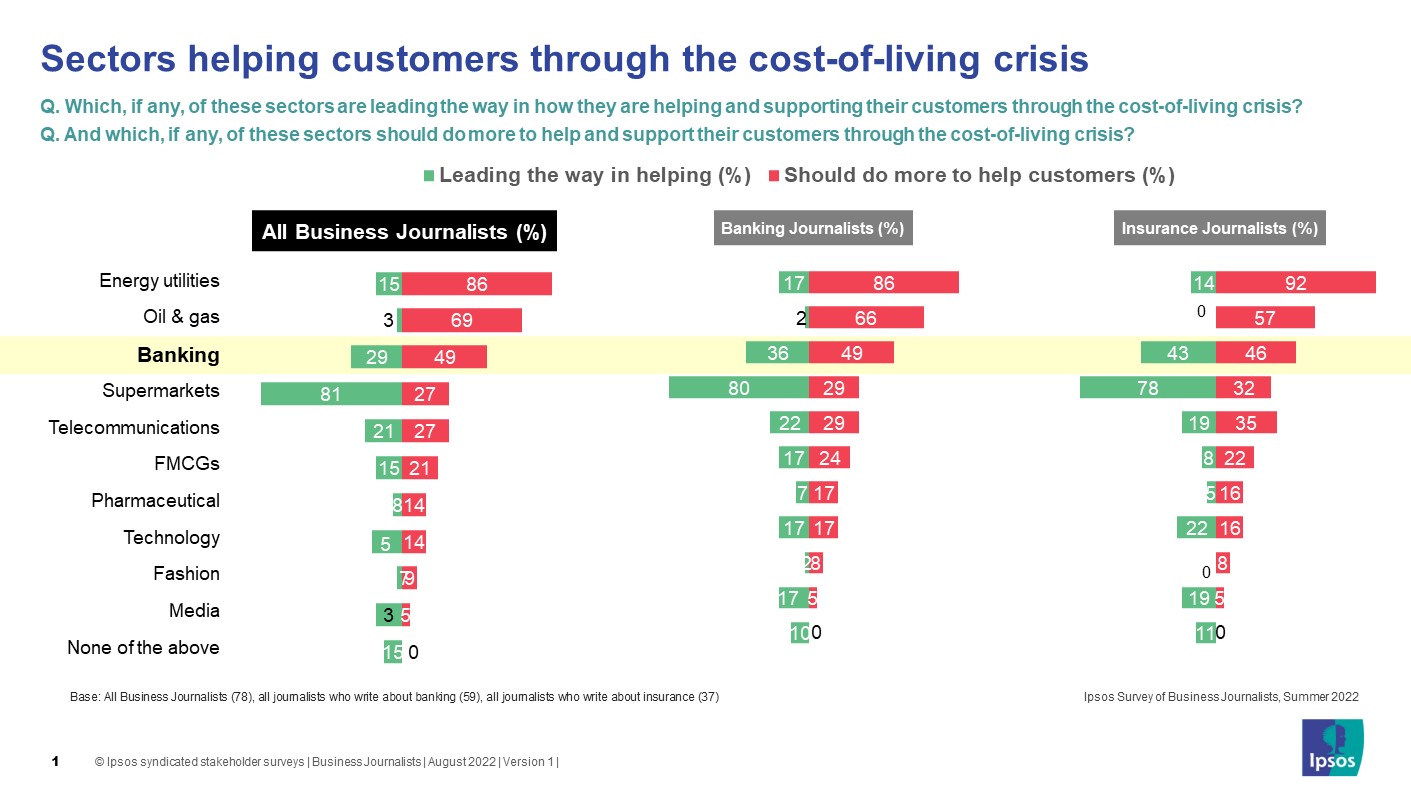 Who leads the way in supporting and helping customers through the crisis?
Business Journalists believe supermarkets are at the forefront in helping customers through the economic pressures, with eight in ten (81%) Business Journalists suggesting they 'lead the way'.
Some supermarkets [are] already holding the price of certain goods, products in order to support customers which is really good
- Non Attributable, Regional
In response to the squeeze on wallets, many supermarkets have implemented special measures to help their customers. For example, Asda have launched their 'Just Essentials' range which "features budget-friendly food essentials allowing you to complete your weekly food shop with ease".
Free and cheap children's meals have also been offered by retailers such as Morrisons, Marks & Spencer and Tesco. Other measures include price-locks on essential items and interest-free food loans.
There are store cards and products like Klarna, buy now pay later products, that are being advertised in shops basically to help people buy stuff
- Non Attributable, National
Despite supermarket's efforts over one in four (27%) Business Journalists still think supermarkets could do more to help.
How does this compare to the banking sector?
The banking sector ranks second for supporting customers in the cost-of-living crisis, with under a third of Business Journalists (29%) suggesting they lead the way. However, there is clearly a marked distinction between the performance of the banking sector and the performance of supermarkets in helping customers (52 percentage point difference).
While the banking sector ranks second for helping customers, there is a clear sense the industry should be doing more (49%). Although this figure is lower than that for Energy utilities (86%) and Oil & Gas (69%), Business Journalists are not fully satisfied with the response of the banking sector.
The lack of certainty about the response from banks so far, could be a result of the various forms of support offered. At present, the responses of the industry to the crisis have varied. While some banks have had proactive engagement with their customers looking to "ease the squeeze" by setting up cost of living hubs, support lines and adjusting affordability assessments, other banks feel "it is not really their problem". Yet in what is forecasted to be increasingly difficult economic times, it may increasingly become their problem.
What can the banking sector do?
Half of Business Journalists (47%) think the banking sector should be flexible and extend repayment periods/holidays.
They often showed quite a bit of forbearance in the pandemic, they were told to be more willing to offer loan holidays, breaks on mortgages, that sort of thing, which I suspect will be asked to do again.
– Non Attributable, National
Over a third of Business Journalists (36%) suggest banks should provide more favourable lending terms & overdraft facilities.
Maybe there is an argument for some sort of, not quite payday loans, but rather than people having to turn to organisations that charge very high interest rates, whether there is some form of banks increasing overdrafts without charging prohibitive charges and other penalties on that, like temporarily to give people breathing room.  Maybe not passing on all of the interest rate rises on loans, for example, and increasing interest rates on savings above those rates they are paying now.
- Non Attributable, National
One in five Business Journalists also suggest education, leniency and proactiveness are also key areas the banking sector could focus on to help customers through the cost-of-living crisis.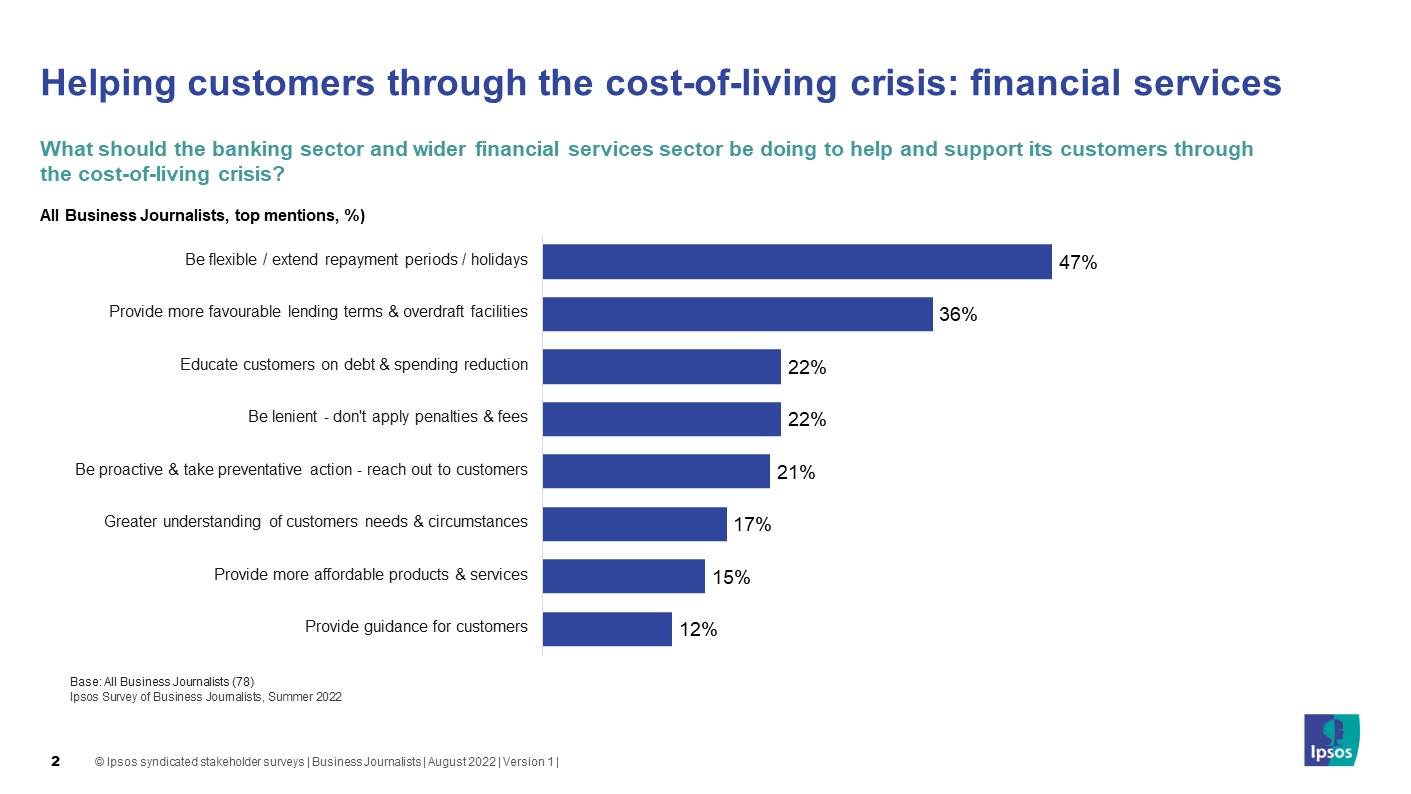 Listen to the podcast of the Reputation Council's experts to understand what should organisations be thinking about when faced with a crisis situation.
What can banks learn from this?
There is an expectation from Business Journalists that banks should tackle the cost-of-living crisis in a similar way to the COVID-19 crisis, where flexibility and tolerance were demonstrated in abundance.
As noted by McKinsey & Company at the time of the pandemic:
In normal times, customer experience in banking is about making customers happy—with the result that they are more loyal, use products more, and cost less to serve. In the context of COVID-19, superior customer experience means clarity and transparency, support for digital tools with which many customers are still unfamiliar, and new products and services for customers in distress.
While in "normal times" the focus for banks is making customers "happy", the cost-of-living crisis will require more from the sector to help its customers through this period. Banks must utilise learnings from the pandemic and engage in proactive, flexible actions to help changing customer needs in this current time of crisis.
The call to action for the banking sector is two-fold.
Firstly, banks must demonstrate that clear measures are in place to help customers through the crisis. Banks should highlight what initiatives they are working on and be prepared to measure the impact these actions are having on customers. This will generate proof points that will demonstrate authentic examples of how the sector supports customers.
Secondly, banks must ensure that they follow through with their actions. Avoiding the pitfalls of a 'say-do gap' is more important than ever in this context. By this, the sector must guarantee that what is being said, is in fact being done. There is no room for passiveness within the sector, it is important that banks tackle the issues with actions that are credible, using messages that resonate with customers.
The government's September mini-budget policies will see the biggest package of tax cuts in 50 years in an effort to resolve the cost-of-living crisis and avoid recession. As it will be some time before the true impact of this policy announcement is seen, the banking community should not hesitate in undertaking action to support the British public in what is already a challenging economic period. This is especially important as media scrutiny for the sector increases after the announcement to scrap banking bonus cap. Illustrating to Business Journalists the banking sector's commitment to customers will be key in protecting their reputation during ongoing economic uncertainty.
Ipsos runs its survey of Business Journalists twice a year and the winter wave closes at the beginning of October. Please contact us if you would like to find out more about how this survey is used as a flexible, cost-effective way to understand the views and opinions of leading business and financial journalists to help manage and monitor your organisations reputation..