Lockdown TV: Staying close to your audience
This article explores the key findings from our Lockdown TV study with Thinkbox to demonstrate the importance of staying close to your audience in order to deliver on their needs.
On 21 March the British public were confined to our homes. For us at Ipsos, we were suddenly thrust into remote working and quickly filled with questions about how the pandemic was impacting media and technology behaviours. We weren't the only ones, and soon afterwards we began a 10-week partnership with Thinkbox to understand how COVID-19 was impacting our nation's attitudes and behaviours toward TV. Alongside this we ran several quantitative surveys to understand changing behaviours. In the following we discuss how we were able to react quickly to understand the changing landscape, and the importance of staying close to audiences when things can change so quickly.
Immediately after lockdown the media habits of the British public changed.
According to our cross-media measurement research conducted on behalf of the BBC, in the first full week of lockdown time spent with TV increased by 18%, while our time online increased by 28% vs. the previous year.1 
Not only did our time spent with media change, but our needs also changed and intensified. Many of us were off work and looking for ways to keep ourselves and our families entertained, comforted, educated, and informed.
A survey we ran in late May found that three-quarters of Britons (76%) agreed news and current affairs had become more important to their TV viewing since the start of the coronavirus crisis. They also began trialling new platforms, with a third of Britons (32%) saying they had tried TV channels or streaming services that they wouldn't normally watch by late May. Whilst just under two thirds (62%) claimed TV and streaming services were playing an important role in relieving boredom during lockdown.2
Our work with Thinkbox helped us to get under the skin of these changing habits and needs and inform broadcasters and advertisers on what audiences were thinking, what they wanted, and what they appreciated during this time. 
Whilst COVID-19 put a sudden stop to face-to-face research methods, the need to get closer to audiences and better understand them during this uncertain time was stronger than ever. Given that, our digital immersion methodology (combining a video led online community with 10 weekly deep dives) gave us depth as well as fast turn-around insights. Providing weekly edits and summary reports allowed Thinkbox to keep advertisers and broadcasters up to date and make informed decisions at a time where speed was of the essence in a rapidly changing landscape.
We know that media attitudes and behaviours don't exist in silo; our insight incorporated contextual information from the Ipsos COVID-19 tracker, and industry knowledge as media and tech experts, to help paint a fuller picture of media in context.
Trust in media
As we searched for reliable, up- to- date news on the virus and lockdown, TV was turned to as a source with integrity. The credibility of broadcasters runs deep, but simply having a familiar face deliver the news made the information delivered real and trustworthy.
"Everyone is sending news reports and videos and things, or posting them on social and I don't trust them. I trust what's put out on the news because that's official news by the Government." Working Professionals
At the start of lockdown, we were a nation obsessed with the news. Whilst many were checking social media and online news consistently throughout the day, they began to trust the appointment viewing of TV news. Increasingly the routine and trustworthiness of TV news was appreciated, especially given the official government broadcasts. Viewers appreciated expert opinion 'straight from the horse's mouth'; and whilst it was still unpleasant, the trust that it was the truth offered ease.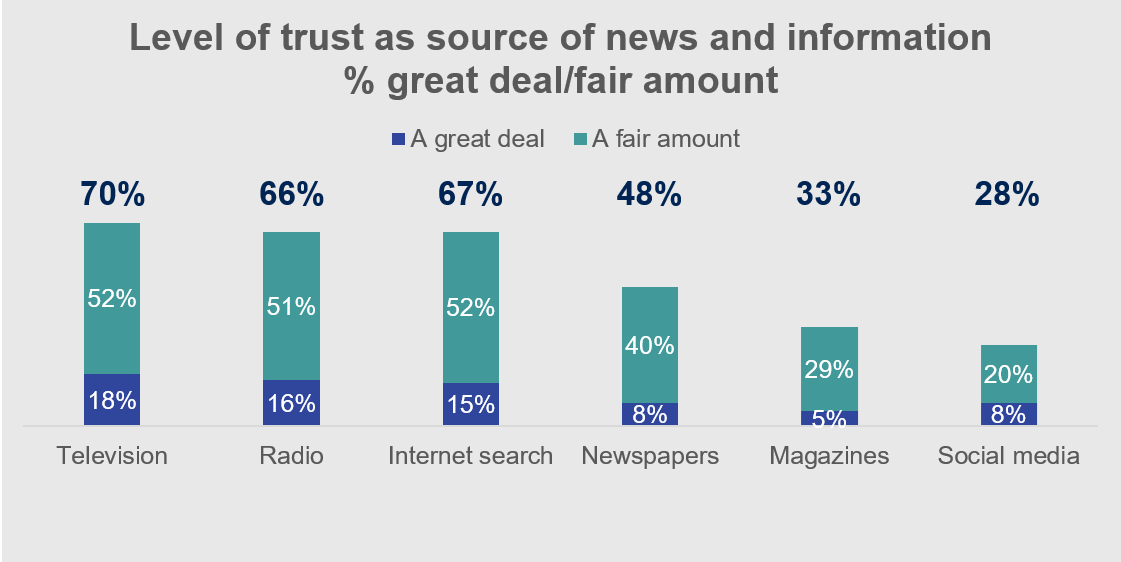 This trust in TV extended beyond the news and into advertising. From our research we were able to understand what it was viewers wanted from brands, and advertising. Showing safety messages and precautions put in place on TV helped audiences to visualise themselves in store and reflected well on brands. Information is one of the key things audiences wanted from TV advertising. Brands are remembered positively for responding responsibly, with empathy, and with relevance to the situation.
41% of GB want TV advertising to provide them with information at the moment.

3
We found that TV provided a safe, trusted space for advertisers and brands to inform the public of changes, updates, and inspiration at a time when we were searching for more information and entertainment.
Use of new services
The surge in lockdown viewing meant audiences were consuming content at an unprecedented rate, and always on the lookout for the next big thing to sit and binge watch (Tiger King, anyone?). This was good news for TV and media companies looking for an opportunity to engage with new audiences, with Disney+ capturing 50 million subscribers in its first 5 months.
Our households reflected this, with many talking about how these shifts in media behaviours led to sign-ups of new services, and/or existing video on demand (VOD) services becoming new go-tos in the ongoing search for new content. This is further demonstrated in the numbers, with BARB showing BVOD viewing up 45% year-on-year during the period of lockdown, and the latest OFCOM figures showing 12 million people joined a streaming service they hadn't used previously. 
However, we know that audiences can be fickle and moving forward the onus will be on brands and broadcasters alike to continue to show their value and be chosen in these key media moments. 
Understanding audiences is fundamental to this. Our Lockdown TV research was able to bring to life audiences' needs at these times; what's driving this behaviour, and how can brands and broadcasters best respond. Staying close to audiences helps brands to stay in touch with changing needs. 
Throughout lockdown we've seen examples of this from a rise in 'nostalgic' feel-good content, offering audiences a moment of positive escapism reminding them of better days, to new and improved category naming hoping to catch our eye and tap into our need states as we scroll through and settle in to the sofa to watch something.
'We' viewing
As new viewing habits emerged, and routines changed, so too did the importance of the shared experience TV provides. It has always been seen as a uniting force bringing households together and reconnecting families, yet in lockdown our research emphasised just how key this was, and the role it played in bringing people together in difficult times whether physically or virtually - with entertainment, comedy and films playing a fundamental role. 
As lockdown eased and we looked to the future, our research highlighted how the desire to continue this 'we' viewing and shared experience remained unchanged. As the 'new normal' continues to unfold and uncertainty lies ahead, looking for new opportunities to create and engage in shared experiences will be key for all media platforms. A move back to 'we viewing' is good news for TV, but also paves the way for new experiences from VR and events moving to an online offering, to gaming or music (or a mix of both with a record 12.3 million tuning in to a virtual concert within Fortnite).
Conclusion
COVID-19 is an extreme example of change, yet the challenge to understand audience behaviours, needs and the wider context driving these changes is continuously relevant. In our work with Thinkbox we were able to adapt methodologies and conduct research that let Thinkbox stay close to audiences and provide timely and actionable insights for brands and advertisers. Needs, behaviours and trends are in constant flux, and staying close to audiences with methods such as our video led 'deep dives' and online communities helps brands stay ahead of the curve, offering relevant content and services. Now more than ever, after a boost to media time spent, media and technology brands need to understand where audiences are and what they want, in order to keep momentum.
References
1. BBC Compass. An Ipsos cross-media measurement tool incorporating passive technology from MediaCell and RealityMine. Base: c.2,700 UK adults per week. Fieldwork: w/c 27th March 2020 
2. Ipsos, telephone survey with a nationally representative sample of 1,045 UK adults 18+, conducted 1-10 May 2020
3. Q2. Which, if any, of the following do you want from companies advertising on TV at the moment? Lockdown TV; Ipsos and Thinkbox. Fieldwork conducted June 12 –16 2020 Base: All Adults aged 16-75 in Great Britain n=1125
Technical note
Qualitative findings: Lockdown TV; Ipsos and Thinkbox. Fieldwork conducted online April 7 – June 12. Weekly video-led digital 'deep dives' into the lives of 12 households split into 3 groups: Those forced to work from home because of Covid-19 restrictions, those now unable to work as a direct result of Covid-19 and parents with school-aged children.
Quantitative findings: Lockdown TV; Ipsos and Thinkbox. Fieldwork conducted online June 12 –16 2020. Representative of the online GB population. Base: All Adults aged 16-75 in Great Britain n=1125