Public satisfaction with the NHS is high, but waiting times are the public's priority
Latest findings from the Ipsos UK KnowledgePanel show that over two in five expect the general standard of care to get better, and the public's top priority for the NHS is improving waiting times
New polling by Ipsos, conducted ahead of a webinar co-hosted with the Health Foundation, shows that three-quarters of British adults say that Britain's NHS is one of the best in the world (75% agree), while over six in ten UK adults say they are satisfied with the running of the NHS nowadays (63%).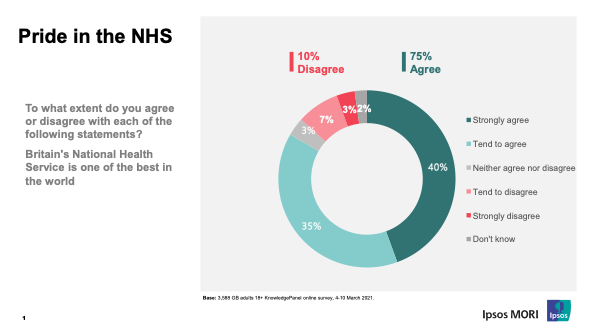 As concern about the pandemic starts to decrease, over two in five people say that they think the standard of care provided by the NHS will get better over the next 12 months (44%), while a third think it will stay the same (35%), and fewer than one in five say it will get worse (17%). The proportion saying that they think it will get worse has decreased since May last year, when it was 25% (45% thought it would get better, while 27% thought it would stay the same).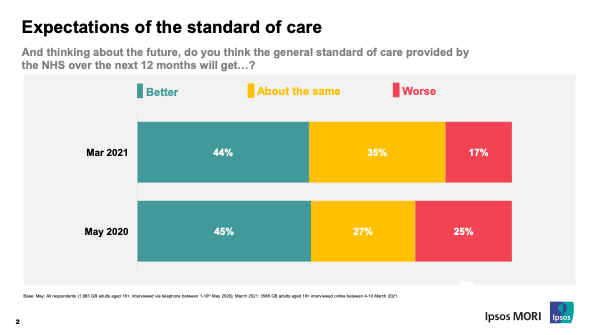 In particular, the public's top priority for the NHS is improving waiting times. Half say this should be prioritised when the impact of the pandemic has eased, followed by increasing numbers of staff in the NHS (43%), and vaccinating people against COVID-19 (41%). Supporting the wellbeing of NHS staff is important to the public too (38%), as is improving mental health services generally (36%).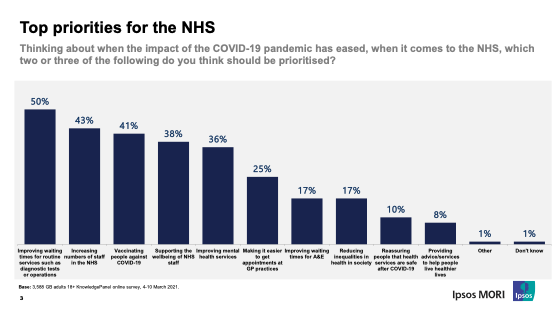 The data shows the difficult task ahead for the NHS. The public recognise the impact of the pandemic on services, with 85% saying that waiting times are longer than before the pandemic. At the same time, six in ten say that current waiting times are unacceptable (61%).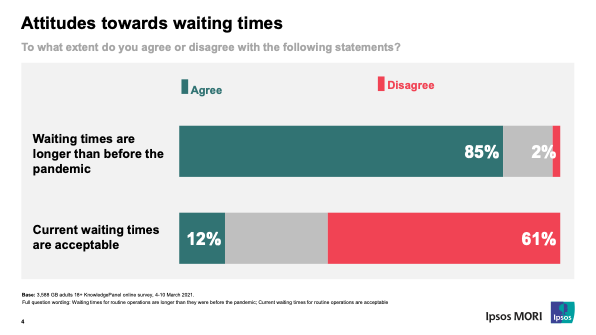 Anna Quigley, Head of Health and Social Care at Ipsos, said:
These results show yet again the pride that the public has in the NHS, no doubt bolstered by its work during the pandemic. However, the data also shows the challenges that lie ahead for the NHS in terms of public expectations, at a time when the service is facing a backlog of elective surgery cases, increased demand for mental health services, and the ongoing impact of caring for patients affected by COVID-19.
This data will be discussed as part of a Health Foundation webinar on 'how the public mood will shape care after the pandemic' at 11:45 on 15 April. You can register for the event here.