Americans are more comfortable paying their bills, but think high prices are here to stay
In less than five minutes of reading time we'll give you all the data and context you need to get you up to speed on Ipsos' latest wave of the Consumer Tracker.
See the full data and methodology.
Here's what we know today from the Ipsos Consumer Tracker about: COVID, (in)flexible work, inflation and the economy, travel costs and AI. In the Ipsos Care-o-Meter we look at Kid Rock, India's space race, the economy and "slightly radioactive" waste… 
Here are some quick, miscellaneous findings before we get started:
Remember COVID? 44% don't expect to get COVID in the future, mostly unchanged since we started periodically asking in Feb. 2022
Younger Americans were much more hopeful that prices would go down in the future. Only 23% of 18- 34-year-olds said prices would never go down, vs. 44% of 35- 54-year-olds or 52% of those 55 and older.
Despite rising cases, perceived COVID threat is near its lowest
Why we asked: Because it feels like everyone has COVID again. So, while we resisted firing up the IPAC again, we did bring back a couple of key questions we trended from Wave 1 until earlier this year.
What we found: We asked a question about what level of threat people feel from COVID since early in the pandemic. The number of people saying it's a "high threat" has dropped to 15%, essentially its lowest point ever. During peaks of pandemic, it was 40% or so. As cases keep rising, will that start to tick back up again?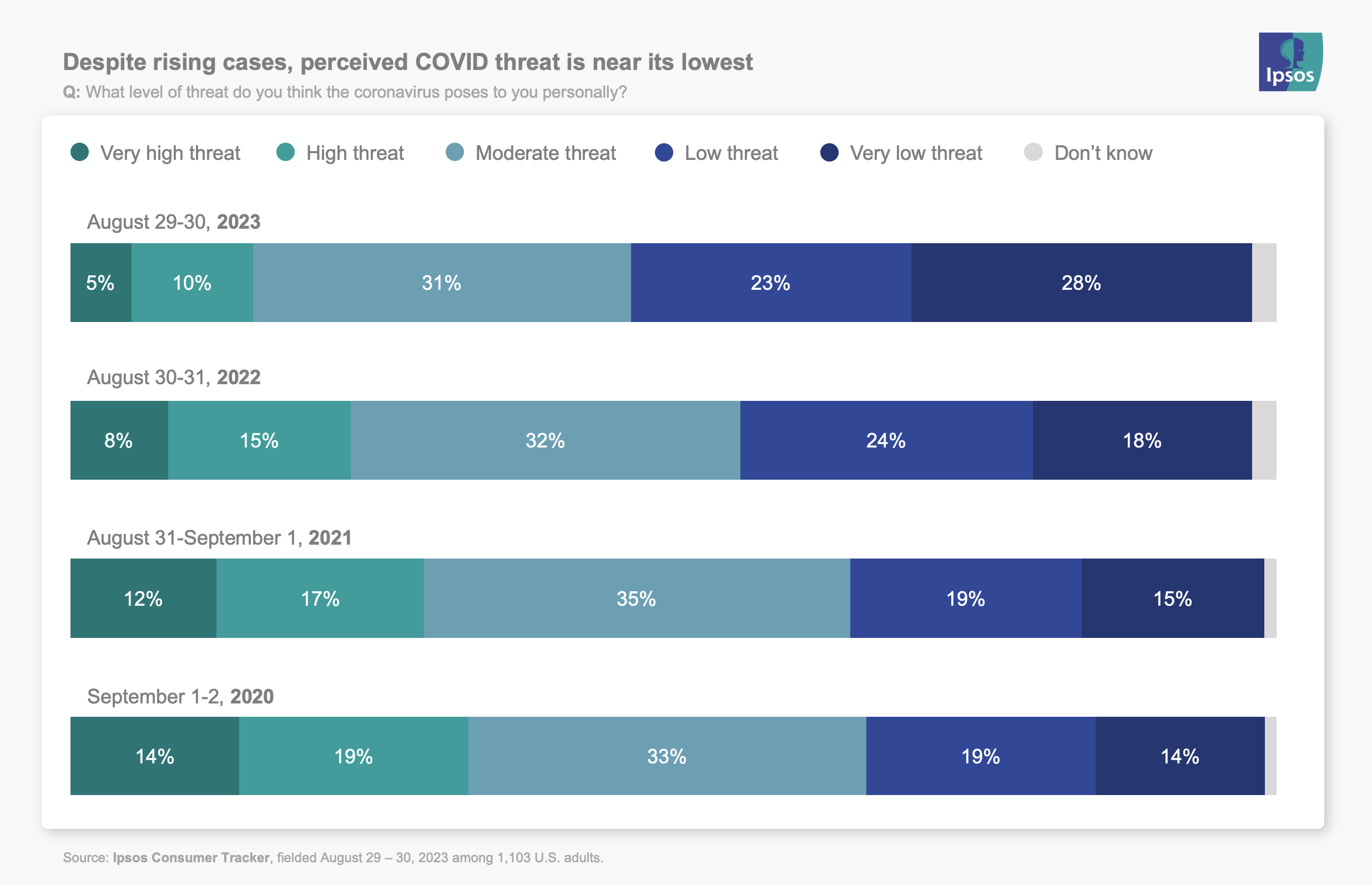 The Ipsos Care-o-Meter (Week of Sept. 6, 2023)
Why we asked: How much do you know about a series of in-the-news events, and how much do you care about them? We explore the relationship between the two in each week's Care-o-Meter. Check out the new Care-o-Meter page for the full analysis.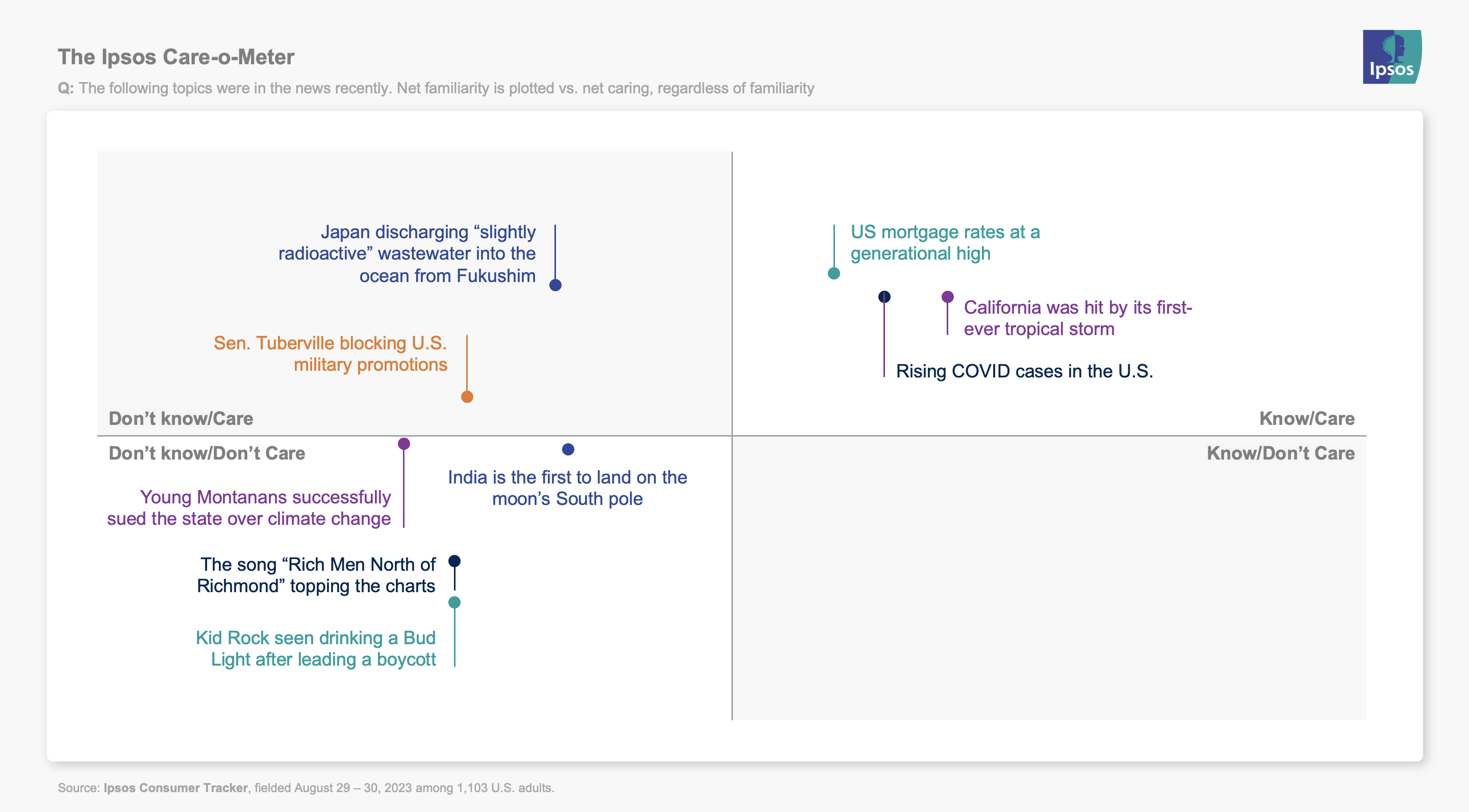 More people think higher prices are here to stay
Why we asked: Inflation remains stubborn, and prices continue to be elevated. The Federal Reserve is keeping its options on the table. How has our outlook shifted?
What we found: There's a solid jump from 31% at this point last year to 40% now of people who say that prices will never go back down. Fewer people also show any hope that prices will go down in the next several months.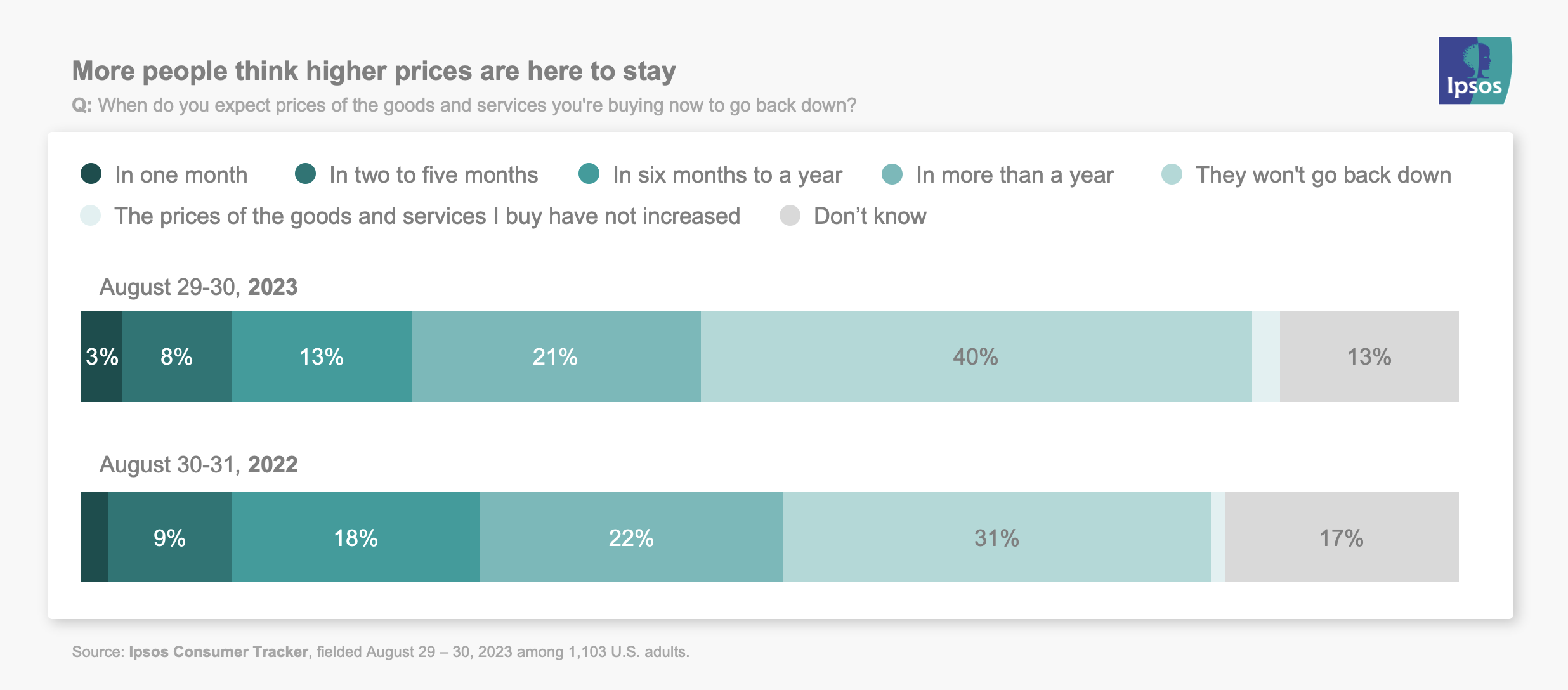 Fewer, but still many, are having a hard time making ends meet
Why we asked: There are lots of ways to gauge how people are doing financially. This question, which we trended from this time last year, gets at some more existential ways.
What we found: We see a nearly 10-point drop in the number of people who say they don't have any money left over after they pay their bills. That's good news. But it's still more than one in three Americans who aren't saving much. Fewer also feel worried about their bills each month. And over half of Americans can now cover an unplanned expense, which is a 14-point jump since this time last year. But in the end, four in ten say they are living paycheck to paycheck and a quarter of Americans (26%) say they are getting into more debt. So more mixed messages on the economy and consumer confidence.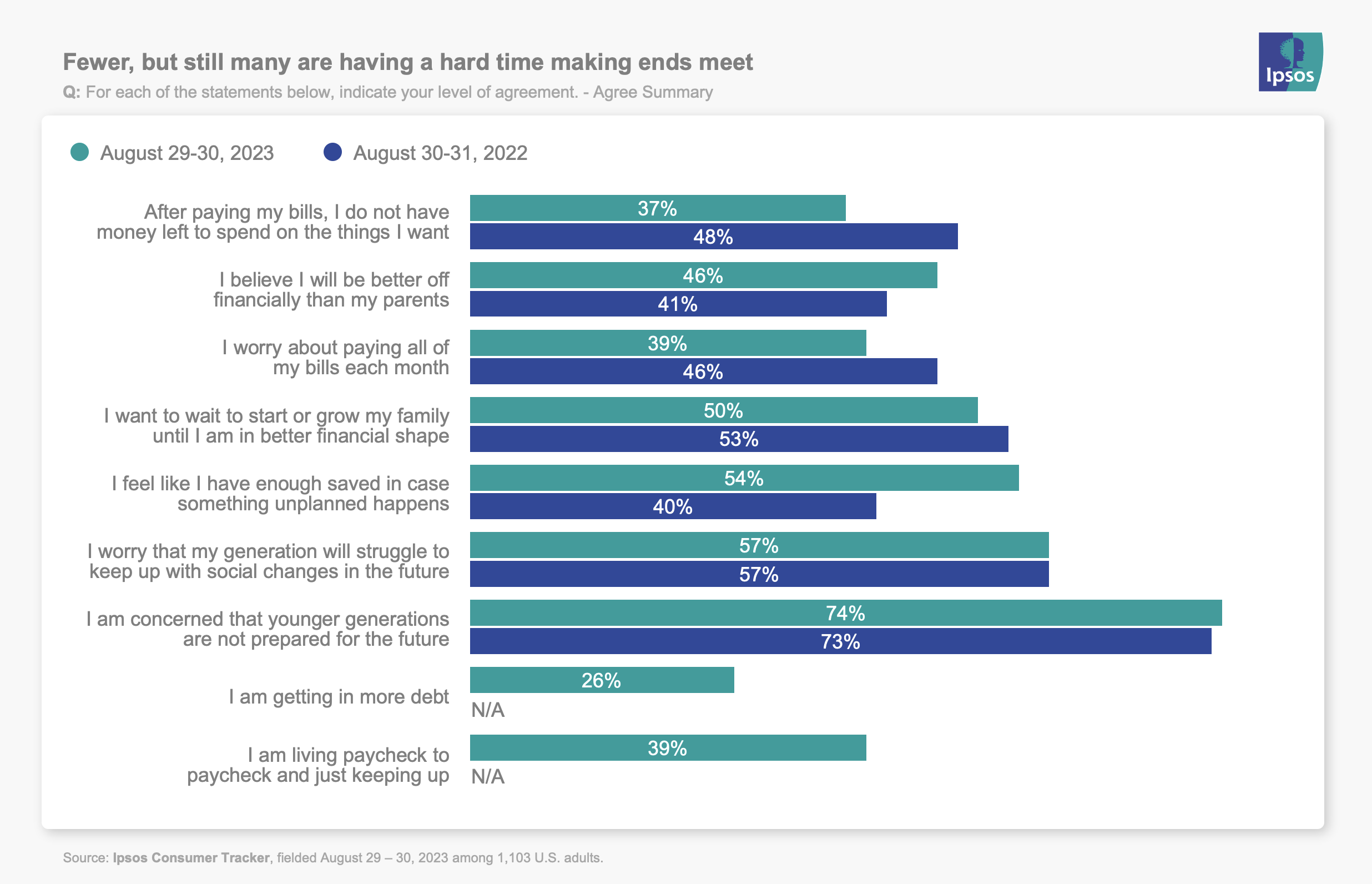 We are feeling higher prices across a range of activities
Why we asked: If you've booked a plane ticket lately, chances are you've felt the pinch. At least, anecdatally. But we try to move beyond the anecdata into actual data. The Tracker Dispatch ain't no New York Times trend piece, after all. So, we asked people if they'd taken part in a variety of activities and then if they felt that prices were increasing, decreasing or staying the same.
What we found: Our spidey sense was tingling correctly. Most (58%) of those who have traveled by plane recently feel that prices are taking off regardless of domestic or international flights. Even more people (63%) were feeling price hikes on vacation rentals. In no case did more than single digits think prices had gone down.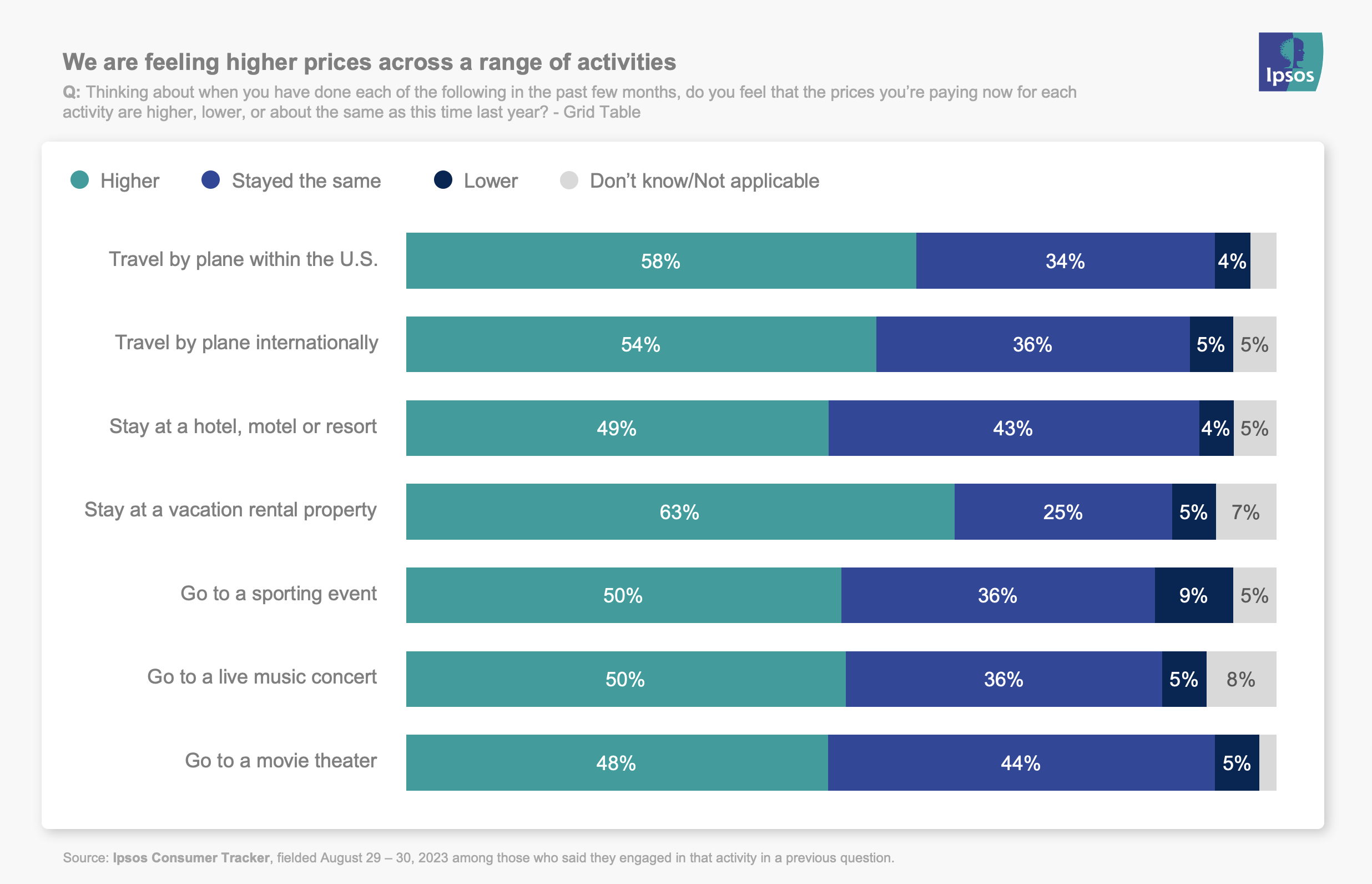 FOR MORE ON INFLATION AND THE ECONOMY, SEE OUR NEW IPSOS TOP TOPIC PAGE.
We strongly prefer human interactions
Why we asked: I was recently at a drive-thru ATM with my kids and had to explain what "ATM" stood for and what a teller is. We don't go inside the bank too often. But it's plausible we'll be interacting with more screens and fewer humans as AI continues its march. Are we ready? 
What we found: Nope. People definitely prefer human interactions for ordering fast food at a restaurant (72%), or drive-thru (69%) and yes, even getting money at a bank branch (56%). They really prefer (82%) humans to make the food – a task that is already being automated by robots at some restaurants. We'll see if these numbers shift as we get more used to seeing these screen-based services in the future.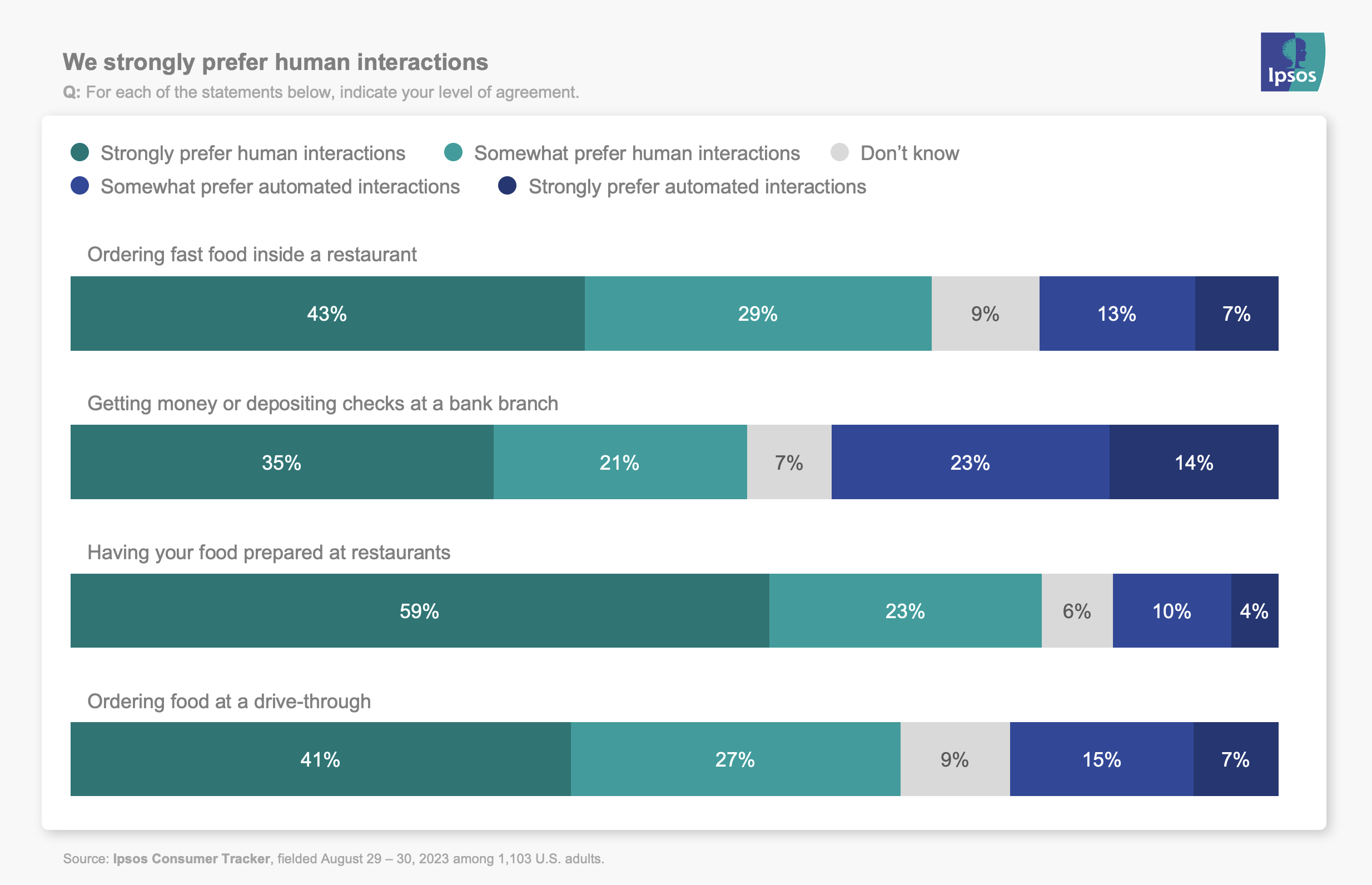 FOR MUCH MORE ON AI, SEE OUR NEW IPSOS TOP TOPIC PAGE.
Signals
Speaking of the future, here's what we're reading this week that has us thinking about the future, "they blinded me to science" edition:
For complete toplines for all waves, please see the full data and methodology.