Biden Flips the Narrative
Don't call him the comeback kid, and a few other takeaways from Super Tuesday.
After Super Tuesday, the contest for the Democratic nomination is now a two-man race between Joe Biden and Bernie Sanders. Though the vote count isn't final as of this writing, Biden is most likely going to come away with a lead in pledged delegates. The only question is by how much.
Super Tuesday was a startling reversal for Biden, whose campaign seemed to be fading after early losses in Iowa, New Hampshire and Nevada, altering the narrative of the race to date.
Sanders' early lead in the presidential primary race fueled the perception that the Democratic establishment had lost touch with voters eager for a change candidate. With Biden rebounding after a decisive win in South Carolina and southern Super Tuesday states like Texas and Virginia, a new storyline is emerging.
Though Sanders is still leading more progressive states like California and Colorado, the moderate, older wing of the Democratic party has made it clear that they want to play it safe in 2020.
What fueled Biden's Super Tuesday win?
Biden's sudden resurgence in South Carolina proved to be a tremendous boost for his campaign. Though he has spent comparatively little on ads, his win in South Carolina and his two main rivals' subsequent decision to drop out generated enormous organic media attention to his campaign.
Heading into Super Tuesday, news headline shares about Biden had shot up by 22% over the span of the past week, according to Ipsos' Political Atlas, a website tracking key metrics about the 2020 primaries.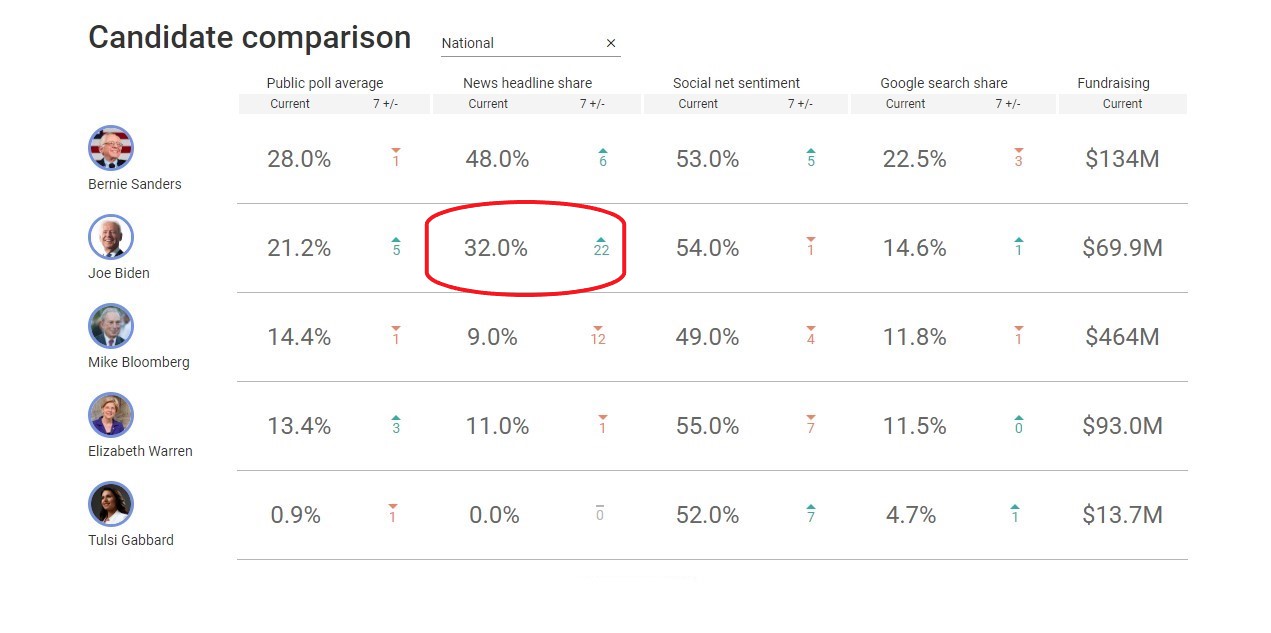 In large part, Biden also has his competitors in the moderate lane, Buttigieg and Klobuchar, to thank for his Super Tuesday win. Their decision to exit the race cleared the way for moderate voters to coalesce around Biden.
Also fueling media attention for Biden's campaign? Photo-op worthy moments of his former rivals endorsing – and rallying for him in Dallas with Beto O'Rourke –  while frontpage papers featured photos of Buttigieg and Biden shaking hands and smiling together.
Moderate vote no longer fractured
Buttigieg and Klobuchar's exit shifted the arc of the race overnight. Up until South Carolina, the vote and delegate count was fractured among five candidates: Sanders, Biden, Buttigieg, Klobuchar, and Warren. Mike Bloomberg, who channeled an estimated $464 million of his fortune into campaign and ad spending, did well in the polls but didn't appear on the ballot until Super Tuesday, so was essentially an unknown quantity.
This confusion advantaged Sanders, who has a secure, sizeable base among the progressive wing of the Democratic party, consistently pulling in about a third of the vote. While he is in a strong position, he isn't a majority favorite.
Looking at which way the votes were swinging leading up to South Carolina and Super Tuesday, it was clear that something had to give if the moderates were to have any hope of rallying around a single candidate.
And that's exactly what happened after South Carolina. After Biden won 49% of the vote in the South Carolina primary and 38 of the 54 available pledged delegates, Buttigieg and Klobuchar ceded the field to him. The Midwesterners announced that they would suspend their campaigns and endorse Biden.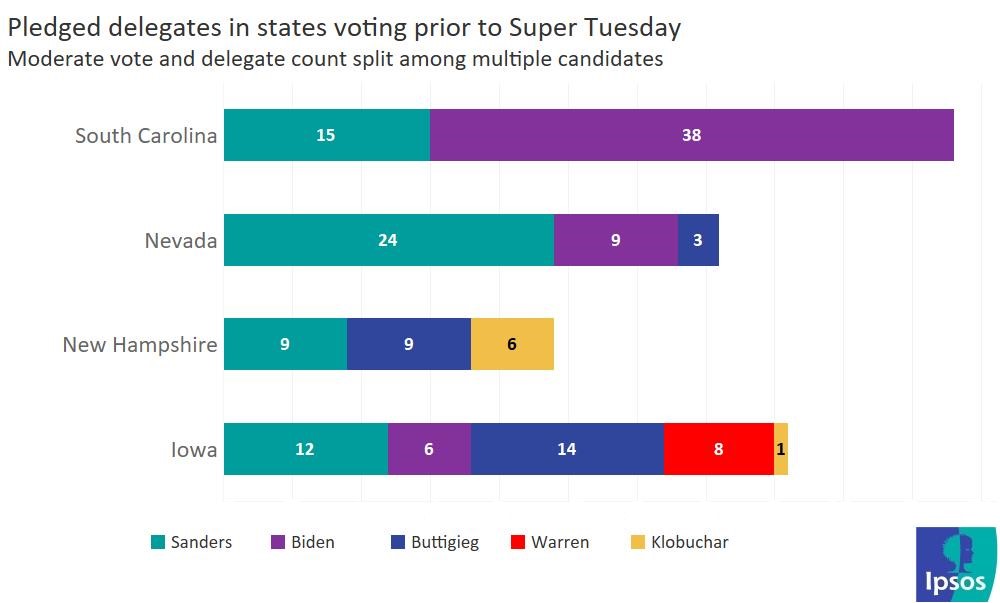 Had they stayed in the race through Super Tuesday, the moderate vote would have likely remained more fractured in some states – to Biden's disadvantage. For instance, as a Minnesota senator, Klobuchar was expected to do well in the North Star State. In her absence, Biden won 39% of the vote.
With Buttigieg and Klobuchar's departures, the narrative about that fractured vote has shifted to the progressive side of the party, though that division is between just two candidates – Warren and Sanders.
Looking ahead
So what does all this mean for the race going forward? The obvious takeaway is that it will continue to be a tossup between Biden and Sanders. To win the nomination, a candidate must accrue a minimum of 1,991 delegates. Though Biden has the lead on the delegate front for now, Sanders could go on to do well in delegate-heavy states like Michigan, where he trounced Clinton in 2016.
But as Ipsos has written for Canada's Global News, a Super Tuesday win is about more than just the delegate count. The victor of Super Tuesday comes away with a new narrative around their campaign. For Biden, the story is now about his remarkable comeback and his electability rather than his surprising early losses.
Crucially, a Super Tuesday win reestablishes Biden as one of two candidates with the most popular support to take on President Trump in the general election. And that's the crux of the 2020 primaries for most Democrats: identifying and backing the candidate with the best shot at beating Trump.