Bernie Sanders and the Establishment's Last Stand
Are Sanders and Trump two sides of the same anti-establishment coin?

The next few days will be a turning point for the Democratic Party. Tomorrow is the South Carolina primary and a few days later, 14 states and 1,338 pledged delegates are up for grabs on Super Tuesday.  
South Carolina and Super Tuesday will be a litmus test for the Democratic establishment. The most likely scenario is that Sanders will come out ahead.
How the Democratic Party got to this point
Ever since Iowa, we've seen the sudden collapse of Biden, the erstwhile establishment favorite, and the rise of Sanders, the explicitly anti-establishment candidate.
Not only did Biden come in a disappointing fourth place in Iowa and fifth place in New Hampshire, he is also losing ground on the key metric of this primary season – perceived electability. After winning those two states, Sanders eclipsed Biden on the electability front.
Even Biden's second place finish in Nevada wasn't enough to convince voters that he has the support necessary to take on Trump in the general election.
So, with Sanders in the lead, where does this leave the moderate – or establishment – wing of the party?
Conventional wisdom holds that the moderate vote is being spread out among the many non-Sanders alternatives currently competing for the Democratic nomination. Cannibalizing itself, in other words.
Bloomberg is the clearest example of this. With $464 million in campaign spending and at 15% in the national polls, his rise likely helped unseat Biden as the frontrunner. He is also helping Sanders.
One-third of Biden supporters say they would opt for Sanders as their second choice. So not only are Bloomberg's broadsides weakening the moderate wing of the party, but they may also be helping the anti-establishment candidate as voters with an affinity for Sanders are turning to him out of frustration or disaffection with the system at large.
South Carolina and the South – the establishment's firewall?
Yet we can't count Biden out just yet. Many believe that South Carolina is Biden and the Democratic establishment's firewall—their line in the sand!  And Biden is polling well there.
If he were to win South Carolina, it could turn the tides. Nothing speaks to electability like electoral success. 
| | |
| --- | --- |
| Super Tuesday States | Total pledged delegates |
| Alabama | 52 |
| Arkansas | 31 |
| California | 415 |
| Colorado | 67 |
| Maine | 24 |
| Massachusetts | 91 |
| Minnesota | 75 |
| North Carolina | 110 |
| Oklahoma | 37 |
| Tennessee | 64 |
| Texas | 228 |
| Utah | 29 |
| Vermont | 16 |
| Virginia | 99 |
| Total | 1,338 |
Looking ahead to Super Tuesday, Biden is likely in a stronger position than Sanders in the more conservative Southern States, while Sanders is poised to clean up in more progressive northern states.
Bloomberg is the unknown at this point. 
So, again, there are glimmers of hope for the Democratic Establishment.  Right?
Does any of this sound familiar?  I keep thinking back to 2016 when Donald Trump was thought to be a long shot – until he won. Think of the Never Trumpers and their last stand.
Scenarios: Pledged delegate count after Super Tuesday
To date, Sanders has 45 of the 100 total pledged delegates.  He probably will lose ground after South Carolina to Biden. But Super Tuesday should be a windfall for Sanders with California and the Northeast swamping the South in term of delegates.
We ran an analysis of multiple different scenarios in which Bloomberg and Biden get varying percentages of the vote to see how it would affect Sanders' share of the pledged delegate count after Super Tuesday.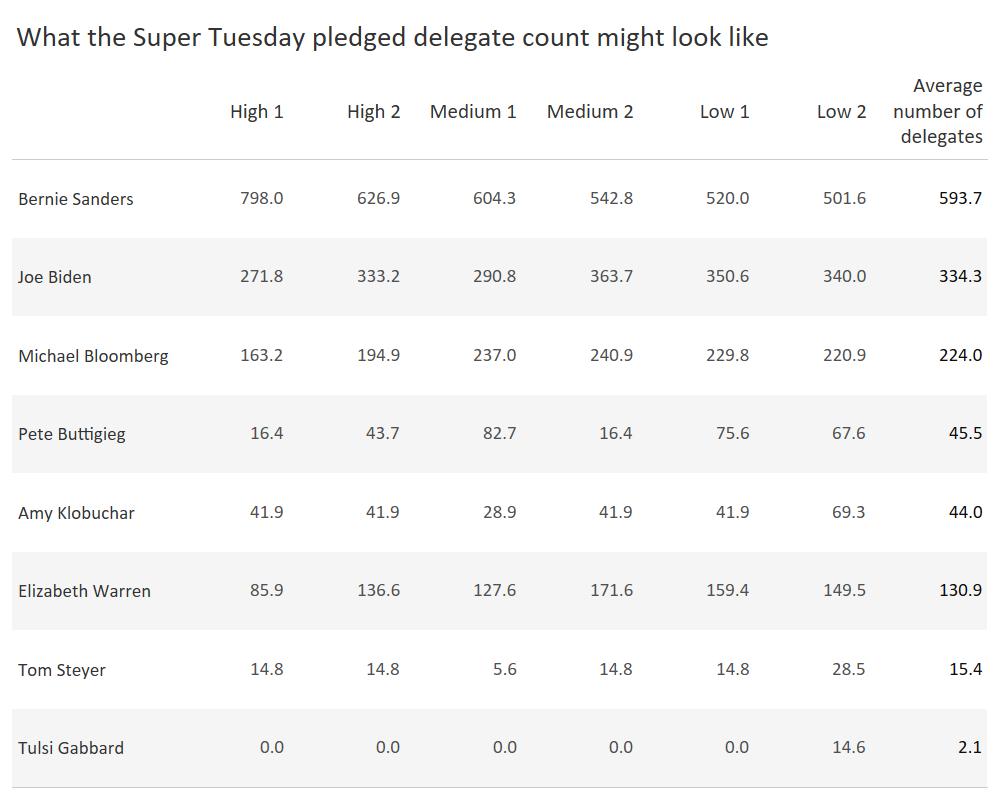 We considered a few possible scenarios.[i] In the most likely, Sanders will win something between 39% to 45% of the 1,493 pledged delegates available so far (we did not include American Samoa or Democrats Abroad in this analysis for a lack of polling data). A range of outcomes are possible on Tuesday, but it is difficult to imagine a scenario where another candidate will be able to challenge Sanders.
As we saw in 2016, Trump had won 43% of the 794 delegates available by the end of 2016's Super Tuesday. That was enough to give him the momentum he needed to beat the rest of the Republican field. Whatever happens next Tuesday, it's reasonable to believe that Sanders will come out of next week in a strong if not dominant position.
Why Sanders?
One explanation for Sanders as the frontrunner is that the moderates have shot themselves in the foot with a cluttered and relatively weak field. By failing to consolidate around one candidate early on, they've given voters too many options. That fractured vote advantages Sanders with his solid base.
There is some truth to this point of view.
But more importantly, I see the strong support for Sanders as part of a larger global anti-establishment wave. Take Trump, Jair Bolsonaro, Lopez Obrador, Boris Johnson – among others. They won on an anti-system platform.
The American populace is in an equally surly, anti-establishment mood.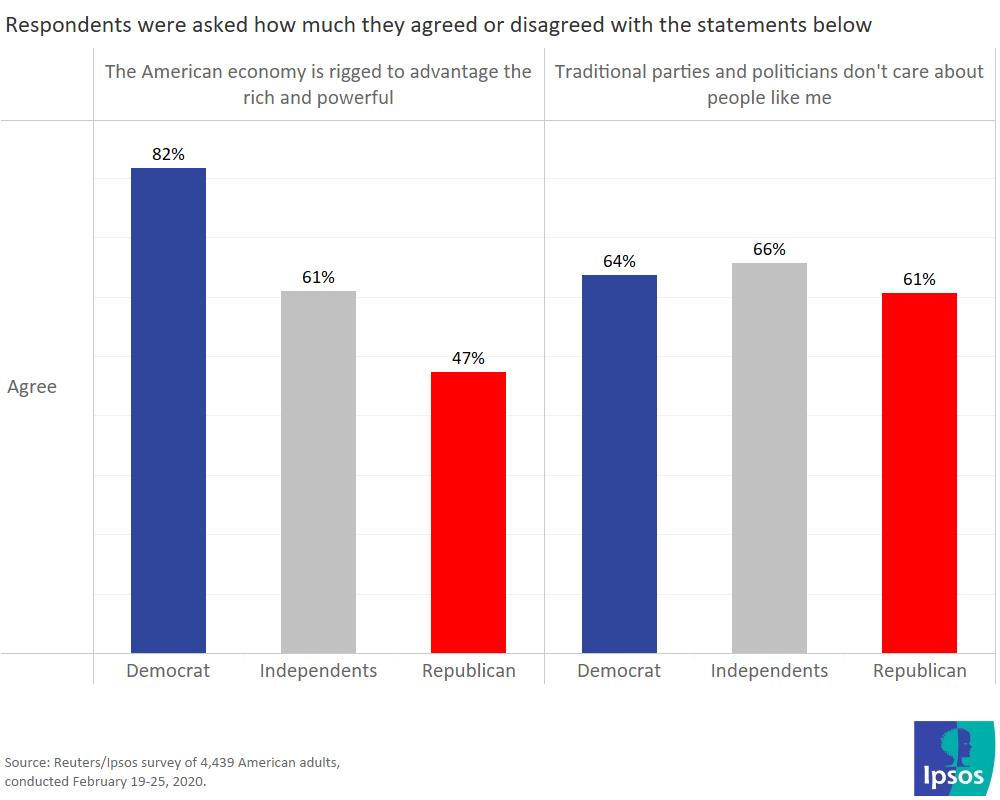 Indeed, Americans believe that the system is broken, that parties and politicians no longer care about the average person, and that the system is rigged in favor of the rich and the powerful. 
Democrats are especially primed for the economic inequality argument which Sanders lives and breathes every day.   
Last Thoughts
This is our current electoral context. 
In my opinion, our current anti-establishment-ism, brings into relief why voters are placing a premium on Sanders.  Why would a traditional establishment candidate prevail over an anti-establishment candidate in the current political environment?
Put differently, Sanders and Trump are two sides of the anti-establishment coin. Both draw upon the deep resentment against the establishment. Trump rode this wave to the White House in 2016. Why couldn't Sanders in 2020?
Assumptions

Designation

Definition

How likely

High 1

Competition under 15% threshold in California counties.

Extreme

High 2

FiveThirtyEight prediction. California results aggregated from more granular level.                                                 

Likely

Medium 1

California district votes simulated using a Poisson distribution and the state polling average for each candidate. Delegates estimated at district level using the 15% threshold and then aggregated.

Likely

Medium 2

Threshold lowered to 12.5% to allow competition to capture some delegates.                                                   

Likely

Low 1

Threshold lowered to 10% to allow competition to capture some delegates.                                                  

Unlikely

Low 2

Threshold eliminated. Delegates directly proportional to favorability.                                                          

Extreme
For more information, please contact:
Clifford Young
President, U.S.
Public Affairs
+1 202 420-2016
clifford.young@ipsos.com
About Ipsos
Ipsos is now the third largest market research company in the world, present in 90 markets and employing more than 18,000 people.
Our research professionals, analysts and scientists have built unique multi-specialist capabilities that provide powerful insights into the actions, opinions and motivations of citizens, consumers, patients, customers or employees. Our 75 business solutions are based on primary data coming from our surveys, social media monitoring, and qualitative or observational techniques.
"Game Changers" — our tagline — summarizes our ambition to help our 5,000 clients to navigate more easily our deeply changing world.