Will Americans See the Impact of the Coronavirus As a Random Act of God or Government Ineffectiveness?

As the world confronts the ongoing spread of the coronavirus, it is clear we have come face to face with a global health crisis of the likes not seen in decades. Just a few weeks ago, the coronavirus was localized in China with a few random cases in other countries. It has since spread to 97 countries, resulting in over 101,000 confirmed cases and more than 3,400 known deaths.
In the midst of all this, I have been particularly focused on the potential impact of the coronavirus on both public opinion and the eventual outcome of the 2020 presidential election. A few weeks ago, I wrote about the ways in which random events can have unforeseen geopolitical consequences and speculated about how the coronavirus might change President Trump's chances in the upcoming general election.
This, however, was before we found significant clusters on American soil. Now we have. As of Friday, there are more than 250 reported cases and 14 deaths in the United States. Washington State is now ground zero with 70 infected and 11 deaths. 
Going forward, the key question is:  will Americans chalk off the impact of the coronavirus as a random act of God or will they blame the Trump administration if the epidemic rapidly expands? We don't have an answer to this question at this moment. We are in uncharted territory. That said, there are a number of key metrics we can evaluate to understand how the coronavirus might impact public perception of the Trump administration, as I will explain below.
First and foremost, keep an eye on Trump's approval ratings
As we move forward, I will be closely watching Trump's approval rating. This is an all-important metric and a leading indicator of political success or failure, whether it be electoral, in pushing policy agendas, or mobilizing public opinion. 
Over the past year, Trump's approval rating hasn't budged despite all the political tumult and scandal enveloping him. Even the House of Representatives' decision to impeach him failed to make a dent. In other words, when it comes to Trump, American opinion is calcified. This has been a promising sign for his reelection chances, as it suggests that his base still resoundingly supports him.
What's at stake for the Trump administration in the era of the coronavirus?
Simply put, Trump's reelection chances could be altered by how the public perceives his administration's efforts to contain the coronavirus. While Trump was able to retain the support of his base by branding the impeachment trial as a political hoax or witch hunt, it likely won't be so easy to pass the buck when it comes to the coronavirus.
Still, Americans don't seem poised to blame the government for the current situation just yet. Initial Ipsos polling suggests that so far, Americans see the coronavirus as more of a random event than something that policy makers can control. Indeed, 64% of Americans believe that it is impossible to forecast how the virus is spreading, while only 34% believe the spread is the result of government ineffectiveness.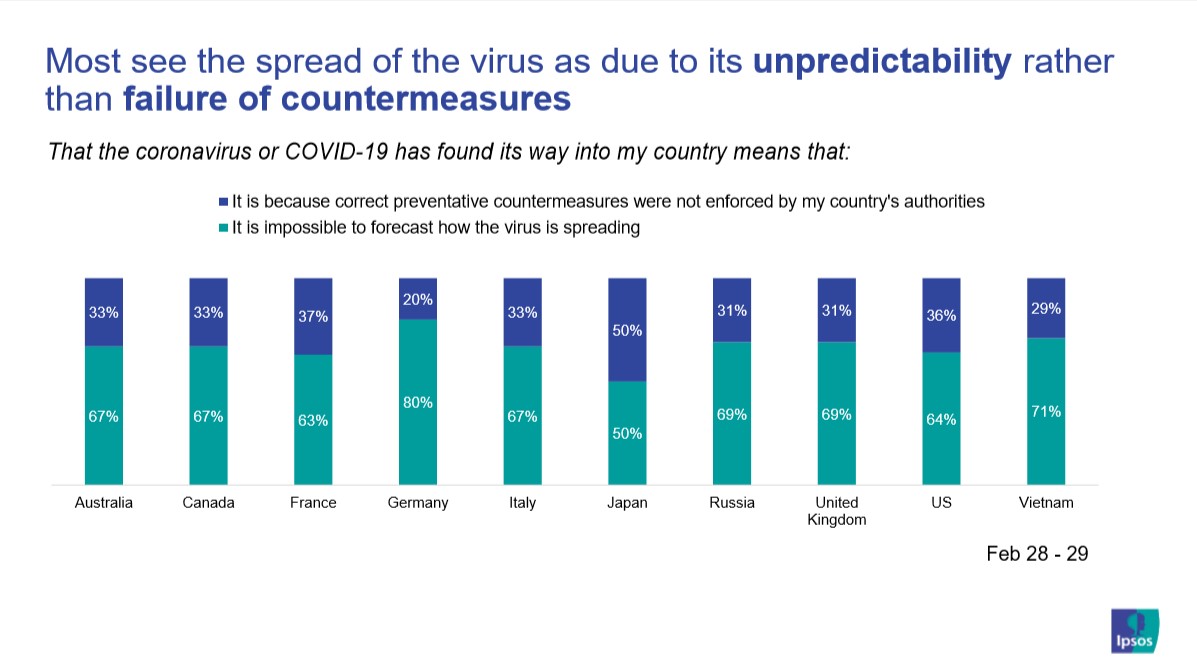 However, that is today. In a situation that is evolving as rapidly as the coronavirus outbreak, it doesn't necessarily mean that the Trump administration is off the hook for good.  American public opinion might look very different if substantial numbers of people must work from home, schools are closed, and people proximate to them lose their jobs.
Another key point from our recent Ipsos polling: Americans believe that the responsibility to contain the spread of the coronavirus rests primarily on the shoulders of the United States government and national health organizations. That means there is the expectation that these two entities will take steps to effectively contain the coronavirus and mitigate potential public health disasters.
Global healthcare systems are particularly vulnerable. In China, an estimated 3,300 healthcare workers got sick, equating to approximately 4% of the infected population. Public opinion might shift if Americans face long lines or are unable to receive adequate care.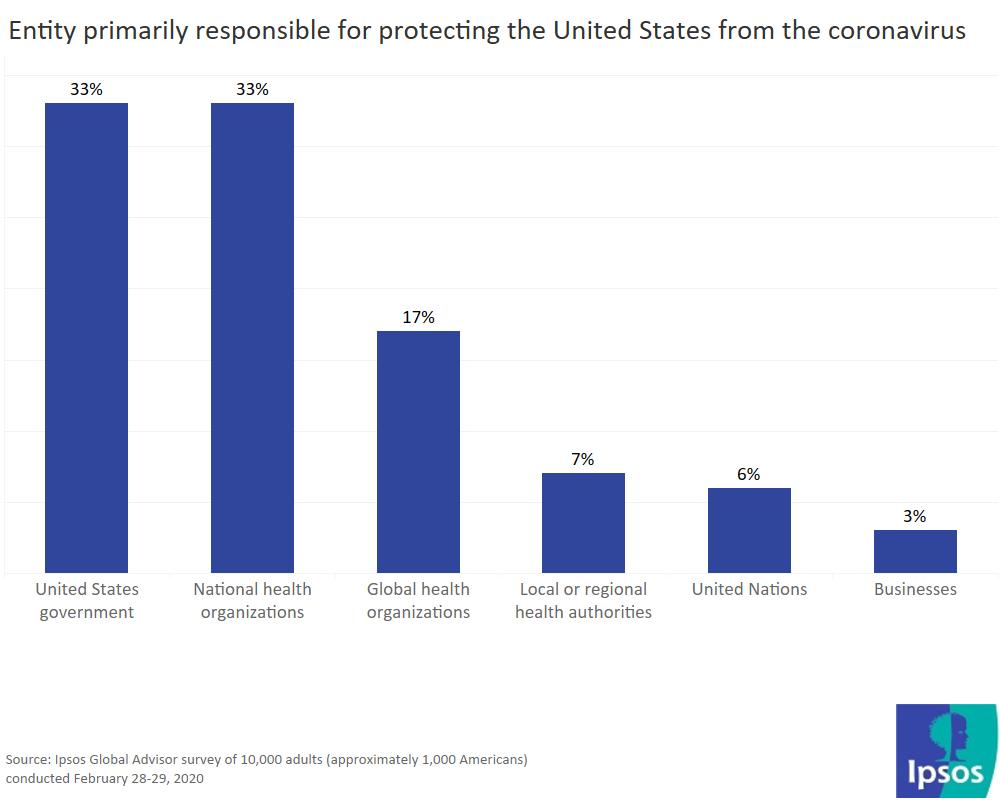 Economic impact
We cannot forget the economy in all of this. Trump has been resting the case for the success of his administration on the strength of the stock market and low unemployment numbers.
The coronavirus changed those previously rosy numbers. Ever since the coronavirus reached Italy and the United States, the markets have been highly volatile, with global markets seeing the steepest decline since the Recession. The Federal Reserve has already cut interest rates and plans to make further cuts later this month in an effort to stave off a recession. 
Last month, Ipsos' Consolidated Economic Indicators reported a drop Chinese consumer confidence to its lowest level in the past three years. While consumer confidence globally and in the United States held steady, we may see a drop when the next set of numbers are available next week.
How disruptions to society tend to impact approval ratings and election outcomes
Though the coronavirus might be a public health crisis unprecedented in the modern era, it is not the only disaster to recently befall society. Other events, like terrorist attacks, natural disasters, and currency devaluations, can also have a lasting or destabilizing effect on society and public opinion.
Over the last week, I gorged on about 40 or so scientific and doctoral theses to investigate previous assessments of the impact of different kinds of events on political outcomes using empirical data. Generically, I am calling this knowledge base the "act of God literature" – looking at the effect of highly disruptive events on public opinion and other political outcomes.
So, what did we find? Well, the short answer is that major events can affect public opinion significantly –  though it is crucial to keep in mind that specific events can prove to be the exception to the rule – ranging anywhere from a net positive to net negative effect on the approval ratings of elected officials and boosting election vote shares or voting intention.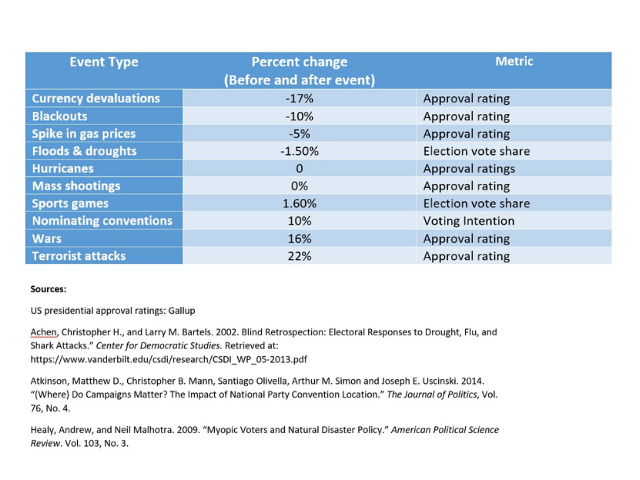 Non mea culpa: net-neutral
As seen in the table above, hurricanes and mass shootings have a net neutral effect on approval ratings. Why? Americans see these events as apolitical and part of the random vagaries of life. Thus, they don't blame government authorities for such uncontrollable and unpredictable happenings. 
One notable outlier is Hurricane Katrina, as Neil Malhotra and Alexander Kuo wrote in the January 2008 edition of The Journal of Politics.  It is well known that the Bush administration took a beating for its lackadaisical response to one of the worst natural disasters in modern U.S. history. During Katrina and its aftermath, the Bush administration came away looking negligent for failing to respond quickly and allowing Bush to remain on vacation while Katrina inundated New Orleans.
Public frustration: net-negative
Public opinion drops most when there is a hit to the economy. Indeed, events like currency devaluations, blackouts, and gas price spikes all have significant impacts on approval ratings. Why? The public believes that economic outcomes are squarely in the control of policy makers.  Put differently, if the economy goes south, governments take the fall.
Floods and droughts also have a slight negative impact. Generally natural disasters are primarily felt at the local level – and depending on the situation can be construed as a randomly occurring event.
Bringing people together: net-positive
Sometimes tragedies can spur people to forget about their differences. Take, for instance, wars and terrorist attacks. Both rally public opinion around the flag and president. The most dramatic example of this was the leap in George W. Bush's approval rating immediately before and after the events of September 11, 2001.
From a political perspective, terrorist attacks and conflict can be a "net positive" at least in terms of how the commander-in-chief is seen.  It doesn't always have to be a national tragedy either. Sometimes even the success of a local sports team can positively affect incumbents' chances. In those cases, it comes down to a "feel good" effect.
Concluding Remarks
So, what does this all mean for the United States in the era of the coronavirus?
First and foremost, whether the coronavirus will have an effect Trump's approval rating will ultimately come down to its severity and to what extent it affects everyday life in America. If the United States enters a period of quarantine, the effect might be even more significant than if there were a profound economic impact. But, more importantly, it will depend on whether Americans ultimately believe that the virus is a random act of God, or if they decide that it could have been mitigated by government officials. 
The Spanish influenza pandemic offers historic precedent for a possible "random act of God" reaction from the public to today's coronavirus. As Christopher Achen and Larry Bartels wrote in a paper called "Blind Retrospection – Electoral Responses to Drought, Flu and Shark Attacks," there was no electoral backlash to the incumbent government after the Spanish flu claimed the lives of half a million people in the United States alone.
This non-reaction from an electoral perspective likely comes down to multiple factors no longer present in contemporary society: the non-existence of social media and global communications in the early 20th century and an ongoing war with media censorship in place.
Second, I don't think it reasonable to believe that the coronavirus will serve as a catalyst to bring American together as a war or massive terrorist attacks would.  Much of the effort to contain the virus will occur at the local level, and that process will be slow without a clear start and end date. 
Third, there is the possibility that the coronavirus might have a net- neutral effect, as in the event of a mass shooting or hurricane.  Here the perceived reaction to the government will be key to avoid an apathetic response, as per Katrina. This, in my mind, is the probably the best outcome the Trump administration can hope for at the point.
Fourth, coronavirus could have a net negative impact on political outcomes if it begins to impact consumer and decision maker confidence. This possibility is beginning to seem more likely the longer the virus spreads, though we are not at the brink of anything so severe as, say, a currency devaluation.
In sum, given where the situation stands now, the coronavirus will at best have a net-neutral effect on Trump and his approval ratings.  Worst case, it will have a net negative impact on Trump's numbers.  
Of course, this will also come down to how long the crisis drags on for and whether it will linger on into late summer and fall. The question is how proximate it will be to the general election. Even a five point decline in approval can take Trump from a strong favorite to not.
For more information, please contact:
Clifford Young
President, U.S.
Public Affairs
+1 202 420-2016
[email protected]
For more information on COVID-19 please click here​​​​​​​
About Ipsos
Ipsos is now the third largest market research company in the world, present in 90 markets and employing more than 18,000 people.
Our research professionals, analysts and scientists have built unique multi-specialist capabilities that provide powerful insights into the actions, opinions and motivations of citizens, consumers, patients, customers or employees. Our 75 business solutions are based on primary data coming from our surveys, social media monitoring, and qualitative or observational techniques.
"Game Changers" — our tagline — summarizes our ambition to help our 5,000 clients to navigate more easily our deeply changing world.
Founded in France in 1975, Ipsos is listed on the Euronext Paris since July 1st, 1999. The company is part of the SBF 120 and the Mid-60 index and is eligible for the Deferred Settlement Service (SRD).
ISIN code FR0000073298, Reuters ISOS.PA, Bloomberg IPS:FP