Don't underestimate Gen Z's strong emotional ties to streaming
Read more about the emotional factors that drive Gen Z subscriptions of video-on-demand streaming services.
KEY TAKEAWAYS:
Half of Ipsos Online Community members, regardless of generation, rank streaming video-on-demand as their #1 preferred medium.
Gen Z prefers an equal mix of professionally produced and influencer-created content, including content found on social media and video game streams.
Gen Z subscriptions are driven by emotional factors and the influence of their social connections.
Streaming video-on-demand continues to dominate the U.S. media landscape in both usage and brand awareness. Recent Ipsos TV Dailies research finds that 54% of U.S. households and 49% of Gen Z subscribed to Netflix as of July 2023. Furthermore, "digital video content (download/streaming)" ranked highest in Statista's Most Used Media Services survey with 88% of U.S. respondents selecting this as a service they used as of March 2023.
When it comes to generational differences, the latest research from our Ipsos U.S. Syndicated Community points to similarities in overall media and streaming consumption among the different cohorts (Gen Z, Millennials, Gen X, and Boomers). For Gen Z, however, our research finds a more emotional side to decision-making, especially for social influences and other drivers that transcend functional needs.
Gen Z Wants It All, And Then Some
Like other generations—including their closest cohort, Millennials—Gen Z ranks long-form media (such as streaming video-on-demand and live television) as their most preferred mediums. Where they pull away from the broader norm is their preference for non-traditional mediums—video game streams (e.g., Twitch) and influencer-created content.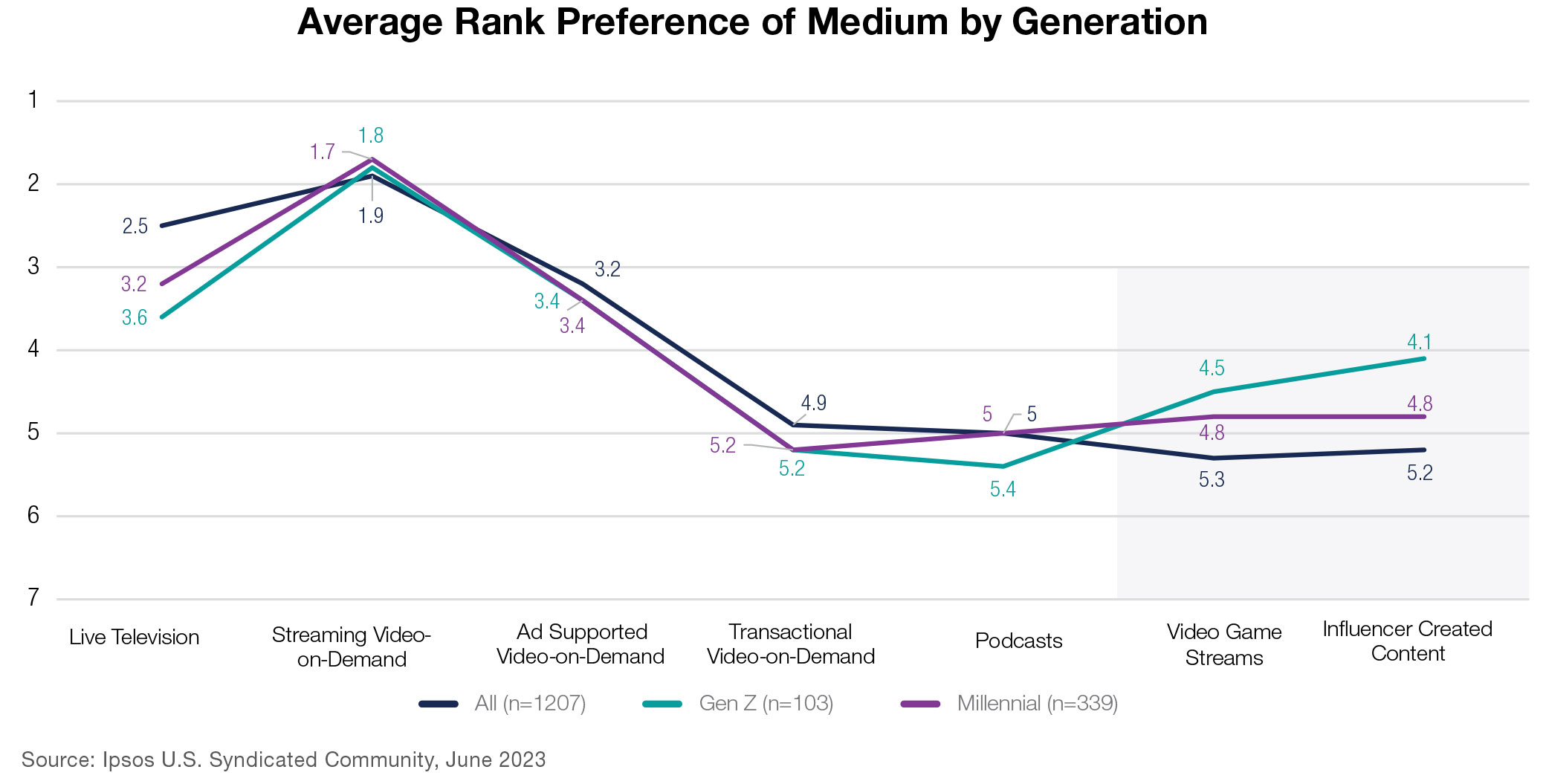 When asked to describe what they would do with an extra hour in their day, most Gen Z community members said they would typically fire up their favorite streaming service and binge their current show. However, a third of Gen Z would rather scroll though social media or watch their favorite short-form content (e.g., YouTube or TikTok). Additionally, when asked about what source of media they prefer, Gen Z is most likely to want an equal mix of professionally produced and creator-or-influencer-created content. Many of these preferences are driven by the diversity of content or social connections afforded by these mediums, either on their own or in combination with one another.
"If I only had an hour, I would watch YouTube because I can connect with people that are interested in the same things I am. Depending on my mood I can watch something funny, or anime, or skateboards."
—Ipsos Gen Z Community Member
"I would probably use a streaming service like Netflix, or quick content like TikTok. On TikTok I am able to send my friends videos or watch the videos they've sent me. On Netflix or another streaming device, I can just sit back and relax while I watch a movie or TV show."
—Ipsos Gen Z Community Member
Emotional Connections Drive Subscription Choices for Younger Consumers
Gen Z has the most in common with Millennials around the sheer volume and breadth of media they consume. On average, Gen Z and Millennials have six different media subscriptions, reaffirming that for younger consumers, it's not an "either/or" choice for long-form streaming subscriptions but an "in-addition-to."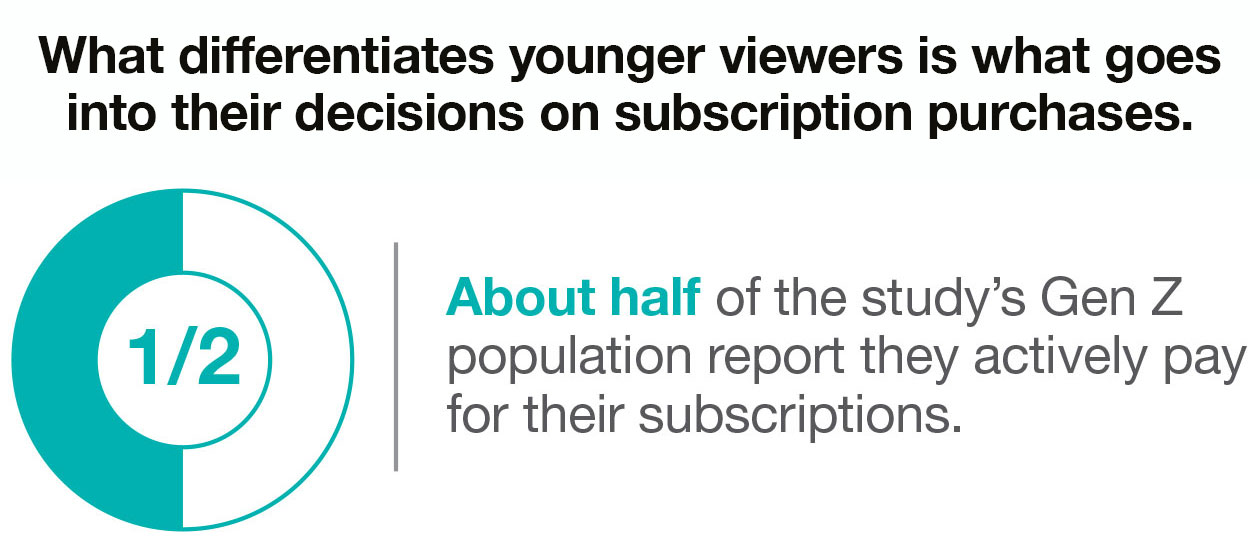 While exclusive content is king among all generations, Millennials want more bang for their buck, and tend to include functional factors (such as bundles and promotions) as well as life-stage considerations (such as kid-friendly content) in their decision-making process. On the other hand, Gen Z wants convenience. Both Gen Z and Millennial subscription purchases are driven more by the influence of their human connections (e.g., recommendations and social trends) compared to overall respondents.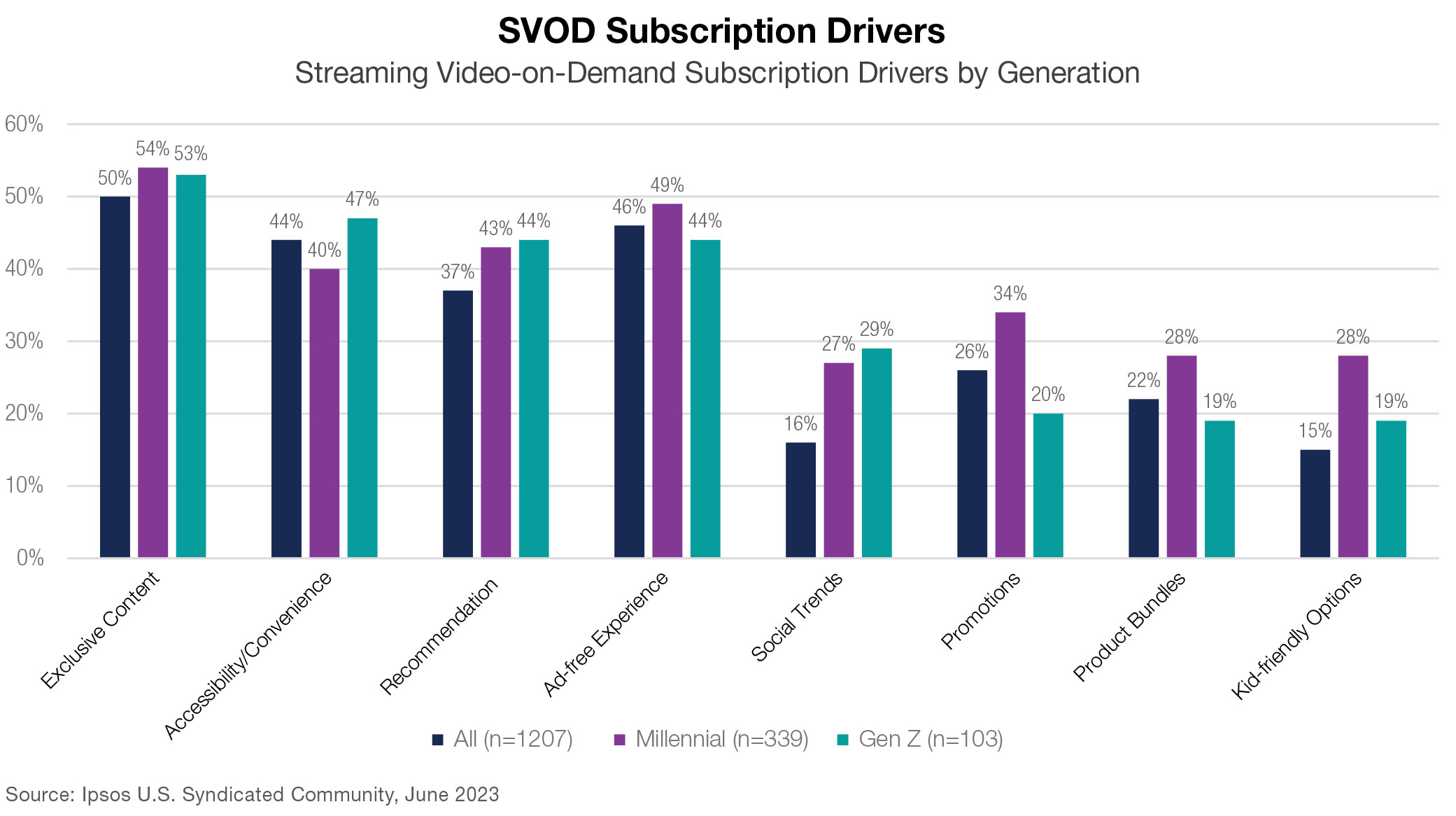 But do these emotional connections translate into why and how Gen Z and Millennials consume media? In short, yes. 
When asked to describe what they would do with an extra hour in their day, many respondents simply listed the media they would consume. However, just over half (58%) of community members also included information not only on what they would do but why — in other words, their purpose for consumption.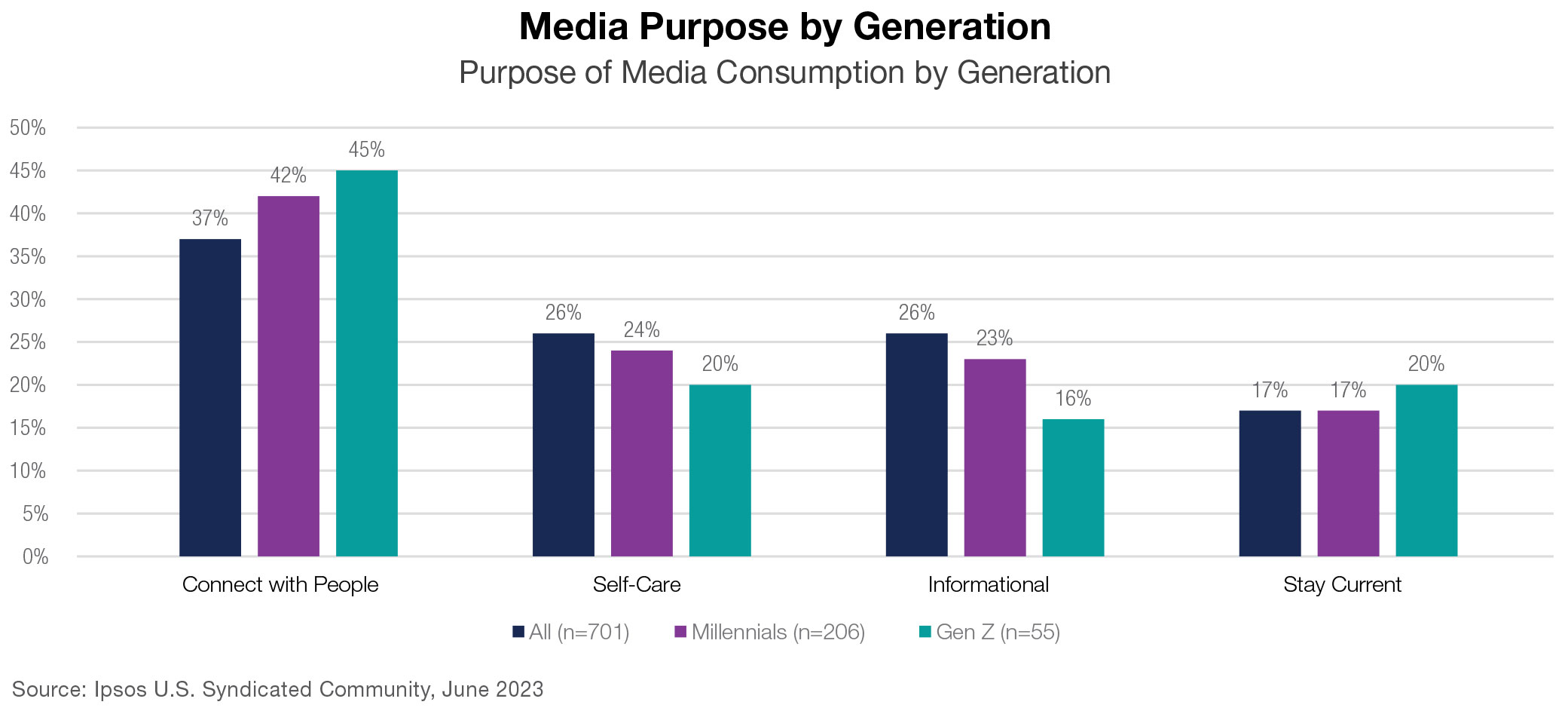 Overall, members of Gen Z are driven by a need to stay current with their favorite show or influencer. Above all, they want to stay connected with their proverbial "tribe" — family, friends or those who share their interests.
"I would choose YouTube Premium again since I love music and can watch videos and it's easy to use and has a lot of good songs and videos. I always watch shows and movies with my mom. We always listen to music together. We are best friends."
—Ipsos Gen Z Community Member
"I would watch a new show or movie on Netflix or a basketball or football game because I love to watch sports and I watch all the new shows that people are talking about. I guess I have FOMO."
—Ipsos Gen Z Community Member.
What's Next
Long-form streaming is just as important to Gen Z as any other generation. These digital natives are used to and prefer a wide spectrum of entertainment at their fingertips, which includes long-form streaming in many of its incarnations in addition to non-traditional mediums. 
Tap into human connections when marketing to Gen Z. While there is a certain element of truth that the consumption of media alone can be an act of self-care, many of the choices and consumption behaviors in this study emphasize that Gen Z is driven by their tribe and the emotional connections created by sharing.
Provide Gen Z with relatable marketing from Creators. Gen Z does not draw lines between professionally created and influencer-created content. In the long run, it's all media to them.
Consider the impact of life stage on Gen Z. Though Gen Z is still relatively young, part of the cohort is already in the swing of full-time jobs and establishing roots. Married Gen Z members tend to reflect similar tendencies as married Millennials and are more likely to emphasize that media consumption is about human connections and self-care.
"If I could choose how to spend my extra hour, I would spend it with either my child or husband to watch Netflix or Disney together. We are big Marvel fans, and my daughter is into superheroes as well. It is a nice bonding experience that rarely happens due to schedules and not being able to relax. I like to sit on the couch and relax when it comes to watching media."
—Ipsos Gen Z Community Member.
About Ipsos
At Ipsos we are passionately curious about people, markets, brands, and society. We deliver information and analysis that makes our complex world easier and faster to navigate and inspires our clients to make smarter decisions. With a strong presence in 90 countries, Ipsos employs more than 18,000 people and conducts research programs in more than 100 countries. Founded in France in 1975, Ipsos is controlled and managed by research professionals.
Ipsos Online Communities
Want to understand a topic better? Ipsos Online Communities provide a collaborative, always-on environment for brands to connect with consumers and stakeholders through multidimensional, engagement-driven research designed to bring the whole human experience to the center of your business decisions. Be sure to also join us for our deep dive webinar on August 15.