Shoppers Are Planning to Go Off Script this Black Friday. Can Retailers Capitalize on That?
Many consumers are looking for steals in the moment to add to their game plan for Black Friday shopping.
Shoppers this holiday season are planning to not plan. And who can blame them? The best-laid plan often goes awry, especially when a sale is involved.
Most prospective shoppers (65%) say they already have a list in mind for this upcoming Black Friday, according to a new USA Today/Ipsos survey. Similar numbers also have a list ready for Cyber Monday (62%) and Small Business Saturday (53%). But even more are planning the unplanned: to go off script and let their impulse take them where it may. Notably, Cyber Monday is one of the few events where the share of shoppers who have a specific shopping list (62%) outpaces those who plan to shop spur of the moment (56%).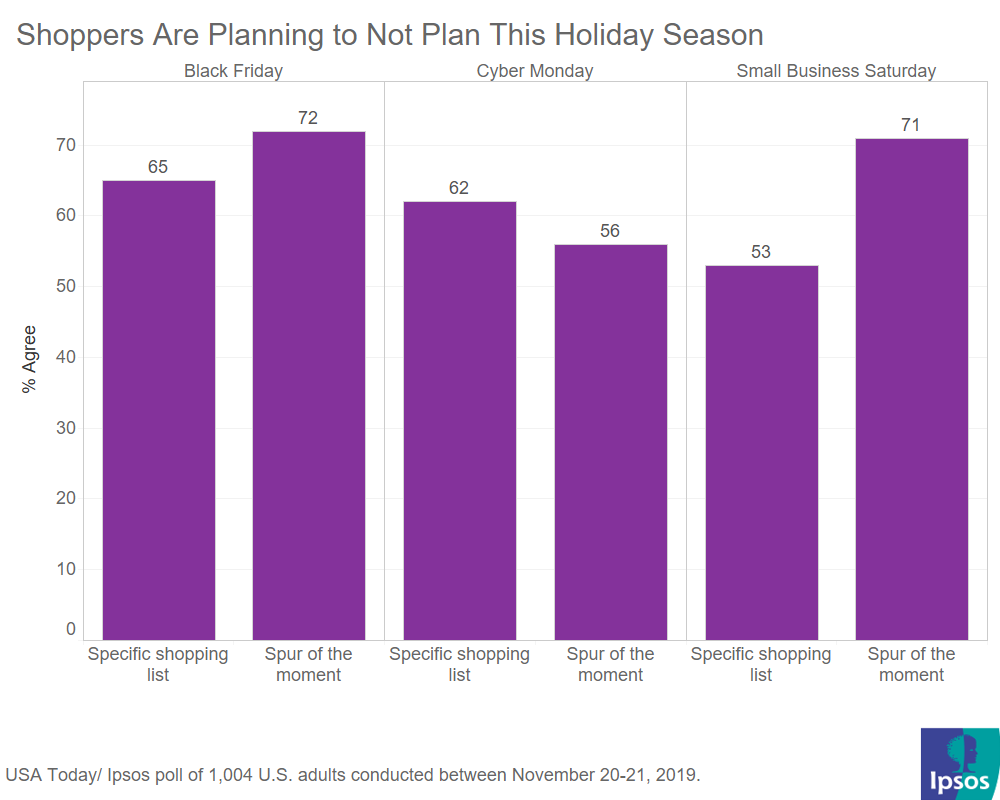 Sales events like Black Friday and the subsequent long weekend of shopping are designed to whip up consumers into a shopping frenzy and create the conditions where it is okay – even applauded – to shop impulsively. Studies have linked the feeling of shopping a sale to similar pleasure centers in the brain that light up when addicted to other substances, like drugs or alcohol.
In the heat of the moment, shoppers may experience the hunt to score a deal as if they would a game. Believing they are getting something extra from their discounted transaction, people often buy products on sale they otherwise wouldn't have purchased.
"The key to sales is that people think they're getting something," Robert Schindler, a professor of marketing at Rutgers School of Business who studies pricing and consumer behavior, told Vox.
Sales undeniably are a big draw. Ipsos found that 77% of people were going to exclusively buy from the sales section on Black Friday. These bargain hunters are inspired to enter this annual shopping event with the right price-tag.
From a retailer's perspective, sales events like Black Friday and others are more than just an opportunity to move merchandise. Black Friday, Small Business Saturday, and Cyber Monday are a prime time to make inroads into competitors' market shares and deepen their existing bonds with loyal customers. Shoppers are primed to spend already, and impulse buying sets the stage to shake up where consumers spend their money. Add in the time-crunch sales events create, and there is another variable that provides the opportunity for consumers to change shopping behavior.
The emotions swirling around the holidays provide yet another opportunity for retailers to win over new consumers and deepen bonds with people already familiar with their brand. While brands shouldn't be relying on the holiday season as the only time to refine their voice, the holidays are often a time of strong emotions, fostering a natural environment for effective advertising, emotional engagement, and immediate sales.
Black Friday and the rush of sales following in-quick succession can be a retailer's game to win or lose, just as much as it can be for consumers on the prowl for the next deal.