The Inside Track: Election 2020 March Briefing
Key highlights from March's Inside Track: Election 2020, a monthly webinar briefing from the Ipsos political polling team on data and trends shaping the 2020 election.
The Inside Track: Election 2020 presents monthly, in-depth analysis of the latest public opinion data on current trends and recent events influencing the political landscape. Read on below for highlights and key insights from this month's webinar.
---
What you need to know
Coronavirus is now a global pandemic, and Americans are souring on the government's response to the crisis.
Two in three Americans approved of how the government was handling coronavirus in the middle of February. Two weeks later, only half of Americans approve of the response.
President Trump maintains his stable approval marks, but as the economy reacts to COVID-19 that could be a sticking point for those numbers.
Perceptions of President Trump remain stable, a constant throughout his presidency. How he handles the coming days and weeks—and the economic ramifications of the developing crisis—could be a movable force for his historically unwavering numbers.
Current frontrunner in the Democratic primaries, Joe Biden, advances with most seeing him as electable.
Former vice president Joe Biden has made a comeback while Sanders ascent has plateaued. What was an open race, now looks more like a shut and closed case, but as the country and the world shift, so too could this space.
---
Deep Dive
Vital Statistics: Americans Start to Sour on Government Response
Americans are starting to take a closer look at how the government is reacting to the developing crisis. In just two weeks, American approval of the government's response to COVID-19 dipped 15-points. As local, state, and federal governments take more aggressive action, we will see if the public approves of these moves.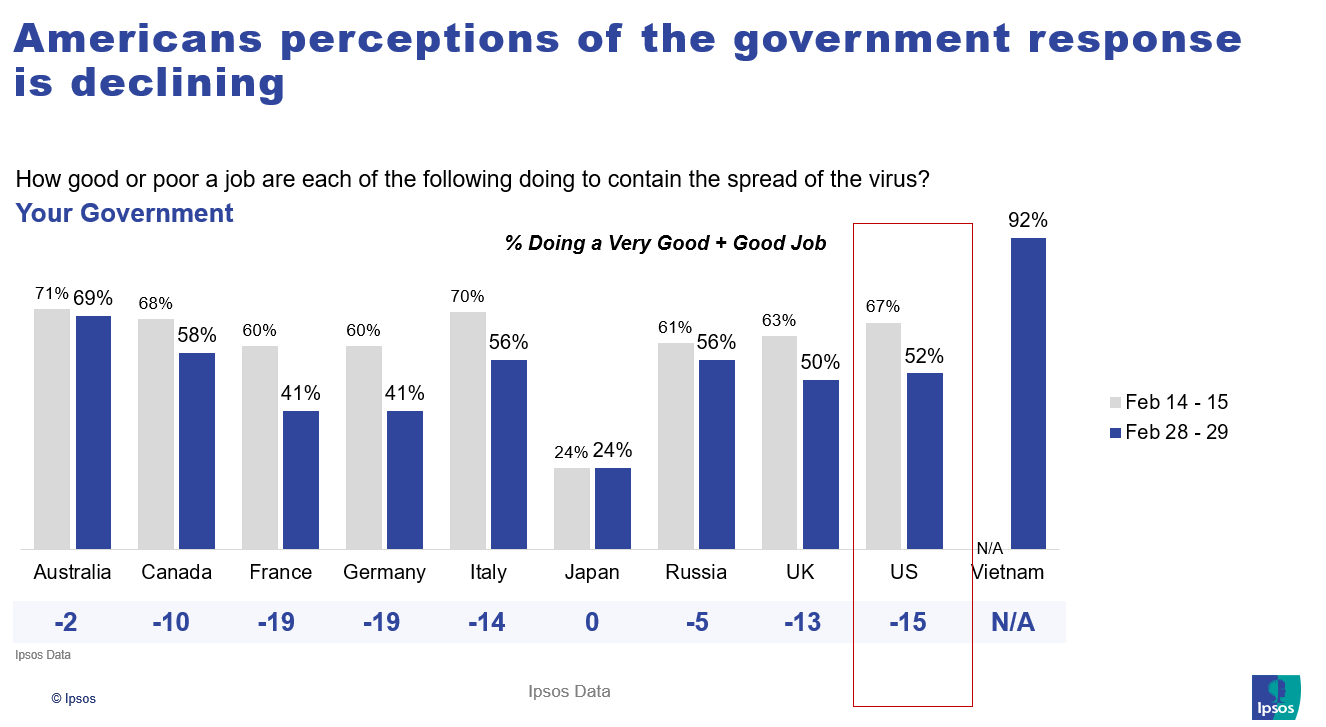 Perceptions of President Trump: Dark Clouds on the Horizon?
President Trump's approval ratings have held steady throughout his presidency, regardless of what is going on in the news. This still seems to be the case. Trump's coronavirus approval numbers mirror his overall approval ratings, indicating the partisan way people are responding to the news.
With many economic indicators flashing red, we will have to monitor this space as the state of play changes. A president's approval ratings are closely linked with the state of the economy, leaving some room for movement depending on how the coronavirus situation evolves and impacts the economy.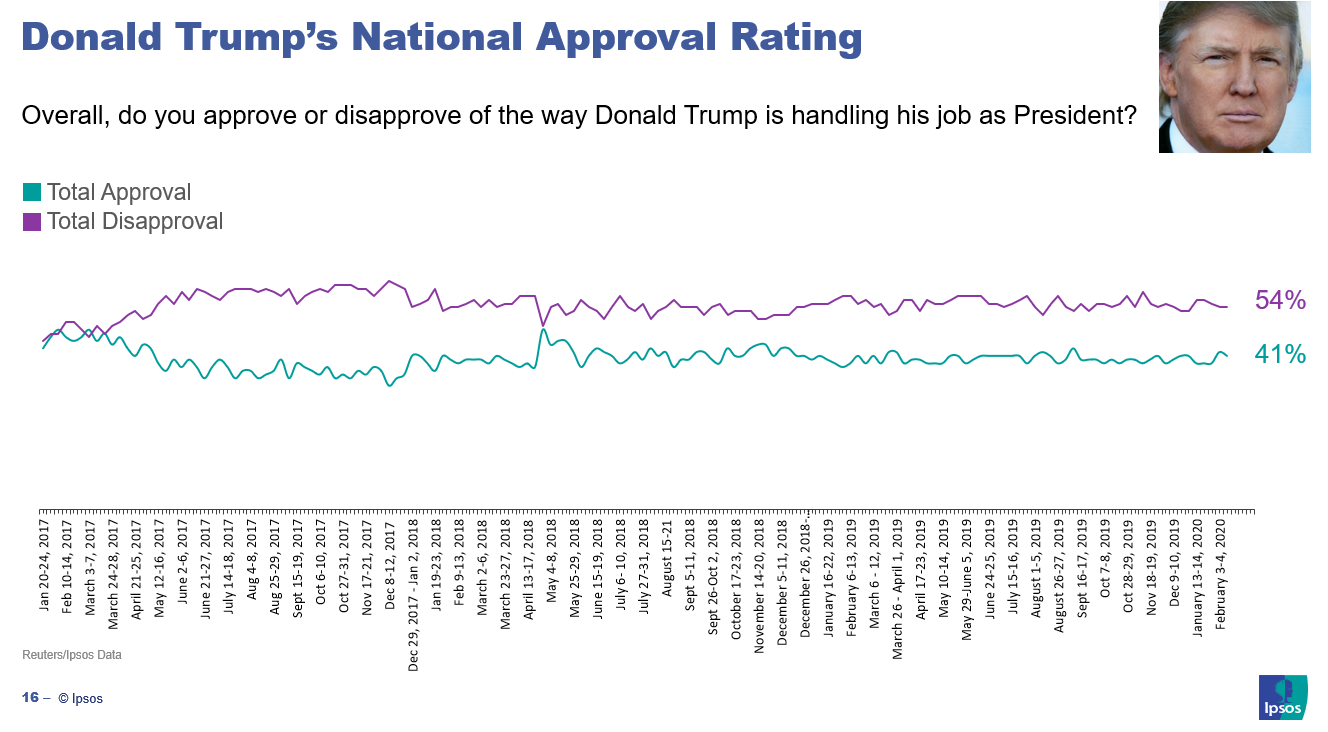 The Democratic Primary: Joe Takes the Lead, But Can He Keep It
In a matter of days, former Vice President Joe Biden has furthered his path to securing the Democratic nomination, with his growing delegate lead over Senator Bernie Sanders, the only competitive candidate left. Reuters/Ipsos public opinion polling shows that once other primary candidates cleared out, voters rallied behind Biden. Yet, the primaries, and the world, are proving to be volatile space in 2020.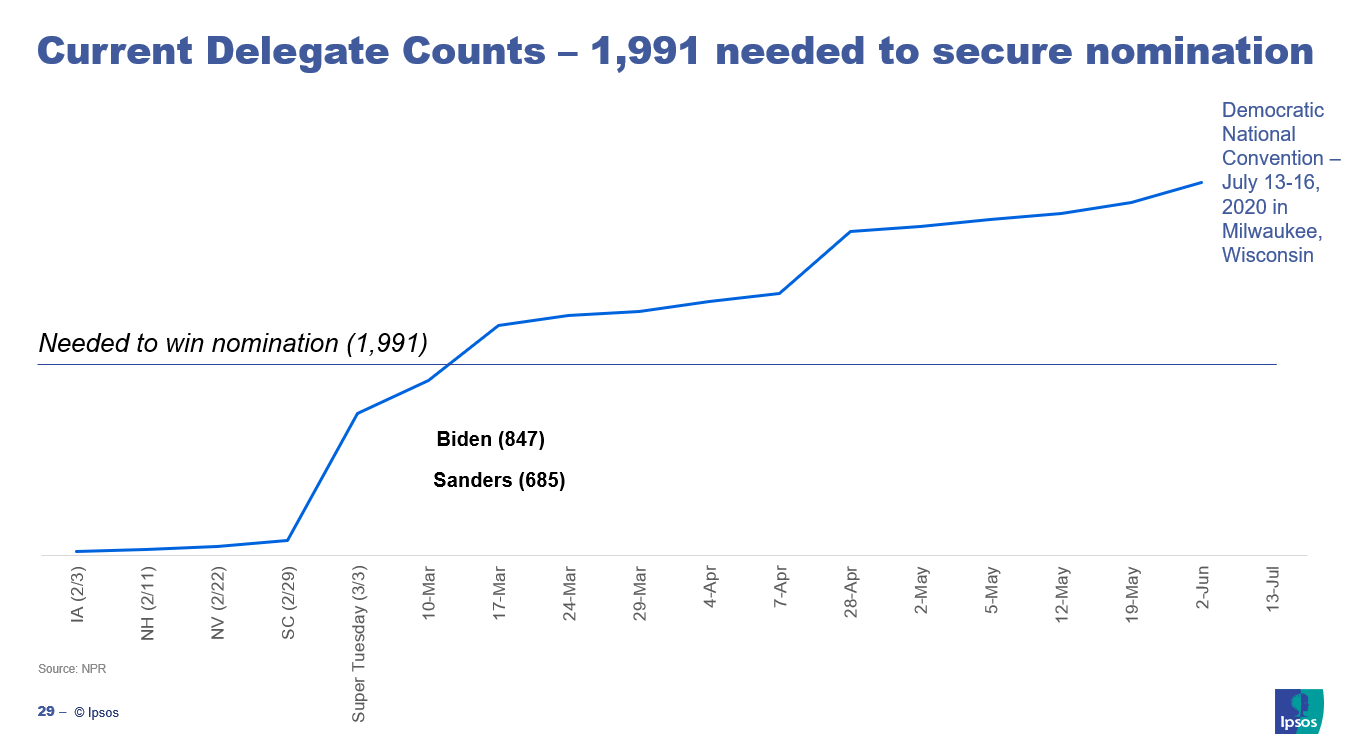 Electability Is a Fairweather Friend
Electability is top of mind this cycle, but who is the most electable (i.e. who can beat Presindet Trump) is a moving target.
Biden enjoyed high-marks on this question at the beginning of the primary. Over the course of many gaffes, scurtiny from the crowded field, Republican investigations of his son, and many middling debate performances, Biden lost nearly 15-points on this question between June and Januay.
Then the early states happened, where Biden, whose whole campaign centered around his electability, started losing. Another 20-points were shaved off those electability ratings for Biden in just two weeks, while Senator Bernie Sanders, who had strong perofmances across Iowa, New Hampshire, and Nevada grew his support slighly.
Biden's South Carolina firewall proved to be just that, where he secured a decisive win in the Palmetto state. Numerous dropouts and endorsements between the first-in-the-south primary and Super Tuesday gave Biden a boost, setting him up for a number of upset wins on the biggest day of the primaries. His electability numbers followed suit, nearly tripling in a matter of days.
While news is looking good for the former vice president, what is easily won can be lost just as quickly, a reality that the Biden campaign knows all too well.