As small businesses go digital to survive coronavirus, financial services players innovate
While the business climate shows improvement, small business owners are girding their operations for another potential coronavirus surge.
While the business climate shows improvement, small business owners are girding their operations for another potential coronavirus surge. At the same time, shoppers--who feel most responsible for supporting small businesses--have rapidly adopted financial apps, ecommerce and delivery. Now many owners and operators are investing in digital to navigate through an uncertain near future. This accelerated migration to digital signals new opportunities for merchants' financial services providers, according to Ipsos research and insights.
Entrepreneurs say they're somewhat more hopeful about their future than they were in May, according to the mid-July MetLife/U.S. Chamber of Commerce Small Business Coronavirus Impact poll, conducted by Ipsos. Among respondents, 53% say they expect next year's revenues to increase
But COVID-19 spikes around the U.S. and how that will affect business looms in the minds of owner-operators. Since the pandemic began, around 80% of small business owners have remained concerned about the impact. Yet, more than half believe they can only last another year or less. Just one-third feel they can hold on indefinitely. What can be done to help these small businesses?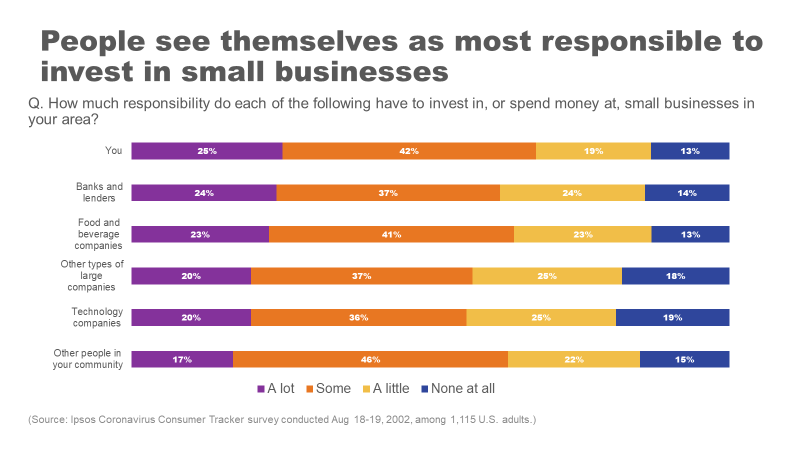 For starters, they can follow shoppers to digital. Most Americans feel personally responsible to support local small businesses, according to a recent Ipsos Coronavirus Consumer Tracker survey. More than two thirds (67%) of people surveyed see themselves as most responsible for supporting small businesses in their area. Another 61% say banks and lenders are responsible to invest in small businesses, while a bit more than half (56%) put the onus on tech companies to invest in or spend at small businesses.
That's why it's not surprising that small businesses are investing in tech companies to stay afloat through the outbreak. For businesses still open, the most common move to prepare for a second wave of COVID-19 was purchasing additional supplies or products to prevent shortages (32%). But that was closely followed by updating their web site or social media profiles (29%). Then, one in four say they increased ecommerce or digital payment options (25%). Moreover, it's the largest small businesses with 20 or more employees that are really driving the increase in ecommerce. More than one in three say they've updated their website or social profile.
As these businesses flock to digital options, fintech players are best positioned to drive the transition, potentially disrupting traditional financial services players. These platforms enable merchants to have tech-enabled customer experiences like contactless payments and online payments like QR codes to scan menu options and then pay through the app. They can also support delivery, which may not have been feasible in the past but now is essential during lockdowns.
Companies like Square also have enabled comprehensive digital tools for payments, financial management, and payroll. They recently added emergency business loans through the federal government's Paycheck Protection Program. This allows businesses to delay payments and process them through PayPal to bridge payments, manage cash flow and cut costs.
Similarly, PayPal will give merchants working capital and make loan paybacks based on their payment volume. Similarly, products like CashApp can allow gig workers to be paid daily or have stimulus check payments be sent directly to the app.
For small businesses, going digital is providing a powerful safety net to keep operating through the virus. Financial services brands that enable their transition can be essential partners now and in the future.