How are the futures of fantasy sports and betting linked?
Fantasy sports have been around for ages in various formats and are entering a new era in the advent of legalized sports betting.
Fantasy sports have been around for ages in various formats and are entering a new era in the advent of legalized sports betting.
For decades, in sports simulation board games like Strat-O-Matic, leagues of friends would compete for pools of money, trophies and sometimes even just bragging rights. Then the internet (and especially Yahoo) ushered in fantasy leagues where people competed with their office or college buddies, plus people they knew only online.
More recently, online sportsbooks like FanDuel and DraftKings have rapidly built audiences used to wagering real money on their fantasy leagues.
Statista estimates that fantasy sports services are already an $8 billion industry in the U.S. As sports betting gains its audience with increased legalization, there's very little philosophical distance between "I want that player on my fantasy team" and "I want to bet on that player's performance."
Further, these betting-based leagues offer something "traditional" leagues don't: real-time winning. As Detroit Lions fans know, you often only need to get a couple of games into the season before you know you're not going to finish in the playoffs. Being able to "win" or "lose" each week, each game or even each play or possession will make fantasy betting a much more entertaining, engaging, and compelling offer. Ipsos data shows that online sports betting is already nearly as popular as either playing in fantasy leagues with friends, or with others online.
Imagine, as the experts interviewed in this issue clearly have, what the potential is if betting becomes legal in all 50 states. Currently, betting is governed at the state level. Many states don't allow sports betting at all. A growing number do, but it's tightly regulated.
Another emerging trend is cryptocurrency-based "fan tokens," which live in the intersection of fandom and investment. These tokens allow fans to have a stake in decisions made by their favorite teams—think of it like an evolved version of a fan club but with gamification and investment potential built in as the value of tokens can grow over time.
Together, these platforms offer new, exciting and evolving ways for fans to engage with their favorite sports, their friends and, increasingly, their bank accounts.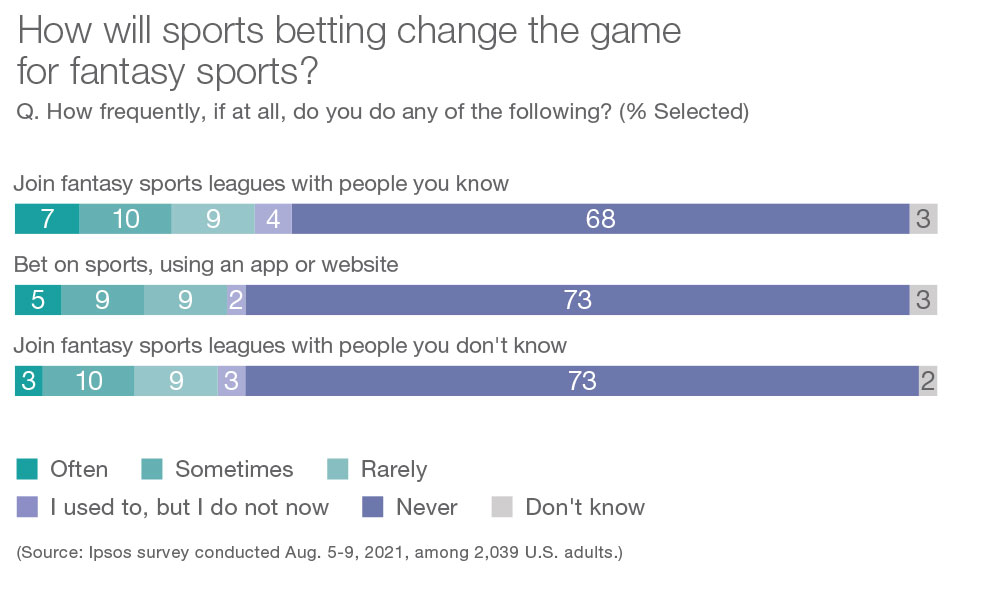 This article was originally published in What the Future Sports, a research magazine by Ipsos exploring the changing roles that the worlds of collecting, engaging with brands and betting will play in how we engage with the teams and players we love. Download the magazine here.