Affluent African American Consumers in Context: Traveling While Black
Ipsos dips further into its Affluent segment travel behavior data to provide a detailed perspective on experiences of Affluent African Americans.
Behavior and attitudes are shaped by both direct personal and historical experience. This is especially true when we look at the travel behavior and attitudes of African Americans. Historically, travel away from home could pose a serious threat to their well-being. Today African Americans still face interactions that are both demeaning and dismissive when they travel. These experiences have created a distinct set of behaviors and attitudes that define "traveling while black".
The piece that follows provides researchers and marketers with the "why" behind the "what" of African American travel, with a particular focus on an active and financially robust subgroup: affluent African Americans.
Affluents, as defined by Ipsos Affluent Survey USA, comprise the top 20 percent of Americans based on household income.  That translates into a household income of $125,000 or more per year, and among African Americans that translates into spending of over 24 billion dollars in the past year on travel alone. (1)
In terms of travel attitudes, affluent African Americans over-index against their non-African American counterparts when presented with the statement "I prefer organized group tours rather than traveling independently". They also over-index when presented with the statement "All-inclusive travel packages are the best way to travel". In short, affluent African Americans desire an insulated travel experience. Why?  Let's take a trip to the history behind this mindset.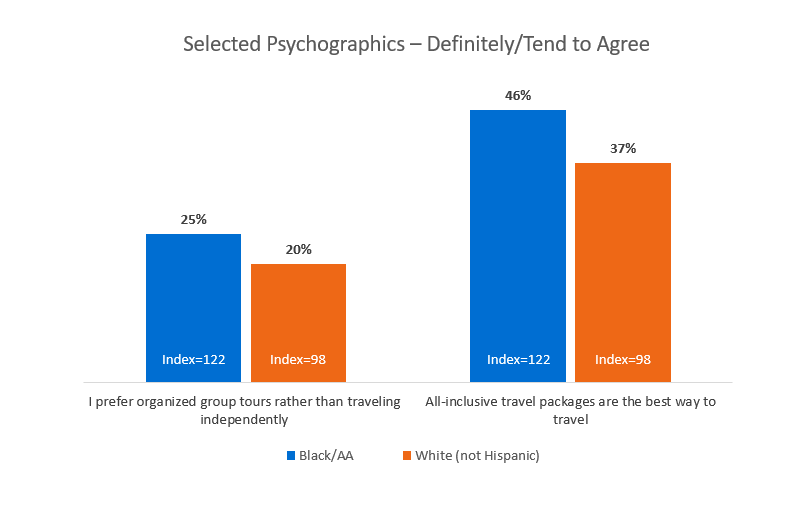 Travel planning for African Americans, through most of the 20th century, like most activities, was dominated by Jim Crow.  The legal underpinnings for Jim Crow laws, which institutionalized segregation in public accommodations, are found in the United States Supreme Court decision of 1896: Plessy v. Ferguson. In that case, affluent vacation African American travelers from New Orleans attempted to overrule state segregation laws that restricted their train travel to resorts on the Gulf Coast. (2) That decision codified "separate but equal" into law, restricting African Americans to facilities and institutions that were never equal, but were created to be a constant reminder of white superiority. As a result of Jim Crow laws and practices throughout the United States, the African American traveler had to conduct much research prior to any trip that involved leaving what was familiar. Where could the African American traveler eat, buy gas, or find a place to sleep in safety?  Word of mouth could provide some answers to these questions, but how about getting information about accommodations outside of one's network? From the mid-nineteenth century on, much support came from private clubs and for a good part of the 20th century from a printed version of word of mouth: "The Negro Motorist Green Book".
The roots of these social clubs are traced to the black burial societies that were established shortly after the Civil War.  Burial societies provided insurance to cover funeral costs and soon became social as well. (3) A crucial transition in the function of many clubs occurred with the advent of integration, the rise of Black affluence and the wider social options available to African Americans. New social clubs emerged that were mostly centered on activities that have few Black participants. (4)  Clubs dedicated to Black skiers, Black scuba divers and other activities came to the fore. As one ski club member put it. "… you would feel a little strange going into an all-white sport with no friends and no encouragement." (5) A scuba diver added, "We always have the additional stories of the staring. There's always going to be the staring." (6) The influence of the Black social club structure goes beyond clubs dedicated to travel alone.  Activities with traditionally low African American participation all seem to have their clubs. The club structure, whether it be a club dedicated to Black bourbon drinkers or something else, has implications for travel.
The endemic and non-endemic influence of social clubs especially impacts group travel. A New York Times piece from 2014 further emphasizes this interconnection, 
"Group travel is twice as popular among African Americans than whites, according to Charlie Presley, the founder of the African-American Travel Conference, perhaps pointing to a sense of security in numbers as well as the proliferation of black interest clubs and professional groups." (7)
The Ipsos Affluent Study also finds that stays in five-star accommodations, also over-indexes for affluent African Americans (AAAs).  First class travel also is more prevalent among AAAs. This aligns with the attitudinal statements relating to customer service outlined in "Shopping While Black", with AAAs expecting personalized and superior service when they shop more than do their White counterparts.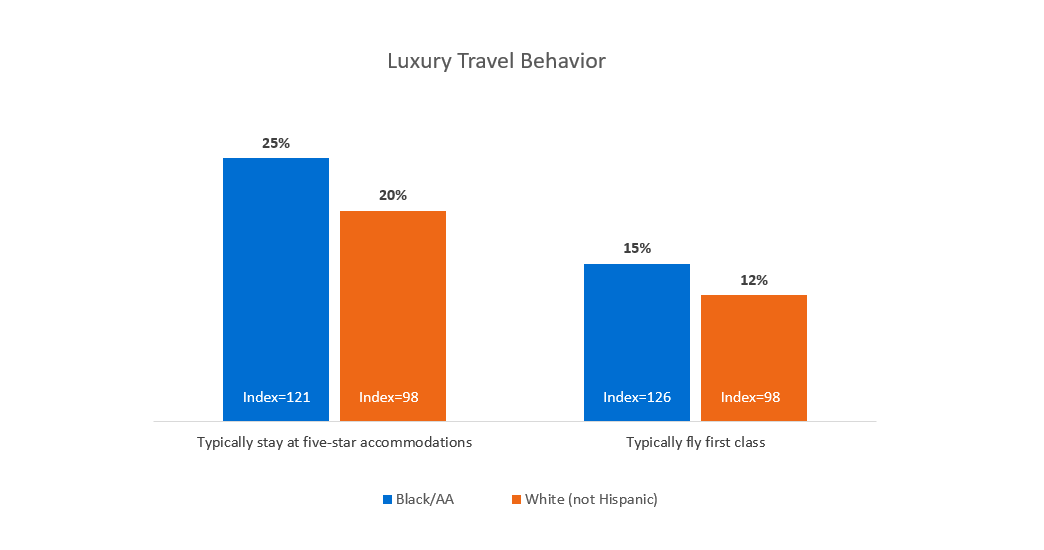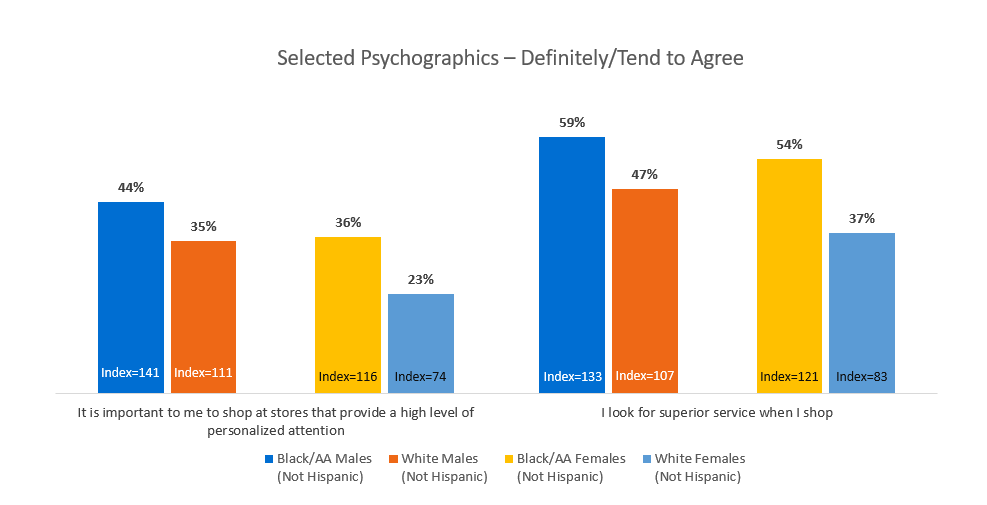 Yet, this consumer need for first-class, superior service while traveling among AAAs isn't without challenge and limitations, due to intrinsic bias. The direct experience of some recent African American travelers exposes some of the limitations that come with this approach. As outlined in our previous piece on clothing and presentation, African Americans still negotiate primarily white spaces with limited credibility. (8) 
Peter J. Bates, in his August 2020 Strategic Vision report highlights continuing issues of bias faced by affluent African American travelers.  His contributors note the apparent disconnect for those providing service between being Black and being affluent.  As an example, "People of color sometimes might be standing in line to board first class and the gate agent comes up to say, 'You realize this is for first class, right?' The assumption is that because you are Black you can't afford a first-class ticket" (9) Another recalls similar treatment in luxury hotels, "For me, it's the microaggressions that bother me the most.  Staff may not even realize they do it: They see me coming in, I ask a question, but then someone white comes along, and suddenly they don't have time to deal with me. It just makes me feel dismissed, as though I'm not really wanted – even when I'm spending tons of money at a luxury resort." (10)
Cruise line vacations encompass both the group and all-inclusive aspects of travel, and as a result, are well suited to affluent African Americans. Affluent African Americans over-index for cruising, both in terms of "plan-tos" for the next six months and in 'typically stay".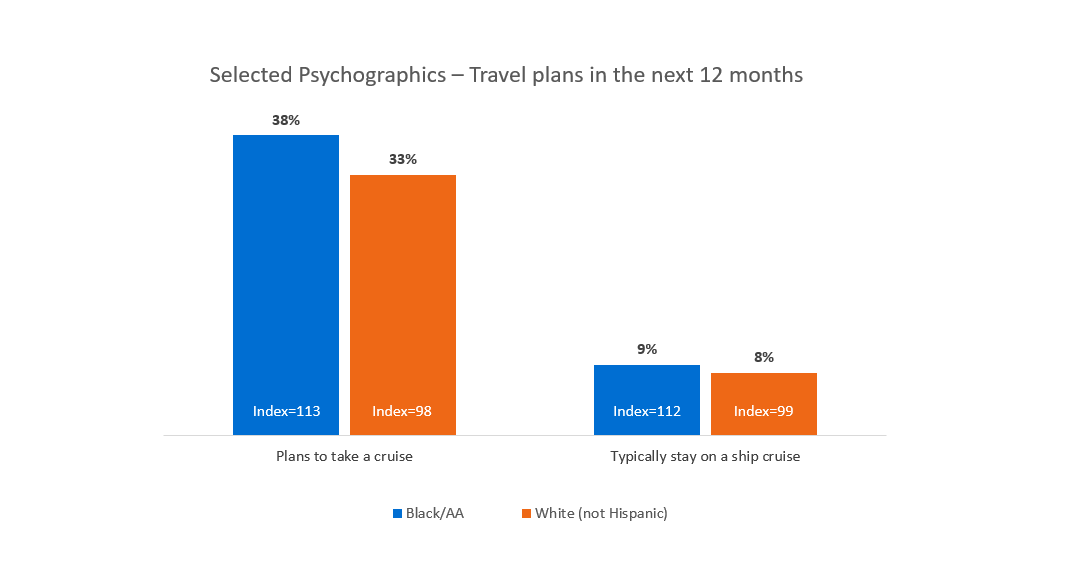 A 2019 article from Cruise Critic notes the tendency among African Americans to be repeat cruisers. (11) Within the cruise ecosystem, and closely aligned with group travel is the "Black cruise". The appeal is, "You'll find all of the things people love about traditional cruising on an African-American cruise, but the difference is that American black vernacular and culture aren't limited to side chatter.  On a Black cruise they take center stage." (12) As with the online travel networks, Black cruises are arranged outside of the traditional funnel.  They are not sponsored by the cruise lines. Instead, they are cruise charters either taking over a whole ship or groups on regular sailings. (13)
All of the behaviors and attitudinal preferences listed above suggest a desire for a more controlled travel environment. Affluent African Americans use the ability to pay, and more importantly, group travel as insulators to help ensure a positive travel experience.
An added layer of protection in affluent African American travel decisions, on top of group travel and ability to pay, is word of mouth and its more institutionalized successors in print and in social media.  A prime example of the transition of word of mouth into print is "The Negro Motorist Green Book".  "The Green Book", as it was commonly known, was created by Victor Hugo Green, a New York City mail carrier who used a national network of influencers: Black mail carriers, to provide crucial information for the African American traveler.  It was published from 1936 through 1966, and through an arrangement with the Standard Oil Company, was sold at ESSO stations throughout the country. (14) The Green Book catalogued hotels, restaurants, and other public accommodations, and so much more by state and the towns within them in alphabetical order. It also included advertisements and articles on points of interest.  The introduction to the 1949 edition stated its mission:
"…it has been our idea to give the Negro traveler information that will keep him from running into difficulties, embarrassments and to make his trip more enjoyable." (15)
and hopes for its own demise:
"There will be a day sometime in the near future when this guide will not have to be published.  That is when we as a race will have equal opportunities and privileges in the United States. It will be a great day for us to suspend this publication for then we can go wherever we please, and without embarrassment." (16)
Despite the federal legislation as part of the Civil Rights Act of 1964 prohibiting discrimination in public accommodation, and the subsequent demise of the Green Book, African American travelers still are searching for Green's "great day".
How does this provisional status impact present-day travel decisions? A search of the virtual landscape reveals that the decision-making process still relies heavily on word of mouth and race-specific guides; but now word of mouth consists of influencers in the form of bloggers, Facebook groups, race-specific travel clubs/guides on the internet.  With affluent African American travelers more likely to travel in groups to mitigate some of the slights experienced when traveling alone or as the "one and onlys"; there is an increased reliance on intermediaries, both actual and virtual, who can provide a curated experience.
These 21st century successors to the social club and the Green Book are found in online Black travel groups.  These intermediaries are not a new phenomenon.  A New York Times article explored the growth of Black travel groups on social networks in 2015, making explicit the connection to past Black travel sources:
"They are carrying on a long tradition of travel media created by and for black consumers, from the 'Negro Motorist Green Book' which helped black vacationers find lodging during the years of segregation to the professional and fraternal organizations that book large group trips, to cultural sponsors like Essence, which draws thousands each year for its music festival." (17)
The article features four of these networks: the Nomadness Travel Tribe, Black Adventuristas, Travel Noire and Soul Society.  All promise to deliver an insulated experience geared toward the particular hurdles faced traveling while Black.
Affluent African American travelers comprise a thriving sector of the travel economy that exists outside of the mainstream channels, with behaviors that are deeply rooted in the African American experience and tradition. In all transparency, this insulated sector protects the Black traveler from the slights of the white world while recognizing the inclusive and enriching qualities that come from group travel with people of the same background.  This race-specific ecosystem needs to be understood by researchers and marketers alike.  Here are some suggestions:
Further understand African American consumer needs and jobs-to-be-done. To successfully understand the affluent African American traveler researchers must study in greater detail the dynamics of Black group travel. Some additional questions or insights to ponder:

How much of Black group travel is centered on family reunions?
How important is the role played by endemic and non-endemic Black social clubs on behavior and decision-making, and how has the club model evolved into a social media phenomenon?
Where does the role of the actual or virtual club fall in the travel-decision funnel?

Represent African Americans in your marketing communications and your media strategy. Work with African American influencers and bloggers, while also ensuring that African American publications and platforms make it to your travel or brand campaign media plans.  Additionally, advertising and media are key cultivating grounds for both perceptions and bias.  Reduce unconscious bias by depicting African Americans as a representative audience and a face in your travel marketing campaigns, even and especially those on luxury travel.
Get in those circles. To successfully serve the affluent African American traveler, marketers must leverage the desire for group travel into a marketing plan that focuses on clubs and social networks.
Use the pandemic-driven travel slowdown as a time to educate. Train marketers and client service staff in your organizations on diversity and inclusion during this time of quiet.   Now is the time to raise awareness and act against unconscious bias, which would only help eradicate the systemic inequality that persist, even in the affluent African American travel experience.
There is much more travel data available in the Ipsos Affluent Survey USA that pertains to affluent African American travel behavior, as well as other audiences of interest.  Destination preferences by race and gender and generations within race are all issues we will be looking into more closely.  We will be further presenting additional insights and content diving deeper into the behavior of the affluent African Americans in the months ahead.
For any questions about this piece or any additional insights on African American audiences, contact Kip Davis ([email protected])
For any questions about Ipsos Affluent Intelligence, contact David Giunta ([email protected]) and Amy Hunt ([email protected])
Sources:
Ipsos Affluent Survey USA, Spring 2020 release
."In the Face of "Jim Crow": Prosperous Blacks and Vacations, Travel and Outdoor Leisure, 1890-1945," Mark S. Foster The Journal of Negro History 84, no. 2 (Spring 1999): 130-149. https://doi.org/10.2307/2649043
3-6."Role of Social Clubs Changes with Times" Janita Poe, Tribune Staff Writer CHICAGO TRIBUNE February 9, 1994 https://www.chicagotribune.com/news/ct-xpm-1994-02-09-9402090159-story.html
"Traveling While Black" Farai Chideya, The New York Times January 3, 2014 https://www.nytimes.com/2014/01/05/travel/traveling-while-black.html
"Affluent African American Consumers in Context: Buying While Black" Kip Davis Ipsos website July 2020 https://www.ipsos.com/en-us/knowledge/media-brand-communication/Affluent-African-American-Consumers-in-Context-Buying-While-Black
9-10. "Black Travelers Matter: So Why is our industry so damn white?" Peter J. Bates Strategic Vision July 2020 https://strategicvision.org/2020/07/30/black-travelers-matter/
11-13."Black Cruises: What to Know About African American Cultural Cruises" Heather Greenwood Davis CruiseCritic.com Updated October 10, 2019 https://www.cruisecritic.com/articles.cfm?ID=4109
"The Green Book: The Black Travelers' Guide to Jim Crow America" Evan Andrews, History.com Updated: March 13, 2019 Original: February 6, 2017 https://www.history.com/news/the-green-book-the-black-travelers-guide-to-jim-crow-america
15-16. "The Negro Motorist Green Book: 1949 Edition https://digitalcollections.nypl.org/items/70651400-893f-0132-f4b5-58d385a7bbd0/book?page_start=left#page/1/mode/2up
"Black Travel Groups Find Kindred Spirits on Social Networks" Ashley Southall The New York Times July 23, 2015 https://www.nytimes.com/2015/07/26/travel/black-travel-noire-nomadness.html