Americans Flock to Social Media as They Start to Feel the Impacts of COVID-19 More Closely
Ipsos U.S. Social Intelligence Weekly Tracker registers 17% increase in conversation volume for week of March 15-21.
In our latest social media tracking study monitoring US-based COVID-19 conversations, a 17% increase in volume was seen vs. the prior week, with 6.8M original mentions taking place for the week of March 15 – 21 (compared to 5.8M mentions the week before).
As Americans started to feel the impacts of the pandemic more closely, they took to social media to express their concerns over the increasing number of confirmed cases and share their divided opinions of the government's policies to help stop the spread of the virus.
Top Twitter trends are becoming more focused on deaths, symptoms, government interventions, and the pandemic's impact on the economy.
At the same time, Americans started to embrace social distancing, sharing uplifting stories on social media and highlighting brands that help keep them connected to loved ones.
Top Tweets
We stand by Italy during these trying times. Share your Support for our Italian friends, They are our colleagues, friends and family. Cari amici, siamo con voi. #COVID19 #WeStandWithItaly
– 2.2K Retweets
These simulations show how to flatten the coronavirus growth curve
– 1.5K Retweets
Why outbreaks like coronavirus spread exponentially, and how to "flatten the curve" - Washington Post https://www.washingtonpost.com/graphics/2020/world/corona-simulator/ -
-- 1.5 K Retweets
Conversation Trends
COVID-19 rose in mentions from 3/16-3/19, due to increases in confirmed cases and Federal government initiatives. Peaks are also attributed to shared stories about people either abiding by or ignoring "social distancing" policies Coronavirus topics surrounding authorities, disease information, and economic impact each gained over 600K mentions over the week. Spikes for each topic were driven by popular headlines of the day.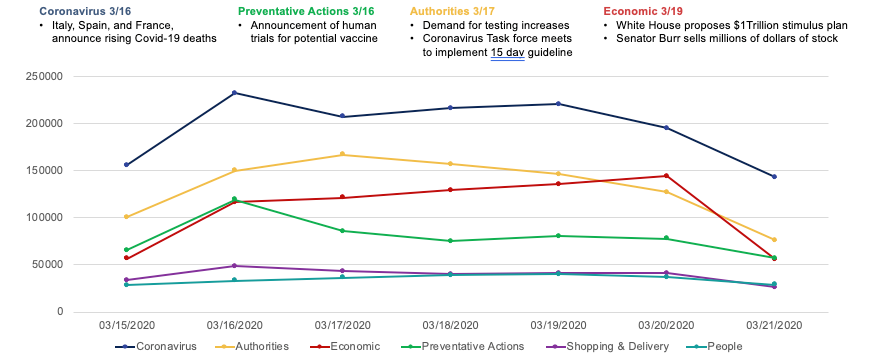 How Consumers and Brands Are Adapting to the New Normal
As many Americans were stuck inside due to locally mandated stay at home orders, they found creative ways to pass the time and stay connected with friends and family. From virtual happy hours to push-up challenges, social media was a buzz with people sharing their solutions for staying busy and in touch.
As the pandemic continues to disrupt daily life, brands are racing to adopt policies that meet the demands of this unique time. Americans are embracing social distancing at home and looking for ways to obtain needed supplies and stay connected to their loved ones. Several brands were popular on social media, with consumers highlighting the impact on their life or applauding the company's treatment of their employees.

Source: Synthesio, 3/15-3/21, specific mentions relevant to COVID-19/Coronavirus in U.S., English Only
Ipsos and Synthesio are committed to tracking the real-time impact of COVID-19 as reflected in social conversations. Our syndicated U.S. social intelligence tracker focuses on changing consumer attitudes and behaviors during this unprecedented time, including deep dives into themes, topics, and conversations drivers, and peoples' concerns, daily life changes, situational outlook, and shifting behaviors. Bottom-up topic modeling on COVID-19 related conversations are leveraged to assess consumer emotions and emerging themes, and brand-specific insights can be incorporated to provide additional context during critical moments.
For more information please contact:
Menaka Gopinath
Download