Americans agree 2020 was bad. Here's who had it worst.
Ipsos asked Americans to rank 2020 on a scale of 1-10. Here's what they said.
It's official: 2020 was a bad year. Ipsos asked Americans to rank 2020 on a scale of 1 to 10 and confirmed that's not just you or the memes scattered across social media – a full 15% of Americans ranked their personal 2020 as only a 1 or a 2, according to new data from the Ipsos Coronavirus Consumer Tracker. By contrast, only 6% ranked 2020 as a 9 or a 10.
55% of Americans ranked it on the lower half of the scale, giving 2020 a 1 through 5 rating. 44% gave it a 6 through 10 rating.
The overall average score for the year was 5.1. Men skewed slightly higher, at 5.4, women lower at 4.9.
The wealthier you are, the higher you were likely to rate the year. The average score for an American with household income under $50,000 was 4.9. For Americans with income between $50,000 and $100,000, the average score was 5.1. Americans with incomes over $100,000 rated the year an average of 5.4. The wealthiest bracket – Americans with incomes over $125,000 – rated it an average of 5.5.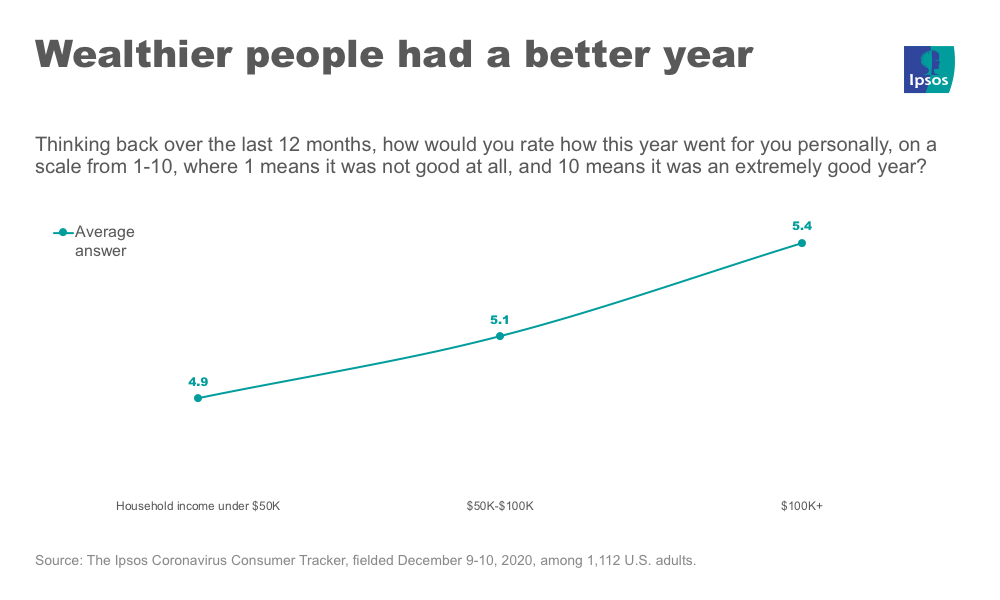 We also asked people to rate the year for their immediate family, their community, state and the country. Reviews for family stuck pretty close to personal reviews, but zooming out further, the numbers went down dramatically.
The average rating people gave their immediate family's year was 5.2. The average for "my community" was 4.5, "my state" was 4, and "the country" was 3.4.
Democrats rated their year lower than Republicans: Democrats averaged a 4.9 rating for their own personal year, compared to 5.6 for Republicans. Independents ranked their year even lower, averaging a 4.7 rating.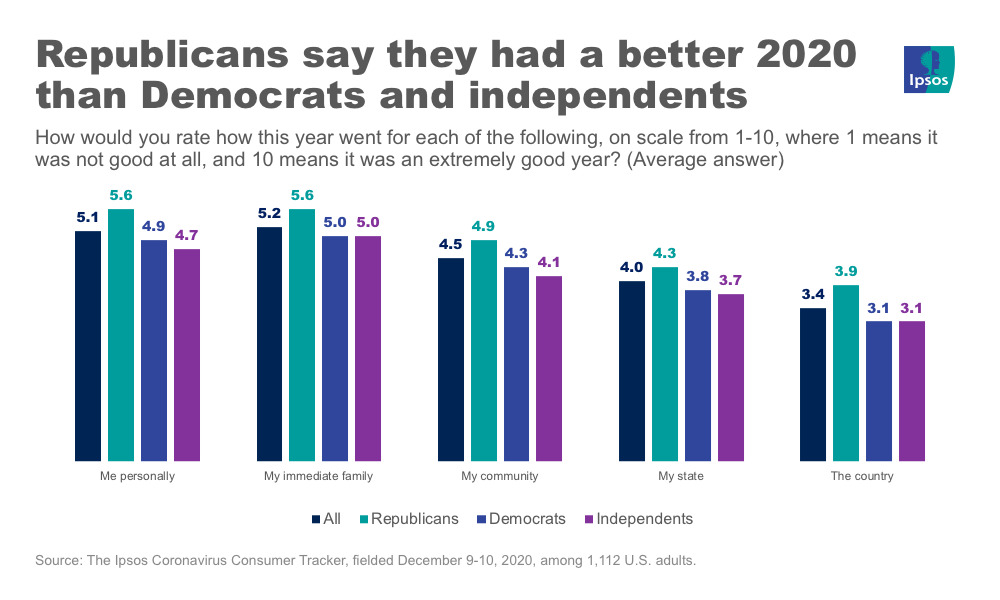 Who had the worst 2020? Unemployed Americans were almost twice as likely to give their year the lowest ratings as people who were full-time employed, part-time employed or retired. Nearly a quarter (23%) of unemployed Americans gave their year a 1 or a 2, compared to 13% of full-time employed Americans and 12% of part-time or retired Americans.
People without college degrees were also almost twice as likely as people with degrees to say their year was terrible: 19% gave their year a 1 or a 2, compared to 10% of people with college degrees.
20% of people in the Midwest gave their year the lowest rating, compared with 14% in the Northeast, 12% in the South and 15% in the West.
So go ahead, put that "2020 dumpster fire" novelty keepsake on the shelf with pride and know that you're not alone.